Cocktails are more than a beverage you serve your guests as they enter your home, they are the energy you create at your event and the delicious treat we all cannot wait to try.
If you plan on making a cocktail or a menu of shots, then you need to ensure that the vibe you are creating matches the occasion. Get the recipe wrong, and your guests might be a little confused, or worse – disappointed.
Don't worry though! We will walk through the common occasions that work well with cocktails, and we will suggest the different beverages you could serve at such an event.
Before we get started, we want to say a massive hello to all of the readers from greenriverambrosia.com. We have recently acquired the website and cannot wait to see what this community brings to our bar!
Tips And Tricks
If you want to you can scroll through our article until you find the occasion that best matches your upcoming event. However, we suggest taking this journey slowly, as creating cocktails can be tricky for a beginner.
Before you get started, you need some essential tools and equipment. Generally speaking, this means obtaining an ice bucket and scoop, chopping board, knife, measuring containers, shot measuring tools, and a Boston shaker.
Once you have this basic equipment you can start getting a little fancy. 
If you want your cocktail to sit in a beautiful decanter, you need to ensure that it is both clean and dry. Tasting soap or dulling your beverage with extra water can instantly routine the wonderful flavors you have created.
An easy way to make your cocktails feel expertly crafted is by using different ice cubes for different beverages. Clear ice cubes, crushed, block, sphere, and dry ice are all great examples of unique textures to bring an extra layer of creativity to your cocktail.
Regardless of how you craft your drink, you need to ensure that the cure is waiting for your guests too.
For the most part, this means eating before the drinks come out, ensuring there is enough water for everyone to drink, and trying not to mix your drink types. All of this advice can help prevent the likelihood of a hangover.
Once you have all three of these ideas secured, it's time to move on to making your cocktails.
Birthday Cocktails
We are starting off this journey with the birthday cocktail menu, which is arguably the most difficult concept to pin down.
The best birthday parties are ones that directly reflect the interests and personality of the birthday person, and as we don't know what your person likes or prefers, we cannot directly point out the best cocktail for them.
This means you have two options. One, you can continue scrolling through this page until you see a theme that best matches your friend's aesthetic, or you can play it safe and use our generic suggestions. 
These suggestions will still be super fun and everyone will enjoy them, but it might be worth creating your own concoction which makes a pun or nods toward your buddy's interest.
Without further ado, it's time to get started!
All Things Jello
The classic cocktail to create at a birthday party is one that involves jello. You can do this by either creating a classic jello shot, trying to recreate the flavor of a jello treat, or creating a massive jello creation in the shape of your friend's interest.
Jello shots are easy enough to make, as long as you give them enough time to chill in the fridge and don't add in too much vodka to the mixture.
These two aspects are super important, as otherwise you'll be left with an oddly textured liquid instead of alcoholic shot-shaped jello.
Our second suggestion was a jello-flavored treat. These are shots or cocktails that taste like candy or sweets but don't have the same bouncy texture.
We have a recipe for gummy bear shots ready for you to try out, so click on the link above to recreate that iconic flavor.
Our last suggestion was to make alcoholic jello in the shape of your friend's interests. To do this, you need to buy a mold that matches their interest and then follow the same creation advice in our jello shot recipe (link above).
However, instead of making 16 individual shots, you need to adapt the recipe to fit the mold. We suggest making more than you think you'll need, and then pouring the rest into shot glasses.
The Classic Birthday Cake
Keeping to iconic birthday themes, our next suggestion is to turn the birthday cake into a drinkable sweet instead.
An easy way to make this transfer is to recreate the flavors in shot form. Making a birthday cake shot means combining vodka, Irish cream, creme de cacao, vanilla icing, and of course the legendary rainbow sprinkles.
Serving these cute drinks to your guests will bring some nostalgia to the age-appropriate adults. The drink tastes exactly like a birthday cake and the recipe is super easy to scale up – matching the number of guests you have at your party.
Any Kind Of Cake Flavor
Of course, not everyone likes the vanilla flavor of a birthday cake. If your person of honor has the same reservations, you can still give them that feeling of birthday nostalgia without offering them something they dislike.
Instead, read through this page which includes 7 Delicious Dessert Shot Recipes.
On that page, you will find mini recipes to create anything from a key lime pie shot to a s'more in liquid form. 
If you have a particular flavor in mind, break it down to its ingredients. What flavors are prominent in that cake and what does it look like? Let's use red velvet cake as an example.
Red velvet cake is made using a lot of sugar, cocoa powder, buttermilk, vinegar, and vanilla. 
To recreate this flavor as a cocktail, you could use white chocolate liquor as both the sugar and buttermilk flavors, vanilla vodka for the vanilla, grenadine to create a red color, and milk as a mixer.
Use this method to understand how the flavors of the birthday person's favorite cake is created, and then use that information to find similarities in common cocktail ingredients.
To kick-start your research, here are a couple of dessert-based shots we have already figured out how to emulate:
Game Night Cocktails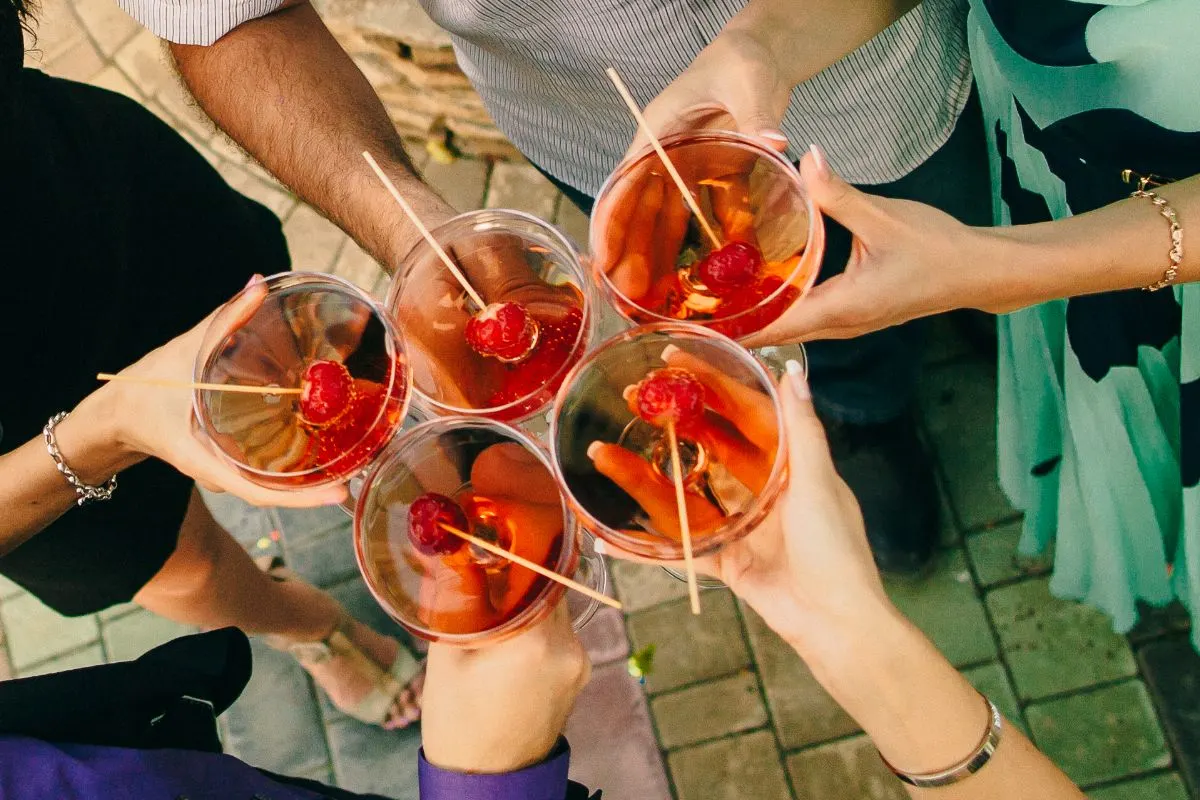 If you're hosting a game night, then your cocktails need to match your event. Playing a game of blackjack has a different atmosphere from watching horse racing.
To get the balance right, you need to touch on the history of the game and bring out the atmosphere you want to enhance in the session.
Horse Racing Drink Ideas
If you're taking bets on horse racing, then you should attempt to recreate the classic drinks that would be offered in the venue itself. Take the mint julep for example.
This cocktail is made at the Kentucky Derby and would be offered to all of the people watching the racing live. 
Adding this drink to your menu will help your friend immerse themselves in the atmosphere of the crowd. Make sure you use a good bourbon when you create this drink, as a cheap brand could ruin the flavor.
Playing Poker
If you're playing a card game that could easily be seen in a 007 movie, then you need to dish up a beverage that James Bond would be happy to drink.
We all know that he prefers his martinis shaken, not stirred, but we can easily see this man with an Old Fashioned in his hand.
An Old Fashioned is a simple drink with no frills and added interest as the bourbon itself does all the talking. Including this drink to your options gives the table a sense of classic sophistication which adds to the poker experience.
Another nonsense drink that many people don't know about is the Rum Negroni. Simply mix rum, sweet vermouth, and Campari together to create a simple and sweet rum-based beverage.
Halloween Cocktails
To really bring the Halloween spirit into your party, you need to embrace the spooky cliches and nuances of the season. It's these elements that make Halloween the fun and campy season it is.
Classic Monsters
The first idea we had when it came to Halloween cocktails was to bring in classic monsters and re-create them in liquid form.
Take the zombie brain shot as an example. Once it's been created, you should be left with a red bottom layer and yellow to green gradient, and a yellowy-brown foaming top.
In the yellow-to-green gradient, Irish cream creates an almost psychedelic texture that perfectly resembles a brain.
Mix the green and red colors, and you have a zombie brain shot.
Carrying on the green theme, this time we want to suggest something a little more mainstream – The Incredible Hulk. This shot has just 3 ingredients – Hpnotiq, Hennessy, and ice.
You end up with a bright green beverage that fits perfectly with the Hulk's color palette and the theme of Halloween.
We couldn't end the monster session without a connection to a ghost. Of course, we are talking about Bloody Mary. We all know the horror story where you call bloody mary three times in a mirror.
This Halloween, play the same trick with a Bloody Mary drink in your hand.
A Little Bit Saucy
The 00s version of a Halloween night meant dressing as provocatively as possible. Although the 20s was seen as a resurgence in campy caricature, many people still like the outfits to err on the risque side. 
For those who want to throw a party like this, we have a couple of suggestions when it comes to the beverages you serve.
The first one has to be the 80s classic – Slippery nipple. This strong shot is made by mixing sambuca and Irish cream, then topping it up with grenadine.
If you wanted to add a more sinister name to this old-fashioned drink, focus on the drops of red grenadine floating in the clear liquid – American Psycho comes to mind.
If you want your drink without a grenadine top-up, then that is technically called the buttery nipple. This version is much smoother than its counterpart but has a stronger schnapps ratio due to the loss of a main ingredient.
There is also no lingering red dot, instead, the drink looks more like an espresso.
Another classic to add to a saucy night is the hot shot. This cocktail mixes coffee with heavy cream and Galliano L'Autentico. Really any vanilla-flavored liquor will do, but we find that Galliano L'Autentico gets the balance just right for this recipe.
Housewarming Cocktails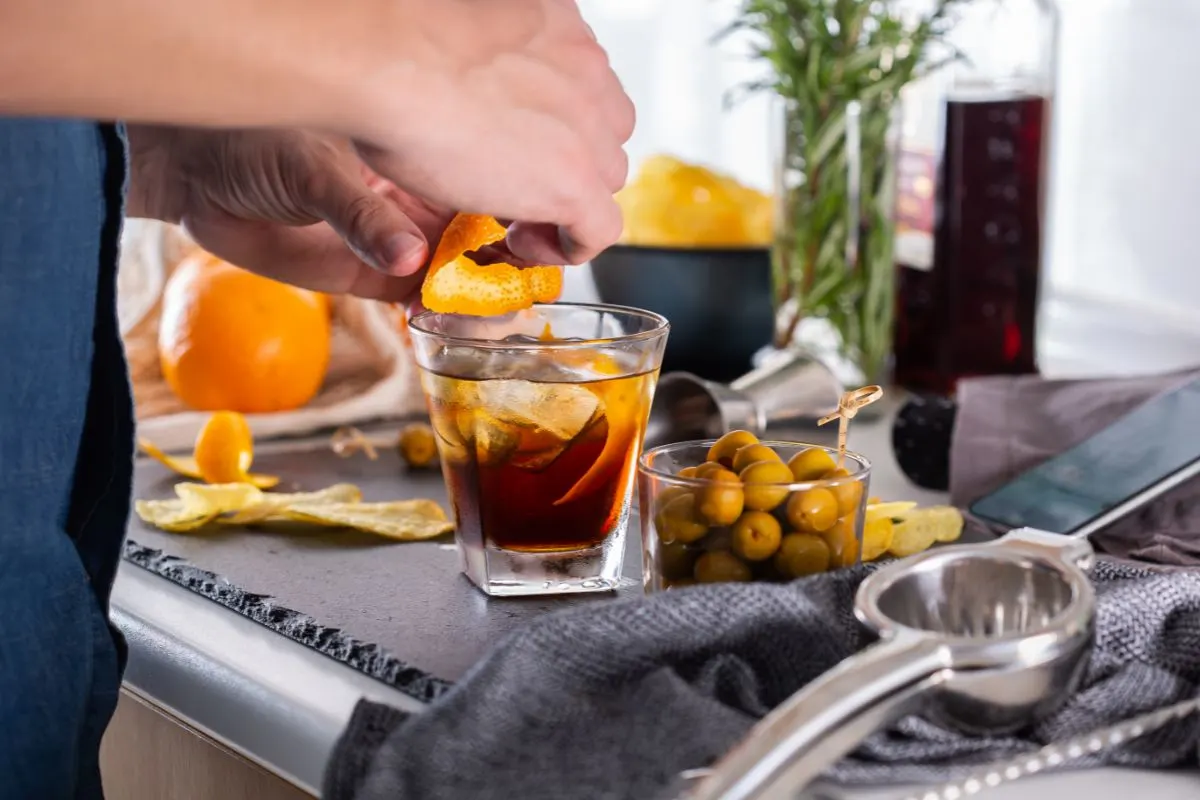 The best housewarming cocktails are ones that match the area to which you have moved. We are going to get a little cheesy now but embrace it. Moving is a stressful time, so allow yourself to lean into the word play!
A New Build
If you are moving into a newly built property and you can still see the construction sites around, then the best drink to have at your housewarming party is the cement mixer.
This drink is the most popular around frat boys and party people due to its strong flavors, however, the puns you can make with a drink like this are unending!
The Taste Of Home
If you're moving out from your parent's house for the first time, you're probably starting your journey a little worried about getting homesick.
Well, there is one way to stop that from becoming an issue – that's making a shot out of your favorite home-brand drink.
Take the Dr. Pepper shot as an example. Made from beer, amaretto, and rum, you can recreate the original flavors of Dr. Pepper before it became a pop drink.
A Drink To Match The Location
If you happen to be moving to a new area that can easily be connected to a famous drink, then you'd be missing a beat if you don't add it to your cocktail menu.
Did you originally come from a rural area, but moved to the big city? Well, it's time for you to drink a cosmopolitan!
Traveled over to the Capital of America? Then take a bite out of the Washington apple! Maybe you've moved to a new country, entirely? If that's the case then put down your croissant and drink a French 75 ( a gin drink with just 4 ingredients)!
Every location will have a drink named after it. Some will be popular and others may take some digging. If you can't find one that matches your new home, then make one up yourself. Traditions have to come from somewhere, after all.
For a quick look at some classic location-based drinks, here is a list you can browse through:
Use It Or Lose It
If you're having a farewell party instead of a housewarming party, then the best cocktails you can make are the ones that use up the remaining spirits you have left in your home.
Pull out all of your liqueurs and search for recipes to help you and your friends finish the bottom.
Is one of those bottles a Grand Mariner? Well, you can mix it with prosecco for a celebratory drink, add in some rum and bitters for a Manhattan with a twist, or simply make a B52 cocktail.
Vacation Cocktails
If you want to create a menu of drinks to sip on your next vacation, then you need to consider what type of experience you and your friends will have on your trip.
For many of us, a vacation means the sun, sea, and a chance to explore, while for others it's all about skiing, hiking, and anything adventurous.
To know what cocktails to make on your vacation, you first need to know the atmosphere you are trying to create. We will break down some ideas below and suggest the perfect cocktail to make in those situations.
A Beach Holiday
On a beach holiday, you need to experience the sunrise over the sea at least once. And what better beverage to sip when the glistening sun peaks its head into view than the tequila sunrise!
The tequila sunrise shot captures the colors of a new day. To create it you need tequila, orange juice, and grenadine. Mix them all together to create the taste and look of a sun starting its journey over our skies.
Orange juice is one of the best chasers for a tequila shot, as it helps reduce the harsh bitterness of the liquor while also blending well with other ingredients – allowing you to make multiple different flavors with ease.
If you want your beverage to taste like summer as well as look like it, then perhaps you should try an orange creamsicle shot.
This drink is both creamy and citrusy, sweet and fizzy. To create the shot simply mix orange and cream vodka with condensed milk, orange soda, and whipped cream. This drink is an instant crowd-pleaser!
Of course, we would be remiss if we didn't mention the most iconic beach vacation drink in existence – the Pina Colada was made for party days in the sun. Creamy coconut mixed with sharp pineapple makes for a sour taste that goes down smoothly. 
But if you prefer your coconut cocktail to come with a tropical twist, you may prefer the Bahama Mama cocktail instead. It also includes coconut rum and pineapple juice, but you can expect dark rum and orange juice in the ingredients list too.
The Winter's Snow
From a hot holiday to a cold vacation, if your time away from work and home involves skiing, ice fishing, or anything snowy, then you need a chilly drink to match this vibe.
When we think of snowy locations, the first creature that comes to mind is the cuddly polar bear. So of course, we will have to suggest making a polar bear shot in the beast's honor.
Creating a bit of a Christmas flavor, simply mix equal parts peppermint schnapps with equal parts creme de cacao.
Another shot to consider on a cold night is something that could make you feel a little warmer. That toasty feeling doesn't need to come from a hot beverage, but instead from a single ingredient that naturally heats you.
That's right – we are talking about ginger. A ginger shot doesn't have to be alcoholic which means your non-drinking friends can still partake in the evening activities without feeling left out.
Simply mix the ginger with lemons, honey, and water, and you have a healthy and delicious shot.
If you would rather have a hot drink that is actually hot in temperature, then you should try a hot toddy. This cocktail is made by mixing whisky, honey, cloves, cinnamon, and cloves together.
To top it off, hot water is added to bring the warming drink to its climax.
As you can tell from the ingredients, this beverage is a perfect treat for the festive season.
Adventure Is Out There
If you're exploring the wilderness, hiking up mountains, or traveling through less populous lands, then you need a drink that best matches your adventurous side.
Our first suggestion for a vacation such as this is the classic Snake Bite. It is made out of Yukon Jack, lime cordial, and lime wedges.
With all that lime you can tell that this beverage is sour, but the Yukon Jack honey liquor weakens the bite enough for you to down the shot and demand another.
BBQ Summer Days
If your vacation days are best summed up as a chilled experience, then your potluck community hang-out needs a beverage that suits the BBQ burger aesthetic. What's our suggestion? The pickleback shot of course.
Created using the juice from the pickle jar, mix it with equal parts Irish whisky for a sharp and briny flavor to match your BBQ seasoning.
If you think a pickleback shot is too pickle-ly for your BBQ party, then you may prefer to stick to the classics like a margarita. Margaritas fell out of fashion in recent years due to the number of calories you could expect from one drink.
That's why most people create a skinny margarita instead. Either way, this elegant drink wouldn't feel out of place at a home BBQ among friends.
Summary
Each of these drinks is delicious, and depending on what you expect from your occasion, you should mix and match our suggestions to best suit your theme.
Don't feel constricted into staying within the subheadings, instead use our ideas as a guide to help you build your own party menu!