The 10 Most Popular Cocktails And How To Make Them 
If you want to learn more about making cocktails and the tools you will need to do that then you have come to the right place… 
If you always order a cocktail when you go to a bar, why not make them at home for a much lower cost? You will be surprised by how easy your favorite drink is to make… 
One of the best things about cocktails is that they are almost as fun to make as they are to drink. There is something really satisfying about tweaking your personal recipe until you perfect it and then showing it off by serving it to everyone you know. 
To make a range of cocktails well at home, you will only need 9 pieces of equipment (and you probably already own most of them). In this article, we will teach you how to use them and where to find the best quality bar equipment. 
We are also going to teach you how to make America's 10 favorite cocktails. Use these recipes as a base and change them to suit your personal taste – we won't be offended, in fact, it's something we encourage. 
If you want to learn more about how to make cocktails, then keep reading to the end of this article. 
Essential Bar Tools and Equipment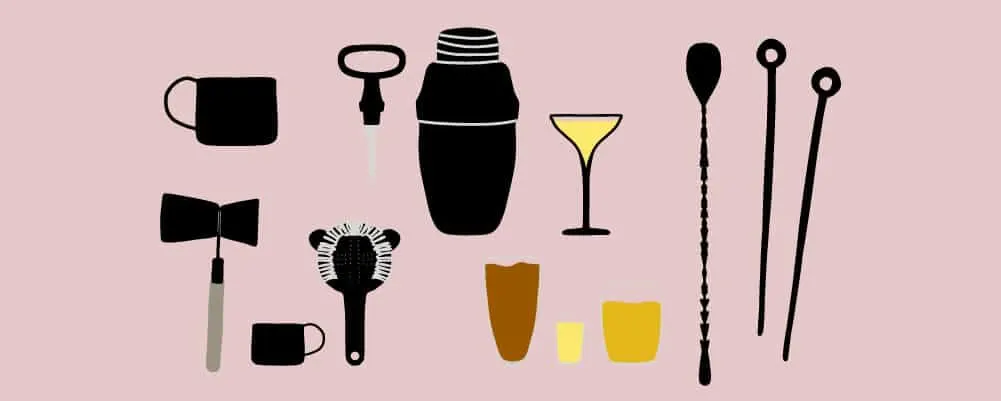 Before we start on the cocktail recipes, let's take at the 9 essential pieces of equipment you will need to make them. 
The good news for your wallet is that you probably already own a few of these tools – especially if you like to cook. 
Ice Bucket And Scoop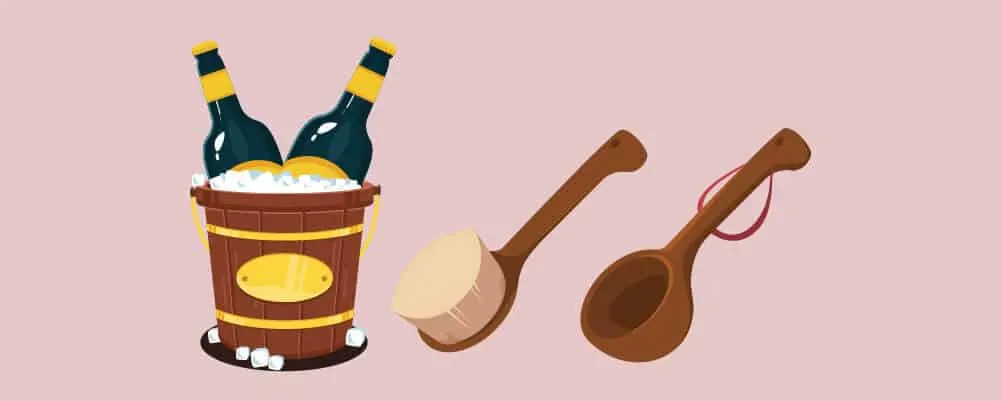 Most people have no idea how important ice is to cocktail (see also: 10 Fall Cocktail Ideas)making until they try to make a cocktail with it. Let us save you that trouble – cocktails don't taste anywhere near as good when you make them without ice. 
In fact, most cocktails are purposefully designed to be served with ice – so that they keep cool and that the alcohol is watered down a little bit. If you skip over the ice, you may find yourself with a very nasty hangover the next day. 
When you are making cocktails it is always good to have a bucket of ice on hand. You will get through a lot of ice with every round that you make. 
You will want to get an ice bucket with a scoop because it makes moving the ice around much easier. If you moved the ice with your fingers it would be unhygienic and your fingers would go numb, which makes making cocktails a lot more difficult. 
Don't forget to learn how to clean your ice bucket and scoop properly. 
Knife & Chopping Board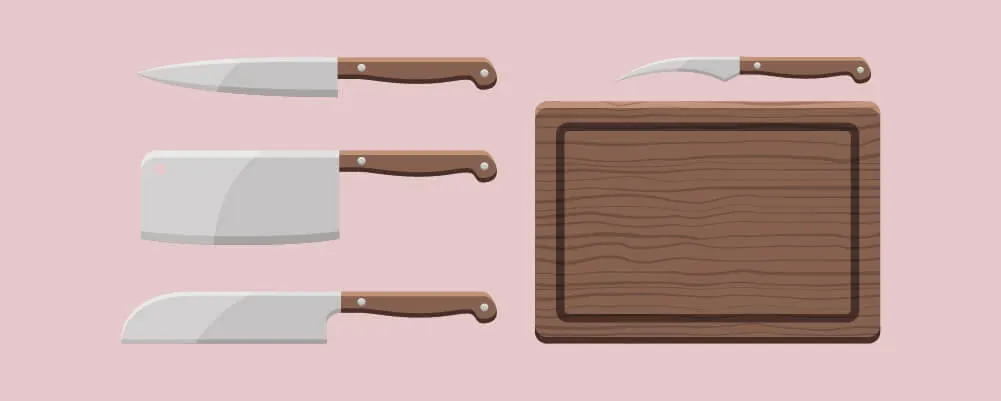 This is a set of tools that we hope you will already have in your home. 
Chopping boards are essential for two reasons. Firstly, they will protect any surface you are using from getting damaged by the knife. And secondly, they are the easiest way to keep your ingredient preparation sanitary. 
You might want to save a set of knives on hand, depending on what type of cocktails you are planning to make. For example, you will need a different knife to cut chilis and mint than you would need to cut up lemons and limes. 
You also want to make sure that you keep your knives clean and in a safe place. You do not want to keep them loose on the top of your bar (or cocktail-making zone). It is best to keep them in a knife block, this will reduce the risk of someone getting hurt. 
You should also learn how to sharpen your knives at home. 
Jiggers
Ever wondered how bartenders get the right amount of alcohol in a cocktail every time? They do it by using jiggers. 
Jiggers are measuring cups that come in the most common alcohol serving sizes – like a finger, half an ounce, or two ounces. 
They tend to be weighted at the bottom so that they are hard to knock over and they are easier to pour with. Some bartenders like to pour all their alcohol out before they start mixing while others like to do it as they go – you will have to work out which option suits you best. 
It is recommended that you buy stainless steel jiggers – these are the easiest to keep clean as they can be put through the dishwasher without getting damaged. 
To get the best value for your money, you should buy a set of jiggers, and then buy any extra you need individually. Rather than buying them all individually. 
Speed Pourers
Speed pourers are the spout attachments that you see both bartenders and coffee baristas using when they make drinks. They have a thin stainless steel spout and a rubber base. 
The rubber allows the pourers to be moved easily from bottle to bottle. It also makes them a lot less likely to develop mold or rust than a metal attachment. Rubber is also a lot easier to clean. 
The stainless steel spout makes life a lot easier for bartenders. 
If you have ever tried to pour from a bottle, you will know that they can be unpredictable especially if the liquid has an unusual viscosity. This unpredictability causes hesitation which slows bartenders down. The unpredictability also causes mismeasurements and can lead to ingredients being wasted. 
A speed pourer helps the liquid to move more quickly and the bartender (or at-home cocktail maker) will know at the exact speed that the liquid will be coming out of the bottle. This makes cocktail making more efficient, habitual, and less wasteful. 
Boston Shaker
When you think of cocktail making, you probably think of someone standing behind a bar shaking the drinks around in a Boston shaker. 
Not only is it one of the most iconic cocktail tools but it is one of the most important tools you can pick up. 
The key to many cocktails tasting good is making sure that they are well mixed and that they are chilled – you can do both of these things with a Boston shaker. 
The Boston shaker is made up of two stainless steel cups – one bigger than the other – that slot together to form a shaker. 
You add ice, your herbs, and your liquids to the bottom half of the shaker, attach the top and then shake to your heart's content. 
Remember to hold onto the top while you are shaking so the liquid doesn't go everywhere. This happens to every new cocktail maker at least once. 
Hawthorne Or Fine Strainer
These are two different tools – as an amateur cocktail maker, you won't need to have both at the beginning. We recommend starting with a fine strainer and moving on to a Hawthorne when you are a little bit more experienced. 
A fine strainer looks partway between a tiny sieve and a large tea strainer. You want to make sure that it is made of metal – so that you will have an easier time keeping it clean and sanitary after multiple uses. 
Hawthorne strainers can be attached to the opening of a Boston shaker, and are used to filter out ice, fruit pulp, and sodden lumps of mint from the final drink. 
The Hawthorne strainer is the secret to good looking cocktails. 
Bar Spoon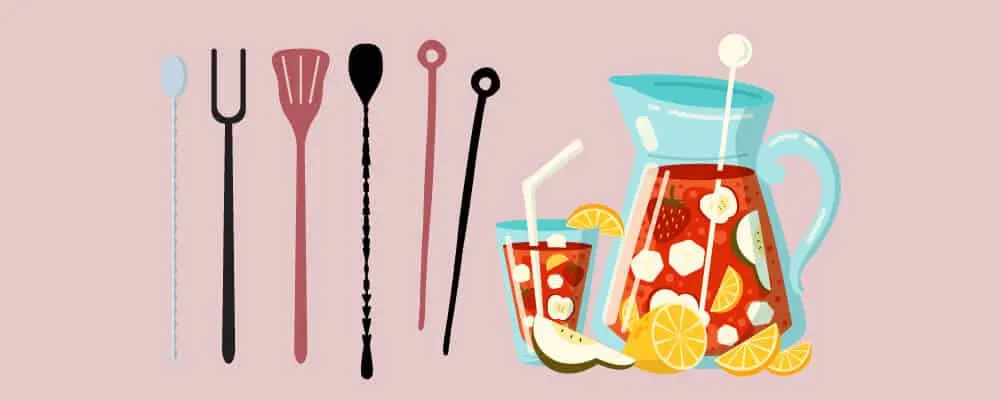 You will need to use a bar spoon for many different things while you are making cocktails – like adding sugar, layering in thicker liquids, and mixing drinks. 
How is a bar spoon different from other types of spoons? 
Well, firstly, it's a lot longer. If you are mixing a drink in a tall glass, you don't want to use a teaspoon or a dessert spoon because your fingers will end up in the drink. This is unhygienic and the person who ends up with the drink won't be happy. 
Bar spoons also have a circular handle, this means that you can spin the spoon. This makes it easier and faster to mix drinks. It is also kinder to your shoulders and elbows in the long run. 
You can learn more about mixing like a bartender here.
Like most of your other tools, you want to make sure that you get a metal bar spoon because it will make it easier for you to clean.     
Muddler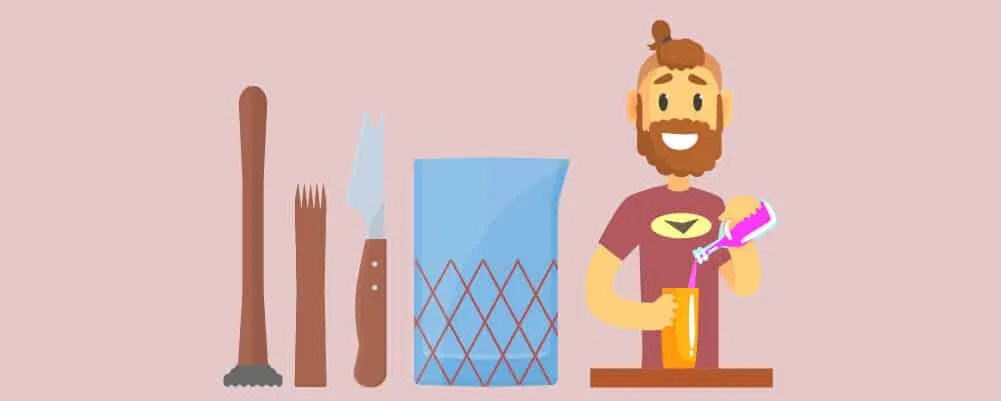 A muddler is a key to getting flavor out of your ingredients that aren't liquid. If you are ever having a bad day then you can take it out on a pile of mint or a handful of raspberries with the muddler. 
A muddler is a larger and heavy stick with a serrated or flat base. They are typically wooden or metal. You will typically use your muddler for crushing fruit and sugar together but you may also need to use it to crush ice if you have no other way to do it. 
If you plan to be muddling sugar a lot then you will want to get a muddler with a flat base. The serrated base works best with soft fruit and leaves. If you are planning to make a lot of cocktails then it might be worth investing in both types of muddlers. 
Fruit & Juice Press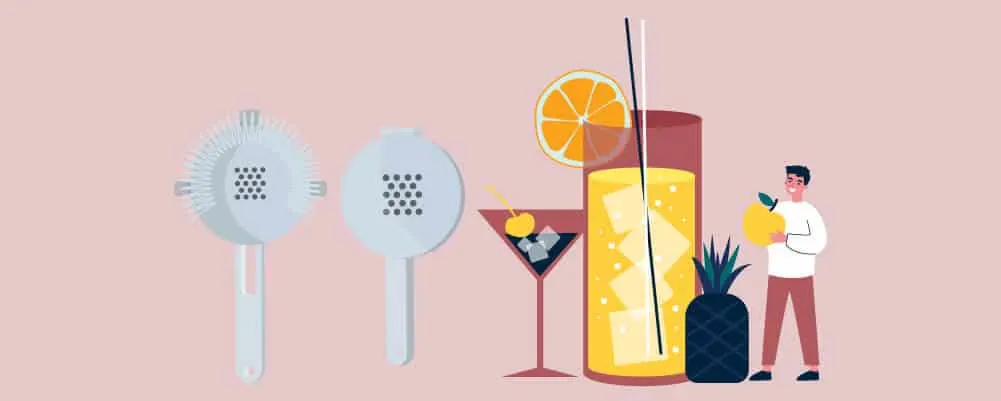 Finally, you will want to make sure that you have a stainless steel fruit and juice press. 
This is one of the most useful tools you can have as a mixologist. It will save you so much time and you will never have to try and fish lemon seeds out of a drink again. 
To use a juice press, place your lemon, lime, passion fruit – or any other fruit you need to juice into the contraption. Then squeeze the handles together and then pour the juice into your drink – it really is that easy. 
The juice press reduces the amount of effort you have to put in to squeeze the fruit, makes the process quicker, and keeps the seeds from going into the drinks. 
One of the things that we love about juice presses is that even the really good ones are cheap. They are a staple in nearly every good bar. 
Top 10 Easy Cocktail Recipes To Try At Home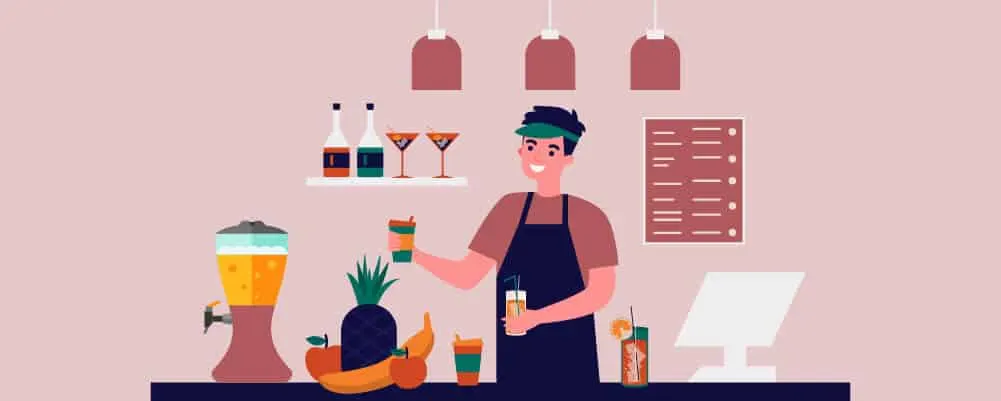 Now, we have got to the good part. It is time to make some delicious cocktails. 
We have collected the recipes for the 10 most popular cocktails(see also: Popular Cocktails In The World) in the country right now. You may not love them all, but we're sure there will be quite a few that you do enjoy. They are classics for a reason after all. 
All the equipment you will need to make these cocktails is mentioned in the list above. And you will need to pick up the right glassware to serve each cocktail in. We will let you know what type of glassware you will need at the start of each recipe. 
If you are in a pinch, you can make these recipes with frozen versions of the ingredients, but you will get the best results and taste if you use fresh ingredients. 
Let's not delay any longer – it's time to make some delicious cocktails. 
ALL RECIPES SERVE 1. 
Negroni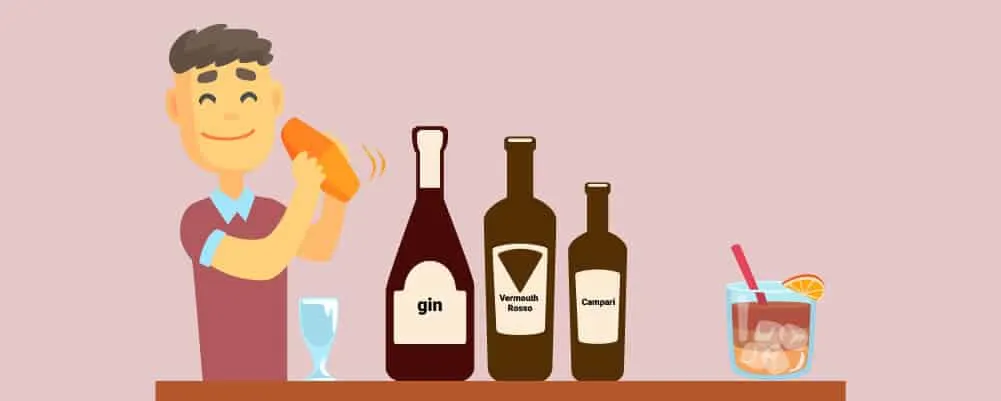 The Negroni is the perfect cocktail (see also: Negroni Cocktail [Recipe & Guide])for a beginner to make – all you need to do is measure out your ingredients, add ice and stir until cold. 
Because the Negroni (see also: Best Gin For Negroni)is heavy on the alcohol, it can be an acquired taste because of how strong it is. 
The Negroni was first served in the 1860s at Caffe Camparino in Milan, Italy. It is now a popular drink all over the world. 
The Americano cocktail is a Negroni served with a splash of soda water. This was how many Americans liked to have their Negronis served in Caffe Camparino. 
The Negroni was traditionally served with a slice of orange. This was because many oranges were grown in the area around Milan. Now, Negronis are typically served with an orange peel instead. 
Ingredients
For one serving: 
25ml gin
25ml sweet vermouth
25ml Campari
Ice
Orange Peel 
Serve in a lowball glass 
Recipe 
Step 1 – Measure out your ingredients. 
Step 2 – Pour all your alcohol into a tumbler full of ice. Using a bar spoon, stir your mixture until the outside of the tumbler feels cold. 
Step 3 – Strain your drink into an empty glass, and add a single large ice cube. Add orange peel as garnish. 
Gin & Tonic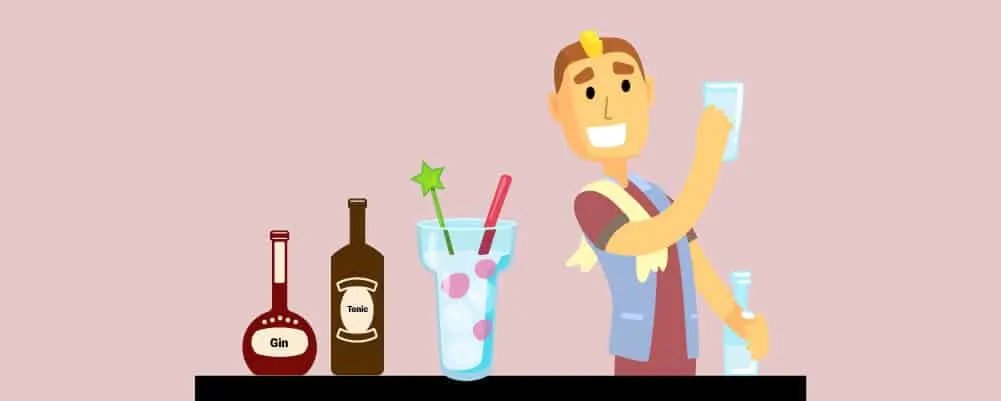 There is no better way to celebrate the end of the workweek in the summer than to sip on a Gin & Tonic. This is another great option for beginners – you do not need to do any mixing. 
The only slightly tricky issue when it comes to gin and tonic is working out which tonic water you prefer with the type of gin you want to use. 
Gin has been growing in popularity over the last few years, and there are now hundreds if not thousands of different gins on the market. Some are sweet, some are dry, and some are flavored. 
Each gin will suit a different type of tonic water. As more types of gin have come onto the market, so have more types of tonic water to suit them. We recommend looking online for recommendations and conducting your own research at your home bar. 
Ingredients
50ml gin 
150ml tonic water 
Ice 
Lemon, Cucumber, Lime, or Mint 
Serve in any type of glass 
Recipe 
Step 1 – Measure out your ingredients. Place ice in your glass. 
Step 2 – Pour the gin into your glass, over the ice. 
Step 3 – Add the tonic water to the glass, to taste. Serve with the garnish of your choice. 
Martini
Shaken not stirred – is, of course, the iconic line from the James Bond franchise. It is a line that many people believe is responsible for the popularity of the drink today. 
However, many bartenders will tell you that you should never shake a Martini – as it ruins the structure of the drink and will make it too bitter. Instead, you should take your bar spoon and stir the drink until chilled. 
H. L. Mencken (a journalist considered an expert in all things food and drink) said that the Martini was "the only American invention as perfect as the sonnet". 
We don't know much about the origin of this drink except that it was invented in America. Some people believe that the drink is named after a town called Martinez – which is just outside of San Francisco. 
If you are new to the world of cocktails, it is also worth noting that Martini is also a brand of Vermouth. 
Ingredients
60ml vodka or gin
1 tbsp dry vermouth
Ice 
Olive or lemon peel
Serve in a martini glass 
Recipe 
Step 1 – Measure out your ingredients. 
Step 2 – In a tumbler, stir your alcohol in with ice until the outside of the tumbler feels cold.
Step – Strain your drink into an empty glass. Add lemon peel or an olive as garnish.  
Manhattan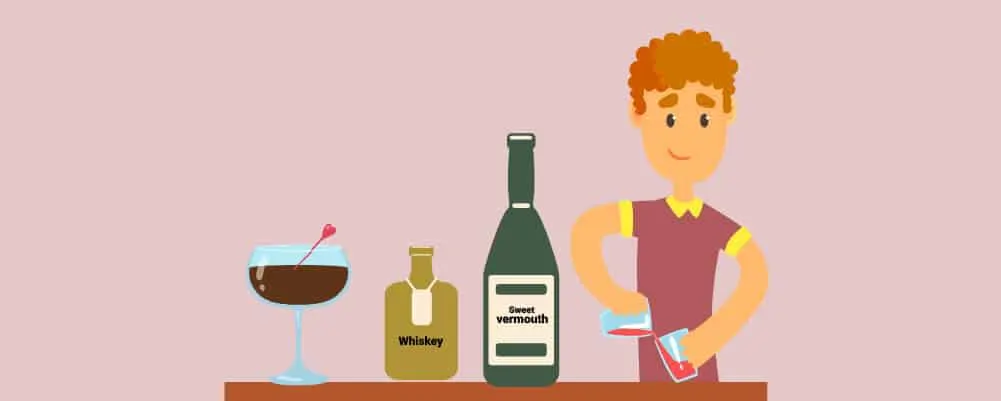 There are 5 cocktails named after boroughs in New York City -the Manhattan cocktail is the most popular and tastiest of all of these. 
It is said that this cocktail was invented in the Manhattan Club in the 1860s. It was invented by Iain Marshall for a banquet hosted by Jennie Churchill (Lady Randolph Churchill, mother of Winston). 
Thanks to the prohibition, it has become traditional to serve this drink with Canadian whiskey  (see also: Best Canadian Whiskey)rather than American or Scottish whiskey. 
This drink can also be served with a morello cherry. 
Ingredients
75ml bourbon
15ml sweet vermouth 
15ml extra dry vermouth
2 dashes of Angostura bitters
5ml cherry eau de vie 
Ice
1 strip of orange zest
Serve in a cocktail glass 
Recipe 
Step 1 – Measure out all of your ingredients. 
Step 2 –  Pour all your alcohol into a tumbler full of ice. Using a bar spoon, stir your mixture until the outside of the tumbler feels cold. 
Step 3 – Strain your drink into an empty glass, and add a single large ice cube. Add orange peel as garnish.
Daiquiri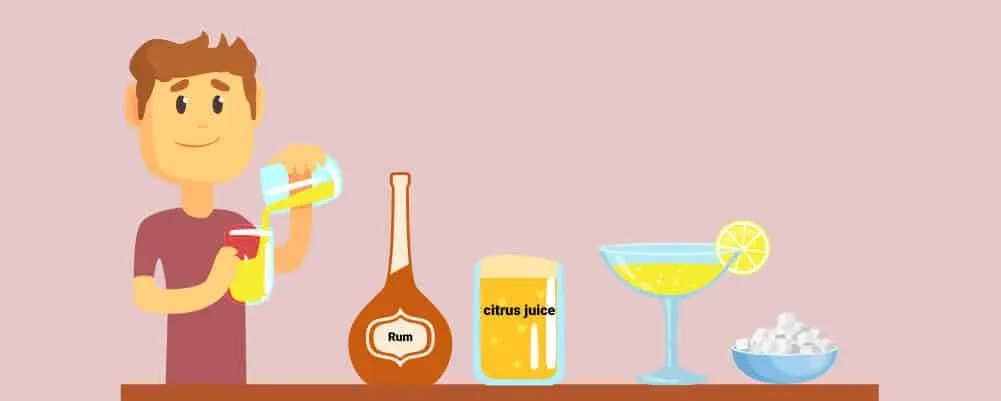 If you have a sweet tooth then you are going to adore a traditional Daiquiri. 
If you frequent cocktail bars, then you may not have seen a "plain" or "traditional" Daiquiri on a menu recently. They are not very trendy in some parts of the world, instead, you are more likely to see a fruity twist on the drink. 
If you are just starting your cocktail making journey, we think it is important to make and try the original drink – as well as make the alternatives. Raspberry and Strawberry are the most common alternatives at the moment. 
The Daiquiri cocktail is named after a beach in Cuba. It is supposed to have been invented at the end of the 19th century by an American mining engineer named Jennings Cox working in the nearby iron mines. 
It was one of the first 6 cocktail recipes to be published in America. 
Ingredients
50ml white rum
25ml lime juice
10ml sugar syrup
Ice
Lime slice 
Serve in a cocktail glass 
Recipe 
Step 1 – Measure out all of your ingredients. 
Step 2 –  Pour all your alcohol into a tumbler full of ice. Using a bar spoon, stir your mixture until the outside of the tumbler feels cold. 
Step 3 – Strain your drink into an empty glass. Add lime slices for garnish. 
Old Fashioned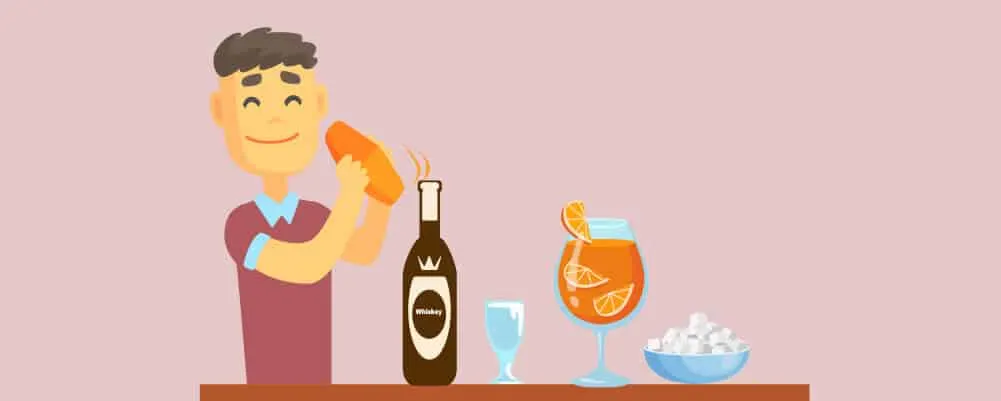 The Old Fashioned is one of the oldest American cocktails. 
It can be made using bourbon or rye whiskey. If you are going to use bourbon then you should garnish with orange peel. Use lemon peel if you plan to use rye whiskey. 
It is possible that the Old Fashioned was being served in New York City (where it was most probably invented) as early as 1833. One food journalist reported drinking something that sounds just like an Old Fashioned at the time. 
Ingredients
50ml bourbon or rye whiskey
Ice
5ml 2:1 sugar syrup
2 dashes of Angostura bitters
Orange or lemon zest to garnish 
Serve in an old fashioned (or rock) glass 
Recipe 
Step 1 – Measure out your ingredients. 
Step 2 – Add ice to your mixing glass or tumbler. Pour in half the whisky. 
Step 3 – Add the bitters and the sugar syrup. Add more ice and stir. 
Step 4 – Pour in the rest of the whisky. Add more ice and continue to stir. 
Step 5- Strain into a new glass over ice. Squeeze lemon zest over the surface of the drink and then mix zest into the liquid. 
Moscow Mule
Despite being named after the Russian city, the Moscow Mule was actually invented in America. Little Moscow, in New York City, to be more specific. 
The legend says that the cocktail was invented to celebrate the launch of a new ginger beer company. And the cocktail ended up having a Russian name because the mixologist used vodka (see also: Best Russian Vodka)in his recipe. 
It is traditionally served in some kind of metal mug or tumbler. 
Ingredients
50ml vodka
Crushed ice
150-200ml ginger beer
Few dashes of ginger bitters
Mint 
Lime 
Serve in a large glass or metal cup 
Note – many public health bodies do not recommend serving Moscow Mules in copper cups. This is because the acidity level of the drink is high enough to leach dangerous compounds out of the cup. This can lead to copper poisoning. 
Recipe 
Step 1 – Measure out your ingredients. 
Step 2 – Pour the vodka into your cup. 
Step 3 – fill the cup ¾ way up with crushed ice 
Step 4 – Fill the rest of the glass with ginger beer. Top with the bitters. 
Step 5 – Squeeze the lime juice over the surface and add a lime slice to the drink. Add mint as garnish if you wish. 
Aperol Spritz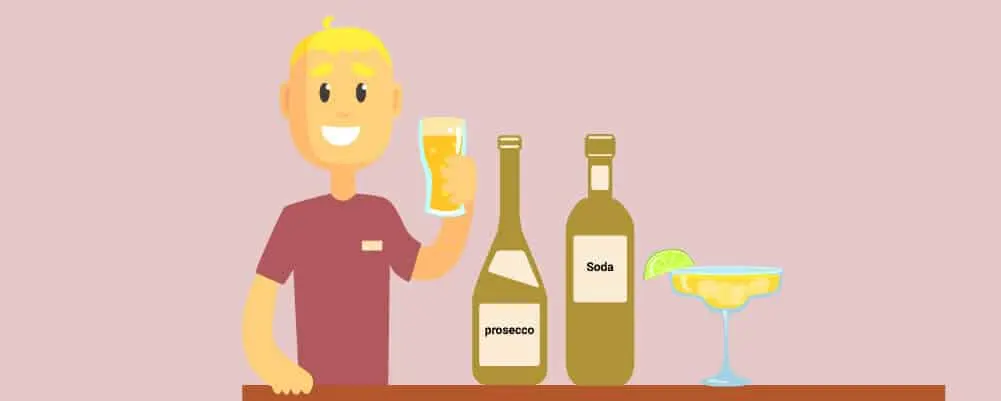 Aperol(see also: Campari vs Aperol – What's the Difference?) Spritz – originally known as Spritz Veneziano – is an aperitif cocktail that was invented in Italy. 
Aperol is a branded Rhubarb bitter that is most commonly used to make this cocktail in America. In Italy, the brand Select is the most popular. In other parts of the world, it is not uncommon to see a Campari Spritz being served. 
The Spritz actually dates back to the early 19th century. It is said that soldiers visiting new parts of Italy where the wine was stronger would water down their drink. Bitters like Select were later added to enhance the taste lost when water was added. 
Prosecco is one of the most popular sparkling wines to come out of Italy and is typically used in the drink for this reason. Bars that are trying to save money might use a cheaper sparkling wine from another region – like the Spanish wine Cava. 
Ingredients
Ice
50ml Aperol
75ml prosecco
Soda
Serve in a large wine glass 
Recipe 
Step 1 – Measure out your ingredients. 
Step 2 – Add ice to your glass and pour the Aperol over. 
Step 3 – Pour the prosecco slowly into the glass. Top up the rest of the glass with soda water. 
Some bars may serve an Aperol Spritz using entirely prosecco. 
Mojito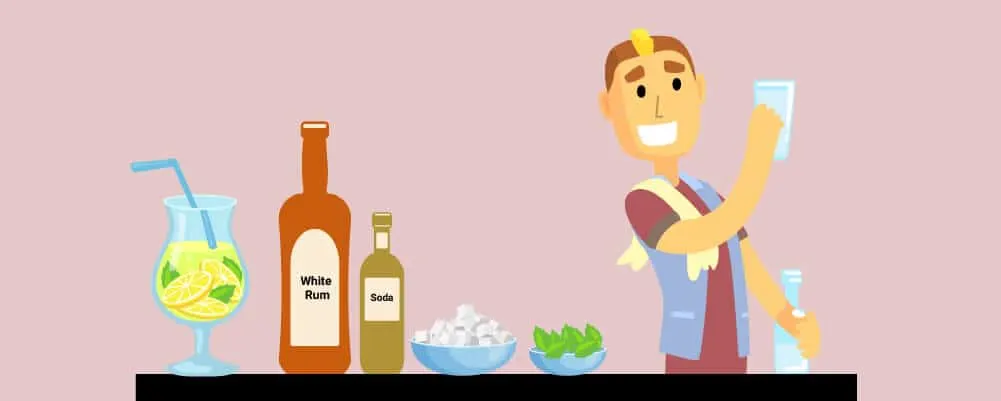 Summer in a cup… 
The Mojito comes from Cuba, although nobody is sure exactly where in Cuba this highball is from. Some say the drink is from Havana, but others dispute this. 
The ingredients used in this drink are traditionally used for medical treatments in South and Central America. Particularly, aguardiente de caña – an incredibly strong rum made from sugar canes. It is also known as burning water. 
The drink became increasingly popular after American tourists started to holiday in Cuba. 
A virgin mojito is one of the best mocktails in the world. It is made in the same way, except the rum is not added. 
Ingredients
Juice of 1 lime
1 tsp granulated sugar
Mint leaves
60ml white rum
Soda water
Ice
Serve in a highball glass 
Recipe 
Step 1 – Measure out your ingredients. Juice your lime. Destem your mint. 
Step 2 – Muddle your sugar and mint together before adding your lime juice. Then add to the bottom of your glass. 
Step 3 – Fill your glass ¾ of the way with ice. 
Step 4 – Pour the rum over the ice. 
Step 5 – Top up with soda water. 
Step 6 – Sprinkle with sugar and add mint and lime as garnish. 
Sex On The Beach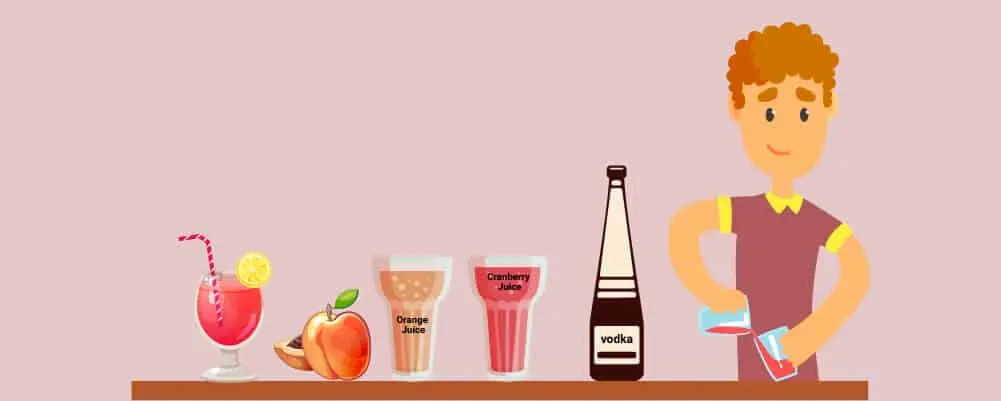 Sex (see also: Sex In The Driveway Recipe)on the Beach is the cocktail that most people think of when they dream of being on holiday. It has a tropical flavor, a good amount of alcohol, and it looks like a sunrise. 
Sex on the Beach is one of the rare cocktails that is typically made by the jug. Because there is so much ice in the drink, you do not have to be as precise with the ingredients as you would be with other cocktails. 
No one is really sure when or where the cocktail was invented as there is no official record. The International Bartenders Association (IBA) has the cocktail listed as a Contemporary Classic. 
The Woo Woo cocktail is Sex on the Beach without the orange juice. 
Ingredients
Ice
25ml vodka
15ml peach schnapps
1 orange, juiced, 
1 orange slice
25ml cranberry juice
Glacé cherries
Serve in a large or highball glass 
Recipe 
Step 1 – Measure out your ingredients. 
Step 2 – Fill a jug with ice. 
Step 3 – Pour drinks into a jug in the following order – vodka, schnapps, fruit juice. Stir until chilled. 
Step 4 – Pour the drink and ice into a large glass. Garnish with an orange slice and a cherry.
Summary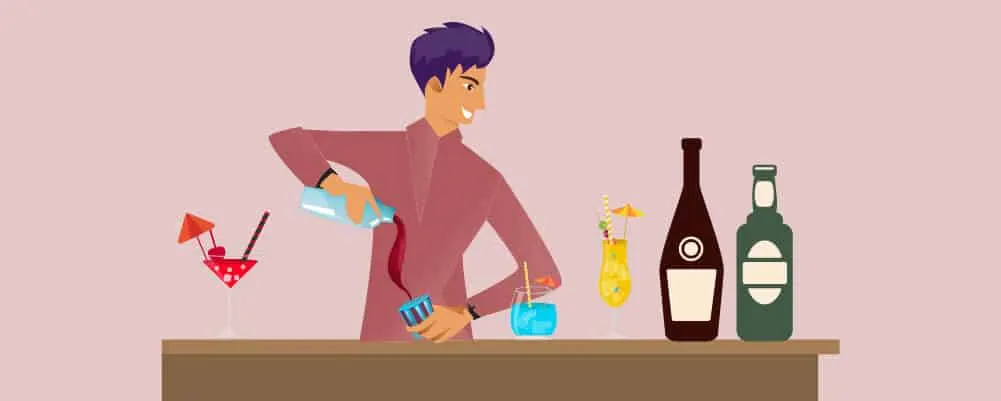 The study of cocktail making is called mixology and it is a fascinating, creative, and popular hobby.
If you are a fan of drinking cocktails then you can save yourself a lot of money by making them at home. Also, why should the fun of drinking cocktails be restricted to a fancy uptown bar? When you can make and drink cocktails from the comfort of your home. 
In the article above, you will learn how to make 10 of the most popular cocktails in the country right now. We recommend you play around with our recipes and make them your own. 
What are you waiting for? It's time to get mixing!