Picking out the best bourbon from a lineup can be challenging by itself, but creating the perfect Old Fashioned? That can feel too complicated.
Some might scoff and say to pick up any old high-quality bourbon, but in reality, you have to consider the notes of the beverage as well as the quality.
This traditional cocktail deserves more respect than a quick splash without a second thought.
Those of us in the whisky world recognize the importance of creating a balance, and the subtle tastes can create an explosion of flavor or leave you wishing you picked a different drink.
Today, we will teach you what an Old Fashioned is, the best bourbons to make with it, what you should be looking for in a bourbon and how to make this classic cocktail.
What Is An Old Fashioned? 
In the world of whiskey, an Old Fashioned is a cocktail. In fact, it was the first known cocktail. The first time the word "cocktail" was written down was in the early 19th century, and it describes this drink creation.
Originally it was a simple mixture of rum, gin, or brandy diluted with water, a couple of teaspoons of sugar, and a nutmeg garnish.
Around 30 years later, we started adding liqueurs into the mix to create a more complex flavor palate. You can also find quite a few variations such as a smoked old fashioned, rum old fashioned, or Italian old fashioned – to name a few.
The hype around complicated cocktails faded from fashion in the 1880s, and people started asking for a drink closer to the original creation. Known as an "old-fashioned" cocktail due to its simplicity, the name stuck and cemented in the cocktail hall of fame.
Quick List Of The Best Bourbon For An Old Fashioned
Ideally, we would like to show everyone what to look for when they create an Old Fashioned and explain why our top picks are perfect for the drink. But, if you are in a rush and simply need a drink to add to your basket, then have a gander at our quick list.
What To Look For When Creating An Old Fashioned 
If you want to create an Old Fashioned out of the ingredients in your cupboard, you need to know what you are pairing everything with.
Having this knowledge in the back of your head will help you whip up the perfect Old Fashioned in a flash, wowing your friends.
The three things you need to consider are Taste, Bite, and Bitterness.
Taste
Ideally, a dark and spicy flavored bourbon should be your first choice. This is because the spicy and deep flavorings pair wonderfully with the traditional ingredients of the drink. 
Normally you would expect a garnish with some type of bitter flavor. The spicy drink keeps this sharpness at the tip of your tongue while cutting through the drying sensation.
Bite
The spiciness of a darker bourbon gives you a satisfying bite, but if you don't have a spicy whisky at hand, then you can opt for a creamier bourbon instead.
Mellow and creamy bourbons are not the traditional option for an Old Fashioned, and without an extra bit of bite on top, you won't experience the drink as intended. 
To get past this, you can add in a rind of orange or lemon. Lemon would be the ideal choice for a creamy bourbon, and you can even add in some drops of the fruit's juices too. This helps the bourbon achieve a spicier flavoring to balance out the bitterness.
Bitterness
Although there are different ways to make the Old Fashioned, the re-occurring bitterness mingling with herby aromas is what makes it distinct. You can use oils or rinds from an orange, lemon, or even grapefruits.
If you have a bourbon that already has some of these bitter flavors added to the taste, then that whiskey will add another layer of bitterness to the drink. 
Although that might sound perfect, you should really remove the rinds to keep the drink balanced.
Using all of this information, you can see if the bourbon you have at home is already a good fit for an Old Fashioned.
This balance of flavor is what we are using to figure out the best bourbon to use in an Old Fashioned.
Best Bourbon For Old Fashioned 
A high-quality dark bourbon would be a great option if you aren't aware of any differing flavors, however, whiskey isn't as simple as light and dark.
Every drink will have its own depths and armors, which is why real research needs to be used to find the perfect bourbon for any cocktail. 
We've used our knowledge of the Old Fashioned and our experience with these fine bourbons to suggest the best options depending on your taste.
1. The Perfect Bourbon For An Old Fashioned – Basil Hayden
Calling something "The Perfect…" anything is a very large statement, but we aren't holding back. The Basil Hayden ticks every box when it comes to the balancing delights of an Old Fashioned.
The dark colors give us a warming depth that marries perfectly with the striking spicy flavor. Remember that this spicy hint is what we truly need for an Old Fashioned to gather the right flavors.
One of the staple ingredients for an Old Fashioned is sugar, and the sweet smoothness in the Basil Hayden compliments this ingredient well. Dancing among these spicy and sweetness are rich hints of peppermint, which may come as a surprise, but hold onto the flavor as you softly descend into splashes of citrus.
As you swallow this dancing delight, you'll again feel the heat of a spicy warmth to finish off your straight taster.
All of these flavors are perfect for an Old Fashioned, and even better when you take a moment to enjoy the delicate balance and slow descent through this palate of pleasure.
Almost as if the Basil Hayden was created for this cocktail alone, you couldn't find a more balanced accompaniment.
Pros
Strong Depth of Flavor
Powerful Spiciness
Sweet Smoothness
Surprising Peppermint
Overtones of Citrus
Cons
2. The Easiest Bourbon For An Old Fashioned – Woodford Reserve
The Woodford Reserve is another wonderfully dark bourbon. This depth gives an exceptional richness to the overall flavor. Unlike the Basil Hayden, the Woodford Reserve's strongest flavor isn't spice. Instead, it has a wonderfully sharp circus flavor.
First, you start with a heavily rich fruitiness, then it lightens to a minty and orangey flavoring that holds throughout your experience. To give the drink some depth, you'll subtly taste speckles of cocoa. As you swallow, you'll notice a warming vanilla flavor with a hint of tobacco spice.
It's the complex circus flavors that put the Woodford Reserve on our list, and the spicy kick at the end is one reason why we have placed it second. However, the real show-stealer is the amazing Old Fashioned Cocktail Syrup which pairs with the bourbon perfectly. 
The Woodford Reserve distillers created this syrup with their own bourbon in mind. Balancing the flavors to perfection, creating an immaculate rendition of the classic.
The only thing you need to add is ice, and hey presto, you have an Old Fashioned. Having both of these bottles in your cupboard will keep you constantly ready for an Old Fashioned cocktail.
Pros
Perfect Syrup Created For An Old Fashioned
Complex Citrus Flavor
Toffee Sweetness
Spicy Tobacco Overtones
Cons
Syrup May Feel Too Artificial For Some
3. Less Spicy Old Fashioned – Maker's Mark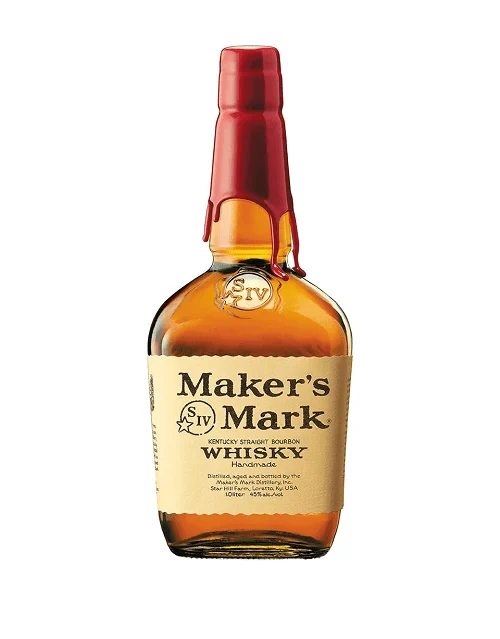 If the idea of an Old Fashioned sounds delightful, but you cannot handle a spicy drink, then we suggest using the Maker's Mark.
This bourbon was created to contract the hot whiskies that are super popular. Instead, the Maker's Mark design is an easy finish with a smooth round taste.
If you want a classic bourbon taste without the kick at the end, then we would always recommend the Maker's Mark. But, when it comes to the Old Fashioned, this flip can invite more people into the old cocktail choice.
When you take a sip, you will notice a woody oak scent instantly, as a sweet caramel flavor tingles your tongue. That caramel will then deepen into a vanilla smoothness. Dancing in the overtones, you'll notice a fruity touch.
And it will all finish with a smooth descent for an easy-drinking palate.
Pros
Sweet Smoothness
Woody Scent
Fruity Overtones
Smooth Finish
No Spice
Cons
It may seem contradictory to put "No Spice" into our pros and our cons list, but to some, the lack of spice will be the lack of an Old Fashioned all by itself. 
It was a risk putting this drink on our list at all, but we know that some people cannot drink spicy alcohol. To make the Old Fashioned more accessible, we wanted to include the Maker's Mark.
4. The Best Introduction To An Old Fashioned – Larceny
If you are completely new to whiskey cocktails, then the Larceny will be the best choice for you. For one, it is the cheapest bourbon on our list, and secondly, it tries to balance the same flavors as the Basil Hayden but emphasizes the sweetness of the cocktail as opposed to the spiciness.
Despite its sweetness, the Larceny is a strong drink, so don't use too much in your cocktail.
The smooth whiskey has a buttery texture with a strong caramel flavor. There are added sweet notes of rounding honey for a rich overall taste.
As the drink finishes, you can expect the sweetness to become gentle, but the kick of spice at the end grounds in a savory edge.
Pros
Powerful Sweetness
Honey Smoothness
Gentle Finish With A Kick of Spice
Affordable
Cons
5. A Sugar And Spice Old Fashioned – Buffalo Trace
If you like your spice and sweetness to match in intensity, then the Buffalo Trace is for you. It is a high-quality bourbon (at an affordable price) with a complex palate that can balance spice with sweetness.
As you lift your drink to your mouth, you'll smell the deep aromas of vanilla and mint with a hit of molasses. When the liquid hits your lips, you'll welcome in a sweet brown sugar flavor instantly intertwined with an oaky spice.
Dancing between these light flavors, you'll notice a dark fruit and toffee enchantment drawing you into a deep delight.
This energetic combination brings an amazing richness of flavor to the Old Fashioned (see also: Best Bitters For Old Fashioned)classic. The only thing it's missing is a citrus kick. 
Pros
Powerful Sweetness
Powerful Spiciness
Deep Undertones
Adorable
Cons
How To Make An Old Fashioned
The Old Fashioned is an easy cocktail (soo also: Manhattan vs Old Fashioned Cocktail – What's the Difference?)to make; there are very few ingredients, and it's the bourbon that takes center stage. 
Remember that this drink was cemented into the cocktail hall of fame when complicated drinks fell out of fashion. People wanted to go back to simplicity.
Ingredients
Bourbon of your choice – 2 to 4 ounces
Bitters (normally Angostura) – 2 to 3 splashes
Sugar – A pinch
Plain Water – A few dashes
Orange peel
Large Ice Cube
Method
Mix together the sugar and bitter in a rocks glass.
Add in a couple of dashes of water.
Add in the ice.
Pour the bourbon over the top of the ice.
Stir gently.
Using a lighter, burn a finger length size of orange peel.
Garnish the glass with orange peel.
Enjoy!
Realistically, this drink isn't 8 steps long. But, with such a small method, we can easily separate each step to make even the most timid cocktail maker feel in control.
The Old Fashioned has changed over the years, and although it was created to be a simple drink, our cultural desire for more details has expanded this classic again.
You may find bartenders across the country adding cherry juice, vermouth, or even walnut liquor to the Old Fashioned but still calling it by the traditional name. This isn't incorrect, of course, as the Old Fashioned has morphed many times throughout its life.
But if you want to keep the first-ever whiskey cocktail as simple as its original creation, then use our recipe above.
Frequently Asked Questions
What Bourbon Is Used In An Old Fashioned?
Any dark, spicy, and slightly sweet bourbon would be perfect for an Old Fashioned. We would recommend Basil Hayden, as it has all the flavors of the cocktail balanced already. 
It even has the circus overtones that most bourbons lack.
What Whiskey Should I Use For An Old Fashioned?
Old Fashioned are always created using bourbon. However, if you don't have a bourbon to hand, you can use any spicy rye whisky.
As this cocktail's biggest flavor is the spirit, your choice of bourbon will dramatically affect the overall cocktail.
What Is The Smoothest Bourbon To Sip?
We'd recommend Henry McKenna is one of the smoothest bourbon and comes with a high-quality taste. You can expect notes of sweet caramel laced in herbal touches. There is a spiciness, but it is rounded off with warming oak and light vanilla.
The Henry McKenna is an expensive bourbon, though, so if you were hoping for something a little more affordable, we suggest the Maker's Mark. 
The Maker's Mark is also a wonderfully smooth Bourbon second only to Henry McKenna. The flavors work very well in an Old Fashioned cocktail, although it is more smooth than spicy.
Is Knob Creek Good For An Old Fashioned?
Knob Creek would work well in an Old Fashioned, although we suggest using their Kentucky Straight collection.
Because this bourbon is rather sweet, you wouldn't want to muddler or mix the sugar and bitter together. Instead, you should leave out the sugar entirely. 
What Should An Old Fashioned Taste Like?
An Old Fashioned should taste like a fiery citrus sweetness, with a gentle smokey finish. Imagine eating a caramelized orange with chili flakes while sitting next to a bonfire. 
The bourbon brings the fire. The sugar brings the sweetness. And the burnt orange brings a balancing citrus flavor. 
If you don't burn the orange, you won't get the smoothing smoky finish. So don't forget that crucial element.
Is Bourbon Sweeter Than Rye?
Generally speaking, yes. Bourbon is sweeter than rye, although you can expect a spicy kick.
Rye is more aggressive with its flavors and doesn't tend to have blended additions like oak or vanilla.
Summary 
Now you know the history of the Old Fashioned and what a good bourbon for this drink should taste like. 
The spicy element comes from the bourbon alone, whereas the citrus overtones could be taken up by the orange peel garnish.
We have shown you the best bourbons for the job, but follow your taste buds (or what you have in your collection) to create the Old Fashioned as you desire.
This drink has been chopped and changed. This fact should help you edit the cocktail to fit your flavors. Any tinkering for your version would be a continued addition to this old-time drink.
Have fun finding your balance, but keep the original Old Fashioned in mind.