If you are craving an instant getaway to a tropical destination, the Bahama Mama Cocktail is your ticket south! It is fruity, juicy, and tastes like a vacation in a glass.
History Of the Bahama Mama
The Bahama Mama is a fruity cocktail that looks like a tropical sunset in a glass. It is ice cold and tastes like the perfect adult Caribbean fruit punch (see also: Trash Can Punch)of your dreams.
If your mouth is not already watering, I don't know what else to say: this drink is as close to a sure thing as it gets! True to its namesake, the origin story for this cocktail is believed to come from Nassau, Bahamas.
There is limited historical information behind this cocktail, and zero fact-checking has been completed on the circulating facts. The longest-standing belief is that this drink was named after Dottie Lee Anderson.
She was a singer and dancer in the Caribbean, and she used the stage name The Bahama Mama. She performed all over the Caribbean in the 1930s and she must have caught the affection of a bartender at one of her shows.
Years later, in the 1960s, a bartender in Nassau claimed he was the mastermind behind this popular tropical drink. His name was Oswald Greenslade, and he worked at a local beach hotel.
However, locals agree this drink had already been popularized for the last 20 years before he lay claim to the beverage, so cocktail enthusiasts believe he published his version of the drink in the 60s which gained popularity at the hotel he worked at.
Bahama Mama Ingredients
The Bahama Mama is inspired by the tropics! We are talking flavors like orange juice, pineapple juice, and of course, coconut. The coconut element of this drink is from coconut rum that is mixed into this drink. The most popular option on the market is Malibu Rum.
One version of rum is not enough for this cocktail. On top of coconut rum, this cocktail also calls for equal parts dark rum(see also: Best Dark Rums For Cocktails). The coloring of dark rum is from molasses or sometimes artificial caramel coloring. The taste of dark rum can be much sweeter than white rum, and this sweetness lends itself perfectly to this fruity cocktail.
Grenadine is a bright red syrup that is used to enhance the color and flavor of cocktails and cocktails alike. There is no alcohol in Grenadine, it is syrup made with pomegranate fruits. It is quite sweet, and a small amount goes a long way. Other popular cocktails that use grenadine include Tequila Sunrise and Sea Breeze shooters. 
There are several different brands of grenadine on the market. They are typically available for purchase at grocery stores, not at the liquor store.
More expensive Grenadine brands are considered artisanal, and they will have more sophisticated flavors than more economical varieties. This cocktail has so many components, do not sweat and buy the expensive stuff for this drink. Save your dollars for buying a smooth dark rum instead!
Tips For Making the Perfect Bahama Mama
Taste your cocktail mix before serving it. The final product may end up being sweeter than you expected. Certain ingredients, like different brands of fruit juice, will contain sneakily high sources of sugar that can dial up the sweetness of your cocktail.
Also, keep an eye on how much grenadine you add to your drink. It is easy to overestimate how much you should add to a large batch!
If you have accidentally stepped into the realm of too sweet, add fresh lemon juice or lime juice to your mixture. The acidity of these fruits will cut back the sweetness and balance out the flavor profile of your cocktail.
Keep your blended Bahama Mama mix stored in the fridge in the blender between refills. Before you refresh your guests' drink, blend it again to ensure all the ingredients are well incorporated.
If it looks too runny, add an extra handful of ice and blend again. To enjoy the full dramatic colors of this glass it is best served in a tall vessel. Hurricane glass is the go-to option, but you could substitute a collins glass as well.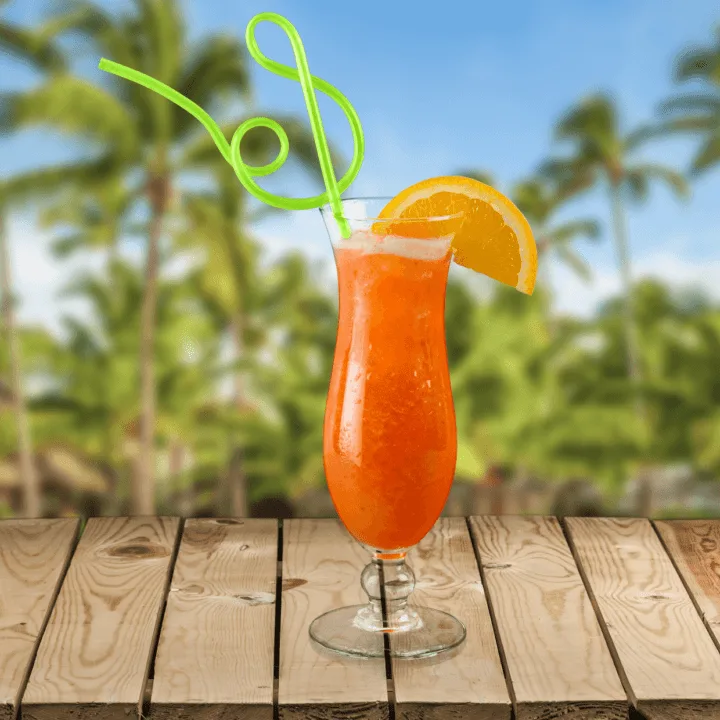 Bahama Mama Cocktail
Welcome to paradise! The Bahama Mama Cocktail is a tropical escape in a glass, with delicious flavors of rum, pineapple, and coconut. This refreshing cocktail is perfect for enjoying any time you need a little taste of the islands. So sit back, relax, and enjoy a tropical vacation in a glass!
Ingredients
1 oz orange juice
1 oz pineapple juice
1/2 oz grenadine syrup
1 cup crushed ice
orange or pineapple slice, to garnish
Instructions
Add all the ingredients to an electric blender. Blend the drink until the consistency is a thick slushy.
Pour into tall glass, add a straw, and garnish with fruit slices. Enjoy!
Notes
This recipe easily scales up if you want to make pitchers at a time!
Nutrition Information:
Yield:

1
Serving Size:

1 grams
Amount Per Serving:
Calories:

236
Total Fat:

0g
Saturated Fat:

0g
Trans Fat:

0g
Unsaturated Fat:

0g
Cholesterol:

0mg
Sodium:

16mg
Carbohydrates:

48g
Fiber:

4g
Sugar:

35g
Protein:

2g
Final Thoughts
There are several variations of the Bahama Mama Cocktail. Some recipes include lemon juice, coffee liqueur, and three different types of rums. The most significant difference between recipes is the use of a cocktail shaker or a blender to incorporate the ingredients.
An authentic classic Bahama Mama recipe uses a cocktail shaker and does not contain grenadine. This variation is loosely considered retired in the cocktail community and is it is unlikely you will be served this version at a large bar.
Instead, you will likely receive a Bahama Mama in a tall hurricane glass, filled to the brim! They often add bright red grenadine to the drink and it sinks to the bottom of the glass.
The final drink product shares the same colors as a setting sun in the Bahamas, beautiful! Many bars will also blend this cocktail with ice to create a slushy texture. Whatever variation the locals love becomes the house recipe.