A julep is an elixir that promotes vitality and good health. Add Kentucky Bourbon to that base elixir, and now you've got yourself an iconic drink that we all know as the Mint Julep cocktail!
History of the Mint Julep 
The Mint Julep is a bourbon-based cocktail that earned its place in cocktail history in 1939 when the Kentucky Derby declared the Mint Julep to be the official signature drink for the event. 
If you've never heard of the Kentucky Derby it is an annual horse race that is typically held on the first weekend of May. It attracts huge crowds across the USA, and it has been running for 146 years. 
You may wonder what a julep is. When I first heard of it I assumed it was an ingredient, maybe somehow related to a juniper that is used for gin.
A julep originally hails from Persia and was a term used to describe a sweetened flavored drink back then it was often water enhanced with fresh rose. They were often prescribed to cure health problems, such as upset stomach and respiratory problems. 
As trading expanded across the globe the julep reached the American people in the early 18th century. The recipe for the julep had changed by this point, and Americans would add honey or spirits into the tincture and drink it down first thing in the morning.
Everybody wanted to drink their julep to fend off the possibility of illness, and it became a very trendy component of a self-care routine. 
Kentucky has always been rich in bourbon and proud of its distillers. The local bourbon blended perfectly with julep elixirs, and the Mint Julep cocktail exploded. The Derby organizers knew they had to highlight everything the Kentucky cocktail scene had to offer, and the Mint Julep stole the show. 
What Goes In A Mint Julep?
The Mint Julep cocktail ingredients list is lean. The star of the show is undeniably the bourbon. Pick a sophisticated bourbon for your Mint Julep to show off the rich flavor notes of the alcohol. Bourbon is sweeter than most whiskeys, and it commonly offers flavor notes of oak, caramel, and vanilla.
Kentucky bourbon distillers recommend picking a brand of bourbon that is 90 proof or higher. They recommend meeting this cut-off if you want your bourbon to withstand the heat and also avoid getting overly diluted from the large amounts of ice used in this recipe.
Fresh mint leaves are necessary to create an authentic Mint Julep cocktail. You will need to muddle this hearty herb to release the full flavor of this bright green plant. Dried substitutes will not do the trick for this cocktail, so do yourself a favor and stock up on plenty of fresh mints if you're planning to host a party and feature this cocktail as your signature beverage.
In many regions, people can grow fresh mint in their backyards or from their balcony patios. Be warned that mint is an invasive species, and it can rapidly overtake your garden. To avoid this, plant fresh mint into its pot and trim as needed. They are perennials, and they will grow back themselves every summer.
The final staple ingredient for the Mint Julep Cocktail is the simple syrup. This is an extremely easy mixture to make at home. You boil water and add sugar, stirring until the sugar crystals have completely dissolved. Your homemade simple syrup should last up to 14 days when stored in an air-tight container in the fridge.
How To Make A Perfect Mint Julep
The Mint Julep cocktail is served in a special julep cup. These glasses are typically silver but they are now also fashioned from copper materials too.
The julep cup looks like an oversized shot glass. It has a narrow base that widens as you move up towards the rim. This design is meant to retain the coldness of the cocktail for as long as possible, ensuring you enjoy cold refreshing sips from start to finish.
Avoid using a shaker with this cocktail because this is not a recipe (see also: Orange Screwdriver – Our Simple Recipe for This Classic Breakfast Cocktail)that can be rushed. There are a few steps involved, to begin with, so take your time and prepare each drink correctly.
You will taste the difference when the temperature of bourbon is correctly brought down. Keep stirring until the julep cup is cold and you can visibly see frost on the outside of the vessel.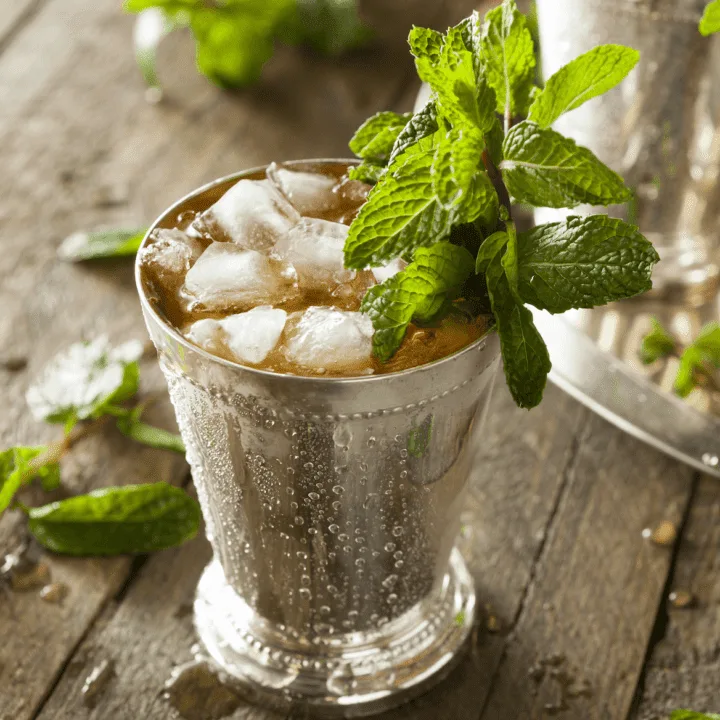 Mint Julep Cocktail
The Mint Julep Cocktail is a refreshing, minty drink that is perfect for any occasion. This cocktail is made with fresh mint leaves, Bourbon whiskey, and simple syrup, and is garnished with a sprig of fresh mint. The Mint Julep Cocktail is a classic Southern drink that is perfect for sipping on a hot summer day. This refreshing cocktail is sure to become a favorite among your friends and family.
Ingredients
8 fresh mint leaves
1/4 oz simple syrup
1 oz bourbon
fresh mint sprig, to garnish
Instructions
In a Julep cup, muddle the fresh mint leaves with the simple syrup
Pour in your bourbon and pack the cup with crushed ice
Stir until the vessel is visibly frosted on the outside and cold to the touch
Top with more ice to create a dome shape and garnish with a fresh mint sprig. Enjoy! 
Nutrition Information:
Yield:

1
Serving Size:

1 grams
Amount Per Serving:
Calories:

122
Total Fat:

1g
Saturated Fat:

0g
Trans Fat:

0g
Unsaturated Fat:

0g
Cholesterol:

0mg
Sodium:

31mg
Carbohydrates:

12g
Fiber:

7g
Sugar:

3g
Protein:

3g
Final Thoughts
Some Mint Julep enthusiasts will add a few dashes of Angostura bitters directly onto the dome of ice that is commonly served in this cocktail. If you prefer complex flavor notes and enjoy the botanical notes of bitters feel free to give this a try. As the ice melts the bitters will slowly blend with the rest of the cocktail, and the increase in bitterness is very gradual. 
The Mint Julep pairs well with all the classic picnic finger foods. To keep your guests satisfied serve mint julep cocktails with a side of deviled eggs, Kentucky-style nachos, or deep-fried black-eyed peas. These savory treats will balance the sweeter tones of the Mint Julep, and all your taste buds will be satisfied.