The history of cocktails and a guide to the 17 most popular cocktails in the world right now 
Is there anything that brings more joy than a well-made cocktail? We don't think so. 
Right now, we would love to be standing at the bar, watching the mixologist pick out the perfect chilled vodka for our martini. Or cutting the perfect slice of orange peel for our Old Fashioned. Sadly, we can't be at the bar right now, but talking to you about cocktails is definitely the next best thing. 
One of the things that we love most about cocktails, is that there is such a wide range of them that everyone can find something they like. Therefore a cocktail bar is a perfect place to spend a night with friends or colleagues. 
There is a perfect cocktail for your friend who has a sweet tooth, for your colleague that likes their drinks to burn on the way down, and there are even plenty of choices for your sister who doesn't like her alcohol to taste like alcohol.  
So, whether you like a Cosmo, Old Fashioned, or something a little more obscure, we have put together an article that you will find fascinating. 
Today, we will be looking at what makes a cocktail a cocktail, the history of these drinks, and then we will be taking a deep dive into the 17 most popular cocktails in the world right now. 
What Is A Cocktail?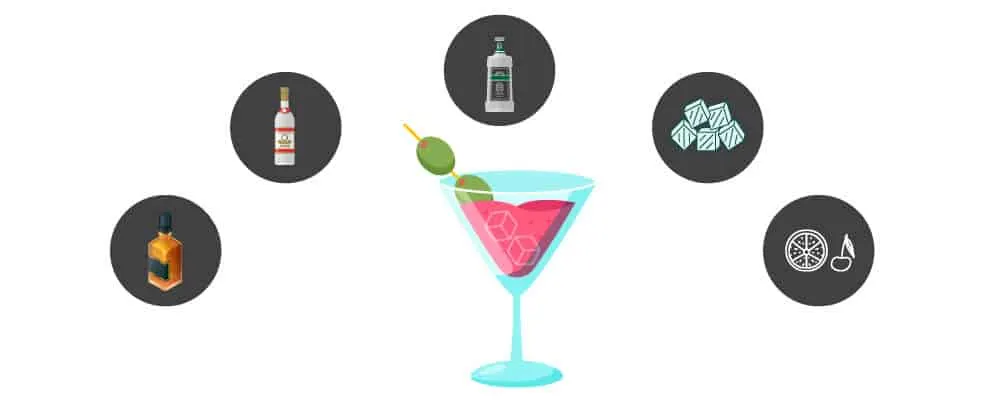 One of the first written descriptions of a cocktail can be found in The Balance and Columbian Repository of 1806. It said a "Cocktail is a stimulating liquor, composed of spirits of any kind, sugar, water, and bitters."
However, the OED gives us a more modern definition of a cocktail, "an alcoholic drink consisting of a spirit or spirits mixed with other ingredients, such as fruit juice or cream."
As time has gone on the definition of what a cocktail is has got looser. This has happened as mixologists have pushed the boundaries of what can be considered a cocktail. The industry has adapted as flavors, ingredients, and textures have gone in and out of fashion. 
Some bars have even started serving cocktails as bubbles of vapor or with domes of smoke over them that the drinker must breathe in before they start their cocktail. 
A Brief History Of The Cocktail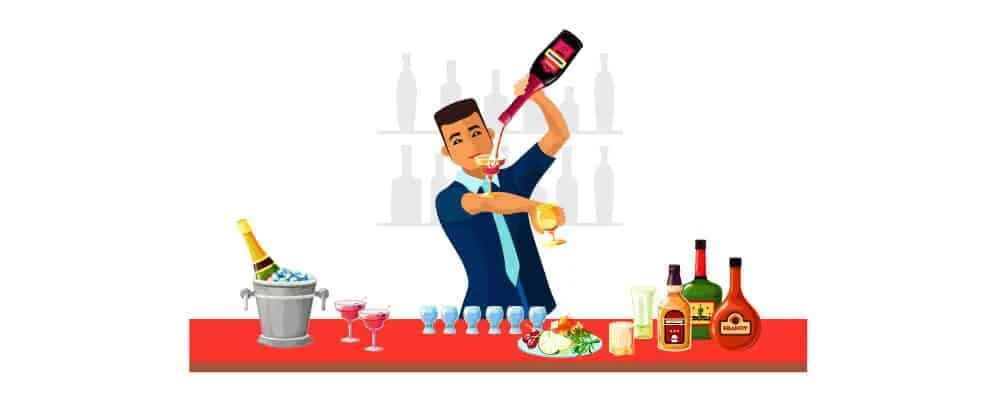 There is a big debate about where the name Cocktail comes from. 
The first suggestion is that Rooster tails (or Cock tails) were used by Colonials as a garnish for their drinks. Although there is no written reference to this that has been found. 
There are a few references to a barmaid in the Four Corner bar (in New York City) who used tails from the Rooster's feathers in her drinks during the Revolution. Her name was Catherine "Kitty" Hustler and French soldiers often talked about the amazing drinks she made. 
An American Invention 
It is hard to imagine life without cocktails, but there was a time when they didn't exist. 
Cocktails are an American invention and the first real reference we have to the drink comes out of New York in 1806. The original cocktails were designed to 'stimulate' and delight the drinker. 
The cocktail industry really took off when Fredrick Tudor discovered how to transport ice and drinks no longer had to be served at room temperature. 
From 1920 to 1933 the sale of alcoholic drinks was banned in America. This did not stop the cocktail craze, instead, it went underground. 
The range of cocktails served in the US exploded after the Second World War when soldiers returned from war having developed a taste for more exotic flavors. This happened again as plane travel became cheaper in the 70s and civilians began to travel around the world. 
Inspired by the British 
The original cocktails were inspired by a British drink called Punch. 
Punch was made up of a mixture of strong alcohols, fruit juices, and other ingredients the host might feel inclined to add to the drink. 
Punch (see also: Trash Can Punch Recipe)was designed not to taste like alcohol but to be very strong and get people drunk quickly. 
The Most Popular Cocktails In The World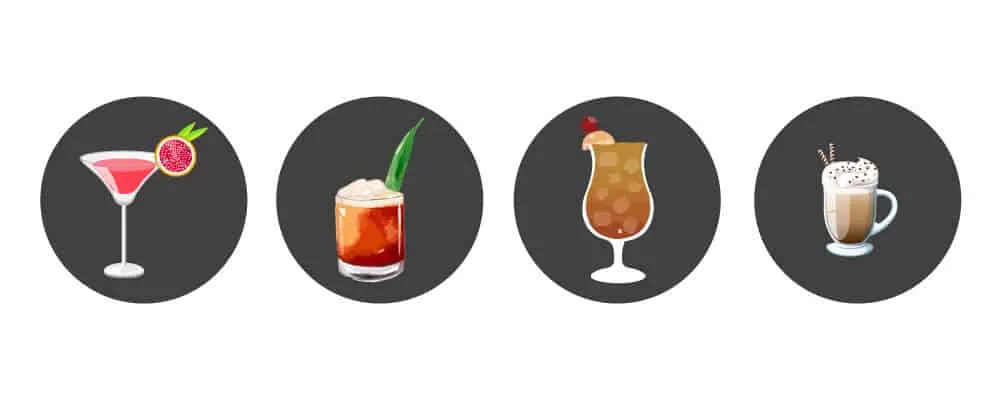 Now that we have learned a little about what cocktails are and the history of the drinks. Let's take a deeper look at the 17 most popular Cocktails in the world right now.
Jungle Bird
Notes – sweet pineapple blends with bitter Campari and hot rum to create a balanced and refreshing cocktail. 
Key Flavors: 
Ingredients: 
Dark rum

Pineapple juice

Campari

Lime juice

Simple syrup
There is an urban legend that says The Jungle Bird was invented in Kuala Lumpur, Malaysia, in 1978. What we do know about this cocktail is that it was marketed as an alternative to Negroni. 
Jungle Bird offers a way to use Campari that is much more palatable to the average cocktail drinker than Negroni. This at its roots is a fruity drink that offers a bit of a twist. The pineapple juice really does make the drinker feel like they are abroad, sipping away on a tropical beach. 
When made correctly, no individual ingredient in the Jungle Bird should stand out. This makes it possible to drink multiple glasses in a row without getting a bitter aftertaste in your mouth that will ruin your next drink. 
Perfect for lovers of Sex on the Beach and Tequila Sunrise. 
Notes – this drink should have the amber hue of sweet ice tea and be served in a large glass. The overwhelming flavor of this drink should be alcohol with an aftertaste reminiscent of sugary-sweet ice tea. 
Key Flavors: 
Ingredients: 
Vodka

Tequila

Light rum

Triple sec

Gin

A splash of cola // Simple Syrup 
This is one of the most popular and iconic cocktails out there. You will find it served all over the world. 
Non-American drinkers might find the name confusing, as most of the world does not serve tea with as much sugar as the Americans do. But if you have had a glass of sun tea then you will be able to see the resemblance in this cocktail. 
There is a lot of alcohol in this cocktail and it is designed to be served in a large glass or from a pitcher. 
If you are not a fan of sweet drinks then you will want to avoid this one. However, if you want to get drunk very quickly then we recommend you start on the Long Island Ice Teas. 
Perfect for lovers of Rum and Coke and for people with a sweet tooth. 
Gin Gin Mule
Notes – A Gin Gin Mule somehow manages to be an explosion of flavor and incredibly refreshing simultaneously. It is full of fresh mint, hot ginger, sweet syrup, and bitter gin. One of these will not be enough.  
Key Flavors: 
Ingredients:
Mint 

Lime 

Ginger Beer 

Simple Syrup 

Gin 
We know a lot of people who are not a fan of muddling mint (crushing the leaves by rolling them to produce more flavor), but when you have a cocktail like a Gin Gin Mule it's easy to understand why bartenders do it. 
If you want a drink that can cleanse your palate while still being one of the tastiest drinks you have had all night, then you want a Gin Gin Mule. This cocktail was invented in 2000 and first served in Pegu Club, in New York City. 
It is reminiscent of a Moscow Mule but uses gin instead of vodka and also includes simple syrup. 
Perfect for lovers of Mojitos, Moscow Mules, and Gin & Tonics. 
Notes – this cocktail has a strong flavor and a ghostly hue. Its sharp citrus notes will make the lips of most cocktail lovers pucker. 
Key Flavors: 
Ingredients: 
Egg white (optional) 

Cointreau or Triple Sec

Gin 

Lemon juice 

(sometimes Sugar – not recommended) 
This drink was invented and first served at London's Ciro Club in 1919. 
It is not for those of you who have a sweet tooth, in fact, only lovers of tart fruits will enjoy this one. Gin is a bitter drink on its own, but when combined with either Cointreau or Triple Sec and a healthy dose of Lemon, expect to lose taste buds. 
The egg white in this drink is optional, some bars also choose to use a vegan alternative when serving this cocktail. 
The drink is called the White Lady because of its pale hue. It is said that this cocktail was the favorite of comedy legends Laurel and Hardy. 
This drink is sometimes served with sugar, however, that does defeat the point of adding so much lemon to the drink. 
Perfect for fans of Negronis and Mojitos.
El Diablo
Notes – El Diablo is sweet and spicy in the best of ways. You may struggle to get hold of Crème de cassis, but it is well worth the search. 
Key Flavors: 
Ingredients: 
Tequila 

Crème de cassis

Lime 

Ginger Beer 
Many people expect a drink called El Diablo to be blow-your-socks-off hot. If anything, this drink is the opposite. 
There are two main theories behind the name of this drink. One, it gets its name from its bright red color. Or, two, it has its name because you cannot taste the alcohol in it and if you drink too much of it you tend to misbehave. 
This drink is a favorite of novice bartenders around the world, as it is incredibly easy to make but it tastes very complex. 
This is a very sweet drink, whose main notes are sweet blackberry and spicy ginger. When mixed well it is hard to pick up on the tequila in this drink until the aftertaste. 
Perfect for lovers of a Dark 'N' Stormy, and Blackberry Brambles.
Notes – This flirty drink will always be associated with the 1990s and Sex in the City. This is a fruity drink that doesn't let on how much alcohol it has in it… and it is very easy to drink. 
Key Flavors: 
Ingredients:
Vodka 

Triple Sec 

Cranberry Juice 

Lime 
If you lived through the 90s then you will definitely know what a Cosmopolitan (or Cosmo) is. It really was the drink of the decade. You couldn't watch TV without seeing one of your favorite stars ordering one of these at their local bar. 
Cosmopolitan is one of those dangerous cocktails that are delicious and really don't taste like they have a lot of alcohol in them. 
When they were first invented, Cranberry juice companies tried to promote the cocktail as a healthy drink that could improve women's health while they were enjoying a night out. 
If you want to throw parties at your home bar then we recommend you learn to make a Cosmopolitan. They are very easy to throw together and they are a real crowd-pleaser. We all still secretly want to be Carrie Bradshaw.  
Perfect for lovers of Porn Star Martinis, Sex on the Beach, and Margaritas.
Notes – Zombie cocktails really do capture the taste of vacation. Rum is usually paired with coconut, in this cocktail, it is paired with sweet orange juice and tart pineapple juice, then topped off with Brandy. 
Key flavors: 
Rum 

Pineapple 

Orange 

Passionfruit (sometimes) 
Ingredients: 
Rum 

Brandy 

Pineapple juice 

Orange juice 

Passionfruit juice (sometimes)  

Cherry (as garnish) 
If you have ever seen a bartender walking across the room with a flaming cocktail then it was probably a Zombie. The Brandy in the drink is often set on fire and burnt off before the cocktail is drunk. 
This is a typical 'Tiki' cocktail – full of alcohol but masked by sweet fruit juices. The cocktail is typically made with pineapple and orange juice, but the pineapple is sometimes swapped out for passion fruit puree. 
The drink was invented in the 1930s and quickly became the drink of choice in Hollywood films. The drink grew in popularity the more it appeared on screens. This drink is traditionally served in a skull-shaped glass with a Brandy soaked Lime (or just straight Brandy) burning on the top of the drink. 
Perfect for lovers of Pornstar Martinis, Screwdrivers, Sex on the Beach.
Notes – if you are looking for a cocktail where you can taste the alcohol and really pack a punch, then look no further. 
Key Flavors: 
Ingredients: 
Gin

Sweet vermouth

Fernet-Branca

Orange (for Garnish) 
We will give the British readers a little time to laugh at the time of this cocktail's name (Hanky Panky is an old British euphemism for 'doing the deed'). 
Back to the cocktail. 
Legend has it that this cocktail was invented in 1925 in the Savoy Hotel, London. Ada Coleman was working at the bar when Sir Charles Hawtrey walked in and asked her to make him something with a punch. During his next visit, she served him a Hanky Pankey. Sir Charles Hawtrey loved it and gave the drink rave reviews. 
This is a strong cocktail and it is not for the faint-hearted. If you don't like to taste your alcohol then you are going to want to stay well away from this one. However, if you are a Vermouth fan, this may be the only cocktail you want to drink for the rest of your life. 
The drink is traditionally served with a curl of orange peel. 
Perfect for lovers of Dirty Martinis and Manhattans.
Notes – cocktails don't come any simpler or more iconic than the vodka martini. This cocktail is for the people who are looking for a stiff drink at the end of the day or want to drink away their nerves before saving the world from an evil villain. 
Key flavors: 
Ingredients: 
Vodka 

Dry Vermouth 

Ice

Lemon or Orange peel (for garnish)

Olives (for alternative garnishing) 
'Martini, shaken not stirred' 
If you spend enough time with a bartender they will probably tell you that shaking a Martini will ruin its flavor. It's true, it turns out that James Bond really didn't know what he was talking about. 
There are many types of martini, but the most popular (and most classic) martini is the Vodka Martini. The drink is mixed with ice in a cocktail shaker and then served straight (with no ice) in a chilled martini glass. It is then garnished with either citrus peel or with olives. 
A traditional martini is made with Gin, so the Vodka martini is technically not a martini. 
This type of martini contains a lot of alcohol and is not for the faint-hearted. 
Perfect for fans of traditional martinis, screwdrivers, and Negronis. 
Notes – this cocktail is a sweet and sour drink that will keep you wanting more. 
Key flavors: 
Ingredients: 
This cocktail is as simple as they come. It only has three ingredients. The cocktail is made by muddling lime and sugar together at the bottom of a jar or jug. Crushed ice is then added to the glass and then the Cachaça is added. 
This is the national cocktail of Brazil and is the perfect choice for the middle of summer when the temperature rises. Traditionally, this cocktail is made by the jug rather than by the glass. 
This cocktail is not the same as a Mojito which contains mint, (see also: Best Mint For Mojito)sugar, and lime. If you enjoy Mint Julips, then you will probably enjoy a Caipirinha. 
Caipirinha is the Portuguese equivalent of Hillbilly or Red Neck and refers to people from the South of Brazil. 
Some places in Brazil use fruits other than Lime – orange or passionfruit. However, in Brazil, it is illegal to call any cocktail that doesn't use Lime a Cachaça. This is not the case in the rest of the world. 
Perfect for lovers of Mojitos, Moscow Mule, and Brambles. 
Notes – this cocktail is perfect for anyone who loves dry gin. This is a refreshing cocktail that combines the sharpness of carbonated water, with the sweetness of sugar, and the deliciousness of gin. 
Key flavors: 
Ingredients: 
Gin 

Sugar 

Lemon 

Carbonated water 
The first record of the Tom Collins comes from the father of American cocktails, Jerry Thomas. Thomas described the drink as a refreshing alternative to Gin and lemonade in 1876. Thanks to Thomas's writing we know that this is one of the oldest American cocktails (and one of the oldest cocktails on this list). 
So, what is the Tom Collins' secret to staying so popular? Well, we think it has something to do with its perfect combination of sweet sugar and sour lemon. These two flavors aren't too strong to overwhelm the gin. The drink is topped off with refreshing carbonated water and a slice of lemon as a garnish. 
 A Tom Collins must be garnished with lemon. If it is garnished with cherry or orange then it must be called a Jerry Collins, and just a Collins if it is garnished with anything else. 
Perfect for fans of Gin & Tonic, Mojitos, and Gin Mules.
Bamboo
Notes – not many cocktails come with a flavor as complex as the Bamboo. This drink manages to be sweet, floral, bitter, and herbal all at once. It is a drink that you won't want to stop drinking. 
Key flavors: 
Ingredients: 
Dry Sherry 

Dry Vermouth 

Orange Bitters 

Angostura bitters
Some say the Bamboo was inspired by the 1902 hit song Under the Bamboo by Bob Cole. But the drink actually predates the song. There are records of it being included in cocktail menus long before the 20th century began. 
It is hard to believe that the Bamboo is as old as it is, it really does taste like a modern cocktail. It plays with intriguing flavor combinations in an unexpectedly bold way. Its herbal notes really do make it feel like a modern invention. 
The Bamboo has evolved over time, and the original recipe certainly didn't include any bitters. However, the spirit of the cocktail has remained the same over the last +120 years. 
It is a cocktail that is designed to keep you drinking and guessing. If you aren't a fan of Sherry then you are going to want to avoid this one. 
Perfect for lovers of Sherry and Sangria.
Notes – this isn't your traditional Margarita, some would even say that it's better. Its luminous orange, sickly sweet, and the healthy serving of tequila packs a punch. 
Key flavors: 
Orange 

Simple Syrup 

Tequila 
Ingredients: 
Tequila 

Simple Syrup (or sometimes Agave nectar) 

Lime 

Orange Bitters 

Water 
If you love a Margarita but are looking for something with a little bit more of the 'Tiki' spirit then you will love Tommy's Margarita. This drink takes everything you love about the original drink and adds some vibrant orange colors and even more sweetness.
This is a young cocktail, it was only invented in 1990. Julio Bermejo invented the drink and served it at his parents' restaurant, Tommy's. The drink was born from Bermejo's love for Agave nectar. He even experimented with adding Triple Sec to his earlier recipes to bring out more citrus notes in the drink. 
This recipe does not hold back on the Tequila and we believe that you could add even more alcohol to the drink and its flavor wouldn't suffer. 
For loves of Mojitos, Sex on the Beach, and traditional Margaritas. 
Notes – if you are curious about what alcohol tastes like in the Prohibition, then you don't need to look any further than the Last Word. This gin-based cocktail is one of the few surviving cocktails from that era. 
Key Flavors: 
Ingredients: 
Gin 

Lime 

Green Chartreuse

Maraschino liqueur
The Last Word is one of the only surviving cocktail recipes from the Prohibition era. Once you have one you will understand why. 
Even from a visual perspective, this is an impressive cocktail. When served in a dimly lit bar, this drink seems to glow from within. It looks so inviting, you can't help but take a sip. 
This cocktail is a bartender's dream, all four ingredients are added in equal amounts. 
A well-made Last Word should perfectly balance the four ingredients to create a tart but sweet drink that doesn't dry the mouth out.
One of our friends, after polishing off their first glass of Last Word, said that it was like a drinkable Cherry Pie, while another of our friends argued that it tasted more like a Key Lime Pie. Whichever side of the argument you fall on, we can all agree that this cocktail is breathtakingly good.  
Perfect for fans of Sours shots, Blackberry Brambles, and Amaretto.
Manhattan
Notes – the bitters and sweet vermouth in this drink help to take the bite off the whiskey without overpowering its complex flavors. 
Key Flavors: 
Ingredients: 
Whiskey (traditionally Rye) 

Sweet Vermouth 

Bitters (mixologists choice) 

Cherry (for garnish) 
The Manhattan is another iconic cocktail that you will see on the menu at most bars alongside the Cosmo, the Old Fashioned, and the Martini.  
The Manhattan is included as part of a 5-part series of cocktails named after New York City boroughs. 
This is a strong cocktail – in both alcohol content and flavor. It was believed to be invented for a fundraising ball in the 1880s at the Manhattan Club. Although records of a similar cocktail being served in the area go back as far as the 1860s. 
There are many variations of the Manhattan cocktail, including 11 officially recognized ones. The Manhattan is traditionally made with American Rye whiskey, but other variations will use different types of Whiskey including but not limited to Bourbon.  
Do not use your expensive whiskeys in a Manhattan. You won't be able to enjoy them the same way you would if you were drinking them straight. 
For lovers of Whiskey Sours and Old Fashioneds.
Old Fashioned
Notes – if you are a lover of whiskey, but are looking for something a little bit more playful and kind to the throat – then the Old Fashioned is what you have been looking for. 
Key Flavors: 
Ingredients: 
Whiskey 

Sugar 

Angostura bitters 

Water 
The Old Fashioned really is one of the kings of American cocktails. It is almost as iconic as the Martini. 
As cocktails go, Old Fashioneds are pretty simple to make. However, they are hard to perfect. Many say you can judge a bartender by the quality of their Old Fashioned. 
Perfect for lovers of Manhattans and straight whiskey.
Notes – one of the only hot cocktails you will ever drink, the Irish coffee combines two things we all love – caffeine and alcohol. 
Key Flavors: 
Ingredients: 
Coffee 

Irish Whiskey 

Cream 

Sugar 
Irish Coffee is unique amongst cocktails for a few reasons. Firstly, it is drunk hot and comes with whipped cream on the top. Secondly, it uses real coffee rather than coffee liquor. This means you can enjoy a caffeine hit with your alcohol. 
This drink is traditionally served at the end of meals and it is served in many restaurants as well as bars. The drink was introduced by Irish Chef Joe Sheridan in the 1940s. 
Perfect for lovers of Mudslides and Espresso Martinis.
Summary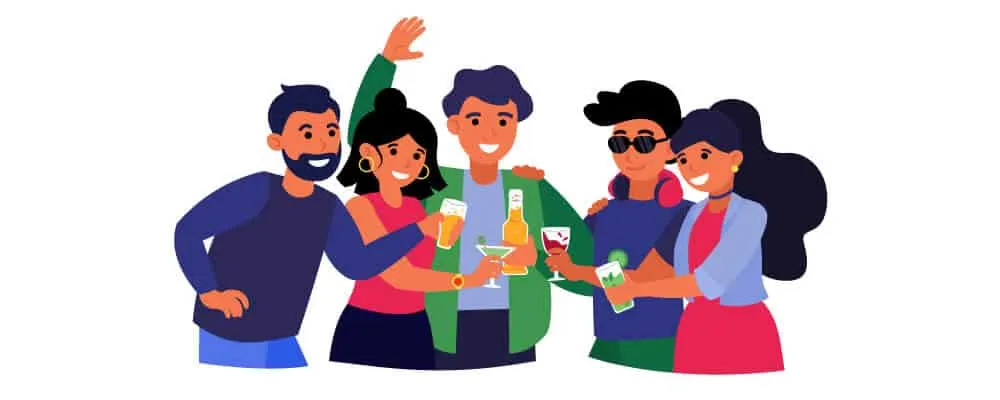 As you can see, there is an endless number of cocktails to suit any taste. Whether you like sweet, fruity, or spicy drinks. If you like to know you are drinking alcohol or if you want your cocktail to taste like juice, there is something out there for you. 
If you are new to the world of cocktails then you should take the time to try as many as you can. This is the best way to find your new favorite. Remember that some bartenders will make better cocktails than others. 
If you already have a favorite cocktail, why not learn to make it at home? On our website, you will find everything you need to perfect your cocktail-making skills. So, what are you waiting for? It's time to get mixing!