There is nothing more comforting than a whiskey cocktail, and the most delicious of them all, has to be the old fashioned. The classic and simple combination of whiskey, bitters, ice, and sugar is a glorious concoction, which has won the hearts of Whiskey lovers everywhere. 
Though a classic old fashioned is timeless and delicious, sometimes it's fun to add a modern twist, and what better way to add that twist, than using some traditionally Italian ingredients? If this sounds like something you'd enjoy, check out our old fashioned recipes below! 
Traditional vs Italian Old Fashioned 
A traditional old fashioned is one of the most classic cocktails.  It is said to originate from a gentlemen's club called The Pendennis Club, in Louisville, Kentucky. The recipe was supposedly invented by a bartender at the club, in honor of Colonel James. From there, a bourbon distillery brought it to a bar in New York City, and it quickly took off. 
Despite the questionable nature of this charming origin story, due to documents discussing old fashioned cocktails dating back to the 1800s, the city of Louisville has been deeply connected to the cocktail since the story arose.
In fact, the old fashioned was labelled the official cocktail of Louisville, and Louisville is actually home to an annual two week event called 'Old Fashioned Fortnight'. 
The earliest version of this cocktail was supposedly just a mix of sugar, bitters, water, and nondescript booze. Over time, the nondescript booze became strictly whiskey, the water became ice, and thus, the traditional old fashioned that we've all come to know and love was born. If you're looking for a strictly classic old fashioned cocktail, check out the recipe below. 
Adding An Italian Twist 
If you're looking for something a little different, we recommend adding an Italian twist to your classic old fashioned. There are a few different ways you can do this! Check out our suggestions below. 
Italian Old Fashioned #1: Galliano and Bourbon
Adding a splash of theIitalian liquor, Galliano, will elevate your old fashioned and complement it perfectly due to its woody, citrusy notes. Galliano is usually served at the end of a meal, though it has also become a delicious addition to many different cocktails.
In this particular drink, Galliano acts as a particularly subtle bitters, which works wonderfully with Bourbon. It also adds a very subtle sweet hint to the old fashioned, which truly elevates the flavour. Here's what you'll need:
Bourbon
Galliano
Angostura bitters
Sugar
Orange zest
Orange peel to garnish
Simply add the Angostura Bitters and the sugar into a small glass and mix them thoroughly. Add the ice, Bourbon and Galliano. Stir to combine. Garnish with orange zest and/or peel. Enjoy!
Italian Old Fashioned #2: Meletti and Bourbon
In a similar way to the recipe above, you can easily put an Italian twist onto an old fashioned by adding a traditional italian aperitif. This time, however, we suggest you try using Meletti, a type of amaro. This type of amaro in particular, with its spicy, cola notes, complements whiskey very well.
With this addition, adding extra sweetness and richness is a great idea. To do this, substitute regular syrup or sugar for demerara syrup, and try adding a drop of soda to the finished product. Check out the recipe below if this sounds like your thing!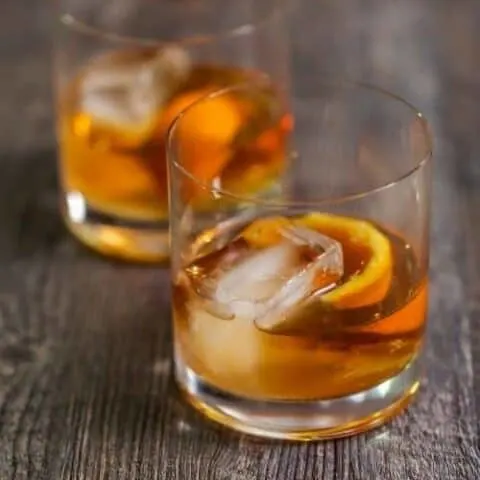 Italian Old Fashioned
Looking for a delicious and unique twist on the classic Old Fashioned? Try our Italian Old Fashioned! This delightful drink is made with bourbon, Meletti, demerara syrup, Peychaud's bitters, Angostura bitters, and club soda. It's perfect for sipping on a warm summer evening or enjoying by the fireplace on a cold winter night. And it's garnished with a fresh orange peel for a touch of sweetness and citrus flavor. So come on in and give our Italian Old Fashioned a try!
Ingredients
2 oz Bourbon
¼ oz Meletti
1 tsp demerara syrup
1 dash Peychaud's bitters
½ oz club soda
Ice
Orange peel, for garnish
Instructions
Combine the syrup, bitters, and Meletti in a glass and stir.
Add the ice and bourbon, and stir a little.
Top with a splash of club soda.
Add the orange and lemon peel to garnish.
Nutrition Information:
Yield:

1
Serving Size:

1 grams
Amount Per Serving:
Calories:

157
Total Fat:

0g
Saturated Fat:

0g
Trans Fat:

0g
Unsaturated Fat:

0g
Cholesterol:

0mg
Sodium:

6mg
Carbohydrates:

6g
Fiber:

1g
Sugar:

3g
Protein:

0g
The nutrition data provided is only an estimate.
Final Thoughts 
An old fashioned is a great choice of beverage. Its versatility makes it the perfect drink for so many occasions, and, if you're like us, drinking an old fashioned makes you feel (at least) a little bit fancy. 
Whether you opt for a more classic version, or try an old fashioned with an Italian twist, we hope you enjoy them as much as we did! 
Looking for more old fashioned variations? We've got you covered with our smoked old fashioned recipe and our version with rum.