Jello shots are a staple at spring break parties and college bars. Next time you need a treat to bring to a party, whip up some with this jello shot recipe for a sweet hit of nostalgia.
What Is a Jello Shot?
A jello shot is a mini serving of flavored gelatin prepared with vodka or other liquor and served in a plastic disposable jello shot cup. This jello shot recipe is easy to make, travel with, and drink. They're so sweet that you can hardly taste the alcohol, making them perfect for partygoers who don't love the flavor of booze.
The Classic Jello Shot Recipe
Jello shots are super easy to make. The recipe on the box of gelatin is all you need to make this fun party shot. Replace the cold water in the recipe with your favorite 80-proof alcohol, and you're good to go.
Step 1: Boil Water
Begin by boiling one cup of plain water in a small saucepan on the stove. Don't add the liquor yet, or else the alcohol will boil off, leaving you with nearly non-alcoholic jello shots.
Step 2: Add Gelatin
Tear open a package of flavored gelatin and pour it into the pan of boiling water. Stir gently to avoid splashing until the gelatin dissolves completely. Turn off the heat on the stove.
Step 3: Combine with Alcohol
Mix ½ cup of cold or iced water with ½ cup of chilled plain or flavored vodka in a separate, larger mixing bowl. Carefully pour the gelatin mixture into the cold water mixture. Stir to combine.
Step 4: Chill
Arrange your jello shot cups on a rimmed cookie sheet. Slowly pour the slightly cooled gelatin mixture into each plastic cup. Do not overfill the cups. Though the gelatin mixture has cooled somewhat, it's still very hot and can cause severe burns if handled improperly.
Move the tray of jello shots into the fridge to chill for a minimum of two hours. For best results, prepare your jello shots the day before the party to allow plenty of time for them to chill overnight.
Once chilled, cover your jello shot cups with plastic lids to make them easier to store, carry, and serve.
Step 5: Garnish (Optional)
Give your jello shots an extra dash of flavor by garnishing them with a dollop of whipped cream immediately before serving. If you're feeling extra fancy, you can add other cocktail garnishes, such as a cherry, a lime wedge, or a sprinkle of decorative sugar.
Just be sure to wait until you're ready to serve your jello shots before dressing them up. Otherwise, the plastic lids may squash all your handiwork before you have the chance to show it off.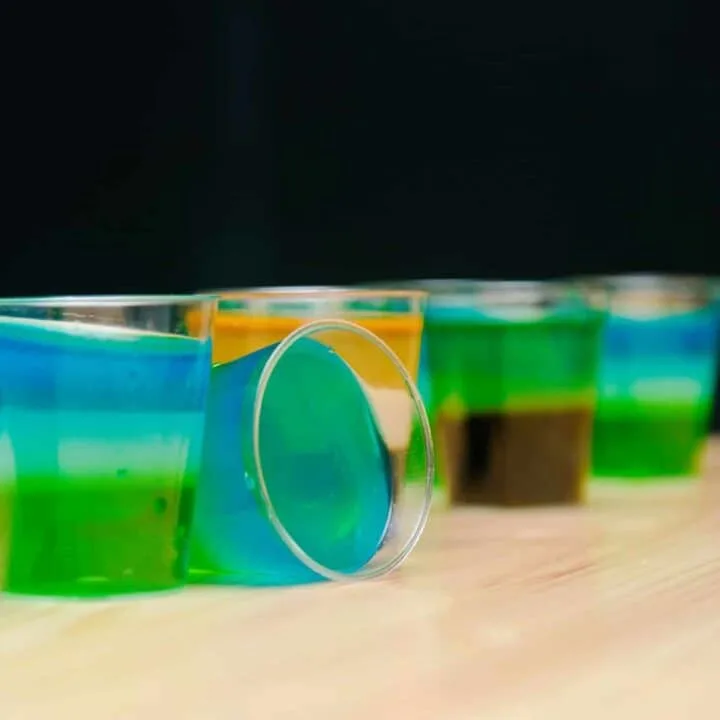 Jello Shot Recipe
Total Time:
2 hours
10 minutes
Jello shots are a fun, playful way to let loose at your next party. Choose your favorite flavored gelatin and plain or flavored liquor for an easy, travel friendly shot.
Ingredients
1 cup boiling water
1 box (3 oz) gelatin, any flavor
½ cup cold water with ice
½ cup vodka (or other 80-proof liquor)
Instructions
Boil water on the stove in a small saucepan.

Add gelatin and stir until fully dissolved.

In a separate mixing bowl, combine cold water with ice and vodka.

Pour gelatin mixture into vodka mixture and stir to combine.

Pour into condiment cups.

Chill in the fridge for at least two hours or overnight for best results.

Cover with lids for longer storage or transportation.

(Optional) Top with whipped cream, fruit slices, or other decorative garnish just before serving. Enjoy!
Recommended Products
As an Amazon Associate and member of other affiliate programs, I earn from qualifying purchases.
Nutrition Information:
Yield:

16
Serving Size:

1
Amount Per Serving:
Calories:

16
Total Fat:

0g
Saturated Fat:

0g
Trans Fat:

0g
Unsaturated Fat:

0g
Cholesterol:

0mg
Sodium:

1mg
Carbohydrates:

0g
Fiber:

0g
Sugar:

0g
Protein:

0g
The nutrition data provided is only an estimate.
Jello Shot Recipe Variations
Once you've nailed the basic jello shot recipe, there's a whole world of customization options waiting for you. Switch up your liquors, jello flavors, and additives to create original cocktail concoctions like these:
Rainbow Jello Shot Recipe
To make the rainbow jello shot (see also: Rainbow Shots)recipe, you'll need several different flavors of gelatin in the colors red, orange, yellow, green, blue, and purple. Try cherry or strawberry jello for red, orange or peach jello for orange, lemon for yellow, lime jello for green, and berry for blue.
First, prepare the purple jello shot mix as usual. When pouring, instead of filling each plastic shot glass to the top, pour only a thin layer at the bottom of each cup. Chill completely in the fridge, then do the same with blue jello, pouring a thin layer over the cooled purple layer.
Repeat with green, yellow, orange, then red to create a rainbow effect. Note that you're making six times as many shots this way, so make sure you have plenty of plastic cups on hand. Depending on how evenly you pour, you'll need about a hundred in total.
You can make other layered shots with this jello shot recipe as well, such as a red, white, and blue bomb pop jello shot, or black and orange Halloween jello shots with the help of some black food coloring.
Jello Shot Cocktail Recipe
Looking for a more gourmet flavor in your jello shots? To make them more interesting, you can add flavored syrups, liquors, liqueurs, and even cream or sweetened condensed milk to the classic jello shot recipe. Simply use unflavored gelatin and replace the vodka with your favorite cocktail ingredients for a trendy, one-of-a-kind cocktail shot.
Unique Molds
Add a playful twist to your next party by preparing this jello shot recipe in fun-shaped mini-molds. Reduce the amount of iced water in your jello shots recipe to ¼ cup to make the jello set up firmer. Then pour your jello mixture into silicone candy molds instead of condiment cups to create wiggly party treats.
Fruit rinds such as oranges and watermelons make great molds, too. You can even fill a hollowed-out watermelon with your jello mixture, let it harden, and cut it to make unforgettable jello shot slices that your guests will be talking about for ages.
A Word of Caution: Go Easy on the Alcohol
Jello shots are so sweet that it's easy to forget just how much alcohol they contain. Each jello shot contains about as much alcohol as a glass of wine. That's fairly low compared to an ordinary shot, but party guests often combine jello shots with other alcoholic drinks, which can cause them to get dangerously drunk if they're not careful.
If you absolutely must turn up the alcohol content of your jello shots, use a little more 80-proof alcohol and a little less cold water. Avoid using higher-proof liquors with this jello shot recipe, as the higher ratio of alcohol to water can keep them from setting up properly.