A Sparkling gin cocktail kissed by citrus. Get ready to meet your new favorite drink! 
History of the French 75
The French Cocktail 75 was created during World War I. Barman Henry Tépé worked at a bar in Paris, and he invented the original cocktail. He named his recipe after the French 75mm field gun, which had exploded in popularity in 1912.
Thousands of these devices were built and used during the war. Everyone was in awe of the power behind a small device. The design was innovative, and more than 200 million shells were sold. 
The French Cocktail 75, or simply French 75, has seen quite a few variations over the last century. The original recipe mixed apple brandy with gin, lemon juice, and grenadine. It was potent, boozy, and delicious. Check out our picks for the best gins for a French 75 cocktail.
As times evolved and different ingredients became available, champagne was added to the recipe. Apple-based products and grenadine were removed and placed into the recipe archive for French 75. The French 75 as we know it today was developed in the late 1920s. 
French 75 Cocktail Ingredients
Gin is a botanical liquor that offers herbal notes. It is distilled from the juniper berry, which is a fruit bore from evergreen coniferous trees. Lower-end gin brands have a less intensive distillation process so more pine comes through.
Certain individuals love that classic gin taste! Others may prefer a smoother liquor and will opt for a higher-end brand. For this cocktail, I recommend splurging on a premium brand of gin to avoid overpowering the other delicate flavors in this drink. 
Champagne is a sparkling wine beverage that is the ultimate celebration. True Champagne only comes from a French region named Champagne. Every other sparkling variation, such as Prosecco, is similar but can never be called Champagne. 
Champagne can only be made using white Chardonnay grapes. These fruits are considered to be part of the dry grape family. You can purchase dry or sweet champagnes off the shelf. The French 75 is a delicate recipe, so mid-dry Champagne is appropriate for this drink. 
You can make your simple syrup at home. It is an easy process that you can complete in less than thirty minutes. Add sugar (or honey) to water in a small saucepan and boil the mix.
Stir gently a few times until all the sugar crystals have dissolved. Remove your syrup from the heat and let it cool to room temperature. You can store simple syrup in the fridge for a couple of weeks. You can also infuse unique flavors into your syrup during the boiling step. Popular options include vanilla, orange, or rosemary. 
 Fresh lemon juice is the magical ingredient that brightens this drink. The citrusy notes cut through the sweetness of the simple syrup and elevate the gin and Champagne. Champagne naturally pairs well with citrus fruits, think about orange juice and mimosas, and lemon juice is a natural fit too. 
How to make the perfect French 75
Serve your French 75 in a tall champagne flute. Remember to hold the stem of the glass to prevent premature warming. You can refrigerate or freeze your Champagne flutes an hour before serving this drink. The extra step will help extend the cool temperature of your French 75. 
You can prepare large batches of this drink immediately before serving. Indulge your guests in a fabulous bartending show, and pop the Champagne in front of them. Top off the flutes one by one with the Champagne and call for cheers before drinking. It is always fun to watch something delicious be prepared in front of your eyes! 
More Interesting Facts About This Drink
There are several variations of the French 75 you can order. The truth is not everyone likes gin, and it tends to be a love it or hate it type of alcohol. If you are a person who hates gin you may want to order an old Cuban cocktail.
The recipe calls for rum, simple syrup, lime juice, Angostura bitters, fresh mint, and Champagne. The taste of the drink can be compared to a sparkling wine and mojito beverage. 
If you love gin, but you can not justify buying a bottle of Champagne you may consider ordering a French Harvest cocktail. The recipe calls for a juniper-forward dry gin, simple syrup, lemon juice, and French cider. The result is a botanical bubbly cocktail that is bright yellow and a perfect summer drink. 
Throughout history, the French 75 cocktail has been famous for its potency. You might order a French 75 to celebrate a milestone or an important event. It is designed to be sipped slowly and enjoyed throughout the evening.
Serve this drink with brunch or a light meal because the high alcohol content can bite you in the rear. You can find this cocktail on the premium cocktail list namely due to the high-quality ingredients. Everyone should try this drink at least once!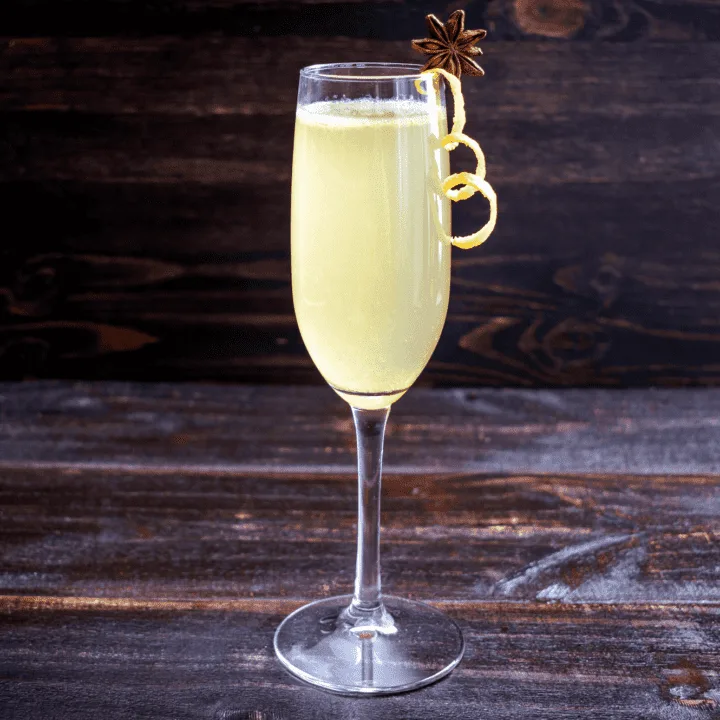 French 75 Cocktail
The French 75 is a classic cocktail that is perfect for any occasion. Featuring the refreshing flavors of gin and champagne, this drink is sure to please. Whether you're enjoying a quiet night at home or celebrating a special event, the French 75 is sure to add a touch of elegance to your evening.
Ingredients
1.5 oz gin
3 oz chilled Champagne, (enough to top off glass)
.75 oz simple syrup
.75 oz lemon juice, fresh squeezed
lemon twist, to garnish
Instructions
Fill a cocktail shaker with ice
Pour in gin, simple syrup, and fresh lemon juice. Shake until well chilled
Strain the mixture into a champagne flute
Top off the beverage with chilled champagne. Add lemon twist to garnish and enjoy while still cold
Nutrition Information:
Yield:

1
Serving Size:

1 grams
Amount Per Serving:
Calories:

235
Total Fat:

0g
Saturated Fat:

0g
Trans Fat:

0g
Unsaturated Fat:

0g
Cholesterol:

0mg
Sodium:

12mg
Carbohydrates:

21g
Fiber:

3g
Sugar:

13g
Protein:

1g