If you like Piña Coladas, listen up. *no getting caught in the rain required*.
If it's time for you to whip up everyone's favorite summertime staple drink, you have one very important factor to consider: the rum. 
Everyone knows that the right rum can literally make or break your Piña Colada. No matter how creamy your coconut or how juicy your pineapple is, the wrong rum can leave you with a sour taste.
Let's face it, no host wants their gathering to fall flat, but all it takes is the wrong blend to send your guests running full speed AWAY from your cocktails.
If you're in need of something refreshing, light, or unique to balance the flavors and keep your soiree satisfied, look no further. We've put together this list of some of the BEST rums for Piña Coladas.
Whether you want to keep things simple or hit the ground running with an experimental blend, we've got you covered. 
Ready? Let's dive in. 
Best Rum for Piña Coladas – Our Picks
If you want to keep things simple but still give your guests a taste bud explosion to remember, it's time to whip out the Malibu. Ask any rum lover for their top five tipples, and we can guarantee this classic is up there. 
Malibu rum is renowned for its Caribbean sugarcane tones and its flavorful coconut and island rum blend. During testing, we found that Malibu's subtle hints of almond hit our throats on the way down and left us longing for a beach vacay and a sun-kissed tan with each sip. 
Although some rum connoisseurs claim Malibu is too sweet and lacks substance, we think it's the perfect addition to any Piña Colada.
Traditional white rum lacks that tropical punch that Malibu brings to the table, so if you want something fruity to compliment your BBQ, summer party, or festival, Malibu will make a great addition to any Piña Colada. 
This rum also comes in at 21% – so, if you want to drink something stronger but want to feel like you're sipping juice, this is the one!
Pros
Coconuty: The coconut tones in Malibu pair beautifully with the coconut cream used in traditional Piña Colada recipes. 
Pairs well with most fruit juices: If you want to spice up your Piña Colada and incorporate less traditional fruit juices into the mix, Malibu pairs well with most popular choices, including orange and mango.
Cons
'Non-traditional' flavor: If you like the depth of a traditional white rum and want to add something less fruity to your Piña Colada, Malibu might not be right for you.  
Coming in at 47%, this rum packs a real punch. Not just in terms of percentage, either. Kraken Black Spiced Rum even LOOKS intimidating.
This drink is, you guessed it, pitch black. Its impressive appearance may leave you feeling weak at the knees from the get-go – at least this was the case for us!
However, as soon as we tested the Kraken Black Spiced Rum, its beautiful Caribbean blend of 'secret spices' put us at ease. This rum's flavor is distinctive, but it's by no means as overpowering as its color would lead you to believe. Looks really are deceiving. 
Although it's not overpowering, it's certainly spicy. In fact, this is arguably one of the strongest spiced rums we've tried. With tones of charred oak, golden syrup, nutmeg, and toffee apples, the spice in this rum really does linger after each sip.
However, its hints of lime and cinnamon make it a little more palatable and allow it to pair beautifully with the traditional Piña Colada ingredients, like coconut and pineapple.
When you use this rum with the Piñas fruity ingredients, you'll still get the kick of the spice, but it's slightly more muted. 
If you're not a fan of strong rum, you might want to avoid this one! This one is definitely on the stronger side – one that you'd see in a rum old fashioned.
Pros
'Traditional' Spiced Flavors: The hints of cinnamon and toffee are pretty common in spiced rums. If you want to stick with traditional spiced flavorings for your Piña Colada, the Kraken Black Spiced Rum is a good choice. 
Warming: The warm, spicy flavors complement the fruity kick of any Piña Colada perfectly. This rum mixes beautifully to strike the perfect balance between fruity and spicy. 
Cons
Strong: Although the flavors in this rum aren't overpowering, they're still very strong. Even when mixed in your Piña Colada, you'll still taste more spice than you would with other brands.
So if you want to create a more run-of-the-mill cocktail, this might not be suitable. 
Looking for something white, dry, and traditional to keep it simple? Let's take a look at the Bacardi superior rum. This rum has been created to provide something light and dry, perfect for mixing.
When you think of the 'traditional' Piña Colada taste, you'll notice it instantly when you have a sip of this rum. It's inspired a range of cocktails all over the world, including the Mojito (see also: Strawberry Basil Mojito)and Daiquiri. 
This rum can be best described as 'aromatically balanced.' When you taste this, you'll notice the traditional rum notes of almond, lime, and vanilla that are light, and not too overpowering.
However, some keen rum drinkers say this is strong and sweet. When we taste-tested this rum, we even detected a few apple, pear, and banana hints in the profile!
However, these are very light. When mixed with your Piña Colada ingredients, you won't have to worry about the rum being too overpowering. This is also what makes Bicardi great for a batch of rum margaritas.
Moreover, because the notes in this blend are quite subtle, you could easily branch away from 'traditional' Piña Colada recipes and try something more experimental while still keeping some of the more traditional flavors in the background.
At 40%, this rum is on par with the average strength of other white rums. 
Pros
Dry, Clean Taste: The dry taste makes it ideal for blending, especially in less traditional recipes. 
Subtle Undertones: The notes of vanilla and almond are somewhat muted compared to other well-known rums, making the Bacardi superior a versatile addition to many recipes. 
Cons
Some Claim It's 'Too Sweet': Unfortunately, this Bacardi is a little sweeter than other white rums. If you want something a bit duller, this may not be right for your recipes.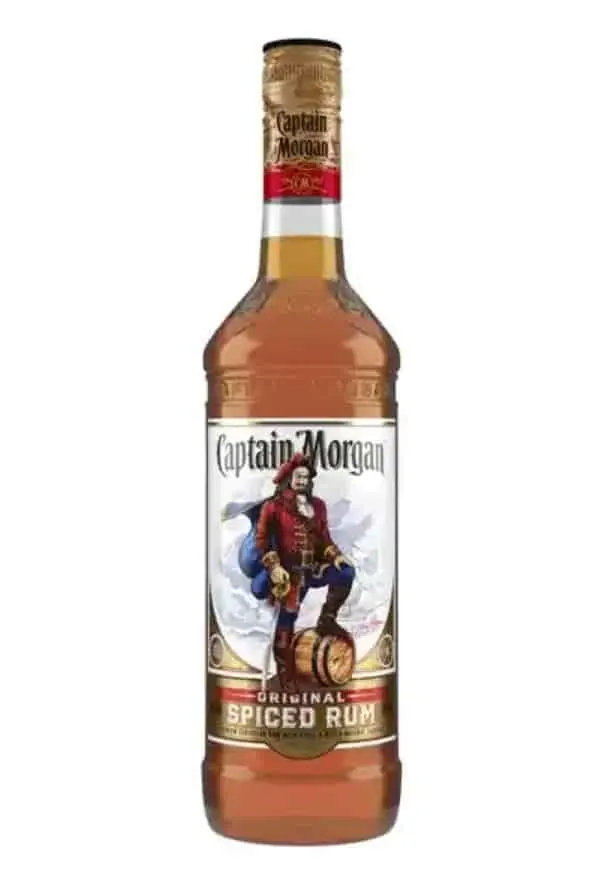 It's now time for another classic. Let's take a look at the unmistakable Captain Morgan's original spiced rum. At 35%, this rum isn't as strong as other competitors, but honestly, it doesn't make much difference.
This rum still packs a punch, and its spicy flavors will keep you coming back for more every time. 
Captain Morgans has a distinctive taste. This rum has oak, brown sugar, and vanilla hints, which are INCREDIBLY warming. Despite this, it still sits on the sweet end of the spectrum.
When we tested this rum, we found that its distinctive spices were quite subtle.
There are also some hints of stone fruits, aniseed, and dried peels, so if you're looking for something to top off your classic spiced piña colada recipe, this is an excellent addition. 
Sometimes, white rums can have a harshness or bite that makes your drink feel a little less palatable. Thankfully, the tones used in Captain Morgans' spiced rum give it a smoother feel that'll pair perfectly with cream of coconut rather than coconut milk. 
The only real downside to using spiced rum in a Piña Colada is that getting the balance right can be tricky. Mustering up the perfect spiced Piña depends mainly on getting the ratios of ingredients right – the amount of ice, in particular, is crucial.
So if you're more of a novice mixer, using spiced rum may make it harder for you to pull this off. 
Pros
Sweet and Smooth: If you don't like the harshness of white rum, this is an excellent choice. 
Unique Tones: There are a lot of spiced rums on the market, but the hints of oak and brown sugar in this rum are unique and hard to find in other brands. If you want to create a statement Piña Colada, this is an excellent choice. 
Cons
Difficult to Pull Off: Unfortunately, spiced rums are notoriously great for coke and rums but difficult to blend in Piña Coladas. It's not that they don't work, but it's hard to strike the right balance between ingredients.
You might find this challenging if you don't have much experience making cocktails. 
This unique, limited edition rum is not one to be missed. If you're looking for a statement rum to give your Piña Colada an unforgettable edge, look no further. This spiced Caribbean rum boasts a special blend of flavors.
Alternatively, the original Kracken Black Spiced Rum is excellent for Piña Coladas and widely available.
With hints of vanilla, cinnamon, nutmeg spice, and molasses, this rum will give your Piña Colada a unique dash of earthy, tangy flavors that are destined to break boundaries. 
When we tested this rum, we found that its hints of cinnamon, toffee, apple, and raisin were the most prominent notes in this incredible blend. The inky, caramel appearance of the rum reminds you that you're drinking something SERIOUSLY strong (47%, to be exact). 
When thrown in your Piña Colada, this rum delivers some darker tones that are more reminiscent of the winter months than a traditional fruity summer drink. Despite the stark contrast, we think this works incredibly well.
However, the strong hints of cinnamon that dominate this drink can clash with the pineapple. To avoid this, it may be worth throwing in a pinch of salt (and maybe even sugar, too) to balance the flavors. 
Pros
High Percentage: You really won't need a lot of this Kraken to feel the effects.
Spicy Undertones: Spiced rum Piña Coladas are a staple for many regular drinkers, so this will go down well with more 'experienced' drinkers. 
Cons
Cinnamon Flavorings: The cinnamon tones in this blend may be an acquired taste for some. You'll have to add in a pinch of sugar or salt to balance things out. 
How to Pick Rum for Piña Coladas
If you've taken a look through our list of the best rums for Piña Coladas, you should now have some inspiration to take with you to your next cocktail party.
If you're still feeling confused about what you should (and shouldn't) be looking for in the perfect Piña rum, fear not. 
Take a look through our buyer's guide, and explore the most important factors you should be considering when on the hunt for the perfect cocktail rum. 
The Types of Rum
Rum is a bit of an umbrella term. There are many different types of rum to choose from, each with its own distinctive properties. What rum you choose will determine the outcome of your Piña Colada. 
Spiced Rum
Spiced rum is any rum that includes a blend of different spices and sometimes added colorings. The spices can be anything from bay leaves and pepper to cloves, nutmeg, and cinnamon. 
White Rum
White rum is considered one of the most 'classic' rums in the world. It's the one you'll usually find in your Piña Colada, mojito or daiquiri. White rum is un-aged and tends to have a fairly mild flavor. You can think of it as a sweeter vodka. 
Dark Rum
Dark rums, unlike white rums, are aged. They also have a more distinctive or punchy flavor than white rums. Dark rums tend to taste a bit more burny than sweet, and some even have flavorful hints of wood. The flavor profile is much bolder than white rum. 
Gold Rum
Gold rum is often aged in barrels and provides a more complex, richer flavor than other rums. However, you'll notice that gold rum is not as deep in color as dark rum. This is what gives gold rum its name. Gold rum is not aged as long as dark rum. 
Cuban Rum 
Cuban rum is created by compressing harvested sugarcane extract, which is then boiled to create molasses and sugar. Cuban rums can vary in flavor, but many tend to have sweeter and more tropical notes and sometimes hints of spices such as cardamom and nutmeg. 
Overproof
Overproof is a term used to describe any rum that has more than 50% alcohol by volume. 
Agricole
Agricole rum is a rum that has been produced directly from sugarcane juice rather than molasses. Agricole is often described as having a grassy, earthy, or vegetal flavor, and some may have subtle tones of mango or papaya. 
Budget
As with any purchase, you'll have to consider your budget before you buy. Although rum has quite a broad price range, the general price point is much lower than other spirits, such as whiskey. 
There is no major difference in price between different types of rum, such as dark or white; however, some of the most well-known brands, such as Captain Morgans or Bacardi, may cost you more. 
However, gold rum tends to be one of the more expensive subtypes, even at the lower end of the price range, lesser-known brands may still cost you more than white rum. 
Frequently Asked Questions
Is Rum Good For Health? 
Although it's alcoholic, Rum has some unique cardiovascular health benefits. Rum naturally decreases the cholesterol levels in the body, and it's thought it can prevent peripheral artery disease. Because Rum is a blood thinner, it can also prevent blocked arteries, heart disease, and heart attacks. 
Is Piña Colada The Same As Coconut? 
By origin, the Piña Colada is a pineapple coconut drink. Coconut cream or milk is one of the critical ingredients of a Piña Colada, and it's what gives this drink its distinctive fruity taste. 
What Is Similar To Piña Colada? 
If you like Piña Coladas, you probably already have a taste for the tropical. You may enjoy other cocktails and drinks such as the blue Hawaiian, tiger's milk, passion colada, Fahrenheit 5, and Amaretto Breeze.
Can You Drink Straight Spiced Rum? 
Although spiced rums are strong, they're perfect for drinking straight. Many rum drinkers prefer spiced rum on ice to spiced cocktails. However, straight rum has a strong alcohol percentage, so you should only drink a small amount at a time. 
Final Thoughts
Whether you're hosting a party, a BBQ, or a small gathering, your cocktails will be the centerpiece if there's alcohol involved. Piña Coladas are one of the most iconic beverages in the world, so there's a good chance you'll have at least ONE guest who knows their way around a bottle of rum (no pressure, then). 
There's so much more to rum than dry whites and tropical tones. So if you really want your cocktail to pop, you've got to be willing to push the boat out. Whether you're a beginner mixer or a cocktail connoisseur, there's a rum for everyone! 
So, get those mixers at the ready, crack open the rum, and get ready to make a binge-worthy Piña Colada that'll keep your guests coming back for more!