This is a twist on the classic gin Negroni, and actually, many people who sample this drink will come to the conclusion that rum makes this drink a bit softer, or a bit gentler than the classic gin Negroni version. That and, if you are a rum-lover then you will absolutely devour this drink.
The Rum Negroni is the perfect kind of drink to decant into a hip flask to take with you on a walk in the winter – yeah, this one will definitely help to warm you up. Either that, or it is a great drink to sip of an evening before heading off to bed. This is a more relaxed drink opposed to a party cocktail that rum tends to be thrown into… hello piña colada, we see you, but not today! 
You do not have to stop the negroni fun here – there are so many variations that you can attempt and test out to see what suits you best. You can pair negroni with a lot of different spirits, and who knows, you might even come across a spirit that you prefer to rum.
Equally, if you are loving the rum more than the negroni then you can test out the wide variety of rum-based cocktails on the market – we both know that there are a lot to choose from. But for today, we are going to stick to the rum negroni and the rest is up to you!
What Goes In a Rum Negroni
Well, here's the thing: this drink is pretty easy to make. You do not need to have any previous bar experience to be able to whip up this drink. It is very straightforward, and it is so easy you barely need to read on to find out how to make it as you could probably guess how to do it.
Although, maybe finish reading just to be on the safe side… You just need the following two ingredients:
Golden rum – we would advise that you need about 1.5 oz of this, but you can adjust this depending on your receptacle and also to suit your taste. Naturally, we recommend golden rum for this but if you have another rum preference then feel free to give this a try. Making drinks should be fun and should be about experimenting so you can work out what you like the most.
A bitter aperitif – again we would advise you to use 1.5 oz of this, or tweak the measure of this to match the volume of rum you use. The measurements of the aperitif and the rum should be equal. The aperitif that you use is totally up to you, we all know that there is a pretty wide variety on the market – and you just honestly have to go with whatever suits you the best. If you have a favorite aperitif then you should throw that in for sure.
How To Make a Rum Negroni
Well, this is one of the easiest drinks to make – and in case you have not worked it out yet this is all you have to do:
Mix all the ingredients together – yeah, we have given you the measurements so get your equal measures of rum and an aperitif of your choice and pour these into a jug. You might want to add some extra ingredients depending on your taste – so you can add vermouth and perhaps 25ml of water to this. And then, you mix all the ingredients together really well.
Favorite All Purpose Shaker
Decant this mixture – put this mix into glasses, or a flask, or whatever you want to drink it out of. Sure you can get pretty creative with this and decant into whatever you want, although the last thing we would recommend that you decant this into is a colander… Anything other than that will work pretty well for you.
Enjoy – this should not really be a step should it?! But, we just want to encourage the merriment – and also add in the reminder that this could be a practice that makes perfect kind of process. You might not enjoy the taste initially, but you can tweak this with vermouth and water like we suggested.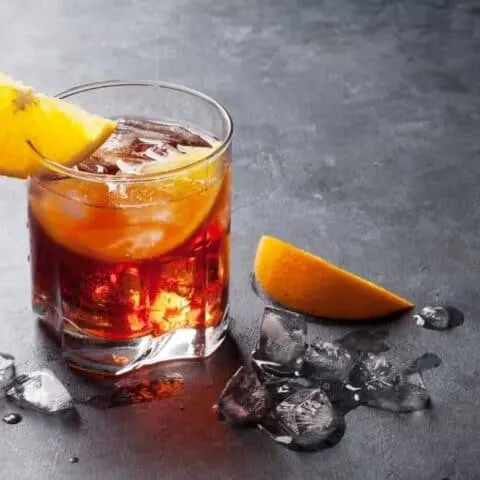 Rum Negroni
Sip on something special with a Rum Negroni. This unique twist on a classic cocktail is made with golden rum, sweet vermouth, and campari. Garnish with an orange peel for a bit of extra zest.
Ingredients
1.5 oz golden rum
1 oz sweet vermouth
0.5 oz campari
orange peel, to garnish
Instructions
Combine ingredients into a cocktail shaker
Add ice, then shake until cold
Serve and enjoy!
Nutrition Information:
Yield:

1
Serving Size:

1 grams
Amount Per Serving:
Calories:

189
Total Fat:

0g
Saturated Fat:

0g
Trans Fat:

0g
Unsaturated Fat:

0g
Cholesterol:

0mg
Sodium:

3mg
Carbohydrates:

10g
Fiber:

1g
Sugar:

6g
Protein:

0g
Rum is an interesting drink, because it tends to be something you really love or that you really hate. A rum negroni is not an exception to this rum rule. You might try this drink and decide that you do not even like it that much. Or, this drink to unlock a whole new level of rum love that you did not know that you had in you. Well, all we can say is: you're welcome!