The Black Manhattan is a contemporary take on the classic Manhattan cocktail.  The main difference between this cocktail and the classic version is that it uses amaro instead of sweet vermouth. 
This cocktail has a very dark and rich color but tastes rather light and sweet.  It has notes of chocolate and light spice.  It is simultaneously light and bold and rich with flavor.  The amaro provides an herbaceous flavor that lingers on the tongue nicely.  
Amaro is an Italian herbal liqueur that is normally drunk as an after-dinner digestif.  It has an interesting and complex flavor that pairs well with Angostura bitters as it has both sweet and bitter qualities. It is sometimes served on the rocks and is just as delicious on its own as it is as a cocktail ingredient.
History Of the Black Manhattan
The original Manhattan dates way back to the 1870s.  According to the story, the Manhattan gets its name from the club in which it was invented, The Manhattan Club in New York City.  The Manhattan is considered a classic cocktail as it's on the list of the International Bartender Association's IBA official cocktails.  This means it has an official definition.
If you love a classic Manhattan, then you should definitely give this funky twist a try.  It still retains the strong and boozy flavor of the original, but with an unexpected variation that makes it one of a kind.  If you love the herbal flavor of amero, then this cocktail will be right up your alley. 
Also, if you ask your bartender for this, he'll be delighted to whip out this specialty liqueur.  We think, however, that you'll be even more delighted to add a bottle of amero to your liqueur cabinet and make this simple cocktail for yourself at home.  
This cocktail was first made by a bartender named Todd Smith in 2015.  He first came up with the recipe at the bar Bourbon & Branch in San Francisco, and it has since become a popular cocktail all over the world. 
Most recipes for the Manhattan call for rye whiskey (see also: Peach Whiskey Sour Recipe)but you can substitute in bourbon if you prefer.  The rye, however, has a nice spice that goes very well with the notes of chocolate and vanilla from the amaro. 
If you would rather use bourbon, we recommend that you use a bourbon with a high rye content to retain some of that spice.  Bulleit Bourbon or Buffalo Trace would be good options for this.  
For the amaro, we recommend that you use Averna, a Sicilian amaro whose recipe is unchanged since 1868.  Averna has a pleasant bittersweet flavor with notes of caramel and herbs.  Averna is considered a traditional digestif in Sicily. The recipe was originally crafted by the Benedictine monks of Abbazia Di Santo Spirito. 
In 1968 this recipe was gifted by the monks to a textile merchant named Salvatore Averna, who began producing it in his family farmhouse.
Flavor Profile
The addition of orange bitters along with the traditional Angostura aromatic bitters gives the cocktail pleasant juicy orange notes with licorice, caramel, and soft herbal notes too.  The original Manhattan also includes a dash of Angostura bitters, which adds to the depth and complexity of the flavor.  
This cocktail is normally garnished with a Luxardo cherry or two, but we recommend also garnishing with some orange or lemon peel.  A little spritz of citrus oil over the top of the cocktail will really brighten the beverage nicely and bring out those citrus notes in the amaro.  
This cocktail is perfect for sipping at a dinner party.  If you're an adventurous at-home bartender, this one is sure to impress your guests to no end.  
Let's go through all the ingredients you'll need to make a Black Manhattan.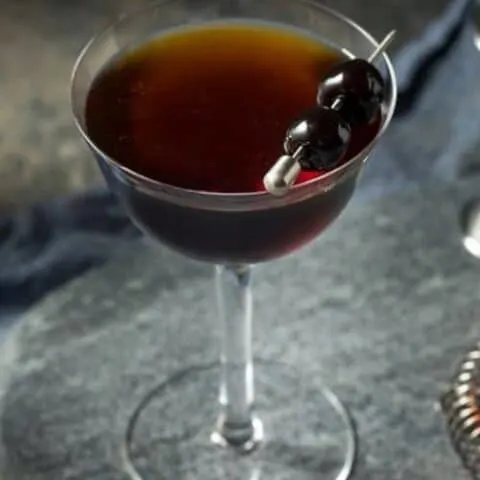 Black Manhattan
Looking for a unique and sophisticated cocktail? Look no further than the Black Manhattan. This stunning drink is made with rye whiskey (or bourbon if you prefer), Averna amaro, and a dash of Angostura bitters and orange bitters. It's garnished with a brandied cherry and orange or lemon peel, making it the perfect choice for your next fancy gathering. So impress your guests and whip up a Black Manhattan today!
Ingredients
2 oz rye whiskey, can substitute bourbon if preferred
1 dash orange bitters (such as Angostura orange or Regan's)
Brandied cherry, for garnish
Orange or lemon peel
Instructions
Fill a coupe or cocktail glass with ice to cool it (or put it in the freezer beforehand)
Fill a cocktail mixing glass with ice and combine 2 parts of whiskey to 1 part amaro
Add a dash of orange bitters and Angostura bitters
Stir with a cocktail spoon continuously for 30-40 seconds until cooled and diluted
Pull out your chilled cocktail glass (remove ice if that's the method you used to chill the glass)
Strain the mixed ingredients into your cooled cocktail glass
Garnish your cocktail with a Luxardo cherry
Sprits some citrus oil from a strip of orange or lemon peel
Wipe the citrus peel around the rim of your cocktail glass
Serve and enjoy!
Nutrition Information:
Yield:

1
Serving Size:

1 grams
Amount Per Serving:
Calories:

383
Total Fat:

0g
Saturated Fat:

0g
Trans Fat:

0g
Unsaturated Fat:

0g
Cholesterol:

0mg
Sodium:

3mg
Carbohydrates:

22g
Fiber:

4g
Sugar:

15g
Protein:

1g
Final Thoughts On the Black Manhattan
The Luxardo cherry can either be used as a garnish on a cocktail stick on the rim of the glass or just dropped into the bottom of the glass.  The cherry will soak up all that boozy goodness and be a pleasant surprise at the bottom of the glass once you finish your cocktail.  Simply delicious!
The dark color of the Black Manhattan has an initial caramel-like sweetness with each sip, but it also has a bitterness similar to a black coffee.  The citrus oils give the cocktail a nice fragrant lift that compliments the amaro beautifully. 
This juicy sweetness on the front end makes the cocktail a little more approachable than the original Manhattan recipe, as the amaro cuts through the bitterness more effectively when compared to the sweet vermouth used in the classic recipe (see also: Iced Teaquila Cocktail Recipe). 
Following this sweetness, you get a delicious herbal and licorice quality at the back end which is brought out even more by the bitters.  
We think that you and your friends will love this contemporary, exciting twist on the classic Manhattan recipe.  Give your dinner guests something they have never tasted before and blow their minds with a simple cocktail that has such a deep complexity of flavor that is perfect for an after-dinner digestif.
The perfect cocktail to end the night on a good note.  Give it a try the next time you're entertaining guests and give them a night to remember.