This playful bubbly cocktail is a fan-favorite because it brings just the right amount of sparkle to brunch and elevates all your summer time hangouts!
History of the Blueberry Gin Fizz
The Blueberry Gin Fizz cocktail is a descendent from the original Gin Fizz Cocktail which was created by Henry C. Ramos in the late 1880s. Henry Ramos owned and operated a bar in Louisiana when he invented the Gin Fizz Cocktail.
He drew inspiration from the lively South and named his beverage the "New Orleans Fizz". To date, this beverage continues to be one of the most popularly ordered beverages in the NOLA bar scene.
Of course variations of this drink have popped up as food trends have changed. The Blueberry Gin Fizz is inspired by the classic British flavor combination of blueberry and lemon.
This cocktail hits the right balance between sweet and tangy and has just the right amount of bubble to make it a refreshing staple at any summer gathering.
Unlike other fruity cocktails that rely on alcoholized fruit liqueurs, the blueberry element in this drink is made from a blueberry simple syrup. Using an infused simple syrup will enhance the flavor of your cocktail without adding extra alcohol. The final result is a light cocktail that is a great option for brunches and other light meals.
The color and vibrancy of this cocktail will vary depending on the types of blueberries you use in your simple syrup. Wild blueberries offer rich blue and purple tones because the entire fruit contains rich color pigments.
Cultivated blueberries are blue on the outside, white on the inside, and will offer less tint to your simple syrup. If fresh fruit is not available to you frozen options are acceptable as well!
Blueberry Gin Fizz Ingredients
You can probably guess which ingredients are in a Blueberry Gin Fizz cocktail just by looking at the name. The blueberry simple syrup adds a delicate fruity taste, combined with earthy gin, and club soda for the fizz.
To balance the sweetness of the blueberry syrup, fresh lemon juice is also added to this cocktail which brightens up the whole drink.
Making your simple syrup is extremely easy and highly recommended! Once you start to make your own you will never go back to relying on store-bought syrups. The recipe listed below is specific to blueberries, but you could easily modify the recipe to create endless flavor combinations. Popular simple syrups include orange, mint, and peppermint for the winter holidays.
There are four different flavor classes of gin and they range from sweet to savory. A dry gin is recommended for this cocktail because it offers the most potent botanical flavors, which complements the blueberry flavor in this recipe.
True gin is made from juniper berries. These tiny blue fruits led to the name of gin (from the French term for juniper, genévrier). Dry gin is only distilled with juniper berries and tends to provide a pine-forward flavor.
Premium dry gins will have been cycled through multiple rounds of filtration, which significantly cuts down any harshness from the pine flavors.
Club soda adds the necessary fizz to this sparkling cocktail. For the record, club soda is different than sparkling water and it is also different from seltzer. Yes, these three ingredients could be used interchangeably if you were missing ingredients, but club soda is preferred for cocktail recipes.
It offers a smooth and crisp flavor that is unmatched by the other two bubbly options. Club Soda also contains the right amount of fizz because seltzer water can feel too carbonated!
Helpful Tips for Making a Blueberry Gin Fizz
Frozen blueberries may contain added sugar. You may notice that using these fruits in a simple syrup may render a sweeter-than-normal syrup. Make sure you read the food label on your frozen blueberries to avoid this.
Never add a carbonated liquid to your drink shaker. This may sound like common sense, but when you are in the moment and getting ready to mix your drink the excitement of trying a new cocktail recipe can take over! If you shake a carbonated liquid it can explode upon opening, and it will further aerate the drink. It will leave you with a foamy cocktail and a messy bar top.
Final Thoughts
A classic gin fizz cocktail has unlimited flavor variations! Another popular fruity version of a gin fizz includes strawberries and Aperol (a bitter Italian apératif). The redness of strawberries tints the drink a beautiful blush pink, and it is the cutest cocktail for summer dining and bachelorette events.
You may notice that a Tom Collins cocktail is very similar to a gin fizz. Both of these cocktails contain similar ingredients, but a gin fizz is based on an older style of cocktail mixing from the Victorian era.
The gin fizz is also strained over ice, unlike a Tom Collins which is served in a taller glass stacked to the brim with ice. The only way to know which drink you prefer is to try them both and see which one tastes like a winner!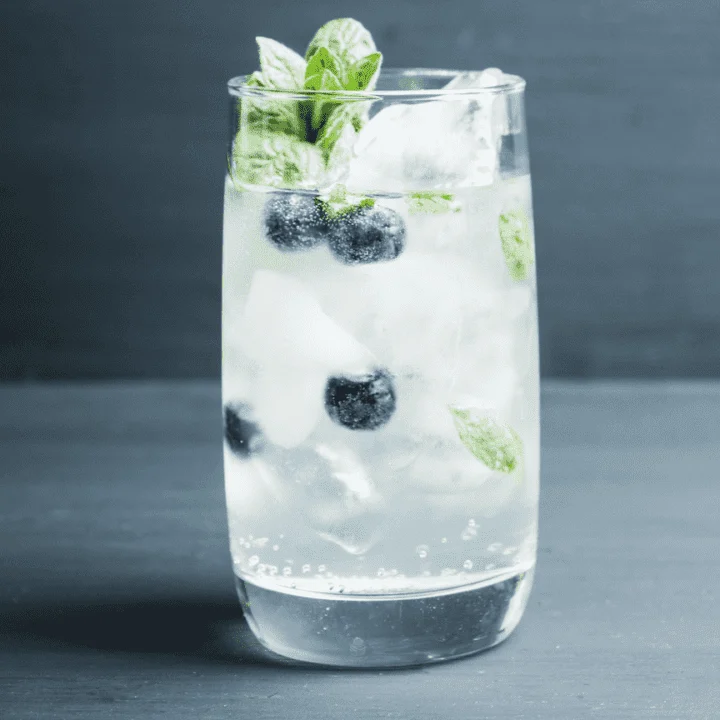 Blueberry Gin Fizz Cocktail
Homemade simple syrup prep time:
20 minutes
Looking for a playful and bubbly cocktail to enjoy at your next brunch or summer hangout? Look no further than the Blueberry Gin Fizz! This refreshing cocktail is made with gin, lemon juice, blueberry simple syrup, and club soda, and is garnished with fresh blueberries and/or mint leaves.
Ingredients
Cocktail Ingredients
2 oz gin
1 oz lemon juice
1 oz blueberry simple syrup
oz club soda, to top off cocktail
Garnish
fresh blueberries and/or mint leaves
Instructions
Blueberry Simple Syrup Instructions
Combine all simple syrup ingredients in a medium sized sauce pan. Bring the mixture to a boil, and then lower the heat and allow the mixture to simmer for 15 minutes
Pour through a fine sieve, and let it cool completely. This syrup can be stored in the fridge for 2 weeks
Cocktail Instructions
Combine gin, lemon juice, and blueberry syrup in a cocktail shaker with ice. Shake for at least 30 seconds until thoroughly chilled
Strain into a glass, optionally filled with ice. Top with club soda and add garnishes. Enjoy!
Nutrition Information:
Yield:

1
Serving Size:

1 grams
Amount Per Serving:
Calories:

903
Total Fat:

0g
Saturated Fat:

0g
Trans Fat:

0g
Unsaturated Fat:

0g
Cholesterol:

0mg
Sodium:

17mg
Carbohydrates:

167g
Fiber:

2g
Sugar:

163g
Protein:

1g