Move over New York – the Mezcal Manhattan is coming through with a Mexican spin on this classic cocktail!
History of the Mezcal Manhattan
A Mezcal Manhattan follows the same recipe as a Manhattan but uses Mezcal instead of bourbon. Switching to Mezcal creates a smokey and intense flavor that savory lovers adore.
Some cocktail enthusiasts lovingly call this drink a "Mexihattan", but it's not clear if you can find that drink name on a real menu or if it is just an internet novelty!
Mezcal has become increasingly popular in North America over the last two decades. Mixologists love the deep and complex flavor of this alcohol and have enjoyed the challenge of incorporating it into classic cocktail recipes, like the Manhattan.
There is no claim to the creator of the Mezcal Manhattan, and we may never know who decided to mix this drink first. But, it is a go-to drink choice for people who enjoy premium alcohols and want a stiff and smokey flavored cocktail.
Most of the Mezcal available for sale is distilled in Mexico, specifically in the state of Oaxaca. Oaxaca is in the Southern region of Mexico, and it has the perfect climate to grow blue agave plants that are the star ingredient for Mezcal.
In Mexican culture, blue agave plants are sacred, and the distillation process to make mezcal honors the preciousness of these plants.
It takes 7-15 years for the blue agave plant to mature and be harvested for Mezcal production. Farmers take pride in their arduous process and follow the same distillation process their ancestors have practiced for centuries.
Mezcal Manhattan Ingredients
Blue agave plants look like large, blue, spikey succulents. The piña, or the heart of the plant, offers the most flavor. It is used for making Mezcal and Tequila.
Although these two alcohols share similar ingredients, the distillation process separates these two beverages. Tequila is steamed and relies on natural fermentation processes. The color of tequila will also vary. Mezcal is distilled in large earthen pots that are kept underground.
These pots are filled with ingredients from the blue agave plant, as well as different types of wood, lava, rocks, and pieces of charcoal. All of these elements infuse earthy and smokey flavors into the liquor, and the finished product is complex and layered with different notes.
Sweet Vermouth hails from Italy and is typically dark red. It is a popular mixing ingredient for cocktails because it carries many familiar and comforting flavors: vanilla, caramel, and some fruity notes too.
Bitters are non-alcoholic, and they provide potent kicks of flavors to your cocktail. Bitters are infused with a variety of botanical and herbal ingredients, and there are many flavors to choose from.
Orange bitters are the most popular, and a small drop goes a long way! Remember, you can always add more if you want, but you can never take it away once it's mixed into your drink!
Garnishes for a Mezcal Manhattan can either be a maraschino cherry or a twisted orange peel. It will vary depending on which notes you are trying to pull out of the beverage.
If you favor citrus tones, you will likely enjoy adding the peel as a garnish. If you prefer sweeter tones then the bright red cherry is the perfect garnish for you.
Making the Perfect Mezcal Manhattan
A Manhattan is never served with ice: it is served neat. This means the alcohol and other components of the cocktail have been mixed with ice, but then they are strained into a cocktail glass.
The ice will temporarily cool down the beverage, and it will cut back any harshness you may taste. This method of preparing cocktails is an excellent tool that will alter the flavor of your cocktail, without potentially over diluting your drink.
If you relied on ice, it would melt, and the entire beverage flavor profile will be altered. Any variation of a Manhattan should be boozy and strong. This is not a drink that is meant to be diluted and watered down!
Serve your Mezcal Manhattan in a wide rimmed cocktail glass, similar to a classic Champagne glass or a martini glass. Using this type of vessel will prevent the ingredients from separating, and will ensure every sip is balanced.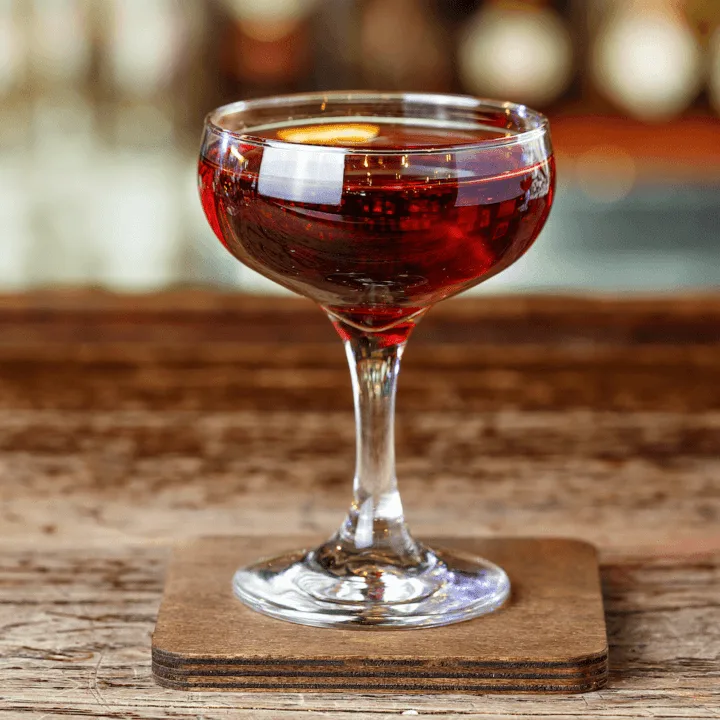 Mezcal Manhattan Recipe
Looking for a fun and unique twist on the classic Manhattan? Look no further than the Mezcal Manhattan! Made with Mezcal, sweet vermouth, and orange bitters, this delicious cocktail is perfect for any occasion. Serve it up with a maraschino cherry or orange twist garnish for an extra touch of class. Whether you're hosting a party or just enjoying a night in, the Mezcal Manhattan is sure to be a hit!
Ingredients
1 oz sweet vermouth
ice, for mixing
maraschino cherry and/or orange twist, to garnish
Instructions
Stir ingredients together in a cocktail shaker, including the ice
Strain the beverage into a wide rimmed cocktail glass. Add garnish and enjoy immediately!
Nutrition Information:
Yield:

1
Serving Size:

1 grams
Amount Per Serving:
Calories:

332
Total Fat:

0g
Saturated Fat:

0g
Trans Fat:

0g
Unsaturated Fat:

0g
Cholesterol:

0mg
Sodium:

6mg
Carbohydrates:

26g
Fiber:

3g
Sugar:

18g
Protein:

1g
The nutrition data provided is only an estimate.
Final Thoughts
Enthusiasts will drink Mezcal by itself because it already offers a lot of dimension. Mezcal pairs well with any type of citrus flavors, bittersweet and spiced liquors, as well as honey and earthy tones.
There are endless recipes you can follow that will incorporate this alcohol – like our Mezcal Margarita. Some of the cocktails will be knockouts, and others may need to be refined. It is all part of the fun of being an at-home mixologist.
Due to the lengthy distillation process, Mezcal is considered to be a premium alcohol. There are no short cuts to make this alcohol, and it will be expensive to buy.
If you are not sure if you will enjoy it, I recommend sampling Mezcal at a local bar before buying a bottle for your own cocktail bar at home.
Experts claim that an opened bottle of Mezcal will have an indefinite shelf life after it has been opened ( as long as you store it properly!). The reality is that Mezcal has an intense flavor that you may not want to drink every day.
Too much of a good thing can spoil the fun, so make sure you keep any opened Mezcal in a dark and cool space and ensure the cap is completely sealed.