A timeless beverage that has ruled the New York City bar scene for over a hundred years!
History of the Manhattan
Skyscrapers, bustling city life, and an even livelier nightlife: there is no city like New York City. There are five boroughs within the city, and as far as we know, Manhattan is the only borough to have a drink named after it.
There are two stories which describe how the Manhattan cocktail came to exist. The first is a story about a man named Dr. Ian Marshall, who was attending a party at the New York City Manhattan Club.
It was 1880, and Lady Randolph Churchill (Mother to Winston Churchill), was said to be at the party as well. Dr. Marshall wanted to create an exquisite cocktail for the lady to impress her, and created the Manhattan cocktail.
The beverage of course was named after the club. This story has been debunked, as Lady Churchill was pregnant and in England during the year of 1880.
The second story is filled with fewer celebrities, but is considered to be the more plausible option from the two tales. A bartender by the name of Black, worked at a bar in Manhattan during the 1880s.
Apparently he had first created the cocktail, which was documented in several books written in the early 1900s on how to improve bartending skills. Obviously, the details in this story are vague. Nobody truly knows who created the Manhattan, it is a mystery which remains unsolved.
The earliest recipes for this cocktail (see also: Old Fashioned: Our Recipe and Guide To This Classic Cocktail)featured rye as a staple ingredient. This liquor is edgier than whisky, and adds different flavour dimensions to the cocktail. Now however, whisky has replaced rye and is considered to be the staple alcohol used in this cocktail.
Despite changing the alcohol, the recipe we follow today remains very close to the original created in 1880. Obviously the mastermind behind this drink knew what they were doing when they mixed this drink together.
What Goes In a Manhattan Cocktail
There are few components to the Manhattan cocktail, but drink enthusiasts will stress that high quality products should be used when mixing this drink. This means splurging and spending money for top shelf whisky, or in some cases bourbon for those who prefer a sweeter cocktail.
Italian vermouth is used for this drink. It is different than French vermouth, which is also a popular option for cocktails. Italian vermouth is typically red in color and is sweet, compared to the French option which is light colored and bitter. The dark color of Italian vermouth also adds to warm hues of this cocktail.
Bitters are used in cocktails to inject a potent, bitter taste. A Manhattan cocktail calls for Angostura bitters. The botanical flavors of these ingredients enhance the flavour of the alcohol used in this cocktail. Because of their powerful taste, less is often more when it comes to adding bitters to your drinks.
This cocktail is typically served with a brandied cherry for garnish. The red pop of color from the fruit compliments the warm tones of the drink, and gives it a subtle sexy energy.
Remember, Manhattan bar scene is all about going on the town, being seen, and mingling with other New Yorkers. A fun garnish is an easy way to lift the mood for the evening, and feel happy while being out on the town.
Helpful Tips for Making a Perfect Manhattan Cocktail
As mentioned earlier, the quality of the ingredients should be the priority when making this drink. If possible, splurge for the top shelf whisky. The whole point of this cocktail is to enjoy it slowly, and savor the different notes in taste.
When creating this drink, remember it is best to stir the ingredients instead of shaking it over your shoulder. The flavors will not change if you choose to shake it, but it will negatively impact the appearance of the beverage. Shaking will result in a cloudy pour, when the drink is meant to be colored but transparent.
Ice is not included in the actual cocktail. Instead, the ice is used during the stirring process. Be sure to use a strainer when pouring your drink to prevent any chunks of ice from landing in your glass.
Similar to the martini, this beverage is meant to be served in a glass that has a wide and shallow top. This vessel shape will ensure the components remain evenly mixed. The wide surface area will also facilitate greater aeration of the ingredients, and the aromatic properties can truly have their chance to shine.
Another important note is that the glass being used to serve the Manhattan should include a long stem. This is to prevent your hand from holding onto the vessel, and accidentally over-warming the drink.
Manhattan Cocktail Variations
Like most cocktails, spin-off creations have been made of this drink. This includes changing the ratios of the liquors being mixed, as well is including new ingredients such as a dry vermouth. See below for popular spin-off options:
A Reverse Manhattan swaps the ratio of vermouth to whiskey. This will result in a sweetened version of the beverage.
A Perfect Manhattan is an even ratio of sweet and dry vermouth. This will result in a slightly dryer flavour of the Manhattan.
Whichever variation you choose to drink, the Manhattan cocktail is heavy on the alcohol. It is the very definition of a stiff drink. If you order this beverage, make sure you have eaten beforehand. Remember, this is a beverage that was designed to be sipped, and enjoyed slowly.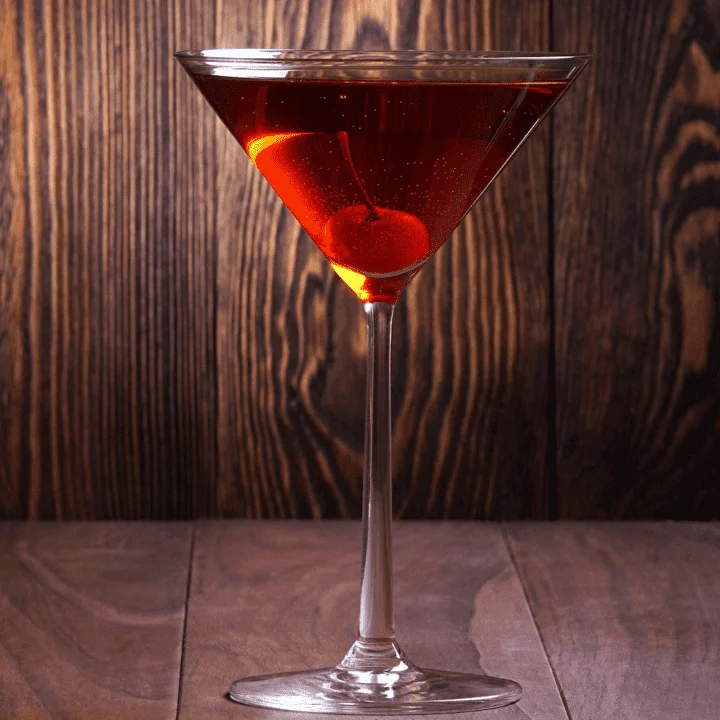 Manhattan Cocktail
The Manhattan Cocktail is a classic drink that has been enjoyed for generations. This iconic cocktail is made with just a few simple ingredients, but it packs a punch of flavor that is sure to please. The key to the perfect Manhattan is using high quality ingredients and taking the time to mix it just right.
Ingredients
1 handful of ice, for stirring
1 brandied cherry or cocktail cherry, to garnish
Instructions
Fill a large mixing glass with ice, bourbon, vermouth and the bitters. Stir for 30 seconds, or longer if you preferred a very chilled beverage.
Strain the mixture into a martini style glass. Garnish with the cherry, and enjoy!
Nutrition Information:
Yield:

1
Serving Size:

1 grams
Amount Per Serving:
Calories:

356
Total Fat:

0g
Saturated Fat:

0g
Trans Fat:

0g
Unsaturated Fat:

0g
Cholesterol:

0mg
Sodium:

7mg
Carbohydrates:

17g
Fiber:

0g
Sugar:

14g
Protein:

0g
Final Thoughts
I hope this guide to Manhattans has been helpful to you!  For more knowledge about this drink, head on over to our Manhattan vs Old Fashioned cocktail comparison guide next!