Smooth, sweet, and strong are three ways to describe this delicious coffee-inspired cocktail.  
History of the Espresso Martini 
The Espresso Martini was invented by a bartender by the name of Dick Bradsell In 1983. Bradsell worked at Fred's Club which is a London-based bar. The story goes that a supermodel approached him and wanted a unique drink that would rock her world and supply a second wind for a night of partying that lies ahead! 
We'll never know what the true inspiration was for this cocktail but it has become an icon for indulgence. The Espresso Martini is strong, sweet, creamy, and is served with a silky foam top. Some folks choose to drink this cocktail at happy hour but it is most commonly served during the dessert course of a meal. 
An interesting fact about this drink is that it is hardly a martini at all. No gin or vermouth is used in this recipe, and it is not related to the classic French Martini at all. The Espresso Martini borrowed the martini name because it is always served in a martini-shaped glass.
There is a fine line for alcoholic beverages that are mixed with caffeinated products (like coffee and energy drinks). Sometimes the end product can feel like a shooter that is best served at a frat party. The Espresso Martini is a perfectly balanced cocktail that oozes sophistication. If you like the buzz of caffeine and booze but want to upgrade to an adult version, this cocktail is perfect for you. 
Espresso Martini Ingredients
Brew fresh espresso coffee to enjoy maximum deliciousness in this cocktail. Ideally, you will use the strongest coffee beans you can handle for this recipe. The entire beverage relies on the coffee component because the bitterness of the espresso needs to cut through the booze and sweetness of the simple syrup.
The first booze you will need is a coffee-flavored liqueur. The most popular option is Kahlua. It is a rum-based blend that is flavored with coffee, vanilla, and corn syrup. A little bit of this liqueur goes a long way and can rapidly intensify the sweetness of your cocktail.  
The second booze you will need to make this cocktail is a smooth vodka. Traditional recipes call for unflavored vodka. If you want to go off the beaten track and add your twist to this drink you can use flavored vodka. A fun twist for the holidays is peppermint vodka, or in the summer months, you may go for a lighter vanilla option. 
Some people will bypass this step, but if you follow the traditional recipe (listed below), you will need a small amount of simple syrup for this cocktail. You can make your own at home by boiling water and sugar together until fully dissolved.
Save whole coffee beans to garnish your cocktail. This small detail will elevate the presentation of your Espresso Martini, and it's fun to add a pop of personality to your drink! Three or four coffee beans are enough.
Tips For Making an Espresso Martini
An Espresso Martini should be foamy and creamy. To do this you will need to spend an extra minute shaking your cocktail shaker, and don't be afraid to add some muscle when you get to this step of the recipe!
To maximize the amount of foam you need to rapidly pour the cocktail into your glass. Avoid leaving your shaken ingredients in the shaker for too long because the bubbles will start to disappear, and the cocktail will become flat. Experienced bartenders recommend using larger pieces of ice to add more texture to your cocktail. Never shake your mix using crushed ice.
If you want to go the full mile and deliver a cocktail recipe entirely made from scratch, try making your simple syrup at home. If you are a cocktail enthusiast and love to mix drinks you will likely reuse your simple syrup multiple times. You will also have the opportunity to add unique flavors to your simple syrup, and you can infuse peppermint, vanilla, orange, the sky is the limit.
More Interesting Espresso Martini Facts
Who doesn't love chocolate? And who could resist mixing chocolate and coffee? Add chocolate-flavored vodka to your Espresso Martini recipe and enjoy a mocha-inspired variation of this cocktail (chocolate flavored vodka is used in our peanut butter shot recipe too). The smell is intoxicating, and the flavor delivers. 
Kahlua is not the only coffee-based liqueur on the market, but it is one of the sweetest. An alternative option to try is Tia Maria's coffee liqueur. Similar to Kahlua, Tia Maria is a rum-based liqueur that hails from Jamaica. The recipe has been perfected and has been in production since 1940. It is less sweet than Kahlua and is a popular option for coffee based cocktails.
Final Thoughts
The coffee beans used to garnish this beverage are edible. Chewing and eating the coffee beans may appeal to some, but be warned, you will absorb a larger amount of caffeine if you ingest the beans. 
If you're looking for a variation of this recipe, check on over to our version that includes chocolate!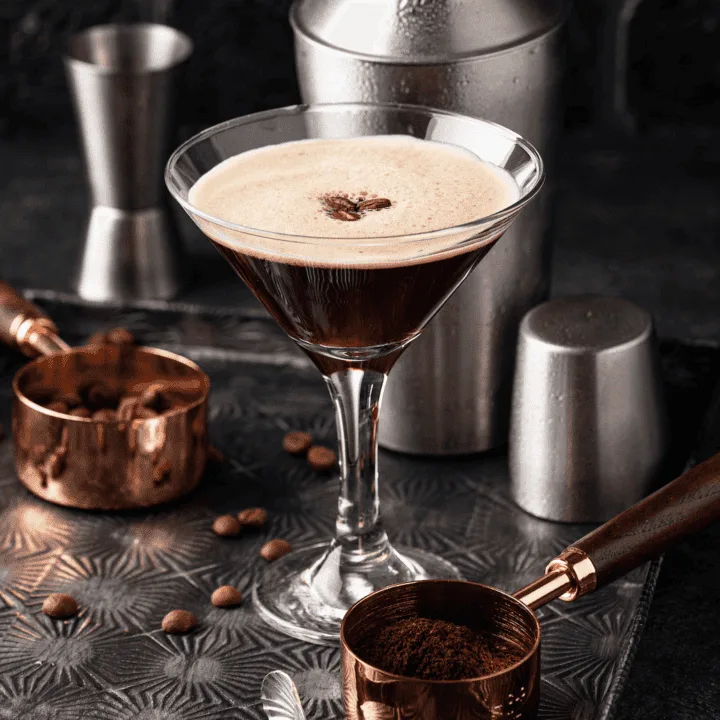 Espresso Martini
Espresso Martini is the perfect drink for coffee and vodka lovers alike. This martini combines two of our favorite things- caffeine and alcohol - into one delicious, smooth drink. It's the perfect way to end a meal or to enjoy a night out with friends.
Ingredients
1/2 oz coffee liqueur, Kahlua is popular
1 oz espresso, fresh brewed
1/2 oz simple syrup, for the traditional variation, it's ok to skip the syrup
2 to 3 coffee beans, to garnish
Instructions
Brew your espresso in advance to allow time for it to cool completely before using in this recipe. It does not need to be ice cold but it needs to be room temperature
Combine all the ingredients, including the room temp coffee, into a shaker with ice
Shake very hard to create a foamy mix. Strain into a martini glass right away and garnish with coffee beans. Enjoy!
Nutrition Information:
Yield:

1
Serving Size:

1 grams
Amount Per Serving:
Calories:

676
Total Fat:

1g
Saturated Fat:

0g
Trans Fat:

0g
Unsaturated Fat:

1g
Cholesterol:

0mg
Sodium:

942mg
Carbohydrates:

124g
Fiber:

10g
Sugar:

67g
Protein:

13g