I've always been a big fan of finding fresh and exciting ways to incorporate tequila into my regular cocktail rotation.
So when I heard about the iced teaquila cocktail, I was anxious to give it a try.  As the (somewhat cheesy) name suggests, it's a drink that combines tea and tequila to create a cool and crisp porch sipper.
How to Make an Iced Teaquila
There are really two ways you can go about making a Mexican iced tea that qualifies as a teaquila.  It really boils down to how many drinks you're wanting to prepare.
If you're only after a serving or two, you can make this drink cocktail style and combine ingredients into a shaker, then strain into a tall chilled glass that's filled with ice. Skip to the bottom for the cocktail style recipe!
On the other hand, you can also make a bigger portion to be chilled and served in a pitcher if you're wanting to brew this one up for a summer get together.
Now, if you're wanting to make a larger batch to chill and serve out of a pitcher, there are a couple of modifications I like to make to the recipe.
What Goes Into a Teaquila?
Here's what you'll need to make the iced teaquila if you want to make a big batch (6 drinks) over the stove:
1/2 cup sugar
1/4 cup water
3 tbsp fresh squeezed lemon juice
1 1/2 cup agave nectar
1 cup black tea, brewed
12 oz tequila (we use Patrón Silver for this recipe)
Lemon twists or slices to garnish
Put sugar and water together in a small saucepan over medium heat.  Stir until sugar is dissolved and bring mixture to a light boil, then remove from heat and let it cool to room temperature.
Then add the lemon juice and stir.
From there, combine the sugar/water/lemon syrup with the agave nectar, black tea, and tequila in a large pitcher.  Prepare 6 tall glasses and fill with ice.  Pour the teaquila into each glass and garnish with lemon.  Serve and enjoy!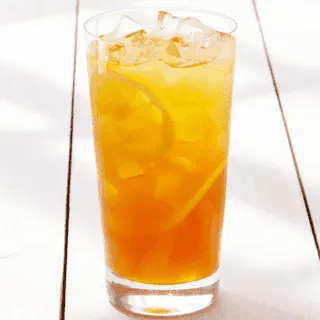 Iced Teaquila Cocktail Recipe
Looking for a refreshing porch sipper? Look no further than our iced Teaquila cocktail recipe! This easy to make drink is perfect for those hot summer days and is sure to impress your guests. Simply combine tequila, fresh lemon juice, agave nectar, and black iced tea, and you're good to go! Garnish with lemon twists or slices, and enjoy. Salud!
Ingredients
2 oz black tea, chilled
1/2 oz lemon juice, fresh squeezed
lemon twists or slices, to garnish
Instructions
Combine all ingredients in a cocktail shaker
Add a few cubes of ice and shake for about 10 to 12 seconds
Add ice to a highball glass or similar tall glass and strain cocktail over ice
Serve and enjoy!
Nutrition Information:
Yield:

1
Serving Size:

1 grams
Amount Per Serving:
Calories:

257
Total Fat:

0g
Saturated Fat:

0g
Trans Fat:

0g
Unsaturated Fat:

0g
Cholesterol:

0mg
Sodium:

5mg
Carbohydrates:

15g
Fiber:

0g
Sugar:

12g
Protein:

0g
Final Thoughts
I hope you enjoy this iced teaquila recipe!  This Mexican iced tea is a little bit off of the beaten path, but it's an incredibly tasty drink to try out.  Let us know what you think!