Planning a party or celebration can be a long and stressful process, especially when it comes to keeping your guests happy and entertained. From decorations to tasty finger food, there are certain elements that every party should have, with one of the most important being copious amounts of alcohol. 
However, this does not mean that you have to serve up some bottles of wine and call it a night, as you can utilize alcohol in numerous creative ways. Whether that be in a party-exclusive cocktail or in a rainbow of colourful shots(see also: Rainbow Shots).
These days, one of the most popular ways to serve alcohol at a party is in a delicious punch, and we have found one of the best recipes for such a drink. 
So if you want to know how you can make a tropical punch from scratch, then you have come to the right place.
In the following article, we are going to teach you how to make trash can punch, a vibrant and heady concoction that first found its roots in college parties across the country. So if you are ready to liven up the party, we have everything you need to get started… 
What Is Trash Can Punch? 
As the name would suggest, trash can punch is an alcoholic beverage that is commonly served in a trash can at parties. However, this does not mean that the drink is unsanitary or that it comes with a side of garbage.
In fact, the trash can has to be cleaned before the drink is served, otherwise, you could risk none of your guests sampling the fruity mixture. So if you want to make this punch, we do recommend using a clean container, if only for hygienic reasons. 
When it comes to making your own trash can punch, there are three key ingredients that every recipe will contain. There's the alcohol (which usually takes the form of vodka or whiskey), the fruit punch (although fruit juice can also be used as an alternative) and finally, the fruits.
In most cases, the fruits are used to complement the flavour of the punch, so it is best to ensure that everything is washed and properly sliced before use. 
Of course, this punch first found its footing in college parties across the country, where it was designed by students to get as drunk as possible. However, the popularity of the beverage has led to it becoming a popular staple at various celebrations, with recipes for the drink now being available online. Fortunately, the punch is safe to drink and therefore can be enjoyed by anyone who is ready to make their own. 
Beyond this, it is also possible to adjust the recipe for your preferences, with certain ingredients being swapped out for others. For example, some people may want to remove the fruit or change the type of punch being used. But as long as the recipe meets your tastes, you will have everything you need to produce a delicious drink for your guests. 
So if you want to know how you can make this punch from yourself, everything you need to know can be found in the sections below: 
How To Make Trash Can Punch 
One of the best things about trash can punch is that it can be made throughout the year, as the ingredients are always readily available unless you want to use a fruit that is currently out of season.
The number of ingredients will also vary depending on the number of guests you have invited, which means the recipe can be constantly adjusted to suit your needs. However, if you are still unsure about the amounts you should use, then you can ask a friend or acquaintance for assistance. 
As we previously mentioned, you will need a trash can or container to hold the punch once it has been made. Again, this does not mean that you should use a dirty trash can as this could be dangerous, which is why we recommend purchasing a brand new trash can and washing it with soap and warm water before making the drink.
It is also important to purchase a trash can that is capable of holding the punch. However, if you do not want to use a trash can, then you can use alternatives such as a cooler or drink dispenser. 
Beyond this, you will also need to supply your guests with a large spoon or ladle so that they can access the punch and pour it into their cups.
We also recommend keeping a stock of toothpicks near the container, as your guests will be able to use these to remove any unwanted fruit from their drinks. So now that you understand the basics, let's take a look at what you will need to make the punch itself.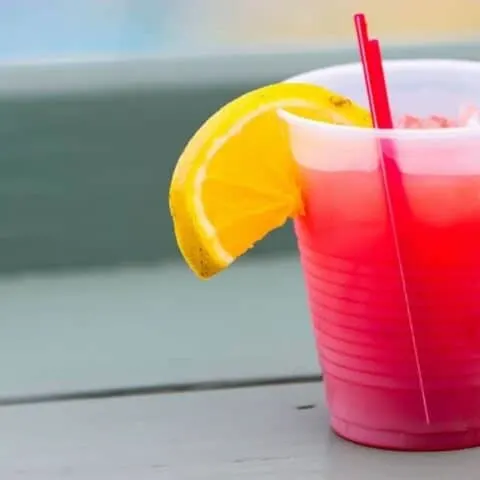 Trash Can Punch
Looking for a party punch that packs a punch? Look no further than Trash Can Punch! This recipe is sure to get the party started, and it's perfect for summer gatherings. Made with tequila, vodka, and Hawaiian fruit punch, this punch is guaranteed to be a hit with your guests. Oranges, grapes, apples, watermelon, and strawberries make this punch even more refreshing, and the ice keeps it nice and cold.
Ingredients
2 bottles Tequila
4 liters Hawaiian fruit punch
Oranges, sliced
Grapes , whole
Apples, sliced
Watermelon, sliced and seeded
Strawberries, sliced
Ice
Instructions
Take your trash can or container and set it in the best location for your party, this should be an area that is both accessible and unobstructed.
Once the trash can has been set up, fill it up with the tequila and vodka before adding the Hawaiian punch.
Next, add the oranges, grapes, apples, watermelon and strawberries to your trash can and stir with a spoon or ladle.
Finally, add the ice and set up the various utensils your guests will need (e.g. straws, servings cups and toothpicks).
Nutrition Information:
Yield:

64
Serving Size:

1 grams
Amount Per Serving:
Calories:

36
Total Fat:

0g
Saturated Fat:

0g
Trans Fat:

0g
Unsaturated Fat:

0g
Cholesterol:

0mg
Sodium:

5mg
Carbohydrates:

9g
Fiber:

0g
Sugar:

9g
Protein:

0g
Tips 
If you plan on making your own trash can punch, here are some suggestions that can make your concoction all the more memorable: 
When making your punch, you can swap the vodka for a flavoured brand, although the flavour will need to complement the punch and fruit.
If you do not wish to use Hawaiian punch, then this ingredient can be substituted with any other fruit punch or juice that you prefer. 
It is possible to swap the tequila for another alcoholic beverage such as Everclear or Jack Daniels(see also: Jim Beam vs Jack Daniels). 
To create a truly unique punch, you can add a frozen can of Minute Maid Limeade to the recipe. 
Make sure that all fresh fruit has been properly cleaned and sliced before adding it to the punch. 
Final Thoughts 
And there we have it, that is how you make trash can punch. We hope that you have found this article helpful and that you will use it to make a delicious punch for your party guests. However, you should never underestimate how intoxicating this recipe can be, so please make sure to drink responsibly when making this beverage.