To some, the idea of a margarita which doesn't include tequila might sound borderline sac-religious. But the truth is, you can make some pretty fantastic margs with rum!
Rum margaritas are a great change of pace from the traditional tequila or the perfect option for those who just simply aren't tequila fans. Either way, our simple rum margarita recipe (see also: Skinny Margarita Recipe)is sure to be a crowd favorite at your next get-together.
Can You Make Margaritas With Rum?
The answer to this question is a huge, resounding yes! All of the ingredients that go into a margarita are super versatile and work better than you might think with multiple types of liquor.
As such, you don't have to use tequila to make an outstanding marg. Mezcal margaritas are probably the second most popular type of liquor, but it's not totally unheard of to make a margarita with vodka or even gin as the base.
What's the Best Type Of Rum for Margaritas?
One of the beautiful things about the rum margarita is that there is not one best type of rum to use. Similar to how you can make great margs with blanco, reposado, or añejo tequilas, you can mix things up with the different types of rum.
So with that being said, the choice is a personal one and comes down to preference. The staples are white rum, spiced rum, gold rum, and dark rum. Out of those I tend to use either a simple gold rum (like a Bicardi Gold) or spiced rum (like a Captain Morgan) for margaritas, but all of them work just fine!
If you're feeling extra ambitious, you can also used flavored rums in your margaritas. Pineapple, coconut, lemon, orange, mango, strawberry, and a few other flavored rums can provide a fun twist to this margarita variation. While these can be tasty, we'd probably recommend sticking to the base rum flavors for your first go around.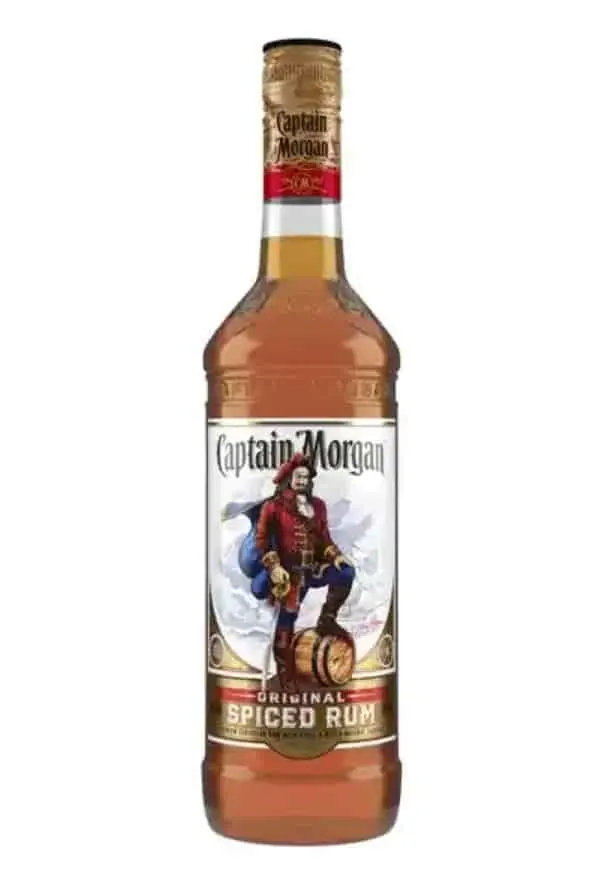 Rum Margarita Ingredients
My general mixology philosophy is to keep things as simple as possible, especially when it comes to combinations that we all know are dynamite.
So with that in mind my preferred margarita recipe is pretty much identical to my traditional margarita recipe. So you'll need the following familiar ingredients for your rum margs:
Rum (spiced, gold, white, or dark)
Triple sec (we use Grand Marnier)
Lime juice (I have been loving Lakewood lately but you can sub a different type or use fresh squeezed)
Agave syrup
Salt, for rimming (optional of course!)
Lime wedges, to garnish
And really, the agave syrup is optional too – it's there to add a little bit of sweet. But if you find the triple sec to be enough of a sweet flavor for you, then the agave isn't necessary.
Rocks vs Frozen
It probably goes without saying, but rum margs can be enjoyed either on the rocks or frozen.
Our rum margarita recipe below goes over what you need to do to serve over rocks or frozen. But the recipe is essentially the same for both, with the exception that you need to add 1.5 cups of ice per serving to the frozen version.
Of course, you'll also need to throw all of the listed ingredients to a margarita blender to get your frozen rum margaritas, whereas you'll need a cocktail shaker for the rocks version.
Helpful Tips for Making This Recipe
One of the best tips for making any type of margarita is to salt your glasses before you begin making cocktails. It can quickly turn into a time consuming mess if you're trying to rim a glass, make a cocktail, rim another glass, make another cocktail, etc. Just assembly line your salt rimming operation at the beginning to save some hassle.
If you're having trouble picking the perfect salt – check out our resource on the best salt for margaritas for ideas!
On a similar note, it's also a good idea to slice up your lime wedges at the beginning. You don't want to be messing around with your garnish as you're trying to serve one of your guests. Especially if you are serving a lot of people, it will be much less time consuming in the long run to pre-slice some wedges.
And if you're making frozen rum margs, I always love to add a floater of either rum, triple sec, or both! Not only does this add a little extra kick to your drink, it's a great way to dilute your frozen cocktail just a tiny bit in case it's too thick.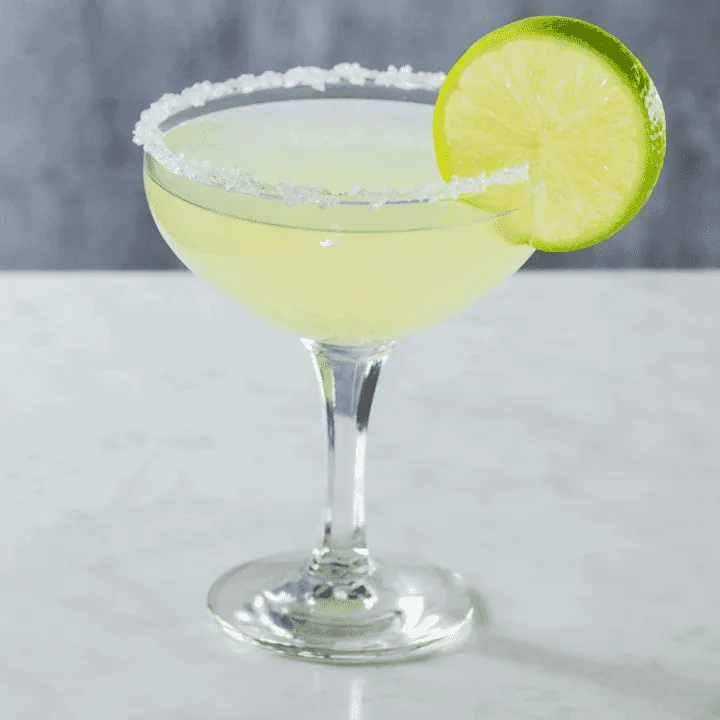 Rum Margarita
Start your party the right way with a delicious Rum Margarita! This refreshing cocktail is perfect for any occasion. We recommend using spiced, white, gold, or dark rum for the best results, but feel free to experiment and find your perfect match. Serve over ice and enjoy!
Ingredients
For On the Rocks
3/4 oz agave syrup, optional (this adds sweetness)
For Frozen
Instructions
To Rim Glasses With Salt (Optional)
Coat the edge of each glass with a small amount of lime juice. You can do this by running a lime wedge around the edge of the glass
Dip the edge of your glasses into coarse salt
For On the Rocks
Add a scoop of ice to your cocktail shaker
Combine ingredients into cocktail shaker
Shake for approximately 30 seconds or until well-chilled
Pour over ice in a glass. Garnish with lime wedges
Enjoy!
For Frozen
Combine rum, triple sec, agave syrup, and lime juice into a blender with ice. Blend until consistent
Pour into glasses. Serve and enjoy!
Nutrition Information:
Yield:

2
Serving Size:

1 grams
Amount Per Serving:
Calories:

284
Total Fat:

0g
Saturated Fat:

0g
Trans Fat:

0g
Unsaturated Fat:

0g
Cholesterol:

0mg
Sodium:

16mg
Carbohydrates:

14g
Fiber:

0g
Sugar:

11g
Protein:

0g
Final Thoughts
What did you think of our recipe? If you liked it, let us know by leaving a 5 star rating! At the end of the day it's pretty similar to a classic margarita, which is just how we like it.