The old fashioned is without a doubt one of the most well known and commonly ordered cocktails across the globe.
And if you've ever ordered an old fashioned before, you know that the staple ingredient is bourbon whiskey. Depending on the part of the world you're in, rye whiskey might also be the spirit of choice.
All of that to say, rum is probably not the thing that comes to mind when most people think about an old fashioned cocktail.
But the reality is, a rum old fashioned isn't just a viable variation of the classic, it's an incredibly tasty alternative.
Why the Rum Old Fashioned Works
Your traditional old fashioned recipe calls for whiskey, bitters, sugar, and ice. All of those non-whiskey ingredients (the bitters, sugar, and ice) appear in an abundance of cocktails – and for good reason.
Those ingredients provide an incredibly versatile and almost perfect structure for cocktail making. Bourbon and rye obviously work nicely within this structure, but they are far from the only spirits that combine well.
In fact, the old fashioned is one of the most customizable cocktails out there, period. Mezcal, tequila, rum, cognac – they all work!
All of that is not to mention the other ingredients. Your traditional old fashioned uses Angostura and orange bitters (see also: Best Bitters For Old Fashioned)along with a simple syrup or a sugar cube. These types of bitters and sugars can easily be substituted with alternatives to further customize your drink.
Point being, there are countless ways to make an old fashioned. While whiskey is by far and away the most common spirit of choice for this drink, you are by no means handcuffed to it!
Making the Perfect Rum Old Fashioned
Getting the rum old fashioned cocktail (soo also: Manhattan vs Old Fashioned Cocktail – What's the Difference?)right really boils down to choosing a great rum. Rum comes in a few different types – there's white rum, spiced rum, gold rum, and dark rum.
Each type certainly has their place in the world, but when it comes to old fashioned making we strongly prefer to use dark rum as our spirit of choice.
The oversimplified reason is because dark rum aromas and flavor palettes parallel those of whiskey. Of course, dark rum is inherently different than a bourbon, but the flavors are similar enough that a dark rum old fashioned will be pleasing even to a traditionalist.
Dark rum is typically aged in oak barrels and as such has a smooth finish. Its flavor profile typically has some sweetness, along with vanilla, brown sugar, toffee, and molasses notes.
Demerara Syrup
Furthermore, we'd suggest getting ahold of some demerara syrup as opposed to traditional simply syrup. This syrup can easily be made at home with some demerara sugar and water heated over a stove top.
Here's what you need to make the syrup:
Combine sugar and water in a saucepan over medium heat. Stir until the sugar has dissolved, approximately 2-3 minutes, then remove from heat. Allow for the syrup to cool to room temperature before use.
That's it! The demerara syrup adds an earthy caramel and molasses flavor to your rum old fashioned and is a perfect pair for dark rum. Frankly, this syrup pairs nicely with bourbon – so it's nice to have in the back pocket for a traditional old fashioned as well.
Demerara sugar might not be the sort of ingredient that you have handy at home. If you're in a rush you can substitute light brown sugar for this syrup recipe and it will come out just fine!
Old Fashioned Ice
A proper old fashioned is served over one large, clear ice cube inside of a lowball or scotch glass. It's not the end of the world if your ice isn't totally pure and see through, but having clear ice definitely elevates the drink.
If you haven't made clear ice before, head on over to our guide on how to make clear ice so that you can be ready to make the perfect rum old fashioned.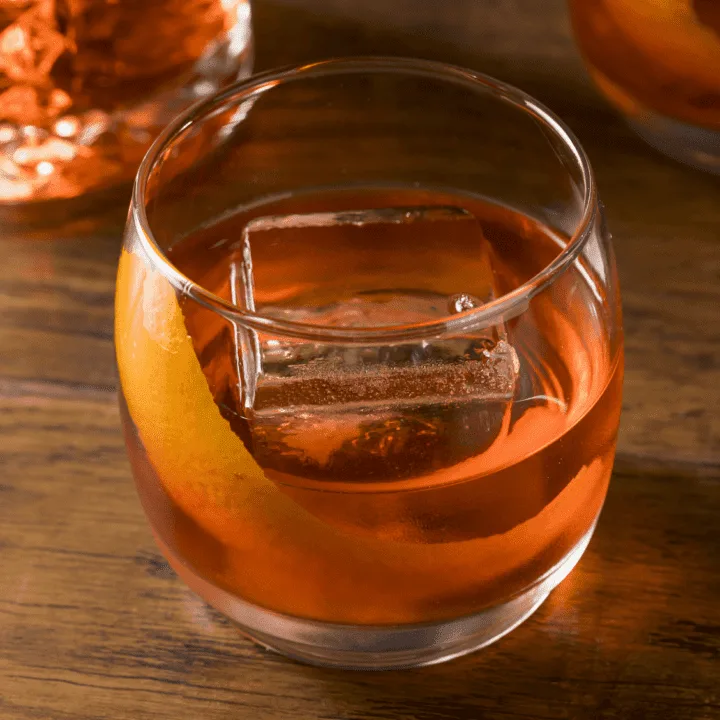 Rum Old Fashioned Recipe
This Rum Old Fashioned is a rich and flavorful drink that is perfect for sipping on a cool evening or enjoying with friends. The complex flavor profile is perfect for those who enjoy a spirit-forward drink. Cheers!
Ingredients
1 large ice cube
1 tsp demerara syrup, recipe below in the notes section
orange peel, to garnish
Instructions
Place large ice cube into your glass
Pour rum, demerara syrup, Angostura bitters, and orange bitters into the glass
Stir until quite chilled
Garnish with orange peel
Notes
Demerara syrup ingredients:
1 cup demerara sugar (can substitute light brown sugar in a pinch)
1 cup water
Instructions:
Combine sugar and water in a saucepan over medium heat.
Stir until the sugar has dissolved, approximately 2-3 minutes, then remove from heat.
Allow for the syrup to cool to room temperature before use.
Nutrition Information:
Yield:

1
Serving Size:

1 grams
Amount Per Serving:
Calories:

234
Total Fat:

0g
Saturated Fat:

0g
Trans Fat:

0g
Unsaturated Fat:

0g
Cholesterol:

0mg
Sodium:

6mg
Carbohydrates:

8g
Fiber:

1g
Sugar:

5g
Protein:

0g
Final Thoughts
The rum old fashioned is one of the best variations of the classic cocktail – the flavors and aromas just work perfectly and it's a great change of pace from the original.
If you're feeling ambitious and looking for more variations, check out our smoked old fashioned recipe next our our version with an Italian twist.