Sweet, pink, sparkly. This elevated rendition of a cocktail is made for summer nights when you crave an extra special drink.
History of the Strawberry Basil Mojito
A mojito is a classic Cuban drink designed to quench your thirst that has peaked under the hot, tropical sun in the islands. The typical ingredients include mint, lime juice, sugar, white rum, soda water, and a lot of ice!
The backbone of this cocktail recipe has been followed from the 1930s. Since then, many fruity variations have been created, like the Strawberry Basil Mojito!
A pink-hued mojito is a popular option during the summer season because strawberries and basil plants thrive during the hottest months of the year. This cocktail is popular at social events, dinner parties, and just about any other upscale event where you crave something fruity yet sophisticated.
Strawberry Basil Mojito Ingredients
Just by reading the title, you can probably already start to imagine the smell of this fragrant cocktail. Strawberry is one of the most commonly infused scents in the world.
It is sweet, a little bit tangy, and I can always taste traces of barley straw that is used to cover the ground and protect the plant while it grows.
Combining the fresh strawberry with basil is a perfect marriage of summer flavors. Basil plants grow in full sun, similar to strawberries, and both of these ingredients taste sun-drenched. They feel like they burst with flavor as soon as you put them in your mouth. The delicate green leaves of a Basil plant offer a peppery taste that is swiftly mellowed out by sweetness.
Creating a simple syrup is a highly effective way of harnessing the full potency of these ingredients without having any solid pieces that can negatively influence the mouthfeel of your cocktail. Nobody feels classy picking out seeds from between their teeth at a party!
All simple syrup recipes will be sweet, as the boiling of sugar creates honey-like consistency. Stay vigilant when you are making your simple syrup and stay close to the stovetop while you are cooking. The sugar is susceptible to burning, and it should be regularly stirred while boiling.
Mojitos are classically prepared with white rum. This variation of rum is also referred to as light rum and is commonly rums distilled in Puerto Rico. The overall flavor of white rum is mild and generally, it does not have any complicated flavors. It is created through distilling sugar cane, and the final product is often on the sweeter side.
Club soda is the magic ingredient for this cocktail. It adds the perfect amount of fizz to your drink that elevates the entire experience. Some mojito recipes will call for 7up or a variation of soda pop to add the bubbles to the drink. Club soda is a great option for this mojito because it adds just the right amount of carbonation without adding any more sweetness.
Tips For Making This Cocktail
As a rule of thumb, any fruit cocktail will taste best served over ice. Keeping the drink cold will decrease your ability to taste the full sweetness of a drink. If you've ever had a luke-warm soda, you know it tastes like sweet syrup compared to drinking it at a refrigerated temperature. Don't shy away from adding ice to this cocktail!
Depending on the season and where you live, strawberries will vary in flavor. When picked too soon, strawberries will taste tangy because they have not fully ripened.
You may need to add a little bit more sugar to your simple syrup to counteract the acidity. You can easily manage this by tasting your simple syrup throughout the cooking process. If somehow your final product is too sweet, add a little bit of freshly squeezed lemon juice to balance out the syrup.
Final Thoughts
The overall flavor profile of this cocktail is sweet. Adding some spice is a fun way to curb some of this sweetness. Try to mix in fresh jalapeño as a garnish to add some playful heat to your drink. You can cut thick slices of hot pepper that are easy to remove if you decide there is enough heat in your cocktail.
If you are someone who does not enjoy rum but you still like the vibes of this recipe (see also: Rum Margarita Recipe (Frozen or On the Rocks))don't feel discouraged! There are alcohol variations you can make for this recipe that will allow you to enjoy the cocktail.
The most popular recipe swap-out is for the gin-lovers in the room. Instead of rum and soda water, you can use gin and tonic. It will render a different edge to the drink, but it will still have the essence of a strawberry basil mojito.
Vodka is a reliable replacement option for rum. It has so many different flavor options and different brands will range in dryness and sweetness. If you love strawberries, you can use strawberry flavored vodka. If you want to bring in elements from a classic mojito recipe you could use lime flavored vodka instead.
For more strawberry themed cocktails, check out our strawberry lemonade margarita recipe next!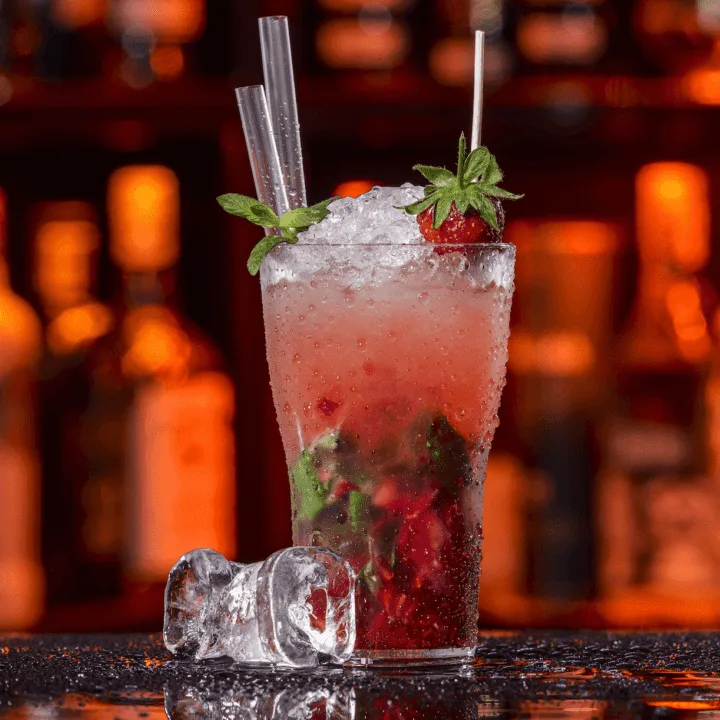 Strawberry Basil Mojito
The Strawberry Basil Mojito is a delicious, refreshing twist on the classic mojito cocktail. This pink, sparkly drink is perfect for summer nights when you crave something a little extra special. Made with white rum, strawberry simple syrup, fresh lemon juice, and Basil leaves, the Strawberry Basil Mojito is sure to become your new favorite drink!
Ingredients
Strawberry Simple Syrup (will make extra)
1 cup water
1/2 cup white granulated sugar
5 strawberries, diced
Cocktail Ingredients
1 oz white rum
1 oz strawberry simple syrup
1/2 oz lemon juice, fresh squeezed
3 basil leaves
2 oz club soda
Instructions
Strawberry Simple Syrup
Add syrup ingredients to a pot and bring the mixture to a boil
Boil for 5 minutes, then remove pot from heat and cover with a lid. Allow for it to come to room temperature on it's own
Blend the final product and then strain the mix through a fine sieve. This will ensure your syrup is free of any solids or seeds from the berries. This syrup can be stored in the fridge for up to 10 days
Cocktail Instructions
Add all the ingredients, except for the soda water, into a drink shaker. Add generous amounts of ice, and then shake for 30 seconds
Pour the mixture into a glass and top with club soda. Decorate with garnish - then serve and enjoy!
Nutrition Information:
Yield:

1
Serving Size:

1 grams
Amount Per Serving:
Calories:

1073
Total Fat:

0g
Saturated Fat:

0g
Trans Fat:

0g
Unsaturated Fat:

0g
Cholesterol:

0mg
Sodium:

20mg
Carbohydrates:

260g
Fiber:

3g
Sugar:

256g
Protein:

1g