Fall is a wonderful time of year! The season starts changing, the weather gets colder as the leaves begin to fall and crunch on the ground. You can finally start wearing your favorite sweaters and scarves again, and pumpkin spice everything is back in the stores! There's also so much to look forward to, with Halloween and Thanksgiving just around the corner.
So, if you want to get into the fall spirit, then we have got some delicious fall inspired cocktails for you to try out! Whether you're looking for the perfect pumpkin cocktail to get you in the mood for fall, or an exceptional drink for your Halloween party, we've got you covered with 10 Fall Cocktail Ideas.
10 Fall Cocktail Ideas
Check out our favorite fall cocktails to keep you warm during the autumn months!
Apple Cider Bourbon Cocktail
If you like a mixture of sweet and spicy, then you'll love this cozy Apple Cider Bourbon Cocktail. It's got a zesty hint of lemon, and the sophistication of a spiced bourbon to give you such a rounded and tasty flavor. 
To make this cocktail, it's just so simple. All you need to do is mix together bourbon, apple cider, sweet vermouth, lemon juice and orange bitters and stir into a mixing glass. Then, you'll need to strain and pour into a stemmed cocktail glass, but don't serve with ice. Finally, garnish with some sliced apples and serve. 
Hot Buttered Rum
If you're looking for something to warm you up as the nights get colder, then you can try out this Hot Buttered Rum for a spicy, cinnamon infused treat. To make this one, you'll need to make a hot buttered rum batter with salted butter, brown sugar and spices like cinnamon, nutmeg and allspice. 
Mix the spiced butter and roll with a rolling pin until flat and mixed completely. Then, add about 1 ½ tablespoons of spiced butter into each glass, and add 2 ounces of some rum and 6 ounces of boiling water. Then, stir until completely melted and combined. Top with a little bit of whipped cream if you like things sweet, or take it as it is for a more savory flavor. 
Apple Cider Mule
Who doesn't love a Moscow Mule? So, we've created a seasonal and fall inspired version of this one! It's bubbly, cozy and looks great served in a traditional copper style mug. All you need for this fall cocktail is apple cider, ginger beer, vodka and lime, so it's super simple to make.
To make this cocktail, you'll need a ¼ cup of vodka, ¼ cup of apple cider and 1 tablespoon lime juice with ⅓ cup of ginger beer. Mix it together and serve with ice and a lime in a copper cup. 
Pomegranate Poison
We have a wonderful ghoulish treat for you! This pomegranate flavored 'poison' will look great served up at Halloween, with fake spiders frozen in ice cubes as the garnish for your drinks. Once you've frozen the spiders, all you need to do is mix together some vodka, pomegranate juice and a seltzer. Then, pour over ice and serve! 
Pumpkin Pie Sangria
To make a pumpkin inspired sangria, simply combine sugar and pumpkin spice on a plate, and coat the rim of your glasses with the mixture and place a wedge of apple on the side. Set the glasses aside and start making the cocktail itself.
With a pitcher, you will need to combine pumpkin pie vodka with sparkling cider and some white wine. Then, add in some chopped up fruit such as apples and pears and mix the sangria together. Next, pour into the glasses and garnish them with a cinnamon stick to serve. 
Witch's Brew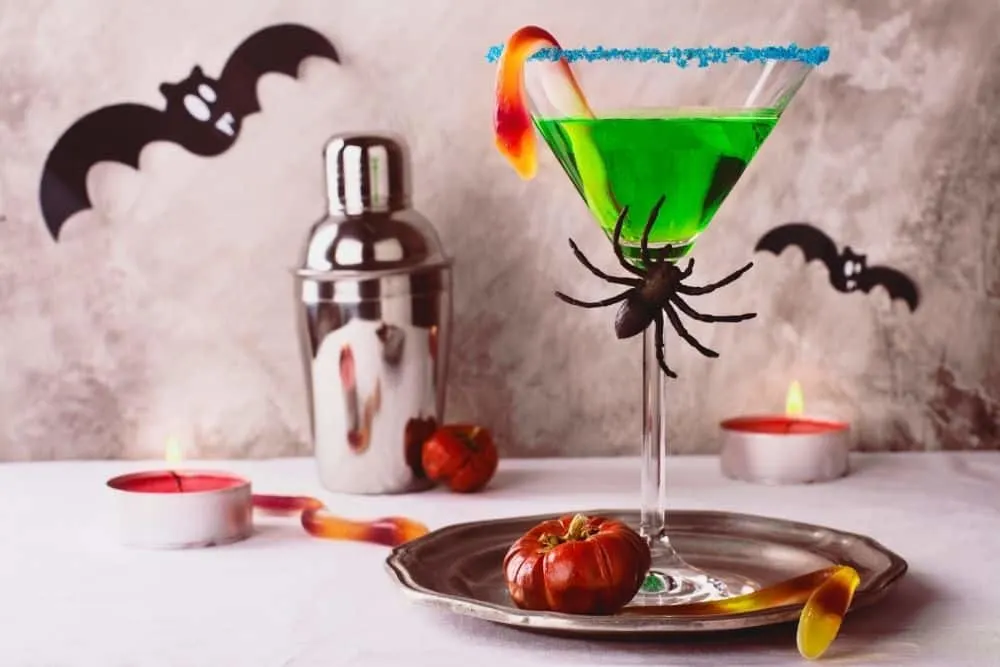 Want to make cocktails for the witching hour? We've got this Halloween potion for you to taste! All you need to do is stir together some fresh lemon juice, apricot nectar and fresh lime and orange juice. Next, divide the mixture between two ice cube trays and freeze. Then, fill up the glasses with sparkling wine and the pre-made ice cubes and serve! 
Monster Mary
If you love a Bloody Mary, then you'll love this halloween inspired version of the classic cocktail. It's the perfect eerie and spooky cocktail for a Halloween party! All you have to do is swap in green tomatillos for tomato juice and you too can make your own Monster Mary. 
To make this fall cocktail, simply mix in green tomatillos, cucumber, celery, cilantro, jalapeno and lime juice in a blender and puree until smooth. Then, strain the mixture in a medium mesh sieve and pour into a pitcher.
Next, take a whisk and mix in hot sauce, ¼ tsp pepper, a pinch of salt, horseradish, and pepperoncini brine. Finally, stir in the vodka and serve over ice. 
Witch's Heart
For a sparkly and spooky delight, try the Witch's Heart cocktail. All you need is a shimmery purple liqueur, apple brandy or apple vodka, grenadine and you have yourself the perfect poison to serve on All Hallows Eve! 
Simply mix together apple brandy and a purple colored shimmery liqueur in a shaker. Add an ice cube and shake together to chill the drink. Then,  place 1 tsp of powdered dry ice to the bottom of the glass to create a smoke effect. Next, strain the drink and pour into a martini glass. Finally, add a little bit of grenadine to create a blood-like effect, and stir so that the mixture can really shimmer! 
Pecan Pie Martini 
If you love Thanksgiving and simply cannot wait, then why not start preparing a tasty cocktail to serve for all of your friends and family? We have the perfect solution; the pecan pie martini.
To make this one, you'll want to create the garnish for the rim. All you'll need is melted caramel and toasted chopped pecans. Place each in a bowl, and then dip the rim of the glass into the caramel first, before dipping into chopped up pecans to coat the rim.
To make the cocktail, combine equal parts rumchata and creme de cocoa, with a splash of bourbon in a cocktail shaker and fill with ice. Once mixed, pour into martini glasses and top with a little bit of whipped cream, a sprinkling of cinnamon and a whole pecan. 
Pumpkin Spice White Russian 
If you're anything like us, then you love pumpkin spice everything! So, why not try a pumpkin spice white russian cocktail? This festive fall cocktail is creamy, delicious and is only made from coffee liqueur, a little bit of vodka and dreamy pumpkin spice creamer. 
To make a pumpkin spice white russian, you will need to make the mixture for the rim by combining pumpkin pie spice, sugar and crushed up graham crackers in a bowl. Then, dip the rim of your chosen glass into some water, and then into your premade mixture to coat it with pumpkin spice goodness.
Next, add pumpkin spice creamer, coffee liqueur and vodka into a cocktail shaker and fill it with ice. Shake to combine and pour into the rimmed glass. Top with some whipped cream and pumpkin pie spices to garnish and serve!