While almost everyone will be familiar with the cocktail Sex on the Beach, you may never have heard of its lesser-known sister, Sex in the Driveway. This sweet cocktail is bright blue and absolutely delicious. Made with vodka and Sprite or club soda, this cocktail is perfect for summer get-togethers with your girls. 
Because of its bright color and simple favors (it is very sweet), people who take cocktails may scoff at this drink and think that it is only for girls. But trust me, if you make this for any party ten it is guaranteed to be a hit with everyone. Because of the amount of mixers added to this drink, it is also one where the effects of the vodka will sneak up on you, as you'll hardly be able to tell that there is a lot of vodka in this drink. 
This cocktail is super simple to make and will only take you around 5 minutes. Here's how you do it. 
Top Tips for Making A Great Sex in the Driveway
Here are some extra tips you should know when making Sex in the Driveway. 
This makes a terrific slushy drink if you have an ice cream machine! Mix until half-frozen in your ice cream machine. Alternatively, use a margarita machine as this works just as well
It is very easy to make this cocktail into a lower-carb drink. Simply combine the vodka, sugar-free Sprite, and a few drops of electric blue Mio water enhancer in a shaker with ice. If you can find it, a sugar-free peach syrup or water enhancer can be added.
For added color to the already bright cocktail, you could freeze Maraschino cherries inside of ice cubes and add them to the drink. This makes the drink very pretty. Also, the colors won't bleed into each other, so you won't have to worry about the cherries ruining the bright blue of the drink.
This cocktail is very easy to make in large batches, so making it for parties is super simple. If you have some already, or you don't mind buying some a great way to serve this drink is in mason jars with lids. You can put these jars in a cooler of ice, so they will stay cold and fizzy for the whole party.
For even more flavor, you can substitute peach vodka instead of regular vodka!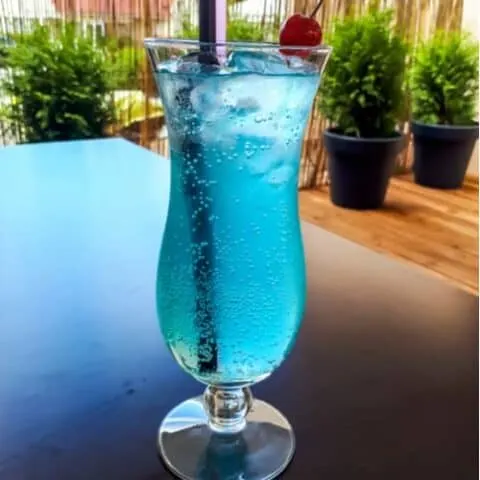 Sex In The Driveway
Looking for a fun, festive, and flirty way to enjoy your favorite summertime cocktail? Look no further than the Sex In The Driveway drink! This tropical twist on a classic margarita is perfect for sipping by the pool or enjoying at your next backyard barbecue. Made with Vodka, Peach Schnapps, Blue Curacao, and Sprite the Sex In The Driveway drink is refreshing, flavorful, and sure to put you in the mood for summer fun. So kick back, relax, and enjoy. You deserve it!
Ingredients
3 oz Sprite or any other lemon and lime soda
Crushed ice
A garnish of choice (not needed but makes it look even nicer)
Instructions
Place the ice in a high glass or pitcher
Add the vodka, Schnapps, and Curacao
Top off with Sprite and add a garnish like lemon peel if you want
Nutrition Information:
Yield:

1
Serving Size:

1 grams
Amount Per Serving:
Calories:

303
Total Fat:

0g
Saturated Fat:

0g
Trans Fat:

0g
Unsaturated Fat:

0g
Cholesterol:

0mg
Sodium:

50mg
Carbohydrates:

60g
Fiber:

2g
Sugar:

54g
Protein:

1g
Cocktail Recipes Similar to Sex in the Driveway
If you think that the Sex in the Driveway cocktail sounds delicious, here are some other cocktails you can make with similar ingredients.
Electric Lemonade
Another bright blue cocktail, the Electric Lemonade is very similar to Sex in the Driveway but is slightly less alcoholic. It is very light and refreshing and would be perfect for garden parties.
Vodka
Lemons
Lemonade
Lime (optional as it is used as a garnish)
Blue Curacao
Club or lemon and lime soda (depending on how sweet you want to make the drink)
Add the vodka, lemonade, and Blue Curacao to a shaker and shake well. Strain into a glass filled with ice. Add either the club soda or the lemon and lime soda. Then squeeze a little bit of lemon into the drink. Add the lime for garnish if you want to & enjoy!
Tiffany Blue Sparkler
This is a cocktail that is perfect for any event, whether it be a big one like a wedding or smaller occasions like birthdays or garden parties. This is a super simple cocktail to make, and will probably only take you a few minutes to do.
Moscato/Champagne/Prosecco (depending on how sweet you want to make the drink)
Hpnotiq liqueur
Champagne flutes
Measure out 1 ounce of Hpnotiq liqueur per champagne flute. Fill the rest of the flute with Moscato/Champagne/Prosecco, then serve!
Blue Hawaiian
This cocktail is very similar to a Pina Colada, and like all the others on this list, it is a bright and gorgeous blue. The Blue Hawaiian Cocktail is often confused with the Blue Hawaii Cocktail even though they are made from different ingredients.
The Blue Hawaiian is made from cream of coconut, while the Blue Hawaii is made with sour. This cocktail will provide a tropical flavor to your party, and make you feel like you're on holiday while you're in your own backyard.
White Rum
Pineapple juice
Cream of coconut
Blue Curacao
Ice
Blue sugar crystals
Cherries for garnish
Pour the sugar crystals onto a flat dish like a plate. Wet the tips of your fingers with cold water and run them over the rim of your glass. Drip the rim of the glass into the sugar crystals then set the glass aside. Add the rum, pineapple juice, cream of coconut, blue curaçao, and ice into a blender. Blend until completely smooth. Pour mixture into the glass and top with a cherry if you want to.
If you want to explore yet another blue curaçao drink, you can also take a look at our Blue Kamikaze shot recipe too!