Vodka is a clear, distilled alcoholic beverage that is very popular, and is thought to have originated in Russia, Poland or Sweden. It is a versatile drink that can be used in many different ways.
Whether you are drinking it with a mixer, adding it to a cocktail, enjoying it neat, or using it to make vodka jello shots – you want to make sure that you choose the right vodka. 
Russian vodka is considered by many to be the best because of the premium ingredients and traditional distilling methods. Even if you narrow down your choice to Russian vodka there are still lots of options.
Whether you choose flavored unflavoured vodka, you will love the clarity and purity of Russian vodka. We have put together a list of the best Russian vodkas that are available for you to buy online.
If you are still struggling to choose, check out our buyers guide for some great advice on how to select the right product for you. 
Product Reviews
Non-flavoured Vodka – Non-flavoured vodka is great for making classic vodka based cocktails, or sipping neat on the rocks.
You can add it to any mixer that takes your fancy as the flavors are neutral. Each vodka has distinctive flavor notes that come about as a result of the recipe, distilling process and filtration.
The length of time that the vodka is rested before it is bottled also has an impact on the flavor and the smoothness of the finish. Here are some of the best non-flavoured vodkas:
No products found.
This vodka, also called 'Stoli' vodka, is made in the Talvis distillery in the Tambov region of Russia, where it has been distilled and bottled for over 65 years. This high quality spirit is clear in color and adheres to the Russian Alpha Spirit Standard.
Traditional production techniques are combined with modern technology and facilities to create the perfect Russian vodka. You will notice aromas of marshmallow and mild fruit peel, along with a mineral element.
When you taste the vodka it has a soft, smooth feel in the mouth and a medium body. It has flavor notes of citrus rind, pastry frosting and talc. 
No products found.
This Russian vodka is made in the USA. It is 80 proof with a 40 percent alcohol content. It is an unflavoured vodka so you can mix it with whatever you choose.
It is amazing to use in cocktails. It is smooth with a subtle amount of sweetness and a crisp finish, which makes it very versatile.
If you are looking for  a vodka with a pure taste then this could be the perfect one for you- it is distilled four times to remove all impurities. This vodka is very reasonably priced and suitable for both beginners to vodka and vodka connoisseurs. 
Russian Standard Platinum Vodka is great for cocktails, but it's also a great vodka for sipping served neat over ice. It has won multiple awards and is very affordable despite being of a very high quality.
The wheat used to make this vodka is grown on the Black Steppes of Russia during the winter. This hardy wheat is mixed with glacial waters from Lake Ladoga in the North of Russia.
This vodka is incredibly smooth with a pure taste, as it is distilled multiple times and filtered four times for unparalleled purification. It is relaxed for 48 hours before it is bottled. 
Russian Standard Gold Vodka is made in the same way as Russian Standard Platinum Vodka with premium ingredients. It is expertly distilled, then quadruple filtered through charcoal.
The difference is that this gold vodka is infused with Siberian ginseng. This gives it flavor notes of caramel, vanilla and cinnamon and a warm and creamy feel in this mouth.
This vodka is bold, rich, smooth and ideal for sipping neat on the rocks. 
This vodka is seen as the benchmark for excellent Russian vodka. The distillation and filtration process leaves the vodka pure and refined. The herbaceous aroma and sweet flavor notes of vanilla and soft wheat make this vodka very enjoyable to drink, with the addition of warming cinnamon. It has a clean, cool finish which lasts longer in the mouth than many other vodkas. This vodka has won multiple awards, including a gold medal in the International Spirits Challenge. 
This vodka is a little more expensive than some of the others on this list, but that is because it is considered to be one of the most luxurious vodkas in Russia.
It is also world famous and has received a lot of positive reviews from alcohol critics. It is made in the heart of Siberia in an area that is environmentally pure, and it has a crystal clear appearance.
The palette is rich, intense, well balanced, complex and deep. The flavor is fresh and elegant with notes of flowers and wheat. It is velvety smooth, and has a nice crisp finish.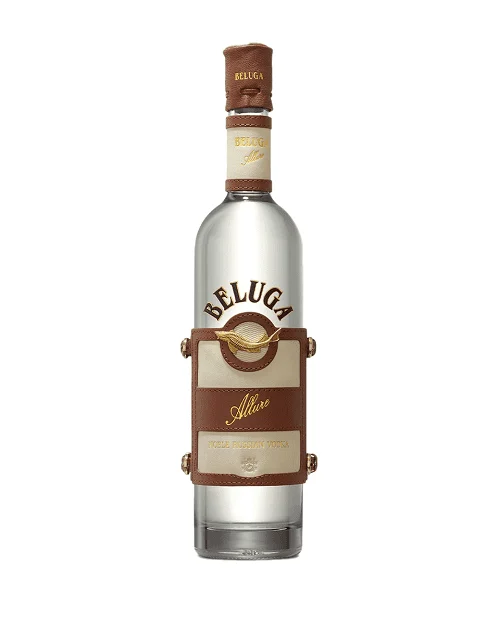 This Beluga vodka has the same premium quality of Beluga Noble Russian vodka, but is inspired by the sport Polo. The design of the bottle is unique, with a brown leather buckle secured by miniature gold buckles.
The special recipe for this vodka has been carefully developed to have that traditional wheat malt spirit. It is rested for 60 days to give it a smooth, distinctive taste.
It has a clear and shiny appearance, and a complex taste with notes of sweet spices and fresh bread. You will also pick up on maple syrup, and the finish is fresh and balanced. 
This vodka has 40 percent alcohol content and is a luxury strong spirit. It is made from very pure artesian water from Siberia and malt wheat. It goes through an intensive filtration process where the vodka is filtered five times to achieve ultimate purity.
What makes this particular vodka so special is that it is rested for 90 days before it is bottled. This makes it very smooth and well balanced. The bottle is stopped with a cork and sealed with wax which gives this product a premium edge.
The vodka has a crystal clear appearance with a soft and creamy feel in the mouth. The flavor is fresh and sweet with notes of grains, wheat and alpine herbs.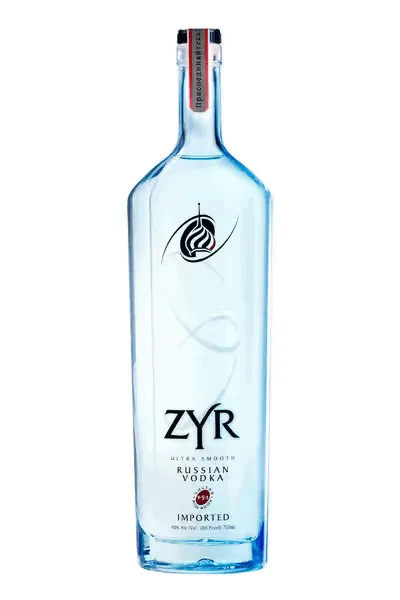 Zyr vodka is ideal for sipping neat because it is versatile and has a clean taste. It has a creamy feel in the mouth and a sweet finish on the taste buds.
The combination of modern technology and traditional distilling methods makes this an excellent choice of Russian vodka, along with the best raw ingredients. People love this vodka for the smoothness and the well balanced flavor.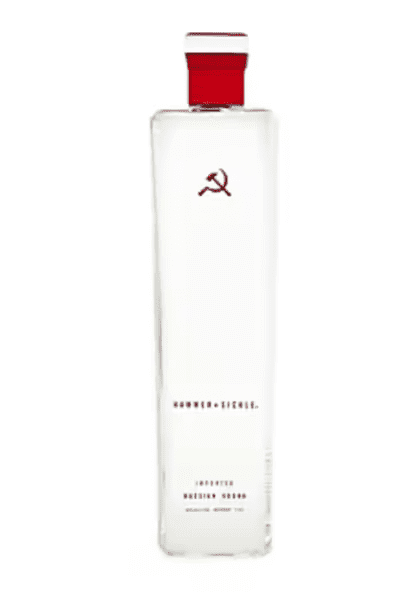 This vodka has a 40 percent alcohol content. It has sweet notes of vanilla, a crisp and clean feel, and warm dry finish. It is perfectly served neat shaken up with ice. 
Flavored Vodka –  If you want a vodka that has a bit more of a distinctive flavor, then you can try one of the many flavored vodkas that are available on the market. You need to choose a mixer that compliments the flavor of the vodka.
You can also use flavored vodkas in cocktails to introduce an exciting element.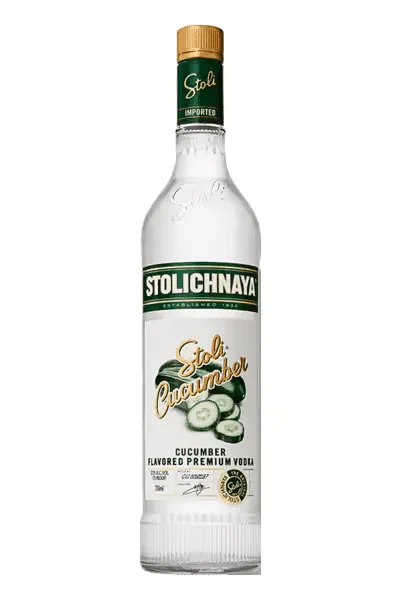 If you are looking for a crisp and refreshing drink then this cucumber flavored vodka is perfect. It is bursting with cooling cucumber which has a lovely savory flavor.
It has a smooth finish and is pure and clean. It is one of the newer flavors introduced by Stoli into their line of premium Russian vodkas. 
This orange flavored vodka is light and creamy in the mouth. The flavors are incredible – orange zest, orange blossom, orange liqueur and marmalade. It also has flavor notes of dark chocolate, mandarin, tangerine, and kumquat.
It has a lemony finish and a floral aroma. The flavors are well balanced and intricate without being too overpowering. This vodka pairs excellently with lemonade or orange soda, garnished with a fresh orange.
This vodka is also excellent with fruit juice like orange, pineapple, or cranberry.  
Smirnoff orange vodka is very reasonably priced and is a popular product with vodka drinkers. It is blended with six varieties of navel oranges and mandarins to create a carefully balanced flavor that is deliciously fresh, zesty and citrusy.
This vodka is triple distilled for a smooth flavor that is smooth enough to drink neat- it makes a great shot too! It is 70 proof with a 35% alcohol content.
You can serve it with juice for a refreshing Summer drink, or with soda water and ice for something simple but tasty. It makes a good replacement for triple sec (see also: Grand Marnier vs Triple Sec – What's the Difference?)and has a lovely smooth finish.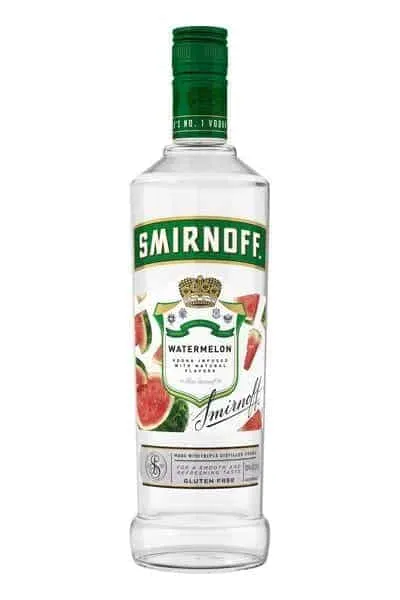 Watermelon is a very refreshing flavor that makes this vodka a great choice. This vodka is triple distilled for ultimate smoothness, and has a lovely sweet flavor. There are several ways to serve this vodka.
You could mix it with lemon juice, simple syrup, watermelon cubes, and jalapeno slices for a sweet and spicy drink. You can also pair it with soda water, lemonade, or even iced tea. This vodka is made in Russia and has a 35 percent alcohol content.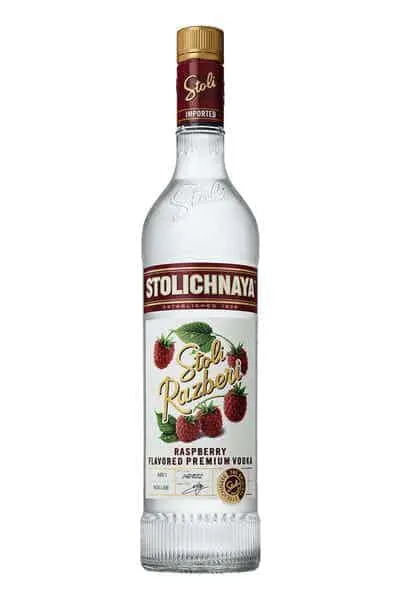 The Stoli raspberry vodka is made using all natural flavorings. It is a perfect blend of sweet and sharp. This vodka is refreshing and light. It pairs perfectly with lime soda and a dash of cranberry juice. 
Lime vodka is zingy and zesty with a fresh citrusy aroma. The flavor is natural and well balanced and would be perfect in a Moscow Mule cocktail. It can also be enjoyed with lemonade, or cranberry juice and lime soda over ice. 
This vodka is the perfect blend of sweet caramelized sugar, buttery toffee, and savory salt. You can enjoy it neat, or add it to a coffee or a hot chocolate for a lovely kick of vodka. 
Real fruit juice is crushed together with this premium vodka for a fun and fresh drink that is perfect in summer cocktails. Pair it with lemonade or soda and ice. 
The juicy ripe pomegranate in this vodka is semi-sweet and triple distilled for a smooth flavor. It is 70 proof with a 35 percent alcohol volume. Whether you mix this vodka with fruit juice, iced tea or even drink it neat. It makes a great addition to cocktails too. 
Real fruit juice is used in this vodka to create a deliciously sweet mango flavor that is perfectly paired with orange juice and served chilled. It is also ideal to use in tropical cocktails. 
Buyer's Guide
Now that you know more about the best Russian vodkas, it is time to narrow down your choice. If you are struggling to decide then there are a few things you can consider. 
The first thing to decide is your budget. You don't need to spend a fortune to get a great tasting Russian vodka. All of the products we have included on this list are reasonably priced so will suit any budget, but without compromising on quality.
If you aren't very experienced with drinking vodka then you might want to go for something cheaper to see if you enjoy it. If you know you already like vodka then you could splash out on a more expensive bottle. 
The next thing to consider is whether you want flavored or unflavoured vodka. Flavored vodka is great for adding an exciting element to different cocktails and drinking with mixers.
Unflavoured vodka is very versatile and is ideal for classic vodka cocktails and drinking neat served over ice. Whichever one you choose, you can find the perfect accompaniment to enjoy with your vodka to create a refreshing drink. 
If you decide to go with a flavored vodka, we have included three products on our list. One of them is watermelon flavored, which is sweet and cooling. We have also included a raspberry flavored vodka which is tangy and light.
The cucumber vodka is savory and cooling. If you enjoy sweet treats then you will love the salted caramel flavor vodka. The crushed grapefruit vodka is a fruity delight that is great with juice.
The other two are orange flavored. Orange is a classic flavor to put with vodka, and these two flavored vodkas are an excellent example of this.
If you choose unflavoured vodka, you can still think about which flavor notes you would like to be able to pick up. Each vodka has different subtle flavors and aromas which changes the taste experience. 
If you are still undecided on which vodka to get, you could think about whether it is important to you that the vodka is made in Russia. You can get Russian vodka that is distilled in the USA using Russian methods and ingredients.
If you want the most authentic experience possible then you may want to get vodka that is distilled and bottled in Russia. Whichever option you choose, it will have the quality and flavor associated with Russian vodka. 
Frequently Asked Questions
How Do You Make A Moscow Mule Cocktail?
A Moscow Mule is a very popular cocktail made with Russian vodka. It is 2 parts Russian vodka, 4 parts ginger beer, and a quarter part freshly squeezed lime juice. 
How Do You Make A Blueberry Smash Cocktail?
If you like fruity cocktails, you will enjoy this! It is 2 parts vodka, 3 quarter part ginger syrup, 3 quarter part fresh lemon juice and 14 fresh blueberries. It is sweet and tangy and is perfect for a Summer party. 
How Do You Make A Starburst Cocktail?
This tart, fruity cocktail is delicious. Make it with 2 parts vodka, 1 part grapefruit juice, 1 part cranberry juice, and 2 parts soda. 
How Do You Make A Standard Martini?
A Martini is one of the most well known vodka cocktails. It is made with 2 and a half parts vodka, half part dry vermouth, and a lemon twist.