I'm admittedly a sucker for crushable summertime poolside cocktails – even those that run on the sweet side! And the electric lemonade (also known as the electric blue lemonade) most definitely fits that bill.
Electric lemonade is so easy to make, incredibly refreshing, and most importantly – super tasty. And it's definitely on the sweeter side of the spectrum, which is a certain crowd pleaser at most poolside outings.
What You Need to Know About Electric Lemonade
The name of this cocktail is a nod to the electric blue coloration of the drink! This cocktail's color is a distinct shade of blue that you just don't see all the time in a cocktail glass.
While electric lemonade is a vodka based drink, the unmistakable blue color comes from Blue Curaçao. For those who aren't familiar with Blue Curaçao, it's a liqueur flavored with orange laraha peel (a type of orange grown on the island of Curaçao). It's known for a profile that features sweet orange and bitter flavors.
Electric lemonade is quite easy to make no matter how many drinks you need to serve! It's super easy to make just one cocktail or an entire pitcher.
You don't need to use a crazy expensive type of vodka for this drink either. We like to use Tito's for this recipe, but you should feel free to substitute your favorite vodka – it will work just fine!
What Goes Into Electric Lemonade?
We've already mentioned vodka and Blue Curaçao, but there are a few more easy-to-find ingredients that you'll need for your cocktail. Here's a complete look at what you'll need for an electric lemonade recipe:
Vodka – we use Tito's but you can substitute your favorite vodka
Blue Curaçao – for the blue color and some sweet flavor
Lemonade – bonus points for homemade but a store bought jug works just fine
Lemon lime soda – like Sprite or something similar. For a skinny and less sweet version, you can use Topo Chico and lime juice instead of lemon lime soda.
Lemons – for juicing and garnish
There are really two schools of thought for making an electric lemonade – one utilizes lemon lime soda and the other skips the lemon lime soda in favor of a sparkling water and simple syrup combination. Neither is better than the other, per se, but the lemon lime soda version will turn out sweeter! It all comes down to personal preference.
How to Serve This Cocktail
Most commonly, electric lemonade is served over ice in either a traditional collins glass or a hurricane glass. I've also seen it served in a lowball glass – so feel free to use any vessel that feels right!
You can also mix things up with the garnish – lemon is most popular but lime, cherry, and even pineapple are all viable garnishes. Cherry is a great red garnish choice for the blue drink for USA themed outings.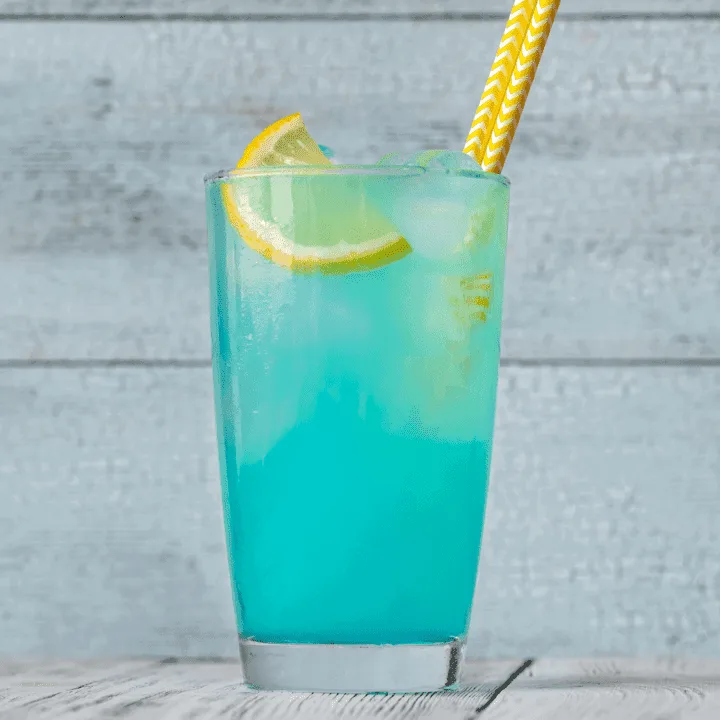 Electric Lemonade
Nothing says summer like a delicious electric lemonade! Our electric lemonade is the perfect choice for your next gathering. Made with mouth-watering vodka, Blue Curaçao, and lemonade, our electric lemonade is sure to be a hit with your guests. Just add a few slices of lemon and enjoy!
Ingredients
2 oz lemonade
6 oz lemon lime soda, we use Sprite
lemon slices, to garnish
Optional Garnishes
lime slices
cherries
pineapple slices
Instructions
Combine vodka, Blue Curaçao, and lemonade into a cocktail shaker
Add a scoop of ice to the cocktail shaker and shake for about 30 seconds, or until completely chilled
Pour drink into an ice filled glass. Top with lemon lime soda (see below for a "skinny" soda substitute)
Garnish with lemon wedges. Serve and enjoy!
Notes
For an electric lemonade variation that is less sweet, replace lemon lime soda with 4 oz of Topo Chico (or other sparkling water) and the juice of two lemons (about 2 oz of lemon juice).
If you want to make a pitcher of electric lemonade, simply scale up your ingredients.  Instead of using a cocktail shaker, combine ingredients into an ice filled pitcher and stir well!
Nutrition Information:
Yield:

1
Serving Size:

1 grams
Amount Per Serving:
Calories:

415
Total Fat:

0g
Saturated Fat:

0g
Trans Fat:

0g
Unsaturated Fat:

0g
Cholesterol:

0mg
Sodium:

89mg
Carbohydrates:

86g
Fiber:

4g
Sugar:

76g
Protein:

1g
Final Thoughts
When it comes to summertime cocktail sipping, it's hard to beat an electric lemonade. It's easy to make as a host, refreshing, and enjoyable for a wide range of drinker preferences. Give it a shot at your next summer gathering and let us know how you like it!
If you're looking for some cocktail ideas similar to the Electric Lemonade, head on over to our Sex in the Driveway cocktail recipe next!