There's nothing better to create a buzz at a party than a round of shots! Sharing a quick hit of spirits with friends is a great way to bond and a quick and easy refreshment that can taste incredible with the right ingredients.
There are so many recipes available for exciting shots, but some take a little more than others to make. One of the most exciting shots you can make is the blue kamikaze, which has a bright and vibrant blue color that is sure to grab the attention of your guests.
But how do you actually make the blue kamikaze? And what ingredients are necessary to make it really pop? Simply follow our handy guide below to make a seriously flavorsome drink that may have you craving seconds! 
What Goes Into A Blue Kamikaze?
There are three absolutely essential ingredients that you will need in order to get the right flavor. The first is Vodka, which provides the drink with a strong taste and an exciting kick of spice.
The second is Blue Curaçao, which imbues the drink with its characteristic blue color that has it practically glowing within each shot glass.
Finally, we have lime juice, which provides a hit of citrus that evokes images of tropical islands, which makes these shots perfect for enjoying by the pool, or on a hot and sunny day.
As well as these, you may also want to include ice or even a garnish towards the top of the glass. You can surround the rim of the glass with sugar to create a slight crunch and sweet taste, or include a toothpick with slices of pineapple and small cocktail cherries. 
How Do You Make The Blue Kamikaze?
If you plan to garnish your shots, you should start by carefully rolling the rims of each glass in a small amount of liquid, until the edge of the glass is wet, this will let the sugar stick to the side of the glass easily. After you have wet the rim of the glass, roll it in a small dish containing grains of sugar, to allow the sugar to cling.
From here, you should add each drink ingredient to a cocktail shaker. The amount of each will depend on how many glasses you are creating. From there, simply shake the ingredients together for a few seconds, making sure to shake firmly to allow the ingredients to fully combine. Then simply pour the mixed contents into each glass, serve, and then enjoy!
How Does The Blue Kamikaze Taste?
The blue kamikaze has an incredibly sweet taste that is full of juicy tones to evoke images of summertime. These sweet flavors are also highly refreshing, which means that they are great for summer get-togethers, such as barbecues or garden parties.
The lime juice gives the blue kamikaze an acidic kick that differentiates it from similar drinks which often use lemonade, which has a subtly different taste that is more sweet than bitter.
You'll also be able to taste the sharp and spicy tones of the vodka, which give it a further exciting kick that will send your energy spiking and have you ready to party it up.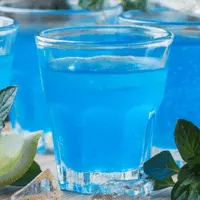 Blue Kamikaze Shot
Looking for a delicious way to liven up your party? Then look no further than the Blue Kamikaze Shot! This fun and festive shot is perfect for any occasion and is sure to get your guests talking. The Blue Kamikaze Shot is made with vodka, blue curaçao, and lime juice. The refreshing taste of the lime juice is perfectly balanced with the sweet blue curaçao, making for a truly unique and enjoyable experience. So next time you're looking to add some excitement to your event, be sure to give the Blue Kamikaze Shot a try!
Instructions
Fill a cocktail shaker with ice
Pour all of your ingredients in the shaker over the ice
Shake and strain into a shot glass
Enjoy! Optionally garnish with lime wedges
Nutrition Information:
Yield:

1
Serving Size:

1 grams
Amount Per Serving:
Calories:

72
Total Fat:

0g
Saturated Fat:

0g
Trans Fat:

0g
Unsaturated Fat:

0g
Cholesterol:

0mg
Sodium:

1mg
Carbohydrates:

3g
Fiber:

0g
Sugar:

1g
Protein:

0g
Frequently Asked Questions
Does Blue Curaçao Get You Drunk?
Blue Curaçao is an essential ingredient to give the blue kamikaze its color, and also to give an extra fruity taste. However, it also tastes great solo, especially on the rocks. Blue Curaçao can most certainly get you drunk, but as long as you drink it in moderation, you won't be waking up with a horrible hangover the next morning!
If you want to explore more blue curaçao drinks, check out our electric lemonade or our sex on the driveway recipe next!
How Do You Say Curacao?
This word can be pronounced easily by breaking it into separate elements. The word is pronounced with an 's' sound on the second 'c' of the word. Phonetically written, it would look a little like this: 'kewr -ass – ow'. 
What Kamikaze Means?
Kamikaze is a Japanese word that translates directly to 'divine wind'. This divine wind often refers to a typhoon that helped to liberate Japan from the Mongol invasion of the 1200s.
Final Thoughts
The blue kamikaze is remarkably easy to create, with only a few necessary ingredients, and only a simple shake needed to blend them together. Despite this deceptively simple preparation process, the blue kamikaze is incredibly exciting, vibrant, and full of fruity flavors that will make you feel like you've been whisked away on a distant resort holiday.
The small blue shots are a perfect way to inject energy into a party and are sure to get your guests talking.