Bar and Drink is reader supported. If you click a link on this page, then go on to make a purchase, we might receive a commission at no cost to you.
If you're currently on the search for a cocktail that's going to awaken your taste buds with a refreshing yet cool vibrancy – you're making the right choice to want to make your very own Key Lime Margarita at home.
With the promise of being able to transport you to your very own tropical island after just one sip, if you're a fan of the Margarita but want to elevate it with a fruity twist – the Key Lime Margarita is sure to become your new favorite drink.
Boasting a deliciously zesty twist on the original Margarita recipe, there's a lot to love about this Margarita variation, especially given the fact that it's so easy to make… so long as you know how that is!
The secret to making the perfect Key Lime Margarita is to strike the right balance between tanginess and sweetness – and we're here to help you do it. Check out the recipe below to make a Key Lime Margarita cocktail worthy of the finest bar in town.
About the Key Lime Margarita
Regardless of whether you want to get into the spirit of the weekend or you simply want to bring happy hour to the comfort of your very own home – margaritas are one of the easiest cocktails to make, no matter whether you're experienced in mixology or just starting out.
Not only that, but thanks to the simplicity of the traditional margarita recipe, it means that there's plenty of room for variation, and over the years many people have created their own unique and delicious spin on the traditional recipe – and the Key Lime Margarita is a zesty example!
Swapping out standard syrup for agave, the Key Lime Margarita is perfect for staying cool on those hot summer days and is sure to transport you to a tropical island of your own creation when the weather outside is wet and cold. To prepare this delicious cocktail all you're going to need are a few key ingredients and our simple to follow instructions below.
But, if you really want to go all out, why don't you prepare some yummy, happy-hour certified snacks to go alongside your Key Lime Margaritas? Finger food is always a hit while drinking cocktails, and will help to ensure that you and your guests are drinking responsibly. So, ready to elevate your regular margarita with a fruity twist?
Read on for our simple-to-follow, easy Key Lime Margarita recipe – it's guaranteed to be a crowd-pleaser and one of your new, go-to homemade cocktails!
P.S. If you're looking for more ideas for margarita variations, we've got you covered. Check out the below recipes next!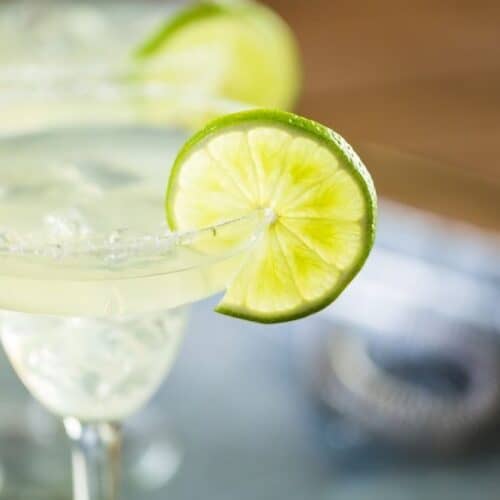 Key Lime Margarita
A fun twist to the all time classic!
Ingredients  
6

oz

Tequila

2

oz

Triple Sec

1

oz

Agave syrup

.5

oz

Lime juice

Lime slices

1 per glass to garnish
Instructions 
First things first, set out all of the ingredients and alcohol you are going to be using to prepare this cocktail on your kitchen counter.

By taking the time to create a preparation space prior to beginning to make your Key Lime Margaritas, you will ensure that you have everything that you'll need set out in front of you, while also preventing your kitchen from getting overly messy.

The last thing you'll want is to have to spend ages cleaning up when all you want to do is enjoy your margarita – it's best to keep everything in one spot!

Grab your cocktail shaker and pour in all of the ingredients. Depending on how many people you're making margaritas for, the number of ingredients that you'll need will vary.

However, if you're preparing one portion, then you will need to add 2 ounces of lime juice, half an ounce of agave, 2 ounces of triple sec, and a dash of tequila.

Set your shaker to the side for a moment and prepare a plate full of salt. Then, take each margarita glass and dip their rims into the water, before then placing it into the salt to coat the edges of the glass. Add ice, and pour the contents of the cocktail shaker into each glass.

If you would like to garnish your Key Lime Margaritas, then we recommend that you take a slice of lime, cut it slightly and then place it on the side of each margarita glass. This will add a sophisticated touch and make your Key Lime Margaritas look more polished and professional.
Final Thoughts
There it is! You can also make this cocktail as a frozen margarita – all you'd need is some ice and a blender for margaritas.