If you've outgrown the ability to knock back a pure vodka shot, but miss the feeling, let us introduce you to the delightfully smooth (and highly customizable) Peanut Butter Shot.
Loaded with excessive sweetness, this drink in any form you choose to have it will become your new obsession. It's the perfect way to stamp out your after-dinner chocolate cravings while giving you a slight alcohol buzz.
However, there are many ways to enjoy a Peanut Butter Shot — to the point where it can be quite overwhelming not knowing where to start, or what to order if you're out at a bar. But that's where we come in.
Creating the perfect Peanut Butter Shot is an absolute breeze with our easy guide. Read on to find out more about how to make variations of this sweetened shot!
Method One: With Half & Half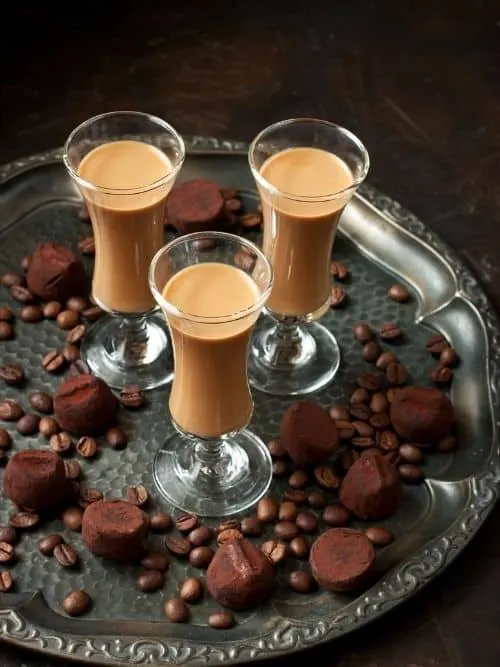 If you're in the mood for a lighter tasting shot, this one is the perfect option for you!
Ingredients:
3 oz Hazelnut Liqueur
3 oz Chocolate Liqueur
1½ oz Half & Half
Peanut Butter and Chocolate Syrup for the rim
Cherries to garnish
Garnish the rim of a large shot glass with peanut butter and chocolate syrup. Set aside while you complete the following steps. Mix together the liquid ingredients and a spoonful of peanut butter into an ice filled glass. Shake well until fully mixed. Strain the mix into shot glasses. Feel free to decorate with a maraschino cherry (this is optional). Enjoy!
Method Two: Peanut Butter Cup Shot
For a more authentic peanut butter taste, why not give this method a go? Though it may feature many similar steps, its flavor composition is entirely different to method one. So, if you're seeking a coffee flavored shot, look no further!
Ingredients:
3 oz Hazelnut Liqueur
3 oz Chocolate Liqueur
1½ oz Irish Cream
Crushed Reeses Pieces and Chocolate Syrup for the rim
Chocolate Sauce to drizzle the bottom of the shot glass
The method for creating this shot remains largely the same, except it features Irish Cream instead of half and half, and some crushed up Reese's pieces which adds an extra peanut butter flair. However, to ensure a differentiation to the previous peanut butter-based drink, you need to abide by these extra steps:
Make sure to line the edge of the shot glass with chocolate fudge and your Reese's pieces prior to beginning to create this shot. This will provide the signature Reese's taste. Add Irish Cream and Milk to the other alcohols needed before shaking the mixture.
This increases the thickness of the drink, creating a smoother sailing drinking experience. Prior to decanting the liquid into a shot glass, you should add a drizzle of chocolate sauce to the bottom. Proceed to straining the above mix in.
Method Three: Peanut Butter Whiskey Shot
But, if you prefer a stronger taste, you might want to try experimenting with a Peanut Butter Whiskey Shot. It is easy to make, involving just a few simple ingredients:
2 oz Peanut Butter Whiskey
2 oz Coffee Liqueur
2 oz Milk (your choice which type)
Reese's Peanut Butter Cups Minis and Gold Sprinkles for garnish
For the garnish, melt several mini Reese's cups on a microwave-safe plate for 45 second intervals until the chocolate has melted. If you want to, you can place some sprinkles onto a plate. Then, place the rim of each shot glass into the chocolate, immediately coating it with the sprinkles. Then, dip a Reese's piece into the chocolate and secure it to the top of a shot glass. Make sure to hold this position, so the chocolate can fully dry! Repeat these steps as many times as you require.
For the shot itself, add peanut butter whiskey, coffee liqueur, milk, and a handful of ice into a cocktail shaker and combine until the mixture has cooled. Then, strain the drink into shot glasses and enjoy!
Making Your Own Edible Chocolate Shot Glass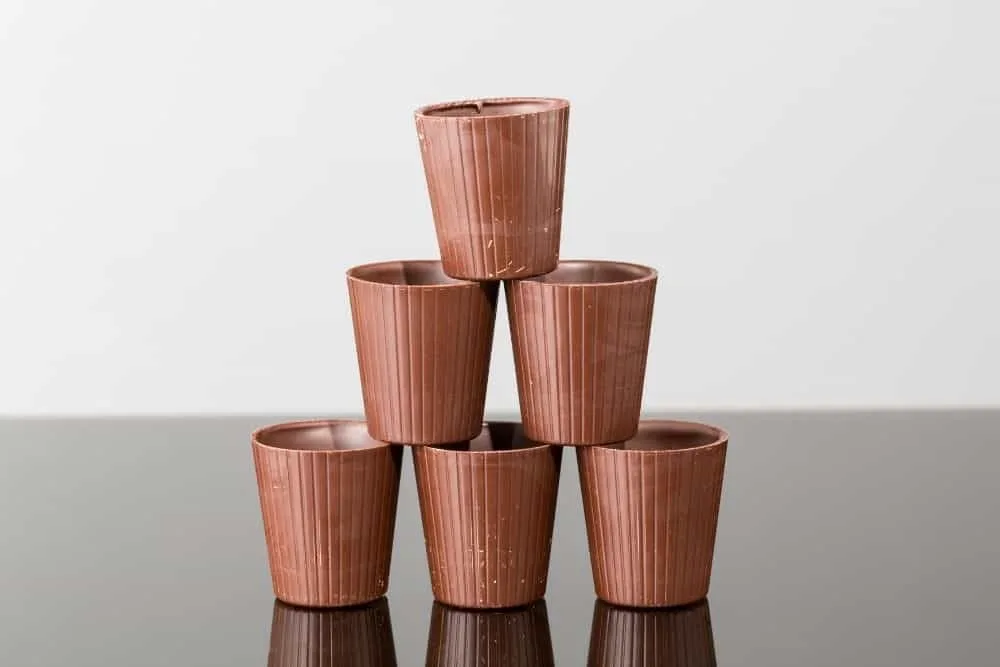 If you want to do something a bit different, why not try making your own Peanut Butter Shot Cup Glass to hold your drink? It's easy enough to do, and you can use the basic equipment already in your kitchen!
Here's what you'll need:
Chocolate (your preference – we like 60% cacao)
Disposable Paper Cups
Basting brush or clean paint brush
Melt your chocolate. Use a paintbrush to coat the inside of a paper cup with chocolate. Keep this refrigerated until it becomes solid. If it's required, repeat this step until the concoction has set properly. When the chocolate has set, gently remove the cup.
And that's all there is to it! Yes, it really is that simple to create a memorable and tasty chocolate shot glass — with all the peanut butter goodness you could ever desire!
Our Final Thoughts
There are many recipes you can follow to enjoy a Peanut Butter Shot. Though many of these contain the same methodologies, they each feature different at least one different ingredient that ensures each drink offers its own peanut butter-infused experience.
So whether you are leaning towards a shot infused with Peanut Butter (see also: Peanut Butter and Jelly Shot)Whiskey or a sweeter Peanut Butter Cup Shot, there's a drink out there for you!