Sweet, citrusy, and bursting with flavor. The strawberry lemonade margarita is a summer staple, and it is best served over plenty of ice.  
History of the Strawberry Lemonade Margarita 
The history of the strawberry lemonade is more interesting than I would have ever given it credit for. There are two possible origin stories for pink lemonade (which later inspired strawberry lemonade), and they both involve the circus! 
Tale number one involves Henry E. Allot. He ran away from his home in Chicago and joined the circus. The young performer is said to accidentally have dropped red cinnamon candies into a large pitcher of lemonade. The red dye seeped into the lemonade, and the entire drink turned pink! Patrons loved it! The unusual color suited the circus atmosphere, and the fun was already starting before guests took their seats. 
A second rendition of the story involves two brothers: Pete and George Conklin. Be warned: this story is not nearly as innocent as the first one. The two brothers were selling lemonade and were quickly running out of ingredients. One of the brothers found dirty laundry water a performer had used to wash her pink tights. He dumped this water into their lemonade pitcher, and the pink hue took over the drink. Unsuspecting patrons loved the brightly colored lemonade. 
People wanted to recreate a pink lemonade at home without these disturbing methods. Strawberries were the obvious choice because of their bright color and their sweet flavor. They were a perfect fit for lemons, and people loved the simple recipe for this drink. 
The exact date that strawberry lemonade got spiked with booze was never documented. We also have no idea when exactly this famous drink migrated out of the circus tent and into everyone's typical backyard barbecue menu. One thing is for sure: people love spiking their strawberry lemonade!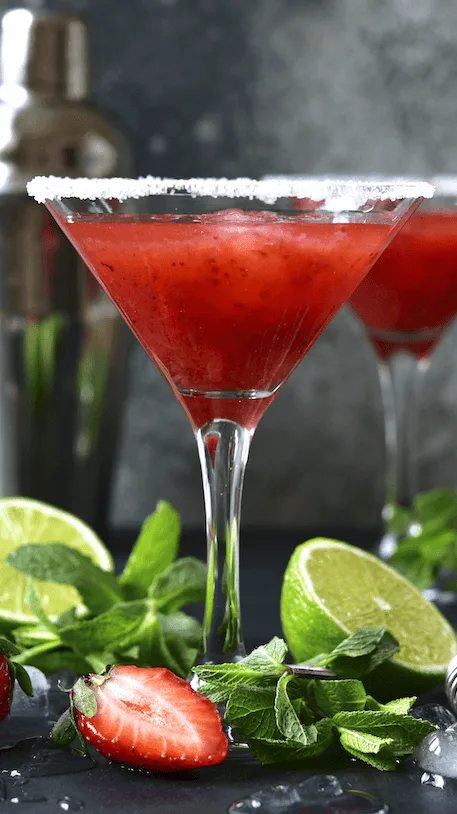 Strawberry Lemonade Margarita Ingredients
The most popular alcohol used in strawberry lemonade is tequila. A classic strawberry lemonade margarita includes the following ingredients: fresh strawberries, lemon and lime juice, sugar, water, tequila, triple sec(see also: Grand Marnier vs Triple Sec – What's the Difference?) and a lot of ice! 
If you can swing it, try to make your lemonade from scratch. It is easy to make, and it will significantly enhance the taste of your cocktail. To maximize the amount of juice you squeeze out of your lemon, roll the fruit on a counter with the palm of your hand. Apply even pressure as you roll the fruit, but avoid squishing and bruising it. 
Rolling the fruit will loosen the pulp, and more juice can be collected from the fruit. This trick will also work well for limes, which are notorious for holding onto their juice despite squeezing very hard.
Plain white sugar will suit this recipe just fine. Remember to always add small increments, stir, and taste. You can always add more sugar if you want more sweetness, but you can never take it away after it is been blended in. 
If you over-sweeten your lemonade, add more lemon juice. The natural acidity of the juice will cut the sweetness and soften the intensity on your palate. 
Fresh strawberries used in this drink will need to be broken down using a food processor or a high-speed blender. If you have to use frozen, so be it, but fresh strawberries will be much sweeter and will provide greater flavor. 
You can include any type of tequila for this drink. We like Casamigos Blanco for this one, but the sweet fruity tones will cover any harsh flavors from economical brands. Save your super top-shelf tequila for a different drink: a strawberry lemonade margarita will taste just fine without pricey alcohol!
How to Make a Strawberry Lemonade Margarita
This drink tastes best ice cold. If you plan to serve pitchers of this cocktail at an event, make sure you have plenty of ice on hand. Some people also like to freeze whole strawberries and will add those into the pitcher for garnish and to help keep the drink cool. 
The overall vibe of this cocktail is laid back, relaxing, and enjoyable. It should feel like slipping into your favorite pair of jeans. Serve this drink in non-flashy glassware, and avoid over decorating the rim with too many garnishes. The bright pink color of the cocktail is enough to make it flashy and instantly recognizable! 
Final Thoughts
Blending this beverage is an easy way to elevate the cocktail. Who would say resist a boozed-up fruit slushy? If you have the equipment available on the handle, feel free to blend this cocktail with plenty of ice. The consistency will be close to a strawberry daiquiri, but the lemonade will give it significantly more punch. 
This drink has one of the most versatile cocktail recipes ever. If you do not like tequila, you can easily substitute a different type of alcohol. Popular options will include vodka, white rum (check out our rum margarita recipe next), and some people may even go for sparkling white wine to turn it into a type of spritzer. 
If you enjoy herbal additions to your cocktail, consider adding fresh mint. Fresh mint pairs perfectly with strawberry and continue the summer theme of the drink. You do not need to muddle the mint into a pulp. Instead, make small cuts along with the leaf and mix them into the drink whole. It will prevent your guests from drinking clumps of mint, which can be off-putting.
For those looking to explore summer cocktails, check out our electric blue lemonade recipe, key lime margarita, or our strawberry basil mojito next for more ideas!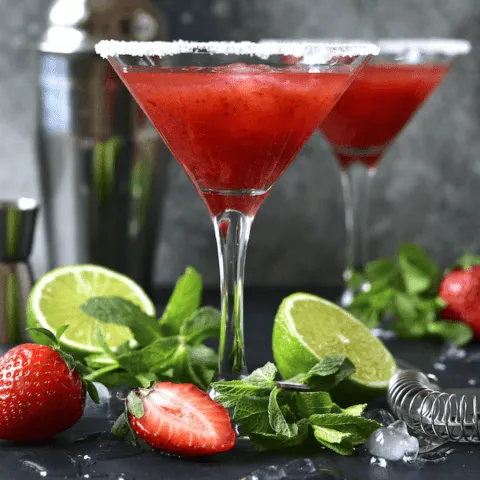 Strawberry Lemonade Margarita
A refreshing twist on the classic margarita, our Strawberry Lemonade Margarita is perfect for any occasion! Made with fresh strawberries, tequila, triple sec, and a splash of water, this delicious drink is sure to please. So kick back, relax, and enjoy the taste of summer!
Ingredients
1 lb fresh strawberries, washed with tops removed
8 oz tequila, we use Casamigos Blanco but you can sub your favorite
3 cups water
salt, to rim glasses, optional
3 cups ice
Lemonade Ingredients
3/4 cup fresh squeezed lemon juice
2/3 cup sugar
juice of 1 lime
Instructions
Use a high functioning blender (or a food processor), and blend the strawberries
Mix lemonade ingredients in a pitcher
Pour blended strawberries, tequila, triple sec, water, and lemonade into a pitcher that you plan to serve the drink in
Stir drink well until combined. Fill pitcher with ice and give it another stir. Serve immediately and enjoy!
Notes
Feel free to add ice to the serving glasses to enjoy on the rocks!
You can substitute lemonade from a jar if needed
Save some time and hassle and rim you glasses with salt before you make the cocktail!
Nutrition Information:
Yield:

4
Serving Size:

1 grams
Amount Per Serving:
Calories:

593
Total Fat:

11g
Saturated Fat:

3g
Trans Fat:

0g
Unsaturated Fat:

7g
Cholesterol:

42mg
Sodium:

25794mg
Carbohydrates:

70g
Fiber:

3g
Sugar:

50g
Protein:

14g