As we head into the festive season, what better way to kick the celebration off than treating yourself to a festive cocktail. 
Cocktails are great all year round, but when it comes to the holiday season, there's nothing better than getting creative and really sprucing things up. 
Whether you're looking for something extravagant to showcase at a Christmas party or you're simply looking for something delicious to look forward to on Christmas day, we've got the ultimate ideas for the best holiday cocktails(see also: 10 Fall Cocktail Ideas).
Our Favorite Christmas Cocktails  
It's Not Complicated offers a deliciously boozy and fruity cocktail perfect for the festive season. This rose-hued cocktail is the best way to begin your celebration. It's Not Complicated offers a super simple and easy recipe that only uses four ingredients.
What makes a cosmopolitan Christmassy you ask? Well, this cocktail not only has a beautiful festive color it can be beautifully styled with festive touches to make it a real crowd-pleaser. 
What does it taste like? This cocktail contains a perfect balance of sweet and tart flavors. But, to really spruce things up, you can always add your own twists, like a couple of pomegranate seeds or a dried spiced orange. 
Cookie + Kate adds a festive touch to a classic old-fashioned. This is a great cocktail option for anyone who is a fan of whiskey. This recipe is the ultimate holiday treat. This cinnamon and maple whiskey sour cocktail offers a delicious combination of something sweet, spicy, and bitter.
It has the perfect balance of the sweetness from the maple syrup, spiciness from the cinnamon which makes for a warm and soothing flavor, and the bitterness of the whisky and lemon to really warm you from the inside out.
Whilst this recipe makes enough for 1 cocktail, feel free to multiply it as needed to make a bigger batch. This recipe is quick as takes only 5 minutes to make and offers simple instructions to follow. 
If you're thinking of making this cocktail for a party, you could add some extra touches of serving it with ice, a cinnamon stick, a dry spiced orange, or a slice of lemon to really make it stand out. 
Non-Alcoholic Holiday Cocktails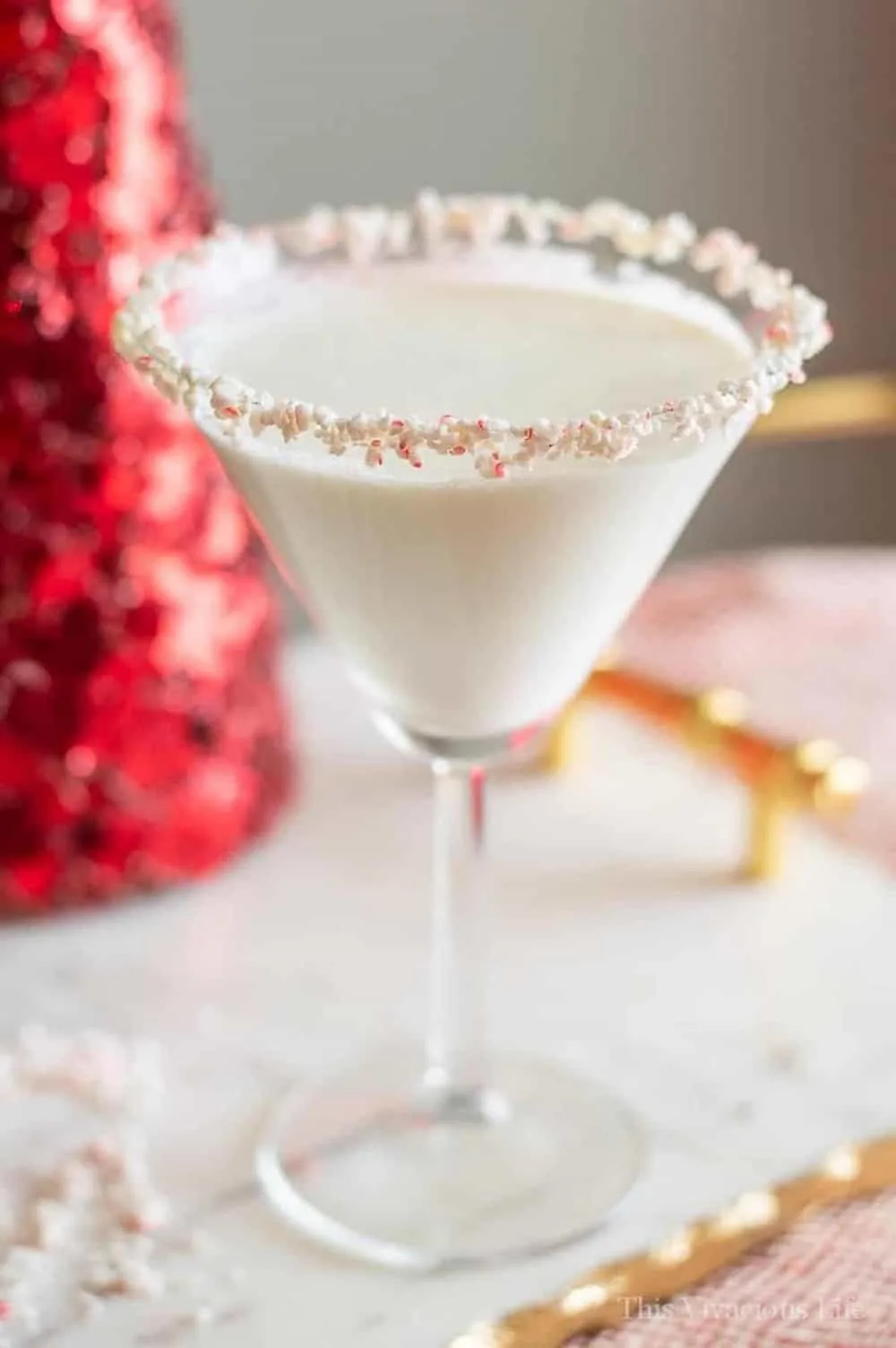 This Vivacious Life offers a deliciously creamy and cool Christmas mocktail. With a mix of creamy sweetness and a hint of peppermint and packed with festive flavor, this really is the mocktail of dreams. If you're looking to have a non-alcoholic Christmas this year, this mocktail is a winner! This recipe is great if you're hosting a white Christmas party with its milky white color and crushed candy cane rim. 
This recipe is really simple and easy and it only uses four ingredients. With no alcohol, this is a mocktail you can drink from morning to noon! If you want to mix up the flavors, you can add non-alcoholic spirits like non-alcoholic prosecco or gin but non-alcoholic vodka works best. This recipe serves 4 and only takes 5 minutes to make.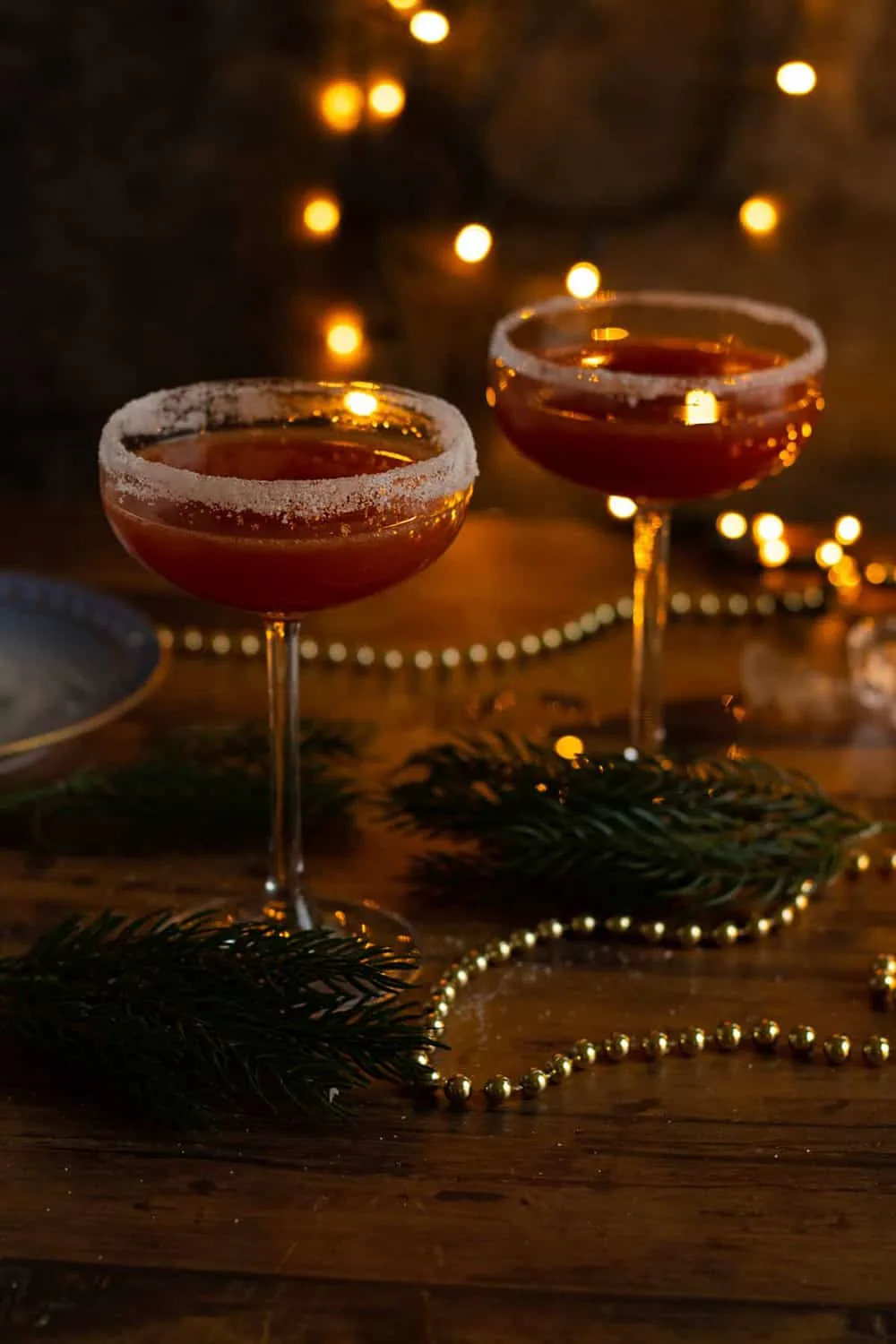 Always Use Butter offers a non-alcoholic holiday cocktail recipe for those who are looking for something a little less boozy. Their sober Santa Christmas punch has everything you want in a cocktail (skipping the alcohol). This recipe is a great way to kick off the holiday season. 
This warm mocktail is quick and easy to make using only two ingredients of cranberry and red grapefruit juice. It looks and tastes like a grown-up drink and is a perfect option to make for a festive cocktail party. With s frosted glass and salted or sugared rim for a snowy effect, you can really go all the way with this mocktail. 
If you're thinking of adding this to the list of beverages for a cocktail party, to mix things up, you can make this cocktail into something a little bigger by putting it into a punch bowl or jug. Once you're ready, serve it with ice and a squeeze of fresh grapefruit juice.
If you do want to make this mocktail into a cocktail, just add a shot of your favorite gin. 
Herbal Notes 
What's Christmas without a little bit of bubbly? Dishing Up The Dirt offers a luxuriously refreshing festive drink. 
Containing fresh pears, fresh chunks of ginger, and fresh sage, this cocktail is truly something to be inspired by. This recipe offers a refreshing and warm flavor with a hint of spiciness from the ginger confined with the sweetness of honey and pear. These flavors are nicely contrasted with herbal notes of sage and the liveliness of the champagne. 
This cocktail recipe is such a treat and will leave you wanting more. Savor each sip! Whilst this recipe serves for and takes a total of 35 minutes to prepare and cook.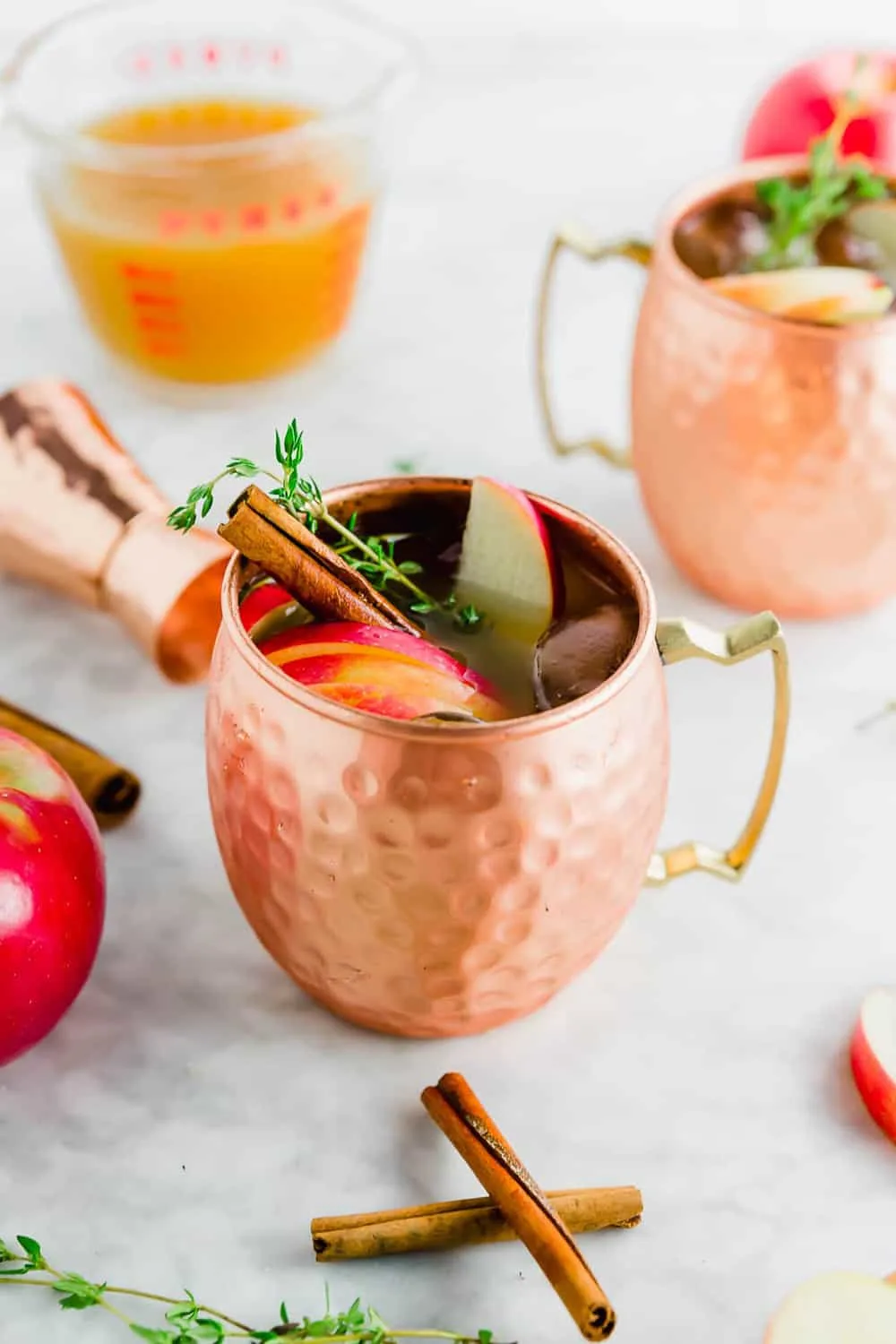 A Dash of Megnut has created one of the best cocktail recipes for warming up the festive season. They offer a delicious apple cider and thyme Moscow mule cocktail made using fresh apples, ginger beer, and spicy cinnamon sticks. 
The combination of flavors in this recipe is wild. It has a mix of sweetness from the apples, spice from the ginger beer and cinnamon stick, bitterness from the apple cider, and a hint of herb from the thyme. Each of the flavors works to create something warm and earthy. 
This recipe is really easy to make as it only takes 5 minutes. The mix of ingredients also makes for a beautiful looking cocktail that would go down a treat at any party. 
Something Creamy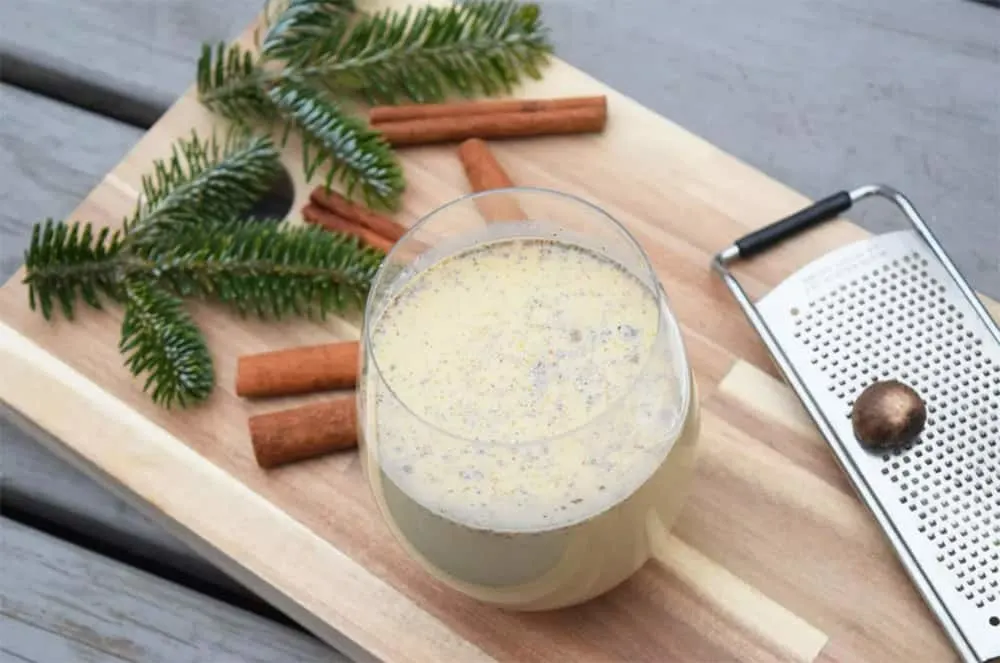 If you're looking for a rich and creamy festive beverage, The Spruce Eats has just the recipe for you. Their gingerbread eggnog recipe is a combination of Christmas tradition and festive flavors all rolled into one. 
Eggnog is a widely popular festive favorite. However, this recipe really takes things up a notch by adding ginger to really spice things up. This is a great cocktail to enjoy throughout the festive period, especially on those colder days. It's also a brilliant choice for anyone thinking of hosting a cocktail party or to have as a special treat on Christmas day. 
The best thing about this cocktail is that it lasts for up to 5 days in the fridge making it the perfect go-to beverage you can keep coming back for more.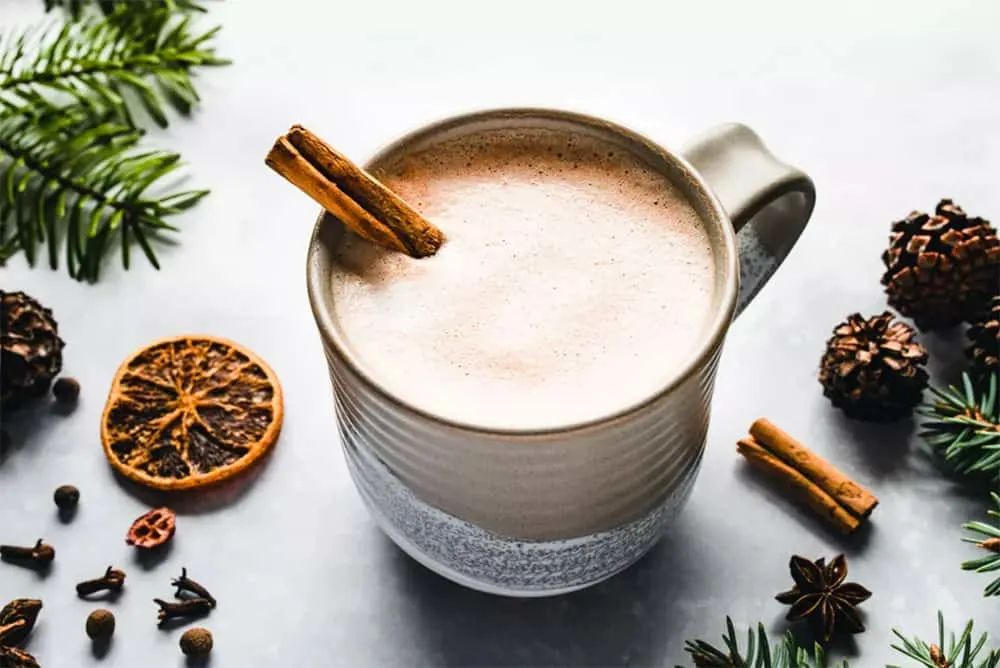 The Spruce Eats strike again with the ultimate festive evening cocktail. Their spiked gingerbread hot chocolate cocktail is a deliciously rich and creamy treat to come to in the evening. This recipe offers a rich texture and a sweet and spicy flavor. The cocktail includes spices of cinnamon, ginger, allspice berries, cloves, and nutmeg which nicely complements the spiced rum. 
This recipe is essentially Christmas in a mug offering all the warm flavors of the festive season. To really top it off, you can serve this cocktail with a dried spiced orange, a cinnamon stick of flakes of chocolate. 
This recipe takes a little bit longer to make but it's completely worth it as it includes homemade gingerbread syrup which will really make this cocktail into a show stopper. You can make this recipe non-alcoholic by skipping the alcohol, it'll still taste just as great!
Something Fruity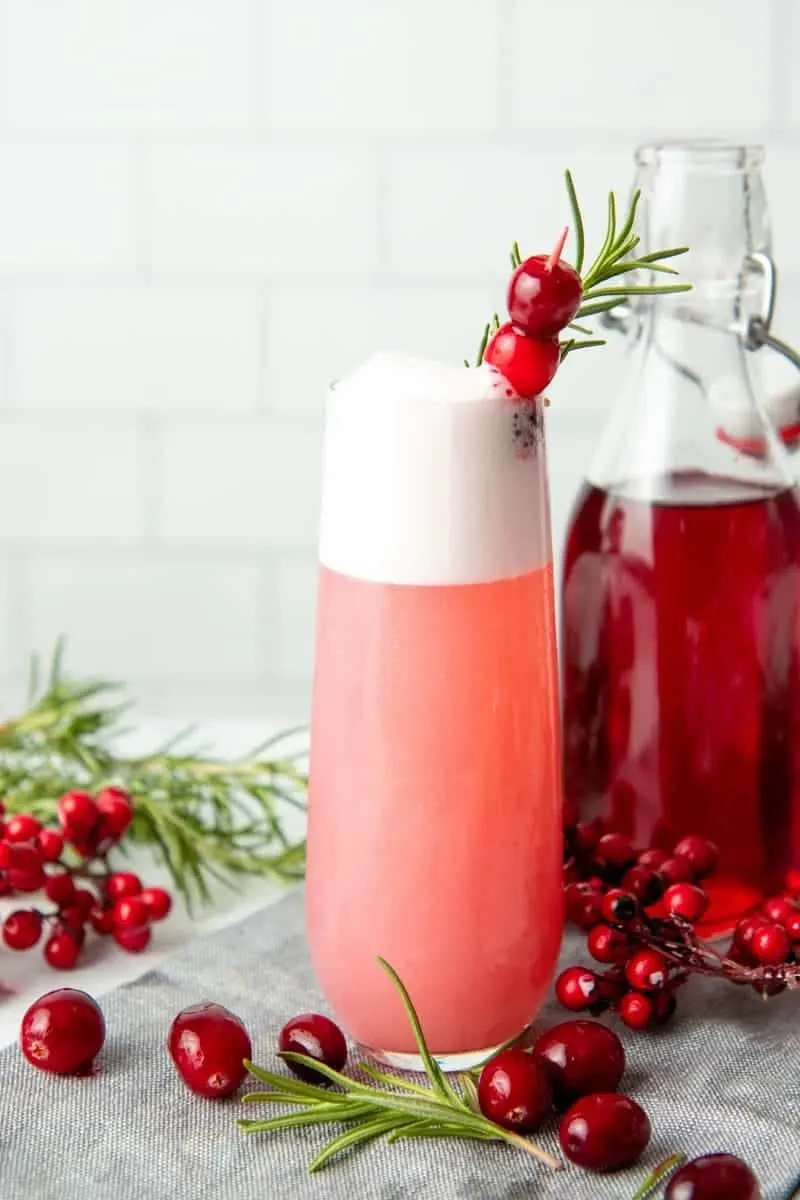 There's something festive about a bubbly drink, a sprig of rosemary and cranberries. Imagine a cocktail that incorporated all of these things to create a fruity and bubbly holiday sensation. This cranberry gin fizz not only tastes great but also looks outstanding with a beautiful layer of white sweet foam that looks like fresh snow. 
This cocktail uses a delicious and tangly cranberry syrup to give it a beautiful pink hue perfect for showing off at any party. Using cranberry syrup instead of lemon gives this cocktail an extra fruity tartness.
This recipe is really quick and easy to make taking a total of 5 minutes. This recipe makes enough for 16 people making it a great choice for anyone looking to host a cocktail party.
Note – we have a very similar blueberry gin fizz recipe for a summertime counterpart to this holiday cocktail!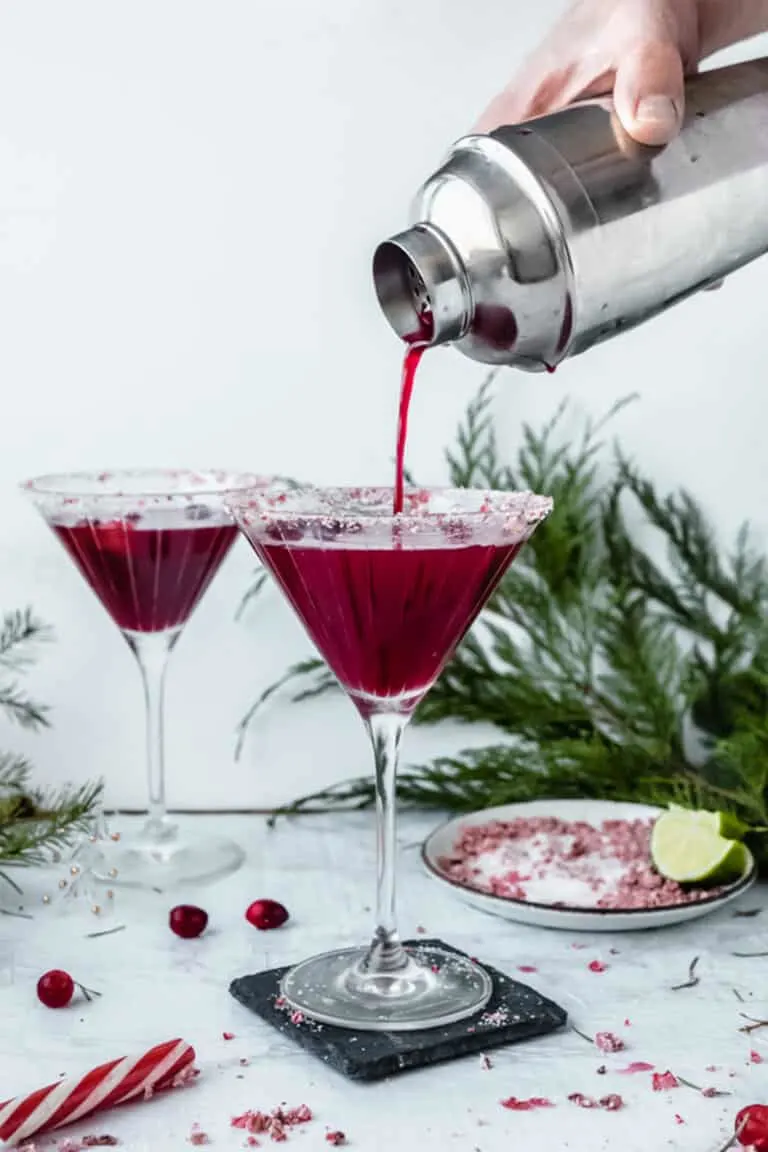 Nothing puts a twist on a cosmopolitan than a Santa clausmopolitan. This cocktail is a festive favorite bringing holiday cheer. Forget leaving a glass of milk and plate of cookies out for Santa, what he really wants is one of these…
This cocktail recipe by Garlic Head offers a delicious combination of sweet and zesty flavors. This cocktail includes bitter cranberry juice, vodka, and hints of lime and orange all served in a glass rimmed with crushed candy canes.
This recipe is quick and easy to make, taking only 5 minutes. To make this cocktail into a virgin cosmopolitan just skip the alcohol, this is a great way to make a fun and festive beverage for kids. You can even go the extra mile and hook a candy cane at the end of the glass. 
Something Spicy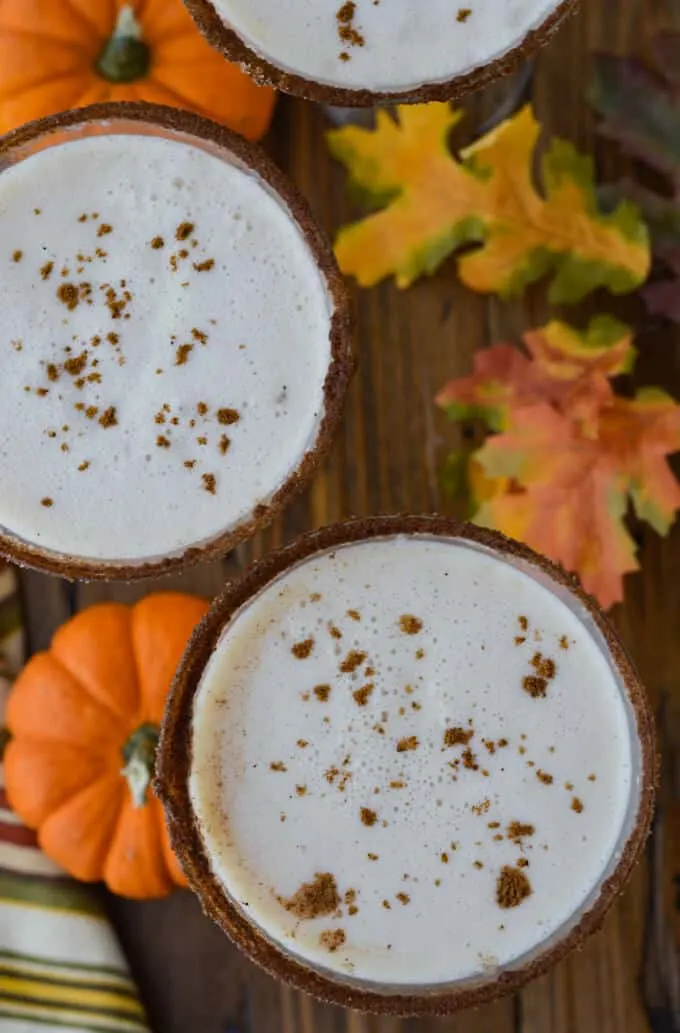 There's nothing like sipping on a spiced pumpkin beverage to make you feel warm and cozy in the holiday season. This cocktail recipe by Linger a Little serves up a range of sweet and spicy fall and winter flavors.
This cocktail is super thick and creamy offering a rich flavor of Baileys pumpkin spice mixed with vodka and plenty of pumpkin spice. This recipe is like a boozy pumpkin pie in a cocktail… What more could you ask for? 
With rich and indulgent flavors and a sugared rim, this cocktail makes for an indulgent and delectable drink. If you thought there wasn't enough spice, this cocktail contains additional spices of cinnamon, nutmeg, ginger, and cloves.
This recipe is best served in a chilled martini glass for a classy presentation. It's also a super easy and quick recipe taking only 5 minutes to make and shake!
Top Tip
For the best results, it's advised that you use fresh ingredients where you can to create a fresh and authentic taste. 
Frequently Asked Questions
What If I Don't Have A Cocktail Shaker?
If you don't have a cocktail shaker, don't fret. A great alternative is to use a mason jar or a container with a secure lid. All you have to do then is shake it well and drain it into your glass.
Takeaway
With these cocktail ideas, (see also: 12 Casamigos Cocktail Recipe Ideas)you'll have enough recipes to get you through the festive season. Whether you are looking for a classy refreshment, a non-alcoholic pick me up or an indulgent and creamy drink, we've got you covered.