Some people think you can stick any cheap spirit in a cocktail, and still get good results. This might be true for college kegers, but dinner party guests will not be impressed by your budget take on the Mai Tai.
Instead, you need to find a spirit that balances the flavors of the cocktail, adds its own body, and finishes smooth. If you're making a cocktail with a dark rum, such as a Rum Punch, then you need a dark rum that can hold its own.
To help you make the right choice for your bar, we've put together this easy guide. Find the best dark rums for your cocktails, and you're sure to impress.
Best Dark Rum For Cocktails – Our Reviews
No products found.
Dark 'N Stormy is the classic dark rum cocktail, and you won't find a rum better suited for it than Goslings Black Seal.
This is a bartender favorite, and once you taste the molasses and vanilla aroma of Goslings Black Seal, you'll understand why.
In the bottle, this deep amber hued rum has a light fragrance that's pleasantly sweet.
But it comes to life on the tongue, with a light vanilla sweetness given depth with hints of molasses, caramel, and toast.
There's plenty of texture, but a finish that's smoother than you expect it to be.
Goslings Black Seal Rum is an enjoyable sipping rum, but it's best enjoyed in a Dark 'N Stormy. The heat and spice of ginger beer lightens the richer notes of this dark rum, creating a lively storm in a glass.
Mix with a can of Goslings Ginger Beer, a squeeze of lime, and ice, for a fun cocktail that tastes deceptively complicated.
Pros
Perfect for a Dark 'N Stormy.
Smooth finish, good for sipping.
Mellow notes of caramel and molasses.
Cons
Lacks complexity for a real sipping rum.
Buy on Drizly.com
A Venezuelan rum with a unique finish, Diplomatico Rum Reserva Exclusiva is a versatile drink that belongs in any well stocked bar.
Use it for a variety of dark rum cocktails, and keep some on hand when you need something sweet to warm you up.
Diplomatico Rum Reserva Exclusiva is a blend of copper pot distilled rums, aged for 12 years. The end result is a rum with plenty of character, and a sweet and fruity finish reminiscent of banana bread, or fruit cake.
Complex aromas greet you from the bottle, with dark notes of licorice and molasses lurking beneath top notes of citrus and sugar.
On the palate, chewy toffee, chocolate, and orange zest form a seductive flavoring. It's like drinking the best fruit cake you've ever had, but somehow surprisingly light.
An Old Fashioned is traditionally made with bourbon, but it can be made with rum too. We think the Diplomatico Rum Reserva Exclusiva works just as well.
The citrus notes pair with the orange, while the light finish doesn't overwhelm the bitters and syrup. An exciting twist on a classic.
Pros
Rich aroma, featuring notes of orange and gingerbread.
Light and versatile.
Smooth enough to drink with ice, or neat.
Cons
Sweet finish is too sugary for some.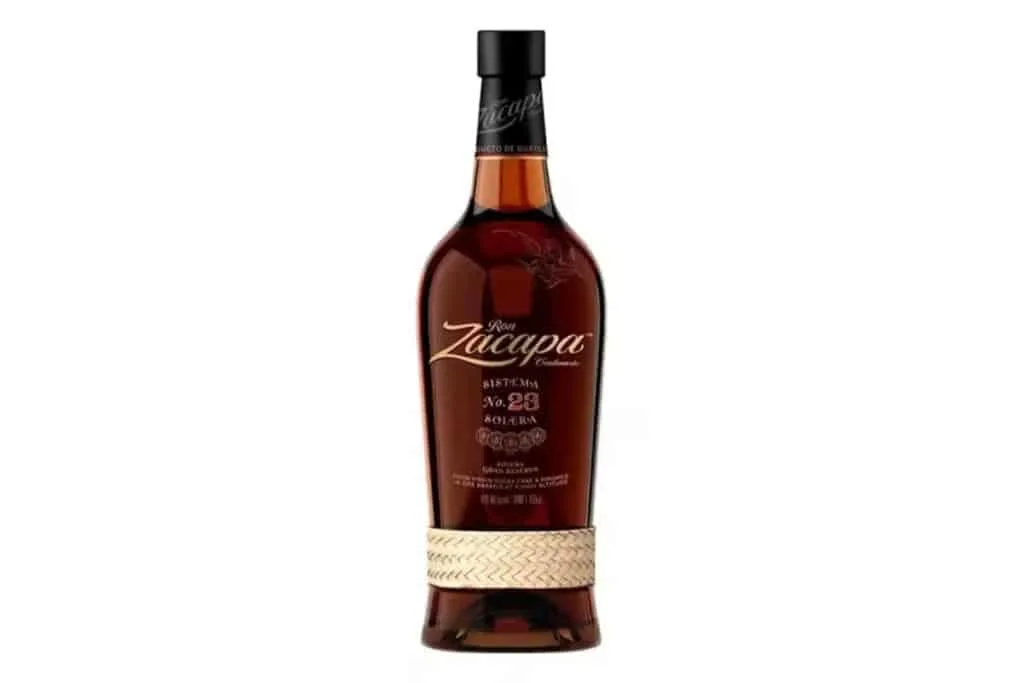 The tricky aging process of Ron Zacapa No.23 Rum has given it a masterful finish that's made this an award-winning rum.
It starts with rums aged using the Zacapa take on the "Sistema Solera" process.
Aged in carefully selected barrels that have previously hosted whiskeys, sherries, and Pedro Ximénez wines, these rums take on a host of flavorings.
Then, a selection of rums aged between 6 and 23 years are blended to create Zacapa No.23.
Because of this incredible process, the rum has an intense balance of flavors.
Layers of flavor develop from the moment you open the bottle, before growing nuance and complexity on the tongue.
Vanilla and citrus are given sweet depth with a chocolate undertone, for an unforgettable rum that can be enjoyed neat.
Zacapa No.23 is a rum that begs for simplicity. We recommend combining it with ice and simple syrup, for a winter twist on the classic daiquiri.
If you want something more refreshing, use it to transform a Cuba Libre into an elegant tipple.
Pros
Complex aging process creates layered flavors that stay balanced.
Very smooth finish, good to drink neat.
Bold flavor instantly transforms simple cocktails into luxury drinks.
Cons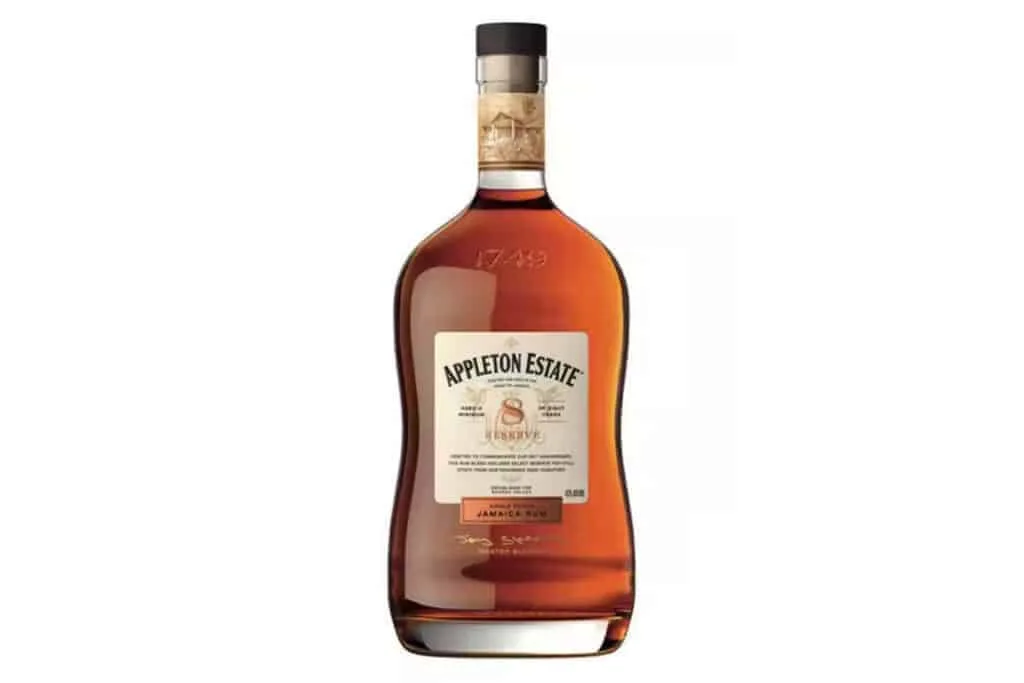 A vibrant rum with a full body, Appleton 8 Year Old Reserve is a Jamaican rum packed with spice and fruit. Appleton has become a classic rum brand, thanks to a bold taste that holds up well to various mixers.
Made with Jamaican limestone-filtered water, this aged rum is complex. Spice and honey transform into a subtle vanilla, before hints of a rounded nut taste come through.
Through it all, a strong citrus orange taste brings life to the drink. Spice, fruit, and sweetness create a taste like Jamaican fruit cake.
You can enjoy Appleton neat, but the absolute best way to drink it is in a Mai Tai.
The island aromas work wonderfully well in this classic tiki drink, and the big punch of flavor adds extra complexity to this tropical cocktail.
A traditional Mai Tai combines rum (see also: Best Rum For Mai Tai)with Curaçao liqueur, orgeat syrup, and lime juice. If you want to keep it classic, then Appleton reserve will simply punch up the flavors.
But there's plenty of room to experiment with Mai Tais. Try adding the tropical flavors of pineapple and coconut, and see how well they go with the subtle spicing of Appleton.
Pros
Bold flavors hold up well in cocktails.
Citrus finishes are perfect for mixed drinks.
Developed and complex flavor.
Cons
A slightly rough finish isn't ideal if you want to drink Appleton neat.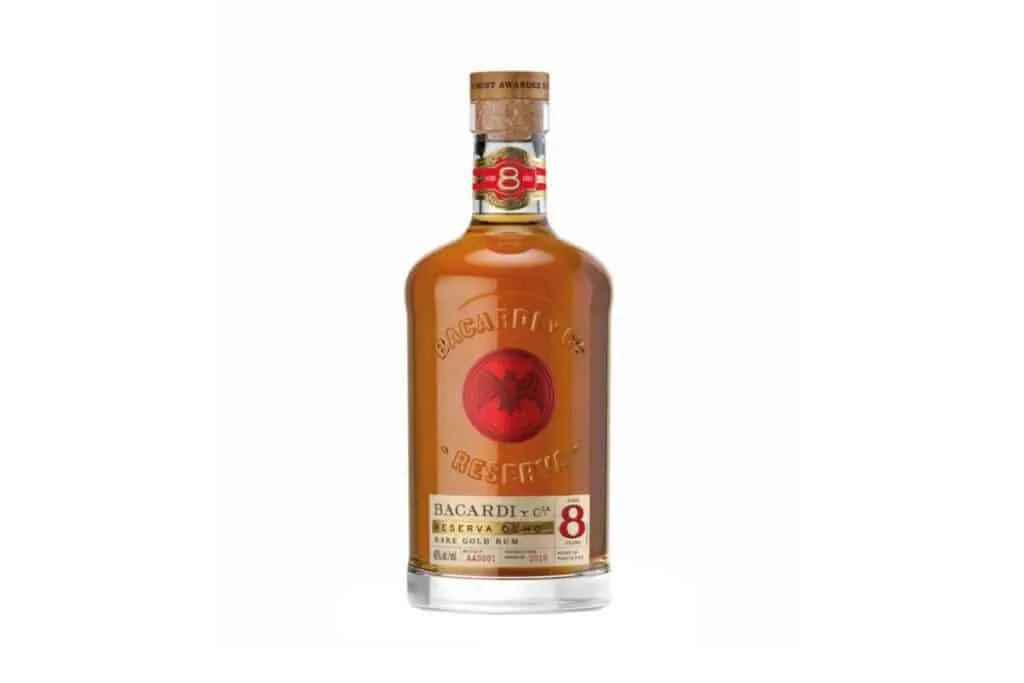 No bar is complete without a Bacardi, and we highly recommend the Reserva Ocho.
It's just what you want on hand for a party, and can be used to make a variety of cocktails to impress all guests.
And if you don't feel like mixing up something complicated, Bacardi Reserva Ocho and coke proves that classics are classics for a reason.
When there are so many small batch distilleries and unique rum brands, you might wonder why you would need Bacardi. But as one of the oldest rum blends in the world – the Reserva Ocho was created in 1862 – Bacardi have really mastered the simple rum.
There's a warm stone fruit flavor to this aged rum, with nutmeg and vanilla adding a hint of the tropical. The mellow finish of Reserva Ocho is adaptable, and there's a smooth enough texture for you to enjoy this rum with ice.
A bottle of Bacardi Reserva Ocho is the perfect addition to your home bar(see also: Best Bar Cutting Board – A Must Have For Any Home Bar).
Use it to make Old Cubans, rum punch, or to add some sunshine to your Bahama Mama.
If you're having a party, Bacardi Reserva Ocho, a good vodka, orange juice, and ice make a playful Brass Monkey.
Pros
Easy drinking with a mellow finish.
Adaptable for a range of cocktails.
Smooth.
Cons
Lacks complexity for a sipping rum.
Buyer's Guide
Whether you're a seasoned rum drinker, or just starting to develop a taste, choosing the right dark rum isn't easy.
Small distilleries and limited reserves are being developed all over the place, making the rum market busier than ever.
Dark rum is a rich drink with a playful finish that makes it unique in the world of the spirits. It has a depth that's lightened by spiced finishes and citrus notes.
A complex aging process and diverse base ingredients make dark rum a drink with variety.
Buying rum without having a chance to try isn't always easy, but that doesn't mean it's impossible.
When buying a dark rum for cocktails, you need to know what features to look for. Use this buyer's guide to help you make your choice.
Dark Or Aged?
All rum starts off as light rum, but as it ages it becomes darker. Aging typically occurs in charred oak or wooden barrels, where the taste matures and deepens.
This aging process darkens the color of the rum. A rum aged for a short period might be golden, while a rum with a longer aging process could be a rich molasses black.
All aged rum is dark, but not all dark rum is aged. If you're looking for dark rum for cocktails, aged rum can be used interchangeably. But if you're after a smooth aged rum for sipping, then dark rum might not be right.
Light rum is more commonly used in cocktails. This clear rum has a sweeter and lighter flavor.
Another type of rum you commonly see is spiced rum, or flavored rum. Although these are delicious, they're probably not what you want in a cocktail.
Tasting Notes
Typical tasting notes found in dark rum include orange, honey, vanilla, and molasses.
But that's really just the start of the layered and complex flavors you can find in a good dark rum.
Hints of nutmeg, notes of chocolate, hazelnut finishes… There are plenty of tasting notes that can distinguish a good rum.
Before purchase, consider what kind of notes you would like to be prominent. If you have a chance to sample the rum before buying, drink it slowly, and let the flavors emerge on your tongue.
Try to spot the aroma as well. Not all dark rums are hugely fragrant, but some have a scent that really packs a punch. Try sniffing in your glass, rather than from the bottle.
Origin
Good and bad rum can come from all over the world, but some countries have a better reputation than others.
The Caribbean and South American are well known for their rums, with many countries having their own unique twist on this classic drink.
You don't have to buy rum from this part of the world, but the long tradition tends to lead to a good reserve.
Color And Body
Dark rums can run a range of hues, from the lighter gold of Appleton, through to the deep brown of Goslings.
The color of the rum often speaks of the body — darker rums tend to be heavier than their lighter counterparts.
It also indicates the kind of flavor you'll be getting.
A very dark rum can have a molasses-like sweetness, which can sit on the palate. A lighter rum might finish more like honey or caramel.
Consider how you plan on drinking your rum when thinking about the body.
If you want something to hold up to the spice of a Dark 'N Stormy, darker is better. But for a twist on an Old Fashioned, (see also: A Rich Twist on a Classic Cocktail)golden rum works well.
Age
Age and the aging process can reveal a lot about a rum. The aging process mellows out the flavor of the rum, brings a depth to the sweetness, and adds body and color. That's not to say that a long aged rum is automatically better, but it does bring a new dimension to rum.
As well as the length of the aging, it's useful to know how the rum was aged. Wooden barrels are traditional, and charred oak brings an aged sophistication to the drink.
Some brands, such as Zacapa No.23, age their rum in used barrels. This imparts some flavor of other spirits to the rum.
These tend to need a longer aging process, to unlock the full depth of flavor.
Smoothness
The smoothness of the finish is almost impossible to determine without drinking the rum, but you can get a good idea from reviews and age.
Older rums are typically smoother, with the harsh burn of alcohol mellowed from the long process.
A smooth rum doesn't have the alcohol burn that characterizes cheaper drinks.
Smooth is always desirable, and can be enjoyed in simple cocktails. Without the harsh fumes, the mixing of flavors can really come to light.
What Cocktail Are You Making?
Of course, you won't always know exactly what you plan on making before you buy your rum. If you want something with variety, Appleton, Bacardi, and Diplomatico are all brands to look at.
These rums are adaptable, and work with everything from a simple Cuba Libre, to complex Hurricanes.
On the other hand, you might know that you're a Dark 'N Stormy drinker, and that's the main reason you want a dark rum. In that case, Goslings Black Seal is hard to beat.
And if you like your cocktails with an elegant simplicity, Zacapa No.23 is perfect. This is also one to have on the shelf for sipping, and for impressing guests.
Price
The price range of rum varies massively, and while we don't recommend settling for cheap and nasty, luxury rums can set you back over one hundred dollars.
Before you start shopping, set yourself a budget. Think about how often you're likely to drink the rum, and what you plan on mixing it with.
In a cocktail like a Bahama Mama, (see also: Bahama Mama Cocktail)a lower priced dark rum can still hold its own among the complex ingredients. But if you plan on a Mai Tai, or a rum punch, then shop for quality.
Keep an eye on size as well. Sometimes you think you're getting a bargain, and then your 3oz bottle turns up, and you realize the error.
Frequently Asked Questions
What Cocktails Can You Make With A Dark Rum?
Dark rum can be used to make a range of cocktails. Dark 'N Stormy, Rum Punch, Mai Tai, Brass Monkey, and Hurricane are all examples of cocktails made with dark rum.
Dark rum can even be used in place of bourbon for a twist on an Old Fashioned, or instead of light rum for a winter Daiquiri. And, of course, we can't forget the classic Cuba Libre.
What's The Difference Between Golden Rum, Dark Rum, And Aged Rum?
All rum starts as light rum, which is then aged in wooden casks to create golden, dark, and aged rum.
Golden rum has gone through a shorter aging process, creating a mellow version of light rum. Dark rum has been aged for longer, giving it plenty of body.
Dark rum is often made from molasses. Aged rums have matured for even longer, giving them plenty of character and complexity of flavor.
What's The Best Dark Rum For Cocktails?
It's difficult to pick a single dark rum for cocktails, but there are few choices better than Ron Zacapa No.23. This blend of aged rums has a complex taste that's perfectly balanced, and it can be drunk neat, or in a cocktail.
Other good options include Diplomatico Rum Reserva Exclusiva, Appleton 8 Year Old Reserve Rum, and Bacardi Reserva Ocho Rum. These versatile rums can be used to make complex drinks or simple cocktails.
For fans of the Dark 'N Stormy, Goslings Black Seal Rum is the ideal choice. This molasses-rich dark rum is perfectly suited for mixing with ginger beer.