There are so many different types of alcohol, and everyone has their own favorite. Bourbon is a variety of whiskey made from corn and exclusively distilled in the United States.
As with other types of spirit, bourbon comes in many different flavors and strengths. 
If you want to try bourbon for the first time, you may be wondering which one to pick.
A bad experience may put you off the stuff altogether, and ideally, you want a brand that encapsulates the drink's unique taste without being too strong.
You could try asking any connoisseurs you may know, but this can be unreliable because, as stated above, everyone has their own favorite and you are unlikely to get a consistent answer. 
Naturally, we can't tell you which variety of bourbon you will like the most, but what we can do is run through some of the most highly recommended brands for beginners.
If you would like to choose for yourself, skip to the end for a helpful breakdown of what bourbon is and how to pick one that will be suitable for you.
Best Bourbon For Beginners – Our Top Picks
Whether you're looking for a bourbon night cap sipper or a bourbon for an Old Fashioned, we have you covered:
A single-barrel whiskey or bourbon is a drink that has come from one barrel of aged liquor. Other varieties normally consist of a mix from different barrels to provide a more consistent taste.
Four Roses is a single-barreled bourbon where no two bottles are exactly alike, each with its own unique flavor. 
While there is some variety in flavor between bottles, Four Roses is a great starting point for those looking to dabble in the world of bourbon.
With a 50% ABV (alcohol by volume) this is a strong spirit with a smooth finish. The delicate notes of honey make it suitable for some cocktails, or you can enjoy it neat with nothing but a few pieces of ice. 
This bourbon smells of dried spice mixed with vanilla and tastes even better with hints of chocolate, honey, and cherry.
The mash, which is the term for the mixture of grains used to create a bourbon or whiskey, is composed of 60% corn, 35% rye, and 5% malted barley. 
Pros
Each bottle has its own slightly different taste
Smells of dried spices and vanilla 
Goes great with cocktails that need an element of honey 
A complex flavor that is great both straight and with mixers.
Cons
The flavor may be too complex for some beginners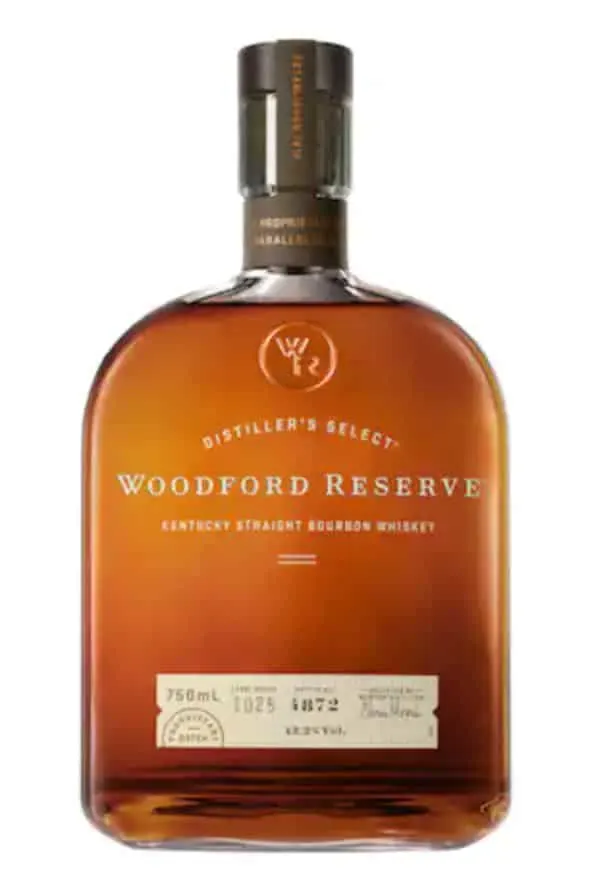 This delightful straight bourbon was the winner of the San Francisco World Spirits Competition in 2014 and it is easy to see why.
If you are a fan of fruity drinks then this may be the perfect choice for you to begin your bourbon journey. 
Measured at 45% ABV, Woodford Reserve combines 200 different flavors into one bottle.
Those not accustomed to spirits will love the palatable sweet taste and smooth finish. As well as tasting like dried fruits, this bourbon also has hints of toffee, caramel, and cinnamon. 
It can be enjoyed straight or as part of a delicious cocktail, as the unique flavor is very versatile and goes well with a variety of mixers.
Being a straight bourbon, Woodford Reserve stays at least two years in its oaken barrel before being decanted into bottles and sold for your sipping pleasure. 
Pros
Straight bourbon matured for at least two years in an oak barrel. 
Varied and versatile flavor combining notes of chocolate, dried fruit, and spice 
Award-winning 
45% ABV means this bourbon is just the right strength for beginners. 
Cons
Not a good choice if you don't like sweet alcohol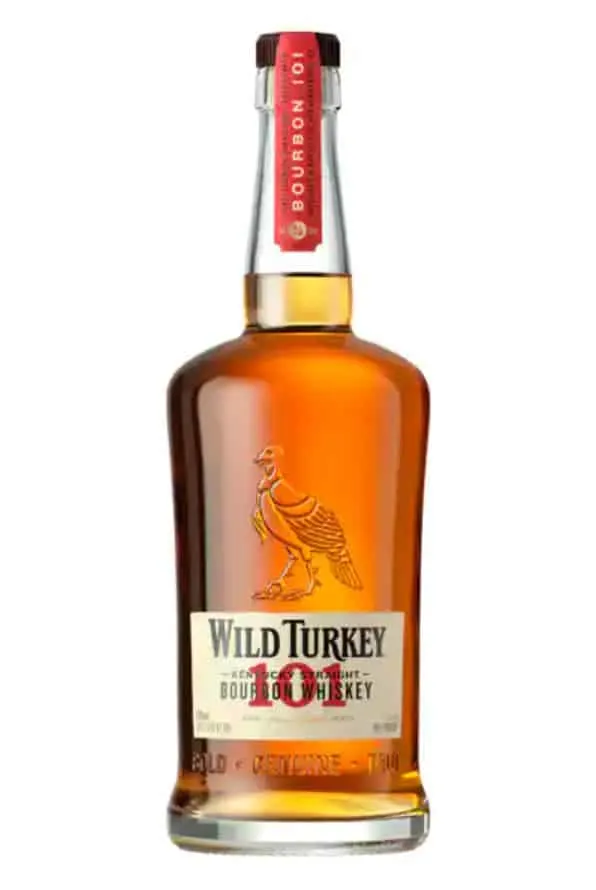 Wild turkey 101 is surprisingly cheap for a 50.5% ABV spirit. Don't let the price fool you though, with 60 years of distilling experience, this drink provides a brilliant bang for your buck.
This bourbon won the 2021 San Francisco World Spirits Competition. 
The high rye content gives this drink a beautiful spicy note that compliments the taste of alcohol well. Despite being a high proof bourbon, the taste is gentle and very manageable for those new to spirits
When you open the bottle you will smell the delicious aroma of caramel, although the actual taste isn't overly sweet with notes of vanilla, oakwood, and char.
This isn't surprising considering that each batch is aged in barrels with a deep char made from white oak wood. 
Pros
Award-winning 
Matured bourbon with a slightly charred taste
Affordable 
Gentle taste that isn't overwhelming alcoholic or sweet
Cons
High-proof alcohol will get you drunk much faster if you aren't used to spirits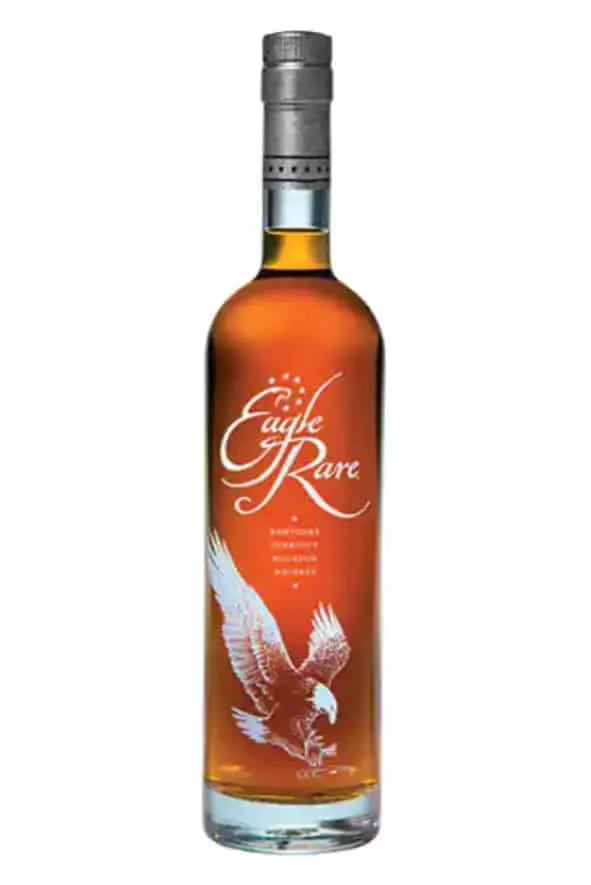 This bourbon is renowned for its unique flavor that sets it apart from the competition. This drink is aged for ten years in an oak barrel before being decanted.
This is just one of the things that give Eagle Rare its mature flavor that combines notes of toffee, orange peel, and honey. 
With its citrus after taste, this bourbon makes a great addition to any cocktail, (see also: Best Bourbons For Manhattan Cocktails)as well as being delicious when enjoyed straight.
At 45% ABV, this drink goes down very smoothly, allowing you to enjoy all the complex flavors it has to offer including notes of almonds and cocoa. 
It is slightly more expensive than other bourbons, but you are paying for a masterfully distilled product that you won't be able to buy anywhere else. 
Pros
Each bottle has been matured for 10 years 
Winner of multiple awards
45% ABV, very smooth 
Distinct flavor that is different from most other bourbons 
Cons
Unique taste means it is not representative of most bourbons 
Expensive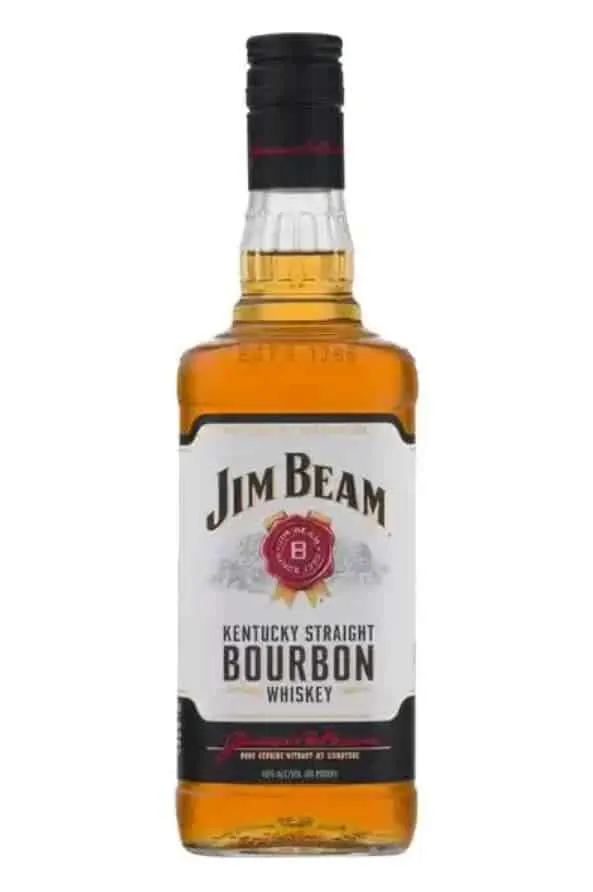 Even if you have never tasted bourbon in your life, you have likely heard the name Jim Bean. This classic drink is famous around the world and a great choice for those looking to try their first bourbon.
Not only is this drink very affordable, but it also provides a nice gentle introduction to the distinct flavor of corn-based whiskey. 
Jim Bean has an ABV of 40% putting it at about 80 proof. As you can tell this is slightly weaker than many of the drinks on this list, making it a great choice for those who haven't drunk spirits before.
The drink is matured for 4 years in its oak barrel to soak up as much of the oaky flavor as possible. 
If you are looking for a standard bourbon that doesn't do anything adventurous but ticks all the right boxes, Jim Bean may be the drink for you. As well as oak, this drink also has delicious notes of vanilla and caramel. 
Pros
Matured for 4 years 
Classic bourbon flavor from a classic brand
Tastes of oak, vanilla, and caramel 
Affordable 
Cons
40% ABV may be a little weak for seasoned spirit drinkers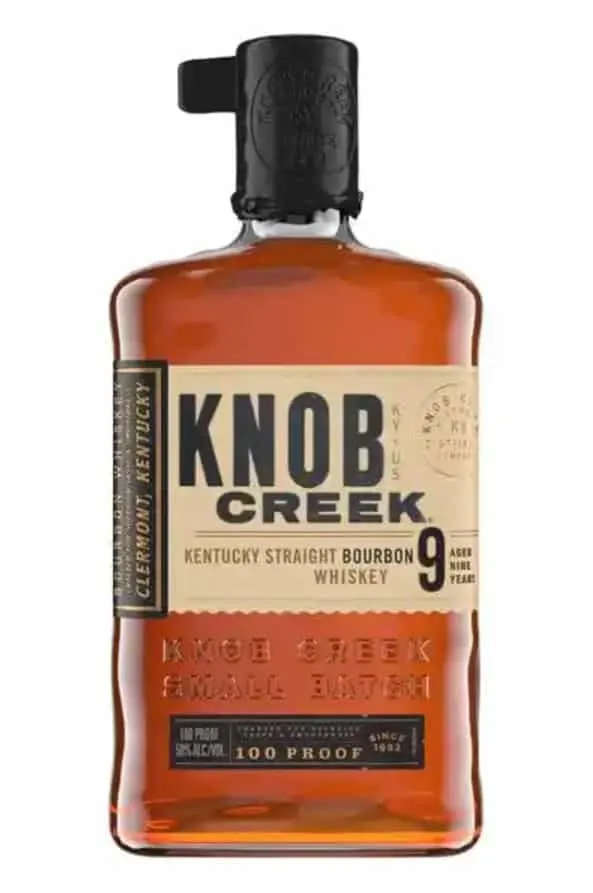 Commonly agreed by many to be one of the best bourbons for both veterans and beginners alike, Knob Creek comes from a reputable lineage indeed.
This drink is produced at the famous Jim Bean distillery in Kentucky, where bourbon was invented. Each bottle promises to offer the iconic flavor of pre-prohibition whiskey. 
This is a full-bodied bourbon that smells of the oak barrel where it spent 9 years maturing to perfection. With an ABV of 50%, this 100 proof drink isn't as smooth as some of the others we've looked at, giving you the fiery edge that characterizes a high-quality spirit. 
When it comes to flavor, Knob Creek combines notes of charred wood, vanilla, and chocolate for a rich drinking experience. It goes well in cocktails, but the best way to enjoy this classic bourbon is neat and splashed over some ice. 
Pros 
Made by a renowned distillery 
Matured for 9 years
100 proof
Delicious toasty flavor and woody smell
Cons 
Fiery taste may be overpowering for those unaccustomed to spirits
Buyer's Guide 
If you have enjoyed any wines, beers, or other spirits before you will know that choosing good alcohol is more complex than it seems.
There are many different factors that go into a liquor's distinctive taste, smell, and strength all of which will impact your drinking experience. Here are some things to bear in mind while shopping for your first bourbon. 
How Long Has It Been Aged? 
All bourbon is matured in charred oak barrels to give it its distinctive flavor. How long the drink has been left to age before being decanted into bottles will affect the balance of flavors.
The longer it has been steeped in its barrel, the more complex the taste.
Some bourbons are sold under the term 'single barrel.' This means the distillers chose specific barrels that exemplified their product and filled bottles with liquor from only that barrel.
Alternatively a 'small batch' can indicate a mixture of different barrels to produce a more consistent flavor. 
The Mash Bill 
If you come across this phrase in your search, it simply means the mixture of grains used to create the bourbon. It is often expressed as a ratio where the largest part will be corn, as a whiskey needs to be mostly made of corn to be classified as a bourbon.
Mash bills with a high rye content will often have a spicy edge to them, while those high in malted barley tend to be sweeter. 
ABV And Proof 
ABV simply stands for alcohol by volume and indicates how much of a drink is comprised of ethanol.
The Proof often means the same thing, indicating the percentage of ethanol in a given product.
A good way to convert between the two is to double the ABV to get the proof. Therefore a 100 proof bourbon will normally have an ABV of 50%. 
The Flavors 
This one may seem obvious, but most places selling alcohol online will give you a breakdown of the different flavors a drink has to offer.
Common flavors found in bourbon are charred wood, imbued by the barrels it is matured in, toffee, and often notes of dried spice like cinnamon. Some drinks even have fruity flavors such as orange peel.
What you prefer will come down to your own personal taste but it always helps to read these taste descriptors to see if a particular bottle of bourbon is for you. 
Best Bourbon For Beginners – FAQ
How Is Bourbon Different From Whiskey?
Bourbon and whiskey have many things in common so it is easy to get confused. Firstly the grains used to make bourbon have to consist of at least 51 percent corn and the drink must be matured within a charred oak barrel.
There are other qualifying factors but these are two of the most important things that give bourbon its distinct taste. 
Does Bourbon Have To Come From Kentucky? 
Kentucky is often referred to as the bourbon state because it was here that the drink was first distilled. A common story about the birth of the drink involves a baptist minster called Elijah Craig accidentally storing his whiskey in barrels that were charred by fire.
This story is disputed however and considered by many to be a myth. Although bourbon originated from Kentucky, it is now distilled all across the USA.
In order to be classified as bourbon, the drink does have to be made in the US but that is the only limiting factor in terms of where the drink is made. 
Does It Go Well In Cocktails? 
Bourbon is a great sipping alcohol that tastes great when drunk neat with a few chunks of ice. However, it doesn't have to enjoy this way and it also mixes well to produce some fantastic cocktails.
A few concoctions you can make with bourbon include: 
Mint Juleps: Bourbon with sugar and mint leaves with a sprig of mint for garnishing
Old Fashioned: Bourbon mixed with bitters, sugar. Garnish with orange peel and a Maraschino cherry. 
Manhattan: Bourbon and Vermouth mixed in a 2:1 ratio and splashed with bitters. Garnish with cherries on a cocktail stick. 
Kentucky Coffee: Bourbon, honey liqueur mixed in a 2:1 ratio added to coffee. Optional garnish of whipped cream.