Are you someone who has an irresistible sweet tooth? Is chocolate that one thing you crave when you're snuggled up on your couch?
Do you constantly find yourself in an internal battle on whether you should pop open that bottle of Pinot Grigio, or rip open that packet of Hershey's?
What if we told you, you could have the best of both worlds with a scrumptious chocolate liqueur that'll satisfy that sweet craving, along with helping you unwind from a stressful day at work.
Chocolate liqueur is an alcoholic beverage that uses a base of alcohol such as whiskey or vodka and adds chocolate as an additive. There are all kinds of chocolate liqueurs available.
There are simple milk chocolate liqueurs, white chocolate liqueurs, and some companies have branched out adding mint chocolate, orange chocolate, and salted caramel options.
However, this is not to be confused with chocolate liquor, as they are two different things. They are often confused with each other, and they can sound the same depending on who you are talking to!
So, let's clear this up for you. Liquor on its own is an alcoholic drink made from grains, vegetables, or fruit. However, chocolate liquor does not contain alcohol, and it is made from pure cocoa solids.
Chocolate liqueur, however, does contain alcohol and is a beverage that uses maybe whiskey or vodka as a base and adds in chocolate as an additive.
These drinks are very versatile and can be consumed in a number of ways.
Some like to sip them over some ice, others prefer mixing them in their coffee, and sometimes you can add them over your favorite dessert, for an extra added flavor.
Finding a chocolate liqueur to your standard can be tricky as many companies have hopped on the trend. This article has done all the hard work for you and has compiled a list of some delicious liqueurs for you to try!
You'll also find a buyer's guide and some chocolate cocktail recipes to try!
Our Best Chocolate Liqueur Picks & Reviews
Very few chocolates can compare with Godiva, and this chocolate liqueur is no exception. This bottle is filled with a sweet, velvety flavored liquid, giving you a mouthwatering rich finish.
This liqueur is perfect to consume on its own poured over some ice, or as a mixer combined with vodka. People who tried this tasty liqueur also said it was lovely with some ice and milk, a perfect after-dinner treat!
Pros
Two options of sizes with the bottle.
Versatile consumption, on its own or as a mixer.
Glamorous-looking bottle.
Cons
Can be slightly sweet for those sensitive to sweet things.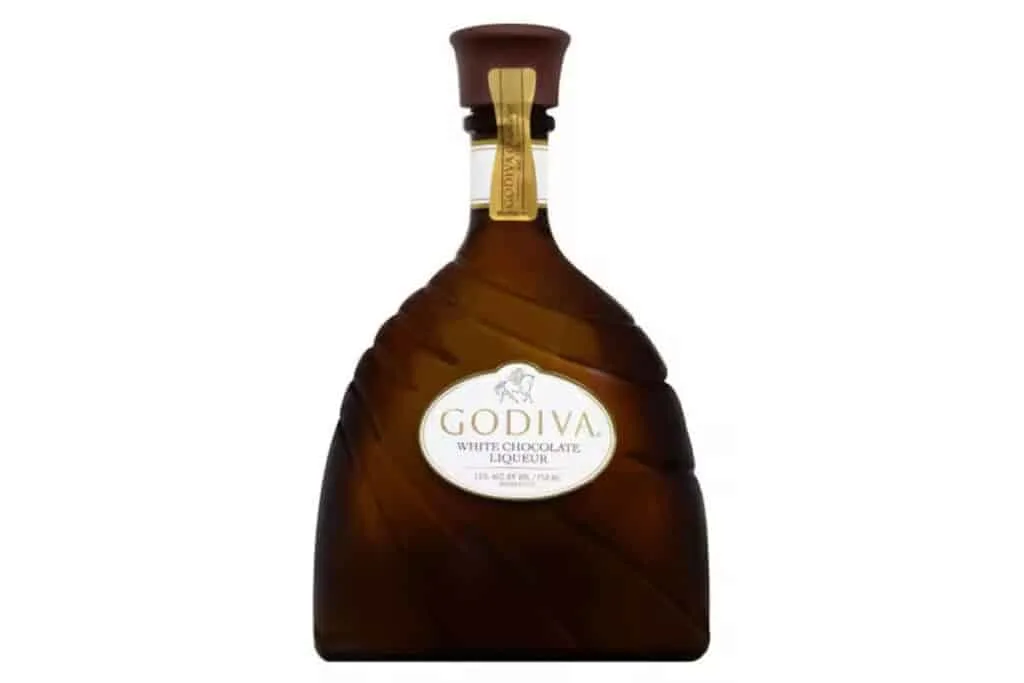 Another Godiva liqueur that needs mentioning is their white chocolate version of their liqueur range. This scrumptious option has wonderful flavors of white chocolate combined with Madagascar vanilla.
Each sip will provide you with a rich white chocolate flavor along with creamy notes.
This proper sweet liqueur is the perfect late-night treat, either on its own, poured over some ice, or mixed with some vodka to create a Godiva White Chocolate Martini.
Pros
Two different sizes of bottles.
Very smooth finish.
Attractive bottle.
Cons
Sweetness may be overwhelming to some.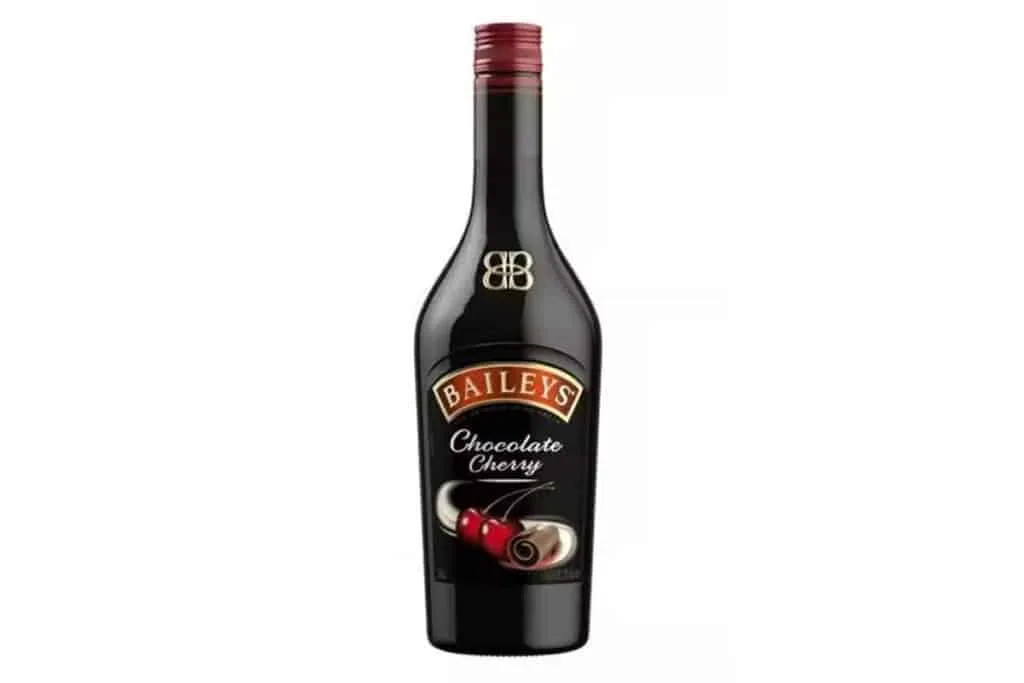 A stunning surprise to wow the family during Christmas is this chocolate cherry-flavored baileys that is fruity and creamy.
Incredibly versatile, you can pour this over some ice cream for a delicious dessert, or you can pour a few drops into your coffee or hot chocolate for an added extra flare.
If you really love the taste, you can even sip it on its own!
Just imagine a regular baileys flavor but with an added fruity element with some rich chocolate thrown into the mix. This beverage will not disappoint you!
Pros
Versatile consumption.
Good balance of flavors, nothing is overpowering.
Available in two different sizes.
Cons
Must enjoy the taste of cherries to enjoy this beverage.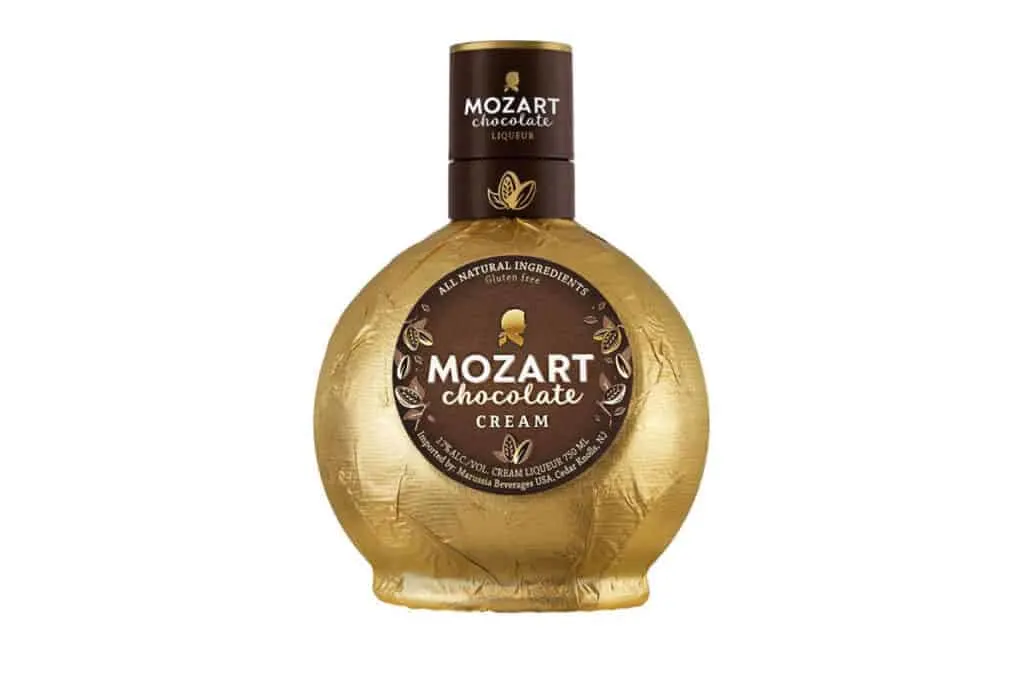 This creamy, milky option comes all the way from Austria! This Mozart Chocolate Cream liqueur has been carefully handcrafted using only natural ingredients.
Carrying aromas of creamy custard and milk chocolate, this liqueur will really satisfy your taste buds with its rich taste and butterscotch finish.
This is another option that can be enjoyed neat, on some ice, or mixed in a chocolaty cocktail.
Pros
Gluten-free.
Very attractive bottle.
Made using natural ingredients.
Cons
Only one size bottle is available.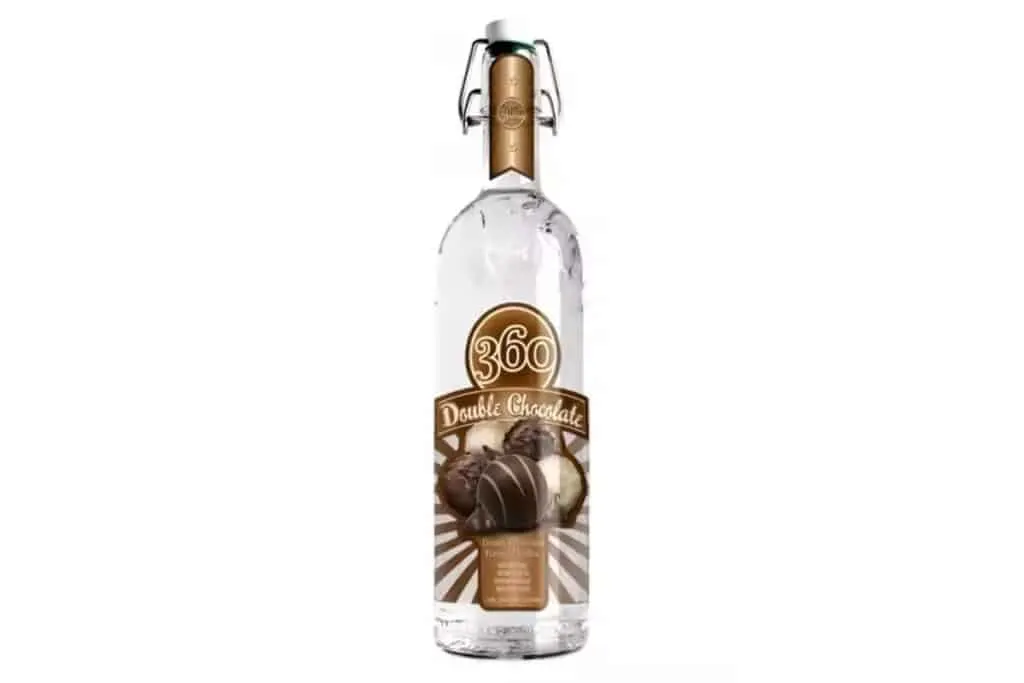 With a higher alcohol content than the previous options at 35% ABV, this option is for those after a more intense experience, in both alcohol and chocolate goodness.
The double chocolate component makes this an incredibly rich but smooth option.
The vodka component has been distilled four times, and filtered five times, resulting in a super fresh finish.
360 is a company that is known for going their 'go green' initiatives, making this the first company to create an eco-friendly vodka option!
They reduce waste by recycling 170 tons of materials annually from their day-to-day manufacturing operations.
You can help the environment while enjoying this deliciously rich liqueur as a shot, mixed into coffee, or poured over some ice.
Pros
Eco-friendly option.
Two sized bottles are available.
Versatile consumption, as a shot, or mixed into other drinks.
Cons
Quite a high alcohol content for a liqueur.
No products found.
Ending this list with an absolute staple, we have the original Baileys.
This original recipe combines mouth-watering flavors of chocolate, vanilla, and cream that will really satisfy your taste buds.
If you choose to pour it over some ice, it'll be the perfect refreshing beverage for those summer months.
Consumers also enjoy adding it to their hot chocolates and coffees, for an extra kick and splash of flavor.
Pros
Versatile in how you can consume it.
Ranked as one of the best liqueurs.
Soft taste that isn't overpowering.
Cons
Not for those allergic to dairy.
This product is also available to purchase at Reserve Bar and Drizzly.com
Buyer's Guide for Chocolate Liqueurs
Finding a good chocolate liqueur can be tricky as there are so many options available.
There are several things you need to consider, and it may take a bit of trial and error before you find one you enjoy.
This buyer's guide is going to cover some important things to look out for when searching for your liqueur.
Type Of Alcohol It Contains
Whether you enjoy a certain chocolate liqueur will depend on the alcohol that is in it. For example, your baileys options will have whiskey in them, and others may have rum or vodka.
This is up to your personal preference, but if you tend to lean to certain alcohols when consuming them normally, then it is best to stick to those.
For example, if you are someone who can't stand the taste of rum, then it's best to avoid liqueurs with this alcohol.
What Kind Of Chocolate You Prefer
As this list has shown, there are liqueurs made with all kinds of chocolate!
Some that have not been mentioned are flavors such as mint chocolate, chocolate orange, and dark chocolate.
If your personal preference is usually white chocolate, then trying out one of these first would be a good idea! The same applies for if you don't like a certain type of chocolate.
There are other varieties out there that are endless, with some containing caramel and mocha, (see also: Mocha vs Latte – What's the Difference?)so don't hesitate to try the many flavors available!
Why Not Make Your Own?
As yummy as some store-bought chocolate liqueurs are, making your own enables you to customize it to your heart's desire!
The best way to create this is by using cacao nibs. They are basically pieces of cacao beans that are roasted. You can find them in many grocery stores, but if the surrounding ones don't have any, you can find them online too.
All you'll need is ⅔ cup of cacao nibs, a cup of water, 1 ½ cups of sugar, 1 ⅓ cups of vodka, and 2 teaspoons of vanilla extract.
You'll need to steep the cacao nibs and vodka in a sealed jar for 8 days.
Once this has been done, heat up the sugar and water to create a syrup and add it to the steep jar once cooled, along with the vanilla extract.
Leave this to steep for a day, and then strain out the nips using a sieve and then filter it into a jar of your choosing to store the liqueur. You're done!
Another simple way of making this, especially if you'd like a white chocolate option, is to melt the chocolate with any other ingredients of your choosing, such as vanilla, or cream (or both!) and letting it cool.
Once cool, mix it with the alcohol of your choosing and let it sit for 12 to 24 hours in the refrigerator.
If you want to add more richness, you can add condensed milk. Making some at home is a fun activity, and you can make as much as you want to last you months!
Chocolate Liqueur Cocktails
Once you've purchased a chocolate liqueur to your liking (or a few!), making cocktails with them is a great way to use them, and they're also super fun to make.
Here are a few chocolate cocktail recipes that only take an average of around 3 minutes to make!
Yes, there is such a thing as a chocolate martini, and it is incredibly delicious and easy to make. All you need to do is combine some vodka and chocolate liqueur of your choosing, this recipe recommends the Godiva liqueur, in a shaker with ice.
Shake till you can't any longer and strain it into a martini glass. You can use any chocolate liqueur for this recipe, white, milk, or dark!
If you're a fan of white chocolate, then you need to try this white chocolate martini, or chocolatini as it's also known as.
For this recipe, you are to combine any white chocolate liqueur along with some vanilla flavored vodka and cream.
Shake it all together in a shaker and pour the liquid into a martini glass. There you have the perfect dessert drink!
This cocktail come milkshake is a chocolate lover's dream. It incorporates chocolate ice cream, chocolate liqueur, chocolate syrup, and vodka.
All you need to do is blend all the ingredients together until you are left with a smooth consistence.
Then pour it into a tall glamorous glass and add some whipped cream on top and voilà!
This minty fresh cocktail will have you obsessed, making you want one every single night.
This differs from the previous cocktails on this list as it use peppermint schnapps, along with chocolate vodka and cream liqueur.
Like all the other cocktails we've looked at, all you need to do is mix all the ingredients together in a shaker, shake well and then pour into your favorite ice-filled glass.
As a garnish, you can use peppermint patty candy for an extra nice treat.
You wouldn't have thought that tequila goes well with chocolate, but think again! This chocolate margarita will be a hit with any guests or parties you attend.
This recipe also incorporates some juice from an orange and lemon, and the citrus notes really make this a tantalizing cocktail.
Although this option contains more ingredients, it will be worth it once you taste the final product. You'll need to mix tequila with chocolate liqueur, cream, chocolate bitters, orange and lemon juice.
Blend these ingredients together with ice and pour into a margarita glass. Sprinkle some chocolate shavings over the liquid and enjoy!
It's not just the name of this cocktail that has us crazy for it, its sweet flavor is truly addictive! If you're a fan of marshmallows, then this one is for you.
Take some marshmallow vodka, this recipe features Smirnoff Fluffed Marshmallow Vodka, and mix it with chocolate liqueur and cream.
This recipe also recommends using Godiva chocolate liqueur.
Mix all the ingredients together in a cocktail shaker and pour into a glass with ice. Add some mini marshmallows for some garnish and drink up!
This sweet cocktail incorporates condensed milk, making it a relatively thick cocktail which isn't to everyone's taste but don't knock it till you try it.
The ingredients consist of rum, chocolate liqueur, condensed milk and some chocolate shavings as garnish. In a cocktail shaker, just shake all the ingredients together and strain the smooth liquid into a cocktail glass of your choosing.
Garnish with the shaved chocolate or some cinnamon and bottoms up!
Frequently Asked Questions
Is Chocolate Liqueur The Same As Crème De Cacao?
Many people confuse these two items. Crème de Caco is an alcoholic liqueur that is sweet and flavored with chocolate beans and occasionally vanilla.
As similar as it is to chocolate liqueur, the chocolate liqueur is sweeter and more syrupy in texture.
Can You Get Drunk On Chocolate Liqueurs?
Getting drunk on chocolate liqueurs is slightly harder than with normal alcohol, but not entirely impossible. It also depends on your alcohol tolerance.
Some liqueurs will have around 15% of alcohol in them, similar to a bottle of wine, whereas some are higher, such as 30%, so this depends on your tolerance and how much you consume.
Can You Drink Chocolate Liqueur Straight?
You can absolutely consume chocolate liqueur straight. It is popular to pour them in a glass over some ice and sip them as they are cold.
They are wonderfully refreshing during the summer months and are very popular as an after-dinner treat.
Can Over 21s Buy Chocolates With Liquor Inside?
A popular sold item is sets of little chocolates with liqueur inside them. These do contain alcohol inside, despite their chocolate shell, so it is illegal for them to be sold to anyone under the age of 21.
What Is Chocolate Liqueur Made Of?
Chocolate liqueur is made by using a base of alcohol, such as whiskey or vodka, and then adding chocolate to it to create this sweet alcohol liquid.
Final Thoughts
To conclude, this list has provided you with a list of some lovely chocolate liqueurs.
Despite these, there are many others out there that mix a variety of flavors and elements together to meet the needs of anyone.
If you do struggle to find one to your liking, then you also have the option of making one yourself at home. This allows you to include any alcohol you prefer, along with any chocolate you'd like!
If you are a sucker for Reese's Peanut Butter Cups and no one has made a liqueur from it yet, then you can make one for yourself! They can also keep for months at a time in your refrigerator.
These liqueurs are also incredibly versatile and if having them neat isn't for you, then why not try making one of the cocktails included in this article? Go ahead and get your friends over and get mixing!