Flavored whiskey has commonly been criticized for compromising the taste and depth of flavor that traditional whiskey has.
While this can be the case within cheaper brands that use a lower quality whiskey as their base, there are some great flavored whiskeys on the market that have already been used within cocktails, drinking neat over ice, and within coffees and milkshakes.
Sheep Dog has already gained a lot of popularity around the world for its complex flavor profile and versatility as a drink.
One of the reasons why this brand has become so well-known across bars around the world is because it is one of the first forms of peanut butter whiskey (see also: Skrewball Peanut Butter Whiskey Review)with a great taste and unique flavor profiles.
This is a complete review of Sheep Dog Peanut Butter Whiskey and why it would make a great addition to your drinks' collection, or even a great gift for any whiskey drinker in your life.
*Packaging may vary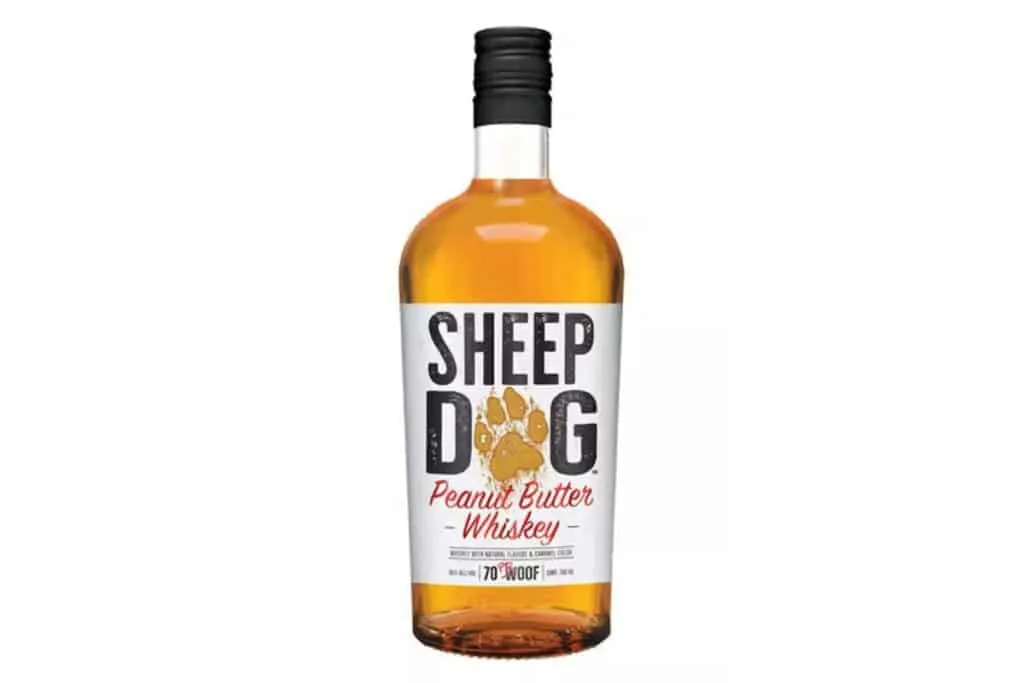 Flavors
Peanut butter is a very popular flavor across the board, and it's no surprise that it has taken the world of whiskey and cocktails by storm.
However, in spite of this being the main selling point, the drink itself has an interesting range of flavors.
The complex profile is definitely a unique selling point, and more and more people are looking for new ways to use the interesting taste.
This is definitely the drink for someone with a sweet tooth, because of the new perspective that can come from trying out peanut butter flavored whiskey(see also: Best Peanut Butter Whiskey).
Expand your palate with Sheep Dog Peanut Butter Whiskey's initial taste of sweet and creamy toffee, accompanied by butterscotch popcorn.
This is then followed by a more subtle aftertaste of creamy vanilla.
Of course, this is a very different experience when it is directly compared to the deeper flavors and subtle aromas that traditional whiskeys have.
However, it is worth considering that every whiskey (see also: Uncle Nearest Review)drink has been flavored in some way.
The main difference is that the traditional whiskey making process involves flavors added with different ingredients, grains, and even the aromas introduced that contribute to a subtle taste.
Some have even gone as far as to argue that this product shouldn't be directly compared to the deeper flavors and richness that other whiskeys have.
Because of its overwhelming sweetness, Sheep Dog Peanut Butter Whiskey has already been widely used as a liquor. This makes it significantly more versatile and arguably complex than traditional whiskeys.
Of course, there is little competition between bourbon, scotch, rye, and peanut butter whiskey. This is mostly because of the different levels of flavor and depth that each drink brings out.
Unlike other whiskey drinks, it is easy to drink this product neat as there is less of a burning sensation experienced when swallowing.
Versatility
Because the flavor and aroma of Sheep Dog Peanut Butter Whiskey are unlike some of the more traditional whiskey drinks, it has been credited with a wider range of uses within cocktail recipes and even made its way into the world of boozy milkshakes.
It can even be used to add a sweet flavor to a lot of coffee-based hot drinks. Add another element to your favorite cocktails by substituting the main liquor with Peanut Butter Whiskey.
The great thing about this product is its versatility and the many ways that it can be used.
Some of our favorites have been listed below.
Neat
The great thing about using a high quality product as a foundation for other drinks is that you can drink it neat if you prefer.
Enjoy the great taste of Sheep Dog Peanut Butter Whiskey by pouring it into an old-fashioned glass over ice.
That way you can enjoy a drink that is sweeter than your average whiskey and does not have as much of a burn when you drink it.
PB&J Shooter
Bring out the peanut butter flavor by using Sheep Dog Peanut Butter Whiskey to create the iconic duo of peanut butter and jelly.
Combine equal parts Sheep Dog Peanut Butter Whiskey and Dr. McGillicuddy's Wild Grape Liqueur to make a PB&J shooter that is sure to be a successful crowd pleaser.
The saltiness of the peanut butter pairs excellently with the sweet wild grape, and you can even mix the combination with your favorite flavored carbonated water for a more subtle hit of the familiar flavor.
Milkshakes
If you want to create something more impressive, you can try adding a dash of Sheep Dog Peanut Butter Whiskey to your food processor when you are making your next milkshake.
This can impress anyone, and adds a salty sweetness to any unique flavor combination.
Try to get creative with the different flavors and see what works well together.
You could introduce chocolate, or a small amount of grape liqueur to add to the interesting flavor profile.
Coffee
Another way to level-up your drinks is to add a small amount of Sheep Dog Peanut Butter Whiskey to your favorite coffee.
Whether you enjoy an espresso, cappuccino or latte, adding a dash of the sweet, salty whiskey based drink can act similarly to a syrup.
It can easily elevate your drink and introduce another level of flavor and aroma that you might not have otherwise known.
Ingredients
Something that makes Sheep Dog Peanut Butter Whiskey stand out from other similar products is that it has been classified as gluten-free. This opens up doors for those following a diet that does not feature certain grains.
It is unique for whiskey to be gluten-free, because of the variety of different grains that are usually added during the fermentation process.
This means that Sheep Dog Whiskey can be enjoyed by a larger audience than some of the traditional whiskey brands.
Unfortunately, because of the complexities of the filtration process involved, Sheep Dog Peanut Butter Whiskey is not recommended for vegans.
In spite of the majority of ingredients being suitable for those following more of a plant-based diet, the drink itself is fed through filter pads that are made from cellulose.
It is up to the consumer to make their decision about your own dietary limitations and personal principles, but while Sheep Dog Peanut Butter Whiskey is not suitable for vegans, it has the benefit of being gluten-free.
Another thing worth mentioning when it comes to Sheep Dog Peanut Butter Whiskey is whether it contains peanuts.
Peanuts are one of the most common allergies, and reactions can be very severe if the right amount of care is not taken. In spite of this product featuring peanut butter as a key flavor, there are very little ingredients that actually contain peanuts.
Depending on the severity of your allergy, it could still be worth avoiding this particular product as a precaution.
Criticism
One of the main drawbacks of Sheep Dog Peanut Butter Whiskey is that the taste has been criticized for being overly sweet, and even a little synthetic.
Depending on what type of taste palate you have, you might prefer a more subtle flavor.
If that is the case, then this drink might not be the best choice, however those who have introduced it to their favorite cocktails, milkshakes, or even created new combinations have enjoyed the new element of creative freedom that Sheep Dog Peanut Butter Whiskey adds.
It can be a great addition to any home bar, and even encourage someone to try new things that can broaden their horizons and increase their palate tastes.
A lot of the criticism comes from the argument that Sheep Dog Peanut Butter Whiskey has been compared to the more subtle flavors and aromas that traditional whiskey has.
It is worth noting that this drink is a lot sweeter than regular whiskeys, and the flavor is a lot more bold. This is why Sheep Dog Peanut Butter Whiskey has made more of a name for itself when there are fewer expectations and preconceived notions about the drink.
Try to think of it as a liqueur rather than a whiskey, and you might find it easier to enjoy the interesting taste for what it is.
Frequently Asked Questions
Are There Other Brands Of Peanut Butter Whiskey?
Yes, Skrewball and Ole Smoky have their own peanut butter whiskeys available online, however Sheep Dog is one of the most popular peanut butter whiskeys on the market.
It is in high demand around the world, and has even made its way to Australia.
The drink has gained popularity at a pace that is unmatched, and is showing no signs of slowing down.
What's So Great About Peanut Butter Whiskey?
There are endless amounts of combinations that can be achieved with peanut butter whiskey. It makes a great, versatile gift for someone who enjoys making cocktails or shooters, because it encourages more creativity and experimentation with combinations.
What's The Alcohol Content Of Sheep Dog Peanut Butter Whiskey?
The whiskey usually comes in 24 Ounce bottles, which has an alcohol content of 35%.
For this reason, it can be a great addition to cocktails and other drinks in small quantities as the flavor is strong, and alcohol content is pretty high.
Summary
Overall, there are a lot of reasons why you should try Sheep Dog Peanut Butter Whiskey. It has a unique taste and sweet flavor combination that makes it a great addition to a wide variety of drinks.
Cocktails, milkshakes, and even coffee can be leveled-up using the strong butterscotch and toffee elements of the whiskey.
Because of the intense flavor, it is worth remembering that a lot of people use this as a liqueur rather than a whiskey, which is part of the reason why it is a highly versatile addition to anyone's drinks' cabinet.