If you've spent time around wine, odds are you know that wine is best served chilled. No matter whether you're pouring a red or a white, you need to have the proper equipment on hand to serve your wine at its optimal temperature.
In an ideal world, your wine can cool in a dual zone wine cooler or something similar before serving. But you won't always be enjoying your vino nearby your wine fridge, or you simply might not have a wine fridge at home as it's a large and expensive appliance.
No matter what your situation is, one of the most handy wine accessories to have on hand is a wine bottle chiller. This bar tool is ideal for keeping your wine at the perfect serving temperature, and is compact enough to easily take with you on the go. It's also a great alternative to the traditional ice bucket!
There are quite a few different wine bottle chillers in terms of style and price point, and it might not be clear which ones are worth having at the home bar (see also: Best Bar Cutting Board – A Must Have For Any Home Bar)and which aren't. That's why we've rounded up a list of the best single bottle wine chillers for you to compare. Read on to see which ones are our top chocies!
Best Single Bottle Wine Chillers
There are essentially two types of single bottle wine chillers to choose from. The first is a small appliance that actually cools your wine. In other words, you can take place a room temperature bottle inside the chiller and within a few minutes, your wine will cool down to ideal serving temperature.
The other type does not lower the temperature of your bottle, but is designed to keep an already chilled bottle of wine at the same cool temperature for as long as possible. These tend to look like sleeves and are generally lightweight and quite easy to travel with.
Neither style is better than the other per se, but it's an important distinction to note as we get into our list of the best single bottle wine chillers. Think about the setting you plan to use your wine bottle chiller and whether you are looking for it to actually cool your wine or simply keep it at a steady cool temperature.
Our top choice for the best single bottle wine chiller goes to the Huski Wine Cooler. In effect, it's a high end sleeve can – but one that's designed to fit just about any wine bottle in your collection. It fits traditional 750 ml bottles and some wider bottle types like Champagne and Pinot Noir.
The Huski Cooler has an adjustable height feature combined with a flexible lock feature which allows for you to firmly hold your bottle while you pour. It looks great aesthetically, as the thin profile almost looks like it's part of the bottle.
The sleeve itself is made of premium double walled 304 stainless steel. Further, the cooler is lined with internal copper plating that improves thermal efficiency. All in all, you can expect for the Huski to keep your chilled wine at optimal temperature for up to 6 hours.
Last but not least, the Huski is available in a wide variety of color options – so you can choose one that compliments your style. It comes in stainless steel, matte black, matte champagne, matte white, and rosé finishes.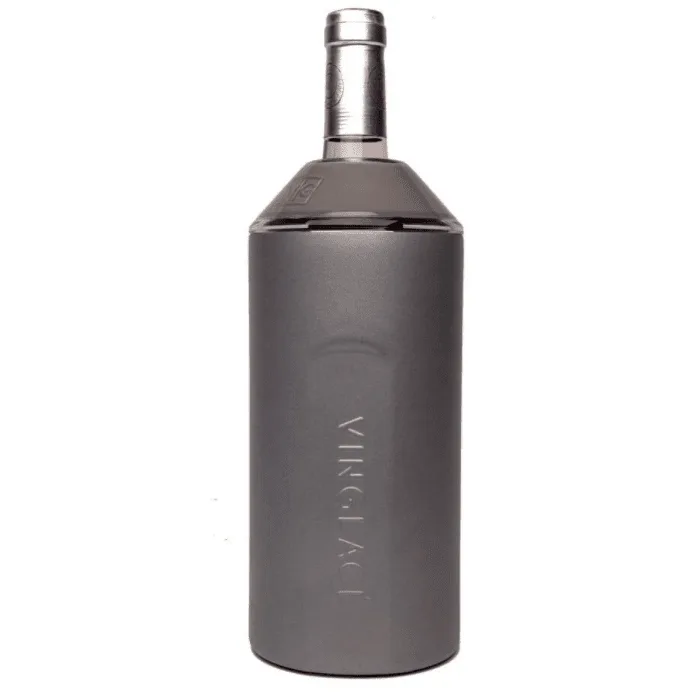 The Vinglacé Wine Bottle Insulator makes for an excellent single bottle wine chiller. It's specifically designed for extended on the go use, meaning it keeps your wine at ideal temperature for a long time – even if you're using it outdoors. Some customers have reported that this chiller keeps wine cool all day when used indoors.
Furthermore, it's got all of the features you love to see in a proper wine chiller. It's extremely lightweight and easy to travel with. The simple design is easy to hold and work with as you pour wine. The top is adjustable so many wine bottle shapes fit inside.
Like many of its peers, the Vinglacé is made from high quality double walled stainless steel. The design works to keep your wine in a vacuum insulated environment, meaning you bottle will remain cold without building up condensation. With a dozen colors to choose from, there's no doubt that you'll be able to find a design that suits your preferences!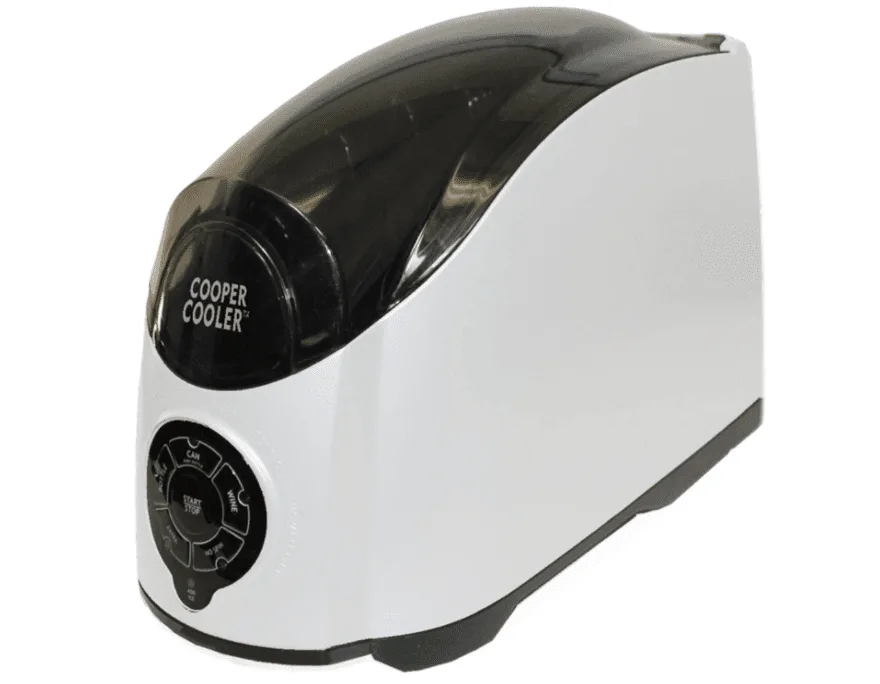 If you're looking for the type of chiller that will take a room temperature bottle and cool to ideal serving temperature, we love the Cooper Cooler Rapid Beverage Chiller. It's designed to perfectly fit a single bottle of wine and can cool a standard 750 ml bottle in about 6 minutes.
Specifically, you can cool drinks anywhere within the wide range of 34 to 77 degrees Fahrenheit. Typically white wines are ideally served from 40-50ºF and reds from 60-70ºF, so this range is plenty to get you to the ideal temperature for any type of wine you might have in your collection.
The chiller works by rotating your bottle while consistently spraying it with cold water. This ensures an even chill throughout your bottle, but the downside is your bottle and its label will get a healthy rinse of water. With this in mind, it's ideal to have a kitchen towel on hand to dry after use.
Otherwise, the Cooper Cooler is simple, compact, and is extremely effective at cooling a single bottle of wine. The touch control pad on the front of the unit is intuitive and user friendly. All it takes is the press of a button and you are on your way perfect wine. It's quite versatile too and can be used to cool beer cans and other beverages.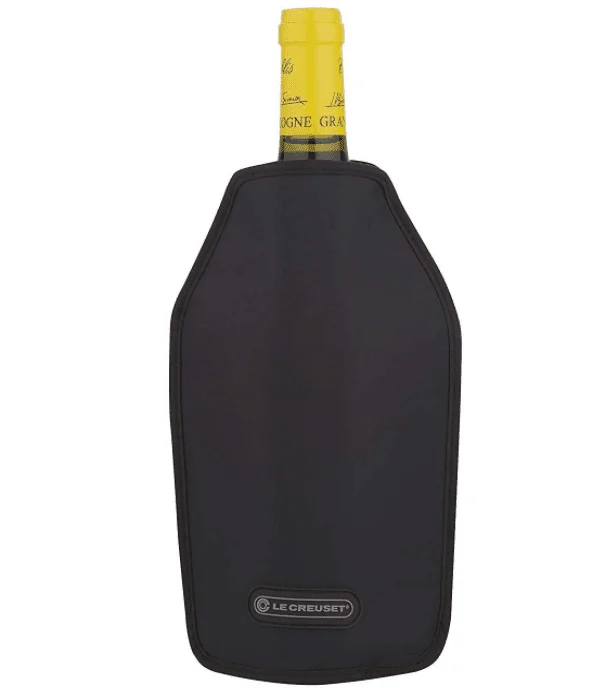 Le Creuset is a well known name in the world of cookware and kitchen accessories. It should come as no surprise then, that their wine cooler sleeve is one of the better options out there for keeping your wine ready to pour.
Their wine sleeve is unique compared to the other products on this list, most notably because it's made of nylon instead of stainless steel or marble. The nylon features an adjustable collar, elastic bands, and a tapered top which allow for the sleeve to fit any sized bottle – even the super wide Champagne bottles that may be in your collection.
There is definitely a trade off that comes with the nylon. Even though it's quite lightweight and flexible, it's inherently not as good of an insulator as the other products on this list. This sleeve only keeps wine cool for about 90 minutes.
As such, the sleeve comes with gel packs that have to be chilled in the fridge before use. It's not the end of the world to have to do this, but it's just an extra step you need to keep track of when you use the sleeve. A positive is that this sleeve can actually bring your wine temperature down if needed by putting the gel packs in the freezer beforehand.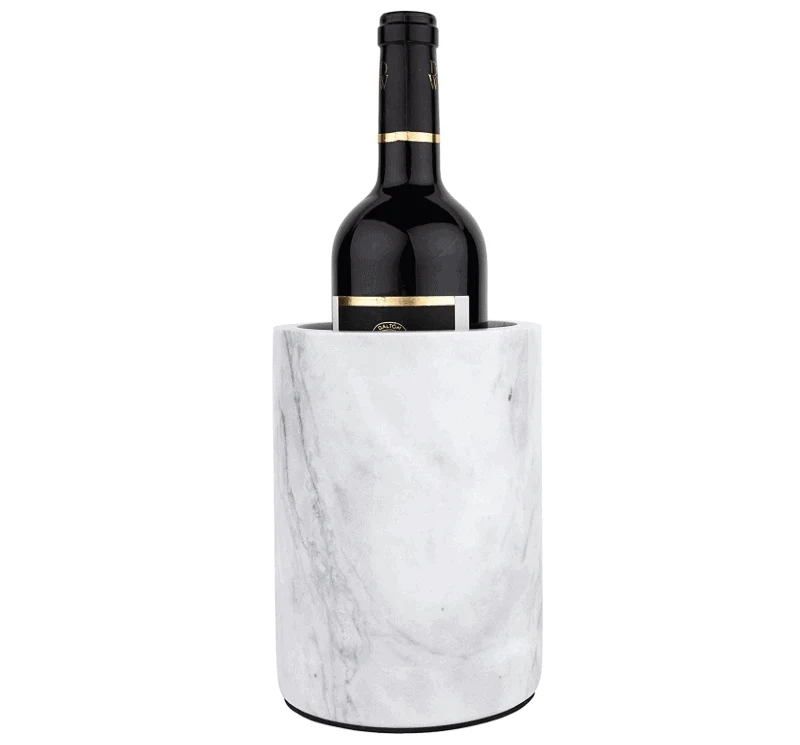 The Homeries Marble Wine Chiller Bucket just oozes class, and makes an excellent visual addition to your dinner table as you serve wine. It comes in white and gray/black marble finishes, and the elegant design compliments a wide variety of home design philosophies nicely.
This chiller weighs about 6 pounds, so while it's not exactly lightweight, it's light enough that it's quite feasible to bring it with you on the go to the pool, beach, or other outdoor event. The bottom of the bucket has a non-slip surface which keeps your wine firmly in place.
Something that may not be on your mind but that we love about this cooler is that it can be used for much more than just wine(see also: Best Built-In Wine Coolers – Our Reviews and Buying Guide). If you aren't using it for chilling wine you can also set it up as a flower vase or a utensil holder. It's quite easy to clean, so all you'd just need to give it a quick rinse before placing wine back inside.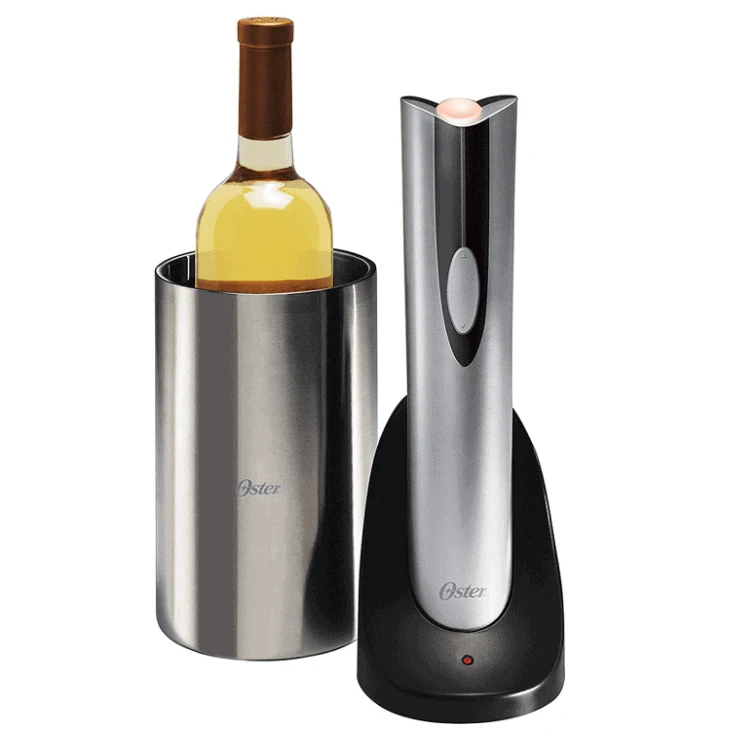 The Oster Cordless Wine Chiller makes our list for a couple of main reasons. First off, it's on the affordable end of the spectrum as it's quite inexpensive. For the price, it offers excellent value.
The second reason we like the Oster package is that it comes with an electric wine opener in addition to the chiller. So if you're the type who prefers an electric opener compared to a wine key or a manual opener, this could be a great combo set for you.
Stainless steel is the material of choice for the double wall wine cooler, which is insulated well enough to keep a bottle of wine chilled for about 2 hours.
All in all, this is a solid bottle cooler, but probably better for those who will get plenty of use out of the opener. If you're purely looking for a chiller there are better options out there.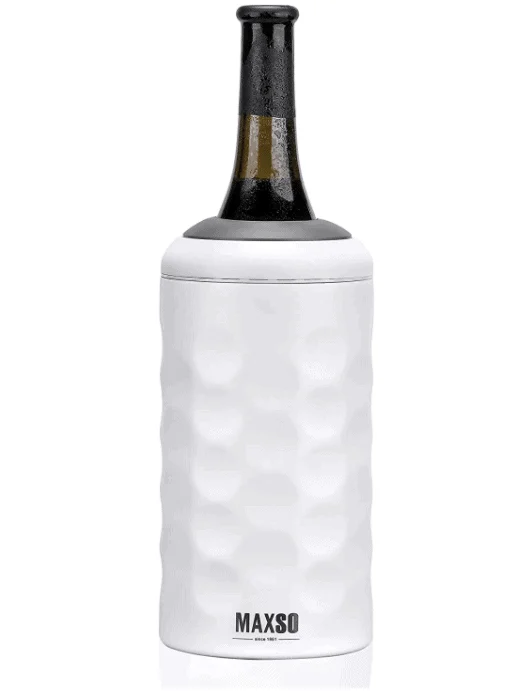 If you're looking for a portable stainless steel insulated sleeve that's a little more budget friendly than the Huski or the Vinglacé, we'd suggest taking a look at the Maxso Wine Chiller. Like many comparable products, it's designed to fit most standard sized 750 ml wine bottles.
It's offered at a price point under $40, and is constructed well enough that you won't be disappointed with its performance. It can still keep beverages chilled for a couple of hours and is easy to take for on the go wine. The cooler is kitted with a non-slip base that makes it difficult to tip over on the table.
As far as color options go, the Maxso comes in a stainless steel and a white finish.
Comparing the Best Wine Bottle Chillers
With an abundance of products out there, it might not be clear which features are the nice-to-haves and which are the need-to-haves when it comes to single bottle wine coolers.
We've already touched on the difference between units that actually chill wine and those that simply keep it cool, but what else is there to look at? Here are some things that we think you should consider when comparing coolers.
Price
As obvious as it might sound, price is an important consideration. For a single bottle wine chiller, anything over $100 means you are probably paying too much as there are plenty of products below that price point that perform wonderfully.
On the other side, I would not buy anything that costs less than $25. Typically, these products are made with inferior materials and will not provide the wine chilling capabilities you were looking for in the first place.
Aesthetics
Wine chillers come in all sorts of shapes and sizes. Some are slender, sleek, and almost look like they are part of the wine bottle with how snug they fit to the vessel. Others are larger by design and look more akin to a tall, thin bucket.
In addition to shape, there are plenty of options when it comes to colors and finishes. Do you like marble, stainless steel, or matte color finishes? It's worth considering beforehand how your chiller will complement the color scheme of your home!
Chilling Time
How long do you typically keep a wine bottle out? Do you simply want to make sure your wine remains at optimal temperature through dinnertime?
Or do you need for it to stay cool on a long road trip? Not all wine bottle chillers are created equal in this regard – some can keep wine cool for 6+ hours and other for only 1 or 2. Be sure to check out reviews and ratings for how long each unit can keep a bottle at a lower temperature.
Wine Drinking Setting
On a similar note, the setting you plan to use your cooler matters as well. If you need a cooler exclusively for indoor use, you'll probably be good to use just about any highly rated product on the market.
But if you see yourself taking a bottle outdoors or in the car for extended periods of time, you'll need to have a chiller that's super well insulated. Some are specifically made for this type of use, and they are typically found at the higher end of the price spectrum because they require high quality materials for maximum insulation.
Final Thoughts
No matter what your home wine storage situation looks like, a single bottle wine chiller is an excellent accessory to have on hand. They just make the wine experience much easier, whether it's keeping your dinner bottle optimal or taking rosé on the go.
We think we've got all of the top products covered here, but if we missed something please don't hesitate to reach out to us!