There's no doubt about it – proper wine storage simply elevates the vibe and functionality of any home or commercial bar set up. Built-in wine coolers are at the top of the list of must have appliances for a truly kitted-out bar or kitchen.
If you're new to the wine cooler scene, or maybe if it's been a few years since you've bought one, it can be difficult to know which brands and products are currently the best on the market.
That's why we've done the research for you and created this resource. Here we've compiled a list of the best built-in wine coolers on the market to help you find the perfect fit for your needs.
As you can imagine, wine coolers come in all sorts of shapes, sizes, and configurations. We'll go over all of the types of coolers out there along with the key features you should be on the lookout for when making your selection.
A Quick Primer On Built-In Wine Coolers
Built-In vs Freestanding Coolers
It's worth making a quick but maybe obvious point before we dive into our top choices. Here we are taking a look at the best built-in wine coolers – which eliminates freestanding coolers from consideration for the purposes of this resource.
Built-in coolers are appliances that are designed to be permanently installed in your kitchen or bar, most commonly underneath a counter or within your cabinet space.
Freestanding coolers on the other hand are designed for stand alone use, commonly on a table top or just on the floor somewhere in your home.
Some units are designed to work as either freestanding or built-in units – some of these appear on our list! Of course, the focus is on the built-in aspects for us though.
Single vs Dual Zone Coolers
The other main differentiator between wine coolers is temperature zones. Namely, it's how many zones does your cooler have.
A single zone cooler can only chill all of the wine inside to one uniform temperature, whereas with a dual zone wine cooler you can set up one zone to be warmer or cooler than the other.
One type is not better than the other per se. A common misconception is that red and white wines are ideally stored at different temperatures, but that's not true. Very generally speaking, wine should be stored between 50-60ºF.
However, red and white wines are ideally served at different temperatures. Again, very generally speaking reds should be served between 62-69ºF and whites between 49-55ºF. This is where a dual zone can help out.
If you're purely looking for wine storage, a single zone will do you just fine and you'll probably save some money. If you're looking for a cooler to have different types of wine ready to serve, then we'd recommend a dual zone.
Best Built-In Wine Coolers – Our Top Choices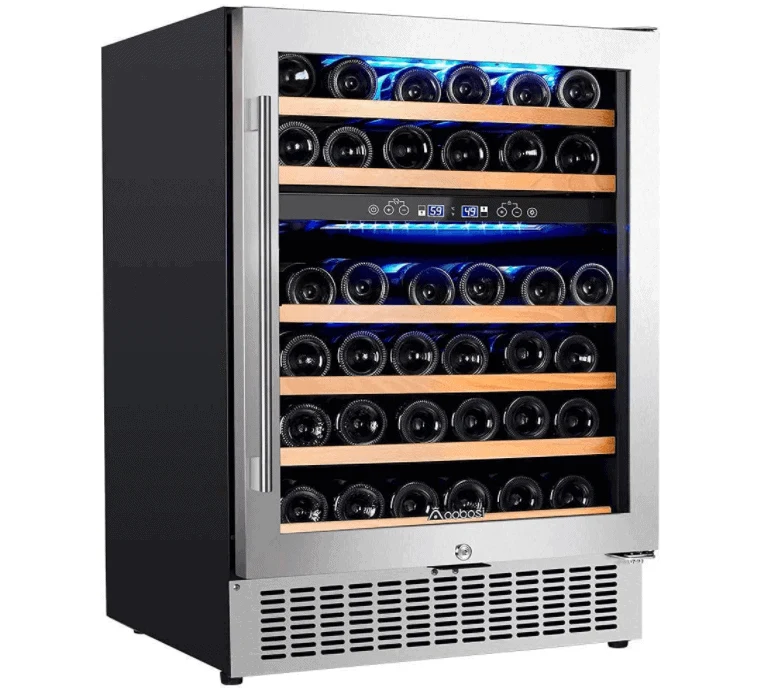 When it comes to all around performance and versatility, it's hard to argue with the Aobosi Dual Zone Wine Cooler as our top choice for the best built-in wine cooler. The top temperature zone on this unit can be set from 41ºF to 54ºF and the bottom zone can be set between 54ºF and 68ºF.
This is one of those units that can function as either a built-in or a freestanding, but it's designed primarily for use as an under counter built-in cooler. Thanks to an advanced cooling system and thoughtful design, it does not need very much clearance space on any of it's size – which means it's quite efficient in terms of footprint.
Aobosi has two iterations of their dual zone cooler. One is 15 inches wide and holds up to 28 bottles of wine, and the other is 24 inches wide and holds up to 46 bottles of wine. In our experience, one of these two sizes ends up being a really nice size for most at home wine needs – and some commercial needs.
A subtle but excellent feature here is the size of the bottom shelf – it has more space than the other shelves which allow for you to easily store larger bottles (such as Pinot Noir or Champagne). The other shelves are removable, so you can create additional space for larger bottles, if needed.
This is a compressor powered unit, but the advanced cooling system runs super efficiently (so you won't have a huge bump up in your power bill) and quietly (so you won't be annoyed by nonstop background noise) compared to comparable units.
Last but not least the Aobosi coolers look slick, aesthetically speaking. The glass door is trimmed with stainless steel, and through the viewing window you can see an interior blue LED light that beautifully illuminates your wine.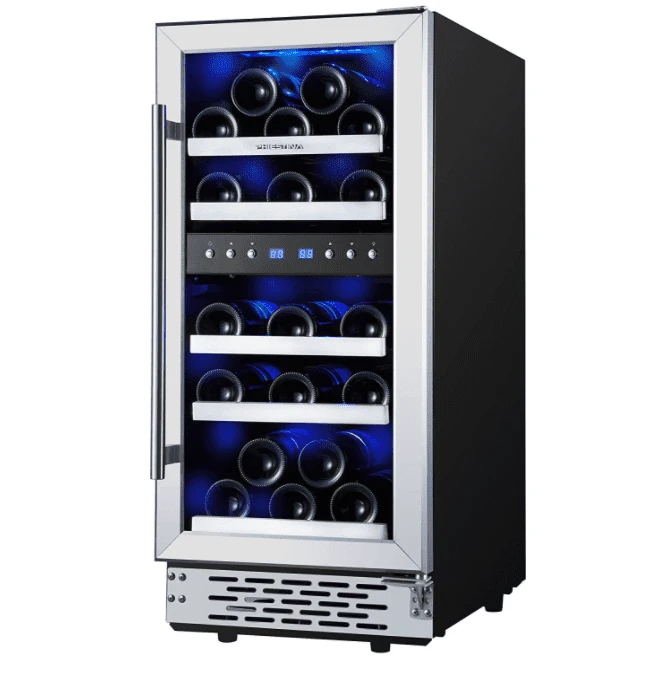 If you're tight on space or just simply prefer a small footprint, slim wine cooler then we'd suggest the Phiestina 15 Inch Built-In as a potential choice.
Phiestina is a reputable brand in the wine cooler space, so if you're set on them but want something larger they offer a similar product that's 24 inches wide and can store 46 bottles of wine.
The 15 inch iteration however is one of our favorite choices for tight spaces. Like you'd expect from a quality unit, this one has a sophisticated compressor and air circulation system that keeps your temperatures consistently cool without making much noise.
You can customize your shelf configuration to accommodate larger bottles if your collection requires it. Furthermore, you can actually adjust the direction your door opens thanks to a dual hinge.
Last but not least, this cooler has two temperature zones so you can store both reds and whites simultaneously. The top zone can be set from 40-50ªF and the bottom zone can be set to 50-66ºF.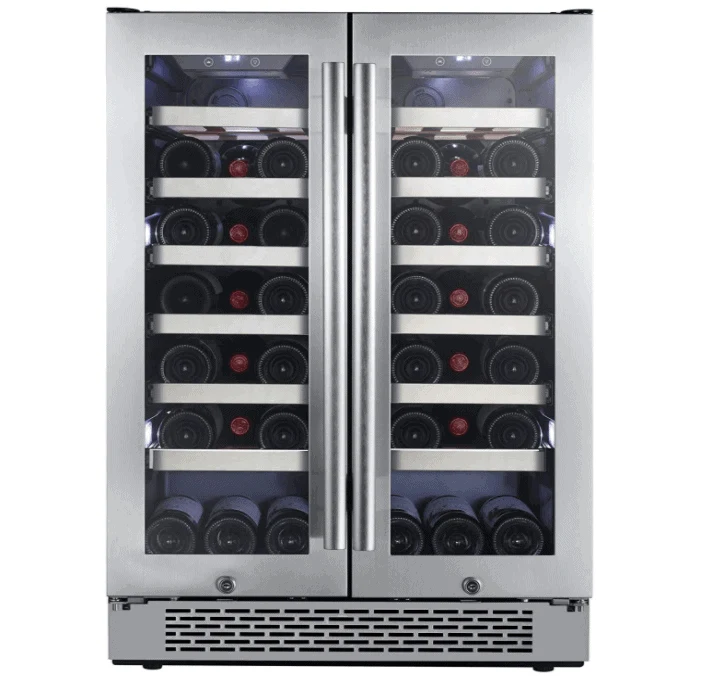 If you're looking for a high end option, we'd suggest the Avallon 42 Bottle French Door built-in wine cooler. The french door design presents a totally different look aesthetically, but it also provides some different functionality than single door coolers.
The biggest difference is that instead of a top and bottom temperature zone, the Avallon has a left and right temperature zone. And you can set either or both the left and right temperature zones to a range of 40-65ªF.
Traditional coolers on the other hand don't offer any temperature zone overlap between the top zone and bottom zone, so you're a little handcuffed with respect to how many whites or reds you can store. Here you could theoretically use the entire space for the same types of wine.
This cooler couldn't be easier to use – after installation you simply set your temperatures using an LED display control panel. The compressor and internal circulation fans are highly efficient so you won't even notice the unit working constantly in the background.
While this unit can be used in a freestanding configuration, it's designed primarily for built-in use. Thanks to the front ventilation, you can install this cooler just about anywhere you have the space to do so.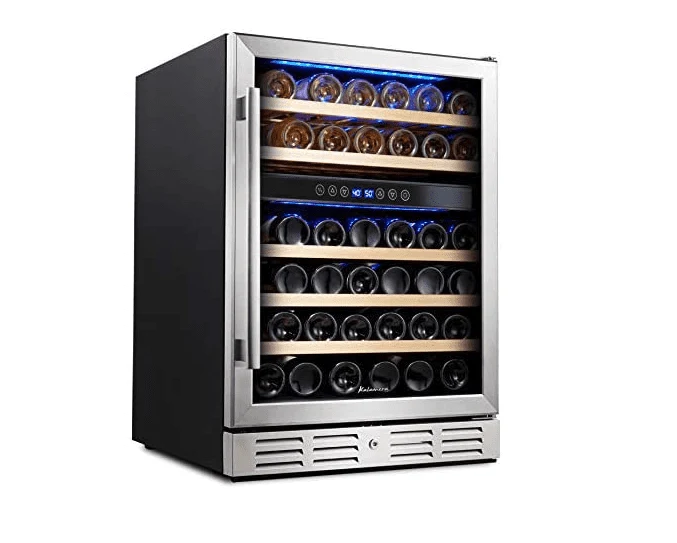 Another solid choice is the Kalamera 24 inch Wine Cooler, which holds up to 46 bottles of wine in a built-in configuration.
Consistency is the name of the game when it comes to Kalamera coolers. Their appliances are a little bit on the higher end of the spectrum compared to similar units with other brands, but the tradeoff is that you get a cooler that you know is built to last.
Furthermore, the aesthetics here are really nice. The frame is a slick stainless steel, and soft blue LED lights illuminate your wine collection – an excellent feature especially at night. The door's glass is double layered tempered glass that never fogs and keeps harmful light rays from penetrating and affecting your wine.
The shelves are made of quality beechwood and can be customized to accommodate larger bottles if your collection requires. As far as built-ins go, this unit also requires minimal clearing space so you can basically install it flush with surrounding cabinetry.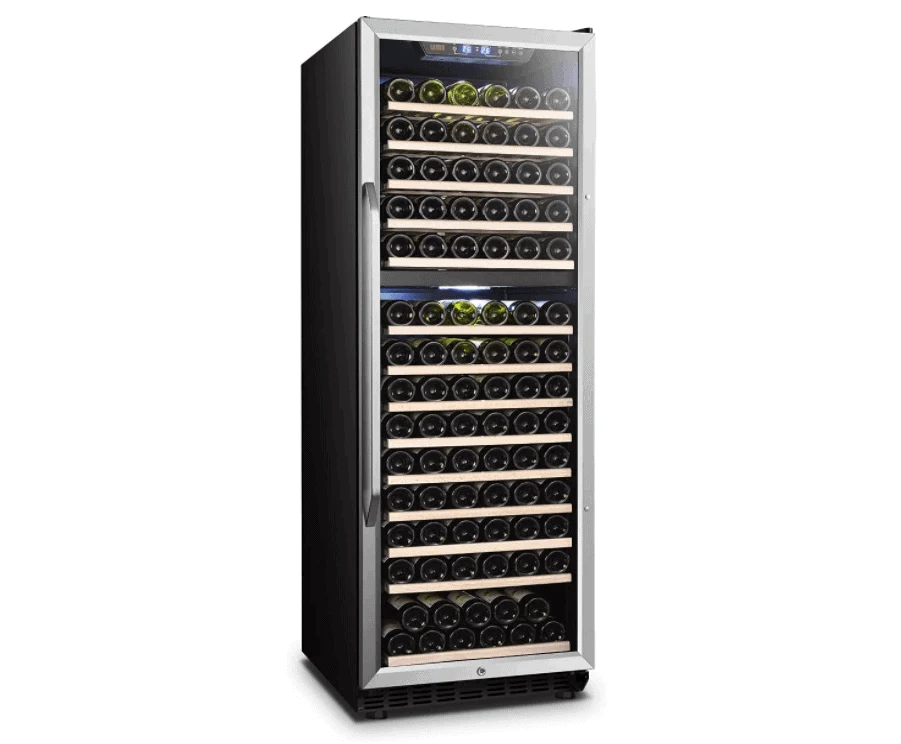 For those who need to chill a mega collection of wine, we love the Lanbo Built-In Single Zone Wine Cooler. With a 171 bottle storage capacity, you won't find many other products out there that hold more wine.
This is a single temperature zone unit that can be set anywhere between 41-64ºF – the temperature range is ideal for any type of wine storage, but you won't be able to set different temperatures for different types of wine.
The Lanbo has multiple extra space shelves which accomodate your larger bottles such as Pinot Noir or Champagne. Furthermore, the shelves are removable so you can easily customize your configuration if needed.
At 216 pounds this is without a doubt a large unit, but it doesn't require too much clearance space on the installation. You can basically have it sitting flush against your cabinetry, thanks in large part to an efficient compressor cooling system and properly designed ventilation.
In addition to large at home collections, this is a great commercial wine cooler due to the sheer storage capacity and included key locks.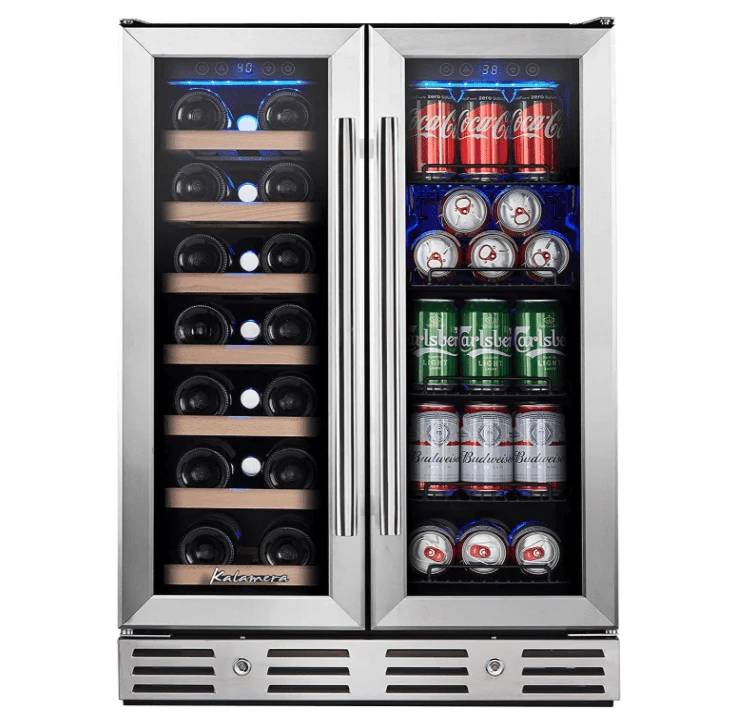 If you regularly enjoy beverages other than wine, then a wine and beverage refrigerator might be the right call. Our favorite such product is the Kalamera 24″ Wine and Beverage refrigerator.
This unit has a french door configuration with wine storage on the left and can storage on the right. The wine section can be set to a temperature zone of 40-66ºF and the can section can be set to a cooler range of 38-50ºF.
Capacity wise, this cooler can store up to 20 bottles of wine and 78 cans. The trade off obviously is that you don't get that much in terms of pure wine storage compared to other products. There isn't much you can do to switch your configuration up for larger wine bottles either.
All things considered, this unit runs pretty quietly and has lots of the extra features you like to see such as soft blue LED lighting, digital controls, and stainless steel finishes.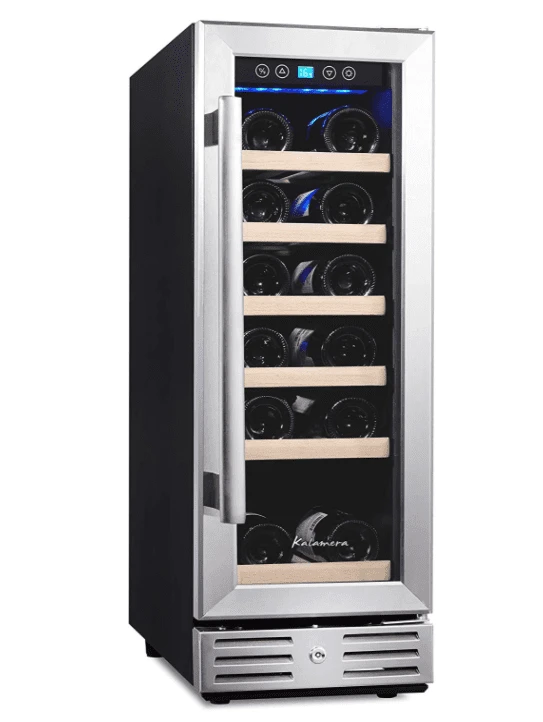 If you're looking for a slim built-in, the Kalamera 18 Bottle Wine Cooler is only 12 inches wide and fits in to incredibly small spaces. It makes a great bookend to your cabinet space or island if you have that awkward amount of shelf space at the end.
The storage capacity is obviously smaller than some of the other larger coolers out there, but a nice offset is that the bottom shelf is large and can fit your collection's bigger bottles.
This unit works efficiently and as you'd expect is one of the quietest running coolers on the market. The polished stainless steel finishes look slick and work with just about any home interior design philosophy.
Last but not least, the Kalamera has a double paned glass door that keeps harmful light out and lets you see interior soft blue LED lights illuminate your wine.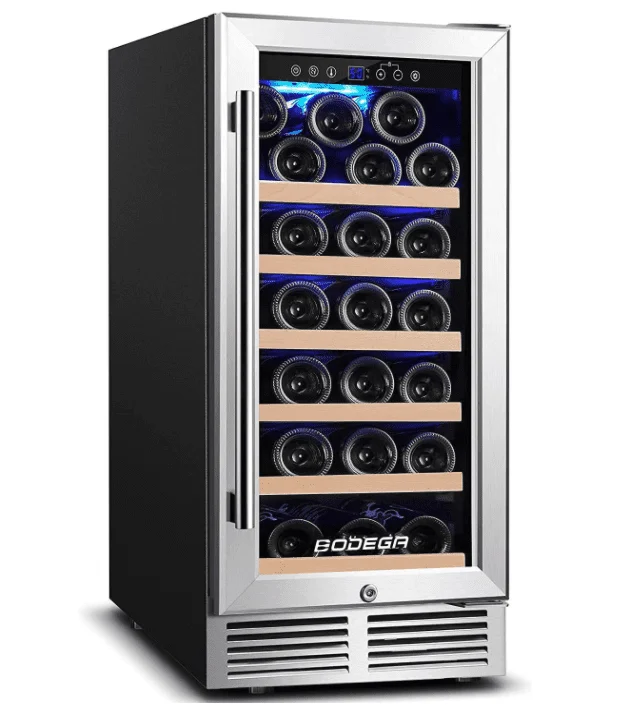 The Bodega 15 Inch Wine Cooler makes our list of the best built-in wine coolers because it manages to offer a generous amount of wine storage while also being one of the slimmer appliances on the market.
Even though it's only 15 inches wide, it can store up to 31 bottles of wine. The top and bottom shelves are both designed with enough space to fit your larger bottles as well.
It's worth pointing out that this is a single zone wine cooler, and your temperature can be set anywhere within the 41-68ºF range. All of the components of the cooling system here are quality and lead to consistent temperature that you can count on.
Best Built-In Wine Cooler – Buying Tips
Compressor Quality
The most important component of any quality wine cooler is easily the compressor. The compressor essentially controls the flow of cool air throughout your unit. While that is obviously important, a couple of byproducts of the compressor's operation are important to pay attention to.
Compressors by nature make noise and vibrate. The noise is a little more obvious – you don't want to have a constant humming or engine sound going off in your kitchen. That would get old pretty quickly!
The vibration is important for wine specifically because vibrations actually alter the structure of y our wine. The vibrations disturb sediments and actually can create chemical reactions that will mute flavors in your wine.
The punchline here is that you need to pay attention to the compressor quality of any unit you buy. Typically the best way to do this is to read customer reviews and feedback that specifically mention noise and vibration levels.
Storage Capacity
Wine coolers always quote their bottle storage capacity in terms of Bordeaux sized wine bottles. This is definitely the most common sized bottle out there (it's a slim 750 ml bottle), however there are plenty of larger sized bottles out there that make appearances in many wine collections. Champagne and Pinot Noir bottles are obvious examples that come to mind.
Be sure to pay attention to whether or not your cooler has a few larger shelves that can accomodate larger bottles. Better yet, see if the shelves are removable and can be configured to the needs of your collection.
Warranty
In an ideal world there wouldn't ever be a need for a warranty, but the reality is that any time there are lots of parts in a given product, defects happen from time to time.
Especially when we are talking about high ticket items like we are here, it's important to have some sort of coverage. Take a look at what kind of warranty protection each brand offers to back their products.
Final Thoughts
Hopefully this list of the best built-in wine coolers has helped point you in the right direction in your search! At the end of the day, the choice largely comes down to how much space you have to dedicate to a cooler and how large your collection is.
From there, it's all about picking a unit that runs efficiently and looks good with your surroundings!