Part of what makes wine so much fun is the bottomless well of learning and knowledge that comes with the experience. And if you've been around wine for even a small amount of time, you've probably heard that the way you store your wine matters.
Do it right, and you'll bring out beautiful flavors, aromas, and complexity out of your collection. Do it the wrong way and you can hinder or even ruin the quality of your bottles.
Fine wines are delicate and need to be stored at proper temperature levels for them to age well. It's also vital that the cork doesn't dry out, so wine needs to be stored on its side at proper humidity levels.
Furthermore, not all wines are created equal. To use an extremely basic example – your average red wine has much different structure than your average white wine. As such, your typical white and red bottles need to be stored at different temperatures.
All of this might be starting to sound a little overwhelming – but the good news is that there's a pretty easy solution! A dual-zone wine cooler allows for you to store virtually all of your wines in a perfect setting. As the namesake suggests, these units allow for you to set two different temperature zones for wine storage.
We've taken some time to round up a list of the best dual zone wine coolers on the market today. We'll go over our top product choices and follow it up with tips on what to look for when you're comparing the different units out there.
Please note that for purposes of this article, wine cooler and wine fridge can be used interchangeably! We typically refer to these appliances as wine coolers – but many refer to the same thing as a wine fridge.
A Quick Note on Freestanding vs Built-in
Before we get into our picks and reviews, it's worth pointing out that there are really two major classes of wine cooler – built-in and freestanding.
A built-in wine cooler is an appliance that is designed to be installed beneath a counter in your bar, kitchen, or game room. These fridges are typically heavier duty units, can be more expensive, and require installation before use.
A freestanding cooler is the opposite – these appliances can be placed anywhere that is near enough to an electrical outlet. Proper freestanding wine coolers are built with high quality materials but will weigh less and be less bulky than their built-in counterparts.
In our round up of the best dual zone wine coolers, we'll highlight both types of units as either one might be the right choice for your set up. Just keep your preference in mind as you read on!
Best Dual Zone Wine Cooler Reviews
If you're in the market for a freestanding unit, our top choice for the best dual zone wine cooler goes to the Phiestina Dual Zone Wine Cooler Refrigerator. In our opinion, it offers that perfect blend of functionality, performance, durability, and price point. It's not priced in the bargain bin, but it's definitely less expensive than some other coolers you'll come across.
Even with the relatively slim profile, the Phiestina can store up to 33 bottles of wine. The upper temperature zone can be set to a range of 40-50ºF, which is the ideal range for white wines. The bottom temperature zone is for your reds, which can be stored at a range of 50-66ºF.
The control panel is very simple and easy to use. Simply press up and down arrows to set your temperature or turn on further lighting inside the cooler. A LED temperature readout is quite easy to see from a short distance away for visual confirmation of your zone settings.
Aesthetically, this unit has a sleek, glossy stainless steel finished front door and door handle. The 7 racks, 6 of which are removable, are constructed of beechwood and have a nice minimalist look to them. LED lighting gives off a cool look, especially at night. It's not too heavy either at 83 pounds and is relatively pain free to set up.
One common gripe with poorly made wine refrigerators is noise. Any appliance that has to work too hard or has a shoddy compressor can potentially create an annoying amount of noise while it operates. That's not an issue with the Phiestina, which uses a compressor cooling system which remains nice and quiet during use.
Things We Like
33 bottle capacity
Ideal temperature zone ranges for white and red wines
Sleek stainless steel finishes
Reasonable price, much less expensive than some alternatives
Runs very quietly
Things We Don't
A small amount of customers have reported receiving units that overheat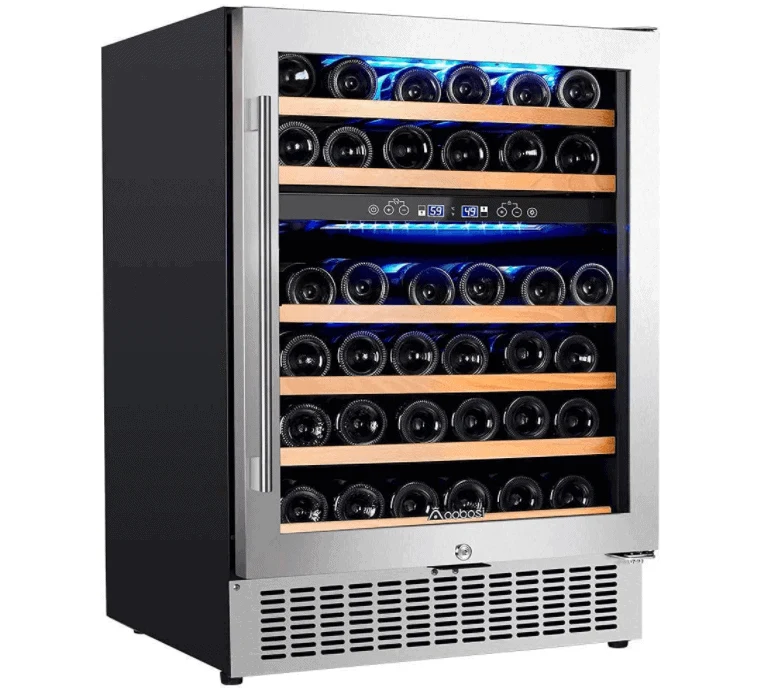 If you're unsure of whether you want a freestanding or a built-in, the Aobosi Dual Zone Wine Cooler is a great choice. Note this unit can function as either a freestanding or a built-in. Our focus here is on their flagship model which is 24 inches wide (holds 46 bottles), however they do also offer a 15 inch wide built-in cooler that holds up to 28 bottles of Bordeaux bottled wine.
One of my favorite things about this cooler is that it comes with one shelf that is specially dedicated for larger bottles. It's not the sort of thing you'd normally think about – but with many wine storage appliances it can be frustrating or downright impossible to fit a larger bottle because manufacturers are cramming shelves without breathing room.
That's not the case here. Specifically, the fourth shelf from the bottom (the highest shelf on the lower temperature zone) was intentionally built to provide space for larger bottles. You can easily fit wider 750 ml bottles such as Champagne and Pinot Noir on this shelf, and potentially much larger bottles like Magnums.
This is also a quiet unit that operates consistently at a very low decibel level. The sides of the unit are black with a stainless steel finish on the door and door handle. Inside the door, 6 smooth beechwood shelves are illuminated by interior blue LED lights which give off a modern vibe.
The Aobosi units also make it easy to set your temperature with a simple and intuitive control panel which divides the temperature zones. The upper zone can range from 41-54ºF whereas the lower zone can range from 54-68ºF.
Things We Like
Works as either a freestanding or a built-in cooler
Lots of storage capacity
Feature shelf is capable of storing large bottle wines
Wide temperature range
Operates quietly
Things We Don't
Priced a tiny bit higher than some alternatives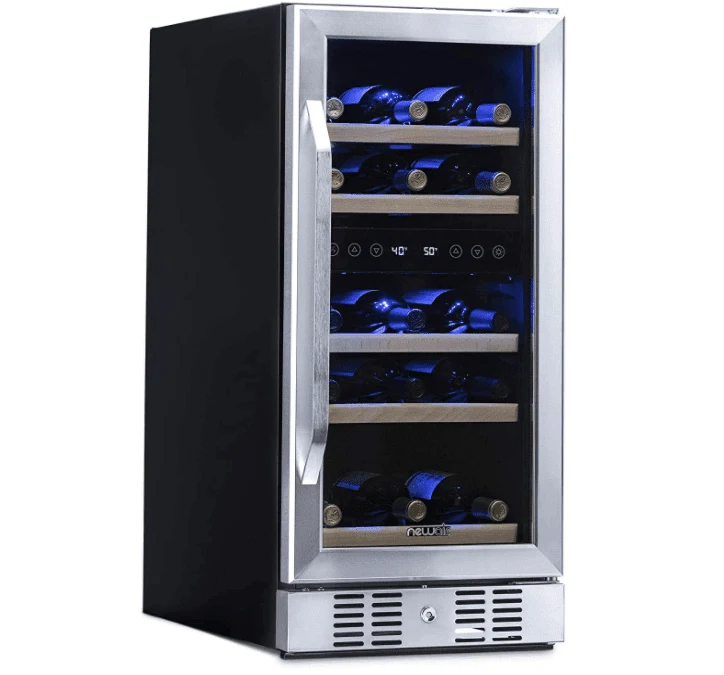 There's no denying that kitchen cabinet space is at a premium in most homes. As nice as it would be to have a massive wine fridge, sometimes you have to be efficient to get the most out of your space.
If you're looking to minimize the amount of space taken up by your cooler without having to completely compromise on storage capacity, we'd suggest taking a look at the NewAir Slim Dual Zone Built-in Beverage Cooler. At only 15 inches wide, it's one of the most slim products on the market.
Despite the thin frame, this cooler can store up to 29 bottles of wine. The shelves are made of beechwood and slide quite smoothly. They're also adjustable so you can configure your storage space optimally for the type of wine bottles you are looking to keep inside.
The door is made of double-paned glass which is tinted to limit UV penetration, which is a must-have if your cooler is going to get any sunlight through windows in your home.
The temperature ranges are pretty standard on this cooler, which is a good thing! For the top zone, you can optimally set the temperature for white wine at 40-50ºF. The bottom zone is for your reds, and can be set anywhere from 50-66ºF.
Things We Like
Slim profile takes up minimal space, great for under-the-counter use
Adjustable shelf height means you can optimize for your collection
Double layer tempered glass viewing door
Comes with a 1 year warranty
Minimal operating noise and vibrations
Things We Don't
A handful of customers have reported compressor breaks which lead to loud operation
Above average price for the amount of storage capacity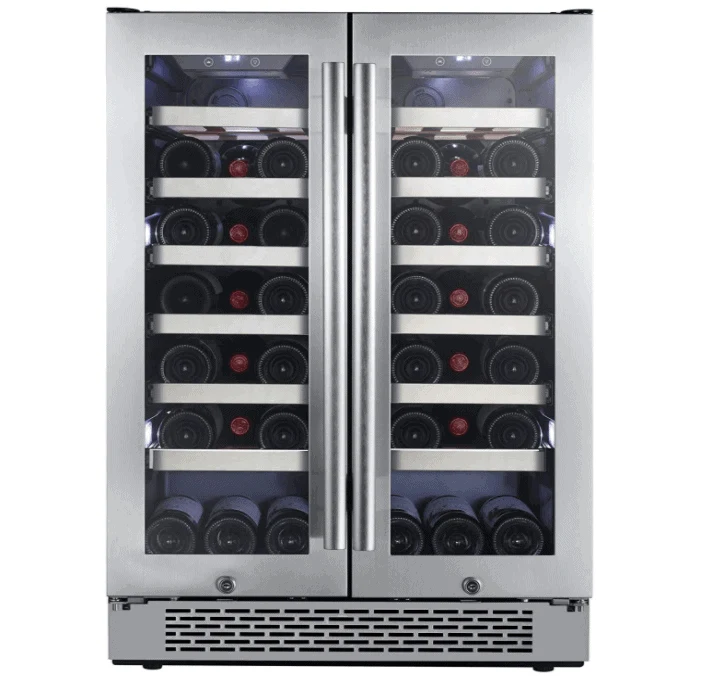 The Avallon 24″ Dual Zone French Door Wine Cooler is without a doubt one of my favorite products on the market. Many of its competitors feature a single door configuration – we find the french door set up to be both aesthetically pleasing and highly functional.
You might have noticed that many of the single door products allocate far more shelf space to the bottom temperature zone, which is typically set up for red wines. Furthermore, the two temperature zones have completely different temperature setting capabilities (i.e. the top zone can be set from 40-50ºF and the bottom from 51-65ºF).
That's not the case at all here as both of the temperature zones feature equal amounts of space for storage. Furthermore, the two left and right temperature zones can BOTH be set anywhere within the wide range of 40-65ºF. Each side can hold 21 bottles for a grand total of 42 bottles for the entire unit.
Internally, a high-efficiency compressor and two circulation fans work in congruence to ensure cool are distributes evenly throughout the cooler.
12 wooden roll out shelves operate smoothly and can also be removed if you need to customize your configuration. The two glass viewing windows are made of high quality, double paned low-E glass which protects your wine from UV rays and other harsh lights.
Things We Like
French door configuration is functional and looks good
Can set either or both temperature zones between 40ºF and 65ºF
Primarily designed for built-in but also works freestanding
5 year warranty for the compressor, 1 year for other parts
Things We Don't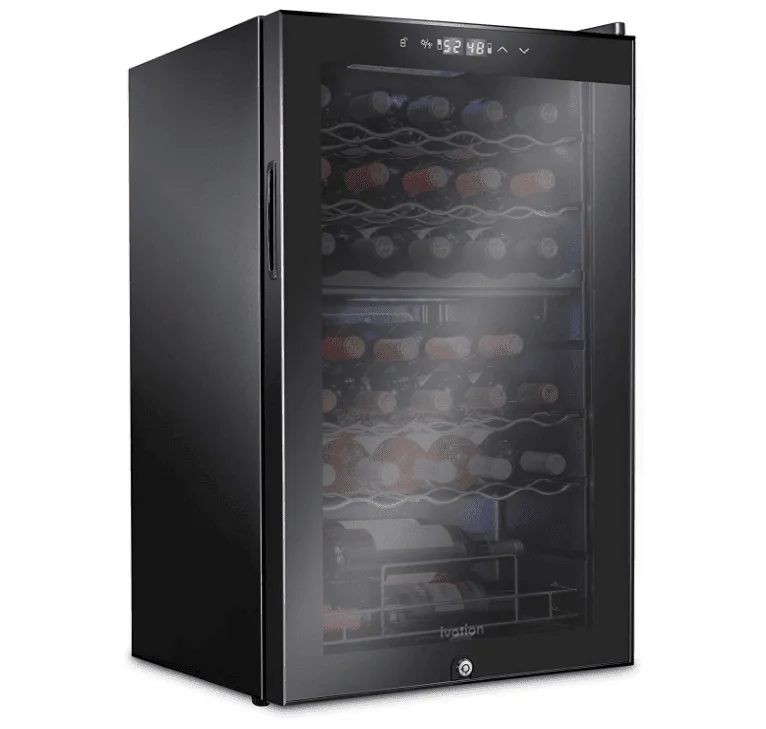 The next freestanding model to make our list is the Ivation 33 Bottle Dual Zone. Compared to some of the models on our list, it has a few different features that may better suit your preferences.
First and foremost, the shelves are not made of wood. The Ivation's high quality wire racks are grooved to perfectly fit most 750 ml wine bottles. They're also removable, so you can customize your configuration to accomodate lots of larger bottles, if needed.
For temperature zones, the upper zone on this unit is ideal for reds with a temperature setting range of 54-64ºF. The lower temperature zone should be for your whites and can be set anywhere from 41-57ºF.
This unit is also well lit, with a bright LCD display which shows your active temperature settings and energy efficient LED lighting which illuminates your bottles. Double paned glass was used for the door window which blocks UV rays and harsh lights from affecting your bottles and labels.
At only 62 pounds, this cooler provides a really nice trade off of portability and storage capacity. Not that this is a portable cooler per se, but it's not difficult to move if you ever need to do so.
Things We Like
Great price point
Customizable wire rack set up
Doesn't weigh too much
33 bottle capacity, can hold larger bottles
Things We Don't
A few customers have reported this unit arriving defective and needing to return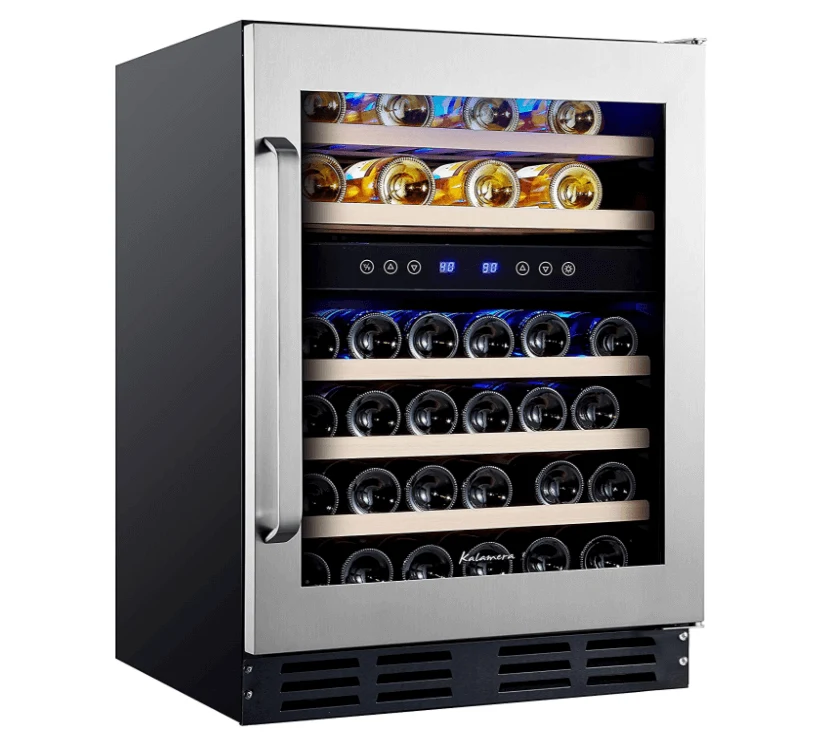 The Kalamera 46 Bottle Wine Cooler is an excellent built-in choice, with the caveat that we think it's great if you primarily plan to store Bordeaux sized 750 ml wine bottles.
The shelves are removable, so it's not that you can't store larger bottles such as Champagne or Pinot Noir. It's just that by design, the shelves are extremely close together, so if you have one bottle that doesn't fit you're going to have to remove that shelf and diminish the amount of bottles you can store.
One thing that is great about this unit as it relates to built-in appliances is that it's not bulky at all and very efficient in terms of space. Sometimes you can get a unit that takes up a bunch of "extra" space with inefficient design for things like the compressor and fans. That's not the case here and you'll find that it truly takes up a minimal amount of cabinet space.
As far as the temperature zones go, the Kalamera unit preforms adequately. The top zone can be set anywhere from 40-50ºF and the bottom area can be set to 50-66ºF.
Things We Like
Space efficient, takes up minimal space considering storage capacity
Stainless steel finish
Large bottle storage capacity (optimized for Bordeaux sized bottles)
Can remove shelves to fit larger bottles
Things We Don't
On the more expensive end of the spectrum
If you want to store Pinot Noir or other similar bottle sizes you will need to remove shelves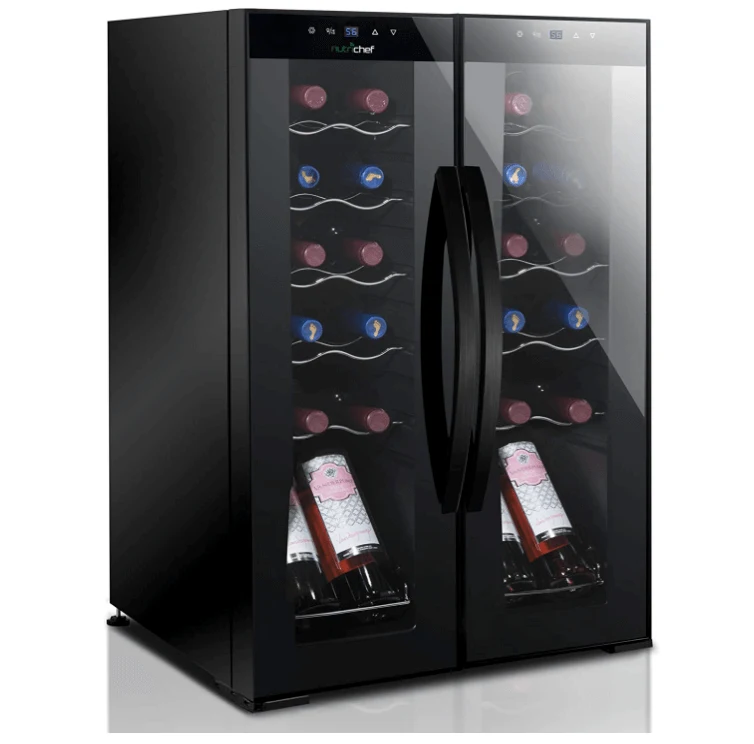 There are many things to love about the NutriChef Countertop Wine Cooler. First and foremost, it's offered at a very affordable price. It's also the first countertop model to make our best dual zone wine coolers list. As the name suggests, this unit is a freestanding appliance which is compact enough for use on top of your counter.
Despite the compact size, this cooler can store up to 24 bottles of wine. The french door design means your temperature zones are on the left and right, and each side stores up to 12 bottles. Both zones can be set anywhere between 41-64ºF.
One thing we love about this fridge is that the bottom rack is placed at an angle to allow for you to proudly display the labels of up to 4 of your most prized bottles. It's a very neat feature that makes this countertop option a bona fide showpiece in your kitchen.
The wine racks are polished chrome and very easy to slide out. They also have grooves on them to perfectly place two bottles on each rack, ensuring that your bottles don't rattle around and get scratched when you slide your racks in and out.
Last but not least, this unit is extremely quiet; you won't even notice it is operating thanks to an advanced cooling system that doesn't have to work too hard to operate in perpetuity.
Things We Like
Excellent price point
Compact size can be used freestanding and/or on a countertop
24 bottle capacity is great for the size
French door design means wide range for both temperature zones
Things We Don't
Some customers have reported compressor issues which makes the unit loud
Wine Enthusiast is perhaps best known for their custom wine cellar design services. They have made some pretty spectacular wine cellars at homes, restaurants, and many more venues across the world.
While they specialize in high end design, they also offer some solid options when it comes to affordable wine cooling and storage appliances. Specifically, their 32 Bottle Dual Zone Max Wine Cooler is a fantastic option if you're looking for a freestanding model to proudly display and store your wine. This unit can work as a built-in but it's primarily designed as a freestanding appliance.
This thermoelectric wine cooler stores up to 32 bottles and features a display shelf on the bottom most rack that accommodates your larger bottle sizes while displaying their labels. Noise won't be a problem here as it's one of the most efficient and quiet choices on the market.
One nice design feature is that the temperature control panel is on the exterior of the cooler, unlike many alternatives where you have to open the door to access the unit's control panel.
Wine Enthusiast is known for great customer support and offers a 3 year warranty on sealed system parts and a 1 year warranty on parts and labor.
Things We Like
Trusted brand name in the world of wine
Display shelf to show off your most prized bottles
Exterior control panel access
Fair price point
Designed in the USA and backed by a warranty
Things We Don't
Some customers have reported temperature control issues
The Staigis Under Counter Beverage and Wine Cooler is a great choice particularly for those who want to store more than just wine in a built-in under counter refrigerator. This french door styled dual zone cooler is built to store wine on the right side, then primarily cans or bottles on the left with some room at the top for a trio of wine bottles.
We think this set up is ideal for those who have mostly red wine and only a few bottles of whites in their collection. The reason is, white wine (see also: Should You Aerate White Wine?)is ideally stored at temperature levels close to the ideal temperature of a canned drink. Your reds should be stored at a much more moderate temperature, so it would make sense to have the right side of this cooler be exclusively for red.
The zone temperature ranges encourage this sort of set up. The temperature range for the left side zone is 38-50ºF and the right side zone can be set to a temperature in the 40-66ºF range.
As you'd expect from the best dual zone wine coolers, this one also operates quietly and is kitted with aesthetically pleasing stainless steel finishes.
Things We Like
Dual zone set up for wine and beverage storage
Wide temperature ranges on either side
Large storage capacity
Aesthetically very clean – works with many kitchen design styles
Things We Don't
Price is on the higher end
Less ideal for those who want pure wine storage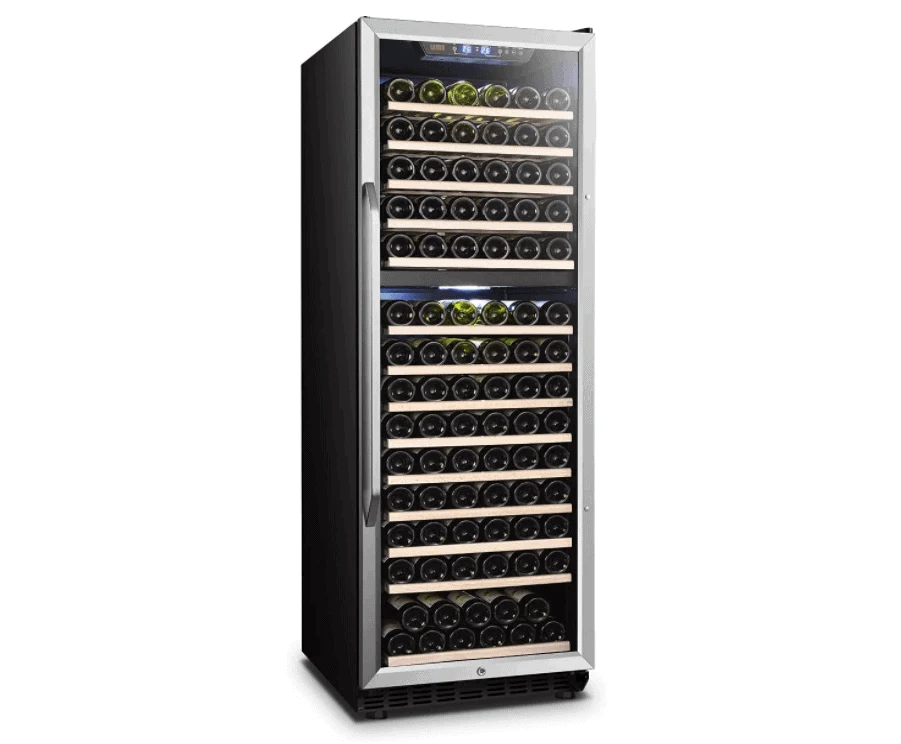 The Lanbo Dual Zone Compressor Wine Cooler appears last on our list, but as the cliché goes it is certainly not least in terms of storage capacity. In fact, it delivers a whopping 160 bottle storage capacity.
As you can imagine, this is not an under-the-counter appliance. At 6 feet tall it's as tall as a regular fridge, so it's really for those looking to store a mega collection of wine in their kitchen or wine cellar.
As you can also imagine, this unit is on the expensive end of the spectrum – which shouldn't come as too much of a surprise considering its size and capabilities. Aesthetically, this unit features stainless steel trim finish and a tinted double pane glass window door which keeps those pesky UV rays and abrasive lights from damaging your wine.
There are 5 beechwood shelves in the upper zone and 9 in the lower zone, with the bottom most shelf being ideal for storage of large bottles. The upper zone can be set between 41-54ºF and the lower zone can be set between 54-64ºF. Your temperatures can easily be set from a digital control panel
Even though the unit is relatively large, it runs quiet with a maximum noise creation of 45 decibels thanks to a high quality compressor. All parts are backed by a 2 year warranty and lifetime technical support.
Things We Like
Massive bottle storage capacity
Bottom shelf ideal for storing large bottles
High quality parts for quiet and efficient operations
Backed by 2 year warranty and lifetime support
Things We Don't
Takes up a lot of space, not ideal for those who don't have a crammed kitchen
Buying Tips for Dual Zone Wine Coolers
Now that we've taken a look at our top choices for the best dual zone wine coolers, it's worth going over a few important points for you to consider when you're making your selection.
Pay Attention to the Compressor (Noise and Vibration)
It's one of those things that might sound super obvious, but it's easy for it to slip your mind when you're shopping for appliances. You want for your wine cooler to operate quietly. The last thing you want or need is a constant, obnoxious hum to ruin the ambiance of your home.
The main thing to look at on the noise factor is the unit's compressor. This is a part that the manufacturer should be putting design resources into, not one where corners are cut. A cheap or faulty compressor will mean a loud fridge, whereas a quality compressor means quiet operations.
Vibration levels are also extremely important when it comes to wine storage appliances. The reason is because vibrations disrupt and agitate the sediments in your wine which can cause your wine to lose uniformity as it ages. The end result is a wine that doesn't reach its potential or worse, goes completely bad.
With this being said, pay attention that your compressor operates with low noise and low vibration, and pay attention to customer feedback on this point.
Look at the Door (And What It's Made Of)
The door can make or break a product. Aesthetically, it's the thing that our eyes interact with the most, especially with built-in units. You want a door that looks nice, with high quality trim and handles.
Most doors have a glass viewing window so that you can proudly show off your wine, which is a great design feature. However, you need to be sure that high quality glass was used, ideally double or triple layered tempered glass, which blocks UV rays. UV rays and other abrasive lights (even sunlight) can damage your wine and bottle labels if your cooler is protected by cheap glass.
Thermoelectric vs Compressor Wine Cooler
Over the course of comparing the top dual zone wine fridges, (see also: Best Beer Fridge For Your Garage – Our Top Picks & Guide)you might have come across the term "thermoelectric". This refers to a type of cooling that draws on fancy scientific principles like the Peltier Effect.
A deep dive into the specifics of thermoelectric vs compressor cooling is a conversation for a different time, but it's important to understand the high level for purposes of choosing the best cooler to fit your needs.
Thermoelectric Wine Cooler Pros
Energy efficiency – thermoelectric coolers have fewer parts and do not require near as much power to operate as a compressor cooled unit. Not only will you personally have to use less energy to power your appliance, you'll also be making a choice that's less detrimental to the environment.
Zero vibration – if you read our tips above, you already know that vibration is bad for proper aging of your wine. Thermoelectric units do not vibrate, which is a massive plus for the purposes of wine storage.
Very quiet – since there is little to no movement or vibration from internal parts and electronics, these units will put off almost no noise as they run continuously.
Thermoelectric Wine Cooler Cons
Expensive ongoing operation – relative to a compressor powered unit, thermoelectric coolers are expensive to run. This might sound counter-intuitive, but it's because thermoelectric coolers run 24/7 whereas compressor units only turn on from time to time for cooling cycles.
Can perform poorly in warm environments – high temperatures surrounding these units will make cooling an uphill battle. If you live in a warm climate or if your cooler is going in a warm room, this alone is probably enough to stay away.
Ideal only for small cooler storage – thermoelectric units simply don't generate adequate power to cool a large refrigerator. For this reason, you are likely to only see smaller units which are powered this way.
Compressor Wine Cooler Pros
Way more power – since a compressor unit has more power, it's obviously capable of cooling an area without working as hard. It also follows that compressor cooling works for big units – large coolers are almost exclusively compressor powered.
More durable and adaptable – this also follows from having more power. Compressor units are better kitted to handle fluctuating temperatures or high heat.
Cheaper to operate on an ongoing basis – since the unit doesn't have to work as hard to cool the same amount of space (compared to thermoelectric), the ongoing energy cost of operating compressor units is less.
Compressor Wine Cooler Cons
Vibration and noise – all compressors give off some amount of vibration and noise, which as we know is not the most ideal for wine specifically. The better the quality of the unit, the better it will be at minimizing vibration and noise.
At the end of the day, compressor coolers are probably more commonly purchased for home set-ups, however thermoelectric units are great products in their own right.
Shelving Adjustability
Many wine coolers' default configuration is set up to store the most standard Bordeaux sized bottles as possible. The reality is, wine bottles come in many different shapes and sizes.
Because of this, most wine collections have more than one type of bottle, some of which are extremely likely to be bigger or wider than your average Bordeaux bottle.
Many units address this issue by designing adjustable and removable shelves so that you can accommodate the larger bottles in your collection. We think this feature is an absolute must.
Lighting
Nowadays most every wine storage cooler features a glass door and some sort of interior LED lighting, often blue or some other color.
These lights don't add a ton to the process of aging wine but they do create an ambiance, especially at night time. Be sure to take a look at what color the lights are and think about how they will interact with your home.
Warranty
It's no secret that the best dual zone wine coolers, or really most wine coolers that are worth buying, are not cheap. These appliances definitely fall into the "high-ticket" item category.
As such, it's a must that some sort of warranty is offered by the manufacturer to protect your purchase. Frankly, if a manufacturer didn't offer a warranty on one of these units I'd view that as a major red flag.
A standard warranty length for a wine cooler is 1 year. Anything less is below market and anything above is a nice bonus.
Frequently Asked Questions (FAQ)
What temperature is ideal for what type of wine?
This is a little bit of a loaded question because no two wines or types of wines are the exact same. The best thing you can do, especially for your nicer bottles, is to reach out to the vintner via email or phone (or just check their website) to ask them what the ideal temperature to store your vintage is. This is a common question they receive and they will be happy to help.
With that being said, the general rule of thumb is that white wine should be stored between 45-50ºF and red wine should be stored between 55-65ºF in your wine cooler.
What's the difference between freestanding and tabletop wine coolers?
Tabletop wine coolers are a type of freestanding wine cooler, but not the other way around.
Freestanding refers to any appliance that is designed for use on its own. In other words, it's not designed to be built in to a cabinet or other sort of set up.
Tabletop appliances are simply freestanding appliances that are compact enough to be ideal for use on top of a counter.
What is a Bordeaux wine bottle?
Most people are familiar with the term Bordeaux to the extent that it's a famous wine region in France. But a lot of the wine coolers reference Bordeaux wine bottles – what does that mean?
Bordeaux wine bottles are a standardized wine bottle size that hold 750 ml of fluid. It's the most commonly used bottle type and is thin and elegant.
This is important because most wine cooler manufacturers will tell you how many bottles their units hold in terms of Bordeaux bottles. That means you wont be able to store as many if you have a bunch of larger bottle sizes (like Pinot Noir or Champagne bottles) in your collection.
Final Thoughts
We hope you've found this guide to the best dual zone wine coolers to be extremely valuable! At the end of the day, this is one of the best investments you can make if you are a lover of wine. That includes everybody from beginners to bona fide sommeliers!
Nothing beats being able to store multiple types of wines at different temperatures, ensuring that all of them are ready to enjoy at a moment's notice.
We think that's a wrap! We'd love to hear from you to know your thoughts and hear which unit you decided to go with.