The breakfast shot, also known in some parts as the Irish breakfast shot or the pancake breakfast shot, is a surefire way to get your brunch off to a fast start.  This shot is sweet, smooth, tasty, and an undeniably fun beverage to pair with your meal.
Jameson whiskey and butterscotch schnapps are the hallmarks of the drink, which combine with only a couple of other ingredients for this easy-to-make shot.
To take the presentation and flavor profile of the drink to the next level, we highly recommend preparing some bacon to serve on top of the shot glass.  Who doesn't love some bacon?  Plus, the sweetness and saltiness of the bacon compliments this breakfast shot recipe wonderfully.
Things You'll Need to Make a Breakfast Shot
You don't need any sort of crazy equipment to make this shot. All you need on that front is a cocktail shaker and some shot glasses. The shot glasses should ideally be tall or be able to hold 4 oz or more to comfortably house all of the ingredients.
If you don't have big enough shot glasses (see also: Four Horsemen Shot)on hand, that's no issue! This drink can just as easily go in a cocktail glass or a lowball glass.
We mentioned bacon already, but it's worth noting that making your bacon in advance will make the mixing and serving process a lot quicker. It's not particularly important that the bacon be served warm alongside this shooter, and you can always warm it up in the oven right before you pour if you'd like to.
What Is a Breakfast Shot Made Of?
You also don't need a ton of ingredients to whip up a breakfast shot – it only has 4 ingredients, not counting the bacon slice topper:
Jameson whiskey (you can also substitute another Irish whiskey if you prefer)
Butterscotch schnapps
Orange juice (fresh squeezed is most ideal but out of the bottle works just fine)
Maple Syrup
Note that some bars will serve this drink with the orange juice in a separate glass as a shooter! This is a great way to mix things up, you'll just need an extra shot glass.
What To Serve With a Breakfast Shot
This is one of those drinks that can go down a little too easy, if you know what I mean. It's so smooth and tasty… add the fact that it's served alongside bacon and you might be going back for a second one before you know it.
This combined with a relatively high alcohol content means it's best to serve this shot alongside a hearty brunch. It pairs quite nicely with pancakes, eggs, sausage, hashes, and your other filling brunch staples.
That's not to say you can't enjoy one on its own – you most certainly can! We just tend to prefer it alongside a decently sized meal.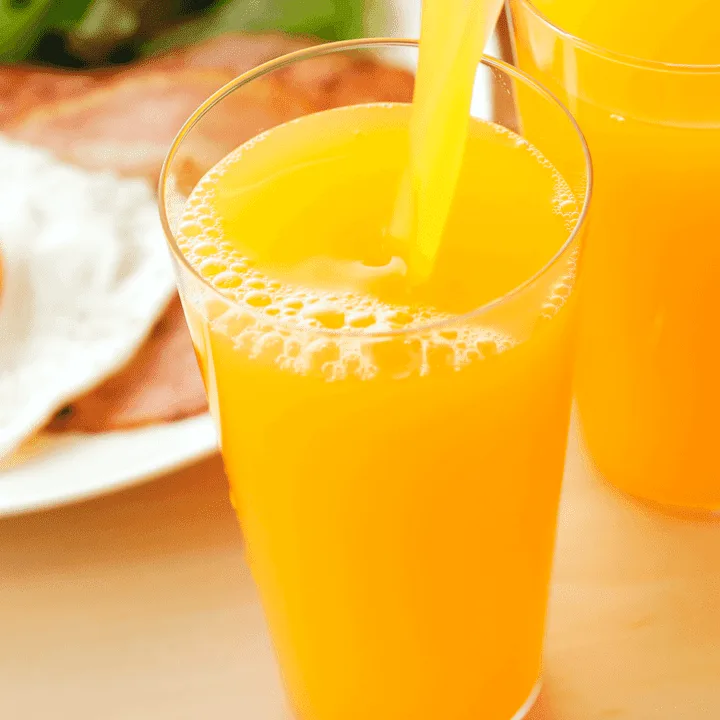 Breakfast Shot Recipe
Looking for a delicious and easy way to enjoy your morning whiskey? Look no further than our Breakfast Shot Recipe! Our uniquely flavorful mix of whiskey, butterscotch schnapps, orange juice, and maple syrup is the perfect start to your brunch. So why wait? Give it a try today!
Ingredients
1 strip bacon, cut in half
1 scoop of ice
Breakfast Shot Ingredients
1/2 oz butterscotch schnapps
1 oz orange juice, ideally fresh squeezed, bottled works great too
1 tsp maple syrup
Instructions
Add scoop of ice to your cocktail shaker
Pour whiskey, butterscotch schnapps, orange juice, and maple syrup in the cocktail shaker
Shake to mix for at least 30 seconds, or until liquid is cold
Pour mixture into shot glass. Place bacon strip on top of the glass, then serve and enjoy!
Notes
One popular variation of this recipe is to utilize the orange juice as a shooter instead of a mixer.  To do this, you just need an extra shot glass.  Pour your orange juice in one glass and mix the rest of the ingredients, then pour into the other glass.  Garnish both glasses with bacon!
Nutrition Information:
Yield:

1
Serving Size:

1 grams
Amount Per Serving:
Calories:

179
Total Fat:

4g
Saturated Fat:

1g
Trans Fat:

0g
Unsaturated Fat:

3g
Cholesterol:

11mg
Sodium:

196mg
Carbohydrates:

12g
Fiber:

0g
Sugar:

11g
Protein:

4g
Final Thoughts
There's everything you need to know for how to make the perfect breakfast shot. This fun drink is an excellent one to liven up you next brunch outing, so don't be afraid to give it a try!
Looking for more brunch cocktail ideas? Check out these recipes next: