Just like with every drink, ginger beer can be made with quality or be practically flavorless. 
In a Moscow mule, the mixer of a ginger beer will take up the majority of the flavor, so you need to get the right drink to create the perfect cocktail.
The classic taste of ginger (see also: Ginger Shot)beer is a snappy spice, like what you would expect from ginger itself. The vodka Moscow mule is known for this sweet and savory flavor, so when we pick a mixer for our beverage, we need a ginger beer that balances these two essential flavors.
Today, we are going to show you what you should be looking for in a ginger beer and even give you our top suggestions.
What Is A Moscow Mule? 
Before we get ahead of ourselves, we should first explain what a Moscow mule is. A Moscow mule is a cocktail made from vodka, ginger beer, and lime juice.
Any type of ginger beer cocktail is called a buck, so this vodka-based version is also known as a vodka buck.
You can often find these drinks in a copper mug which harnesses the sharp flavor of the ginger and helps to keep the liquid cold.
Despite its name, this drink was not invented in Moscow, Russia. Instead, it was created in Manhattan, United States of America. 
The name comes from the American association of vodka with Russia, and the kicking flavor produced from the ginger beer.
There are variations of this drink (like the tequila mule or Kentucky mule) that utilize different ingredients – but ginger beer remains a staple across all variations.
Quick List
If you haven't got time to read about the delicate balance of ginger beer, and don't feel the need to study our review, then use this quick list of the best ginger beers instead.
Depending on your tastes, we have found the 5 best ginger beers for your Moscow mule. If you want to know why we have prioritized these categories, look at our Buyer's Guide information.
If you want to know why we rate these particular beers so highly, scroll down to our reviews.
Buyer's Guide
Getting the right balance between sweet and spicy can be tricky, which is why buying the right ginger beer can make or break your cocktail. When you make your choice, you should consider these 4 factors, along with your own personal tastes, to produce the perfect beverage.
Spicy "Kick"
The whole point of a Moscow mule is to give you a savory kick. This means that your ginger beer needs to have a heavy amount of ginger taste laced into the flavor.
However, if the liquid is too thick with ginger, it could force you into adding sugar to your drink to balance out the flavors. 
This isn't a problem if you know what you're looking for. For example, if you only have one type of ginger beer in your home but are dying to make a Moscow mule, you can still make it work. Sprinkling in some extra sugar to an otherwise overpowering kick can allow you to create an enjoyable cocktail.
Ideally, the kick should be strong enough to dominate the flavors within the drink but not so strong that you end up coughing. 
It might take you some time of trial and error to get this balance right, so if you don't have the time, use our suggestions instead.
Sweet
Although the ginger beer should be giving a strong kick, ginger itself does have a slight sweetness to it. This sweetness is what balances the flavors allowing you to enjoy the spice without needing to put your face in milk after.
If your ginger beer is too sweet, then it can overpower the savory kick we are after. To change this, you can either add more vodka to your drink or more lime juice. Both of these additions should break up the sweetness by adding bitterness.
Bitterness gives a different kind of kick to spiciness, but they can work well together to produce a vibrant flavor.
Some people prefer to dull the kicking spice, so they add syrup to the cocktail. 
Color
To tell if your ginger is too strong or too sweet, you simply need to look at the color. 
The darker the beverage is, the more spice it will have. The lighter the liquid is, the sweeter it will be.
Ideally, before adding in any of the vodka or lime, your ginger beer should be a light golden brown. This will give your cocktail more kick than sweetness but shouldn't be too strong.
If you prefer a sweeter beverage, you should use a cloudy, almost white ginger beer. And if you'd like a heavy and strong drink, you should look for an opaque ginger beer with a dark color that looks almost red.
Fizz
The fizz and carbonate element of ginger beer is another important factor. These tantalizing bubbles give your drink the lift it needs to keep it a summer drink. Without the bubbles, the savory ginger flavor could become too rich.
If you need to add more sugar to your drink, you'll not only add in extra sweetness, but you'll also activate the fizz even more. This means you'll create two lightening effects active at the same time.
To make sure you don't make your drink too sweet, add only a sprinkle of sugar at a time, take a sip, and then see how this addition affects the flavor. 
5 Best Ginger Beer For A Moscow Mule
We have searched and found the best ginger beers on the market, so you don't have to. These ginger beers are not just great to drink by themselves, but they are also perfect to use in your Moscow mule.
We have found the best ginger beer for a classic version of the Moscow mule, as well as delicious options that cater to your preferred tastes.
1. Overall Best Ginger Beer For A Moscow Mule – Bundaberg
The Bundaberg Ginger Beer is an Australian brand with a light golden color.
When you first remove the cap of this bottle, you'll instantly smell the strong scent of ginger. The locally grown spice is fresh when used in the drink's creation which adds to the powerful taste you are about to experience.
As you pour the liquid into a clear glass, you'll notice a golden cloudy color. This instantly tells us that the flavors will be perfect for the Moscow mule, but sometimes looks can be deceiving.
Luckily, the Bundaberg doesn't lie, and with the first sip, you'll feel the spicy kick of real ginger.
This drink won't blow your socks off, though, as the sweet sugary aftertaste protects you from being overwhelmed. 
The carbonate fizz isn't too powerful either, which allows the ginger essence to take the lead, which is just what we want for our Moscow mule.
The only real negative is the Bundaberg's price. As you can expect from something so well balanced, this ginger beer is a touch more expensive than the others on our list. But that doesn't mean it's completely unattainable.
Pros
Strong Ginger Kick
Subtle Sweetness
Golden Cloudy Color
Gentle Fizz
Cons
Available on Amazon
Available on Drizly
2. Strong Smell But Subtle Taste – Fever-Tree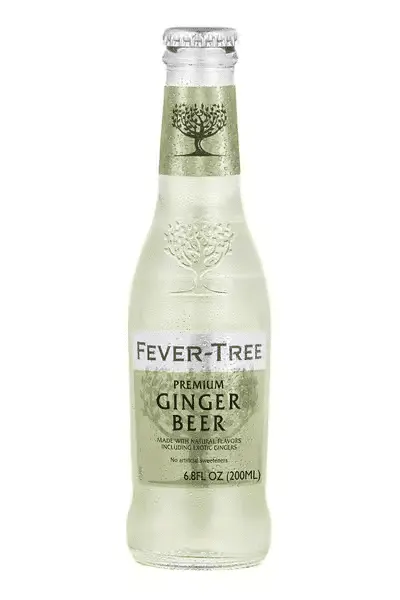 If you enjoy the smell of ginger more than the taste, then the Fever-Tree would be a better option for you.
This doesn't mean that there is no ginger flavor; instead, the sweet and spicy mixture is more balanced than the other drinks on our list. The aromatic ginger smell will fill you with warmth, while the taste will be crisp and refreshing.
The Fever-Tree does this by having a short 24 hour brewing time while using three different types of ginger. The first is the green ginger from Côte d'Ivoire, West Africa. The second is an earthy ginger from Nigeria, West Africa. And the third is a chocolate-ly ginger from Cochin, India. 
These amazing flavors are then brewed in England to create a gentle flavor of ginger which has an equally sweet taste but still holds that recognizable ginger aroma.
The color of the Fever-Tree is a cloudy white, which reflects its sweet flavoring.
Pros
Subtle Ginger Flavor
Balanced Sweetness
White Cloudy Color
Large Fizz
Cons
Doesn't Give A Big Kick Which Is Traditional In A Moscow Mule
Available on Drizly
Available on Amazon
Available on Reserve Bar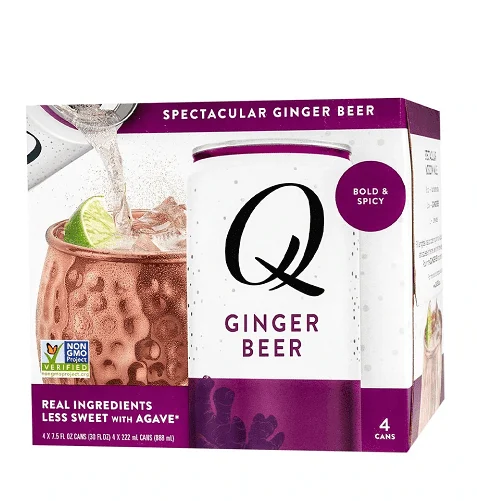 If the idea of something light suits your tastes, but you still want a classic kick in your Moscow Mule, then we suggest the Q Ginger Beer.
This beverage is designed as a mixer and doesn't try to be a stand-alone drink. This means that the creators were able to focus on developing their spicy kick and light texture without worrying about their customers needing a heavier base. 
Without a stable base, the drink won't taste worthwhile on its own, but the Q Ginger Beer could be a bit more experiential.
They were able to produce a spicy and light drink without adding extra sugar. They did this by putting more attention into their carbonate. The high carbonate fizz is what gives this drink its lighter edge.
Again, normally this much fizz would make a drink too light and almost pointless by itself. But as a mixer, it is the perfect addition to keep your Moscow mule summery without being super sweet.
You end up with a darker color than the Fever-Tree, but a lighter one than the Bundaberg, as the spicy flavor still doesn't quite reach the heat of the Australian brand.
Pros
Solid Ginger Kick
Subtle Sweetness
Cloudy Color
Strong Fizz
Light
Cons
Expensive
Cannot Be Used By Itself
Available on Drizly
Available on Amazon
Available on Reserve Bar
If you want your ginger beer to be as fiery as possible, knowing that the vodka and lime will bring all the balance you need, then you should try the Wychwood Ginger Beard.
This quirky beverage from the United Kingdom has a medieval picture of a fiery dwarf staring you down as you drink this ginger beer. His beard is as red as the bottle in your hand, hence the striking name.
It should be noted that this ginger beer already has a 4.2 ABV alcoholic tint, so not only will your Mosco mule pack a fiery ginger punch, it will also have a higher alcoholic ratio.
The reason for this drink's fiery taste comes from the long aging time the brewery has used. When the drink is finally ready to serve, the color is a beautiful amber color.
Pros
Powerful Ginger Kick
Beautiful Amber Color
Gentle Fizz
Alcoholic 
Cons
Low Sweetness
Additional Alcohol Could Mess With Vodka Ratio
Available on Drizly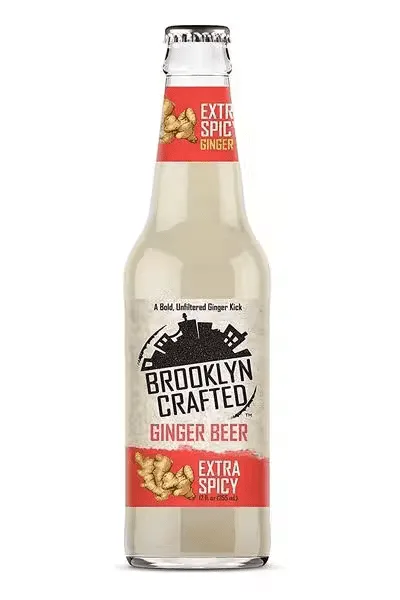 If you also want your Moscow mule to have an intense ginger spiciness, but don't want it to overpower your drink, then try the Brooklyn Crafted Extra Spicy. 
This drink isn't alcoholic, as a powerful ginger kick, but it also uses a subtle sweetness to balance the flavors.
When you pour this drink into a glass, the smell isn't as aromatic as the Fever-Tree, and the color is a lot lighter than you would expect a strong ginger beer to be. This is because Brooklyn Crafted uses organic ginger extracts to boost its ginger flavors.
The extract is artificial, so it doesn't boost the color along with the flavor, but it does give a powerful kick.
This brand is the cheapest on our list, which is probably due to the extract removing a lot of the time-sensitive production. However, it is still a delicious drink that can add a wonderful warmth to your Moscow Mule.
Pros
Strong Ginger Kick
Subtle Sweetness
Balanced Fizz
Cheap
Cons
Artificial Flavoring
Murky Color
Available on Drizly
Available on Amazon
How To Make A Moscow Mule
Making a Moscow mule is easy, and after you've learned this recipe, you will be making it every time the urge hits you!
Ingredients
Vodka – 3 or 4 Tablespoons
Crushed Ice
Ginger Beer – 1 Cup
Ginger Bitters – A Few Dashes
Mint – One Sprig
Lime – One Wedge
Method
Pour the vodka into a glass. (Normally, a Moscow Mule uses a copper mug.)
Fill the glass with crushed ice until it is ¾ full.
Pour in the ginger beer until the glass is full.
Gently stir.
Squeeze the lime over the ice.
Gently stir.
Taste. If you need more ginger, splash in some ginger bitters.
Garnish with mint.
The method is simple, but if you feel like the drink needs a bit more sweetness, sprinkle in some sugar.
Frequently Asked Questions
Is Q Spectacular Ginger Beer Alcoholic?
No. All of Q Spectacular products are designed to be mixers. This means that they pair wonderfully with alcoholic drinks but don't contain alcohol themselves.
Like most of their mixers, their ginger beer is designed to accompany another drink, so it shouldn't be used by itself. If you drink this beverage straight, you won't experience the drink as intended.
Should You Use Alcoholic Ginger Beer In A Moscow Mule?
Despite the name, most ginger beers are not alcoholic. However, if you come across an alcoholic ginger beer, you should be careful when mixing it with vodka, as the two flavors might not bode well together.
Wychwood Ginger Beard is an alcoholic ginger beer that pairs nicely with vodka and so can be used in a Moscow Mule. If you are desperate to add in an extra splash of alcohol, you should choose this mixer.
Do You Need Alcoholic Ginger Beer For A Moscow Mule?
No. The choice to use an alcoholic ginger beer is down to personal preference. Most ginger beers are alcohol-free, and the vodka in the cocktail provides all of the spirits you need.
The ginger beer drives most of the flavor in a Moscow mule, and it does this through a ginger infusion rather than alcohol. 
Because the flavor comes from the mixer, the vodka becomes almost tasteless in the cocktail. To turn it into a mocktail, simply remove the vodka element. The taste will stay roughly the same.
If you were unaware, a mocktail is a name for a non-alcoholic beverage or a mock-cocktail.
How Long Is Bundaberg Ginger Beer Brewed For?
Normally ginger beer is brewed for a day, but Bundagberg brews their ginger beer for 3 days. This is why the beverage holds a powerful taste.
Summary
Now you know what to look for in a ginger beer when crafting a Moscow Mule cocktail. The spiciness of the ginger is what really makes this drink, but your own preferences around the strength of the mixer matters too.
If you have never tried a Moscow Mule before, then we recommend buying the Bundaberg as it balances the flavors perfectly. But, if you know that ginger can be too spicy for you, go with the Fever-Tree instead.
Follow your own taste buds, and use our suggestions as a guide.