Move over Moscow, this Tequila remix is delivering our taste buds to sunnier destinations!
History of the Tequila Mule
The Tequila Mule is also known as the Mexican Moscow Mule. This can also be shortened to Mexican Mule. If you have not already figured it out, the Tequila mule is a variation of a Moscow Mule. The key components of a Tequila mule include: ginger beer, tequila, and fresh lime.
To understand the tequila mule one must first be familiar with the origin of the Moscow Mule. This beverage was not actually created in Russia, and has little to nothing to do with Moscow at all. The original mule beverage was said to be created in Manhattan, around the time of 1941.
During this era, John "Jack" Morgan had created the first ever ginger flavored beer. He tried to sell this new brew to patrons out of the Chatham Hotel in New York City. Unfortunately for Jack, patrons were not interested in this spicy beer, and Jack was feeling deflated by the whole experience.
At the same time, another drink craftsman by the name of John Martin, was trying to foster interest in his new vodka named "Smirnoff". Similar to Jack, John was also not having very much success promoting his new liquor line. The two men knew each other, and decided to sit down for lunch together to lament over their failures.
Somehow during the meal they decided to try and combine both of their drinks together. At first sip they knew it was good. They added some lime juice, and the first Mule cocktail was born!
Why is a mule associated with this beverage? Before you start to panic, do not worry: no animal was involved in the making of this drink. The mule refers to the "kick" of flavour from the ginger beer! Referencing a powerful kick that the mule animal can deliver.
The exact person who decided to swap tequila into the mule recipe is unknown. It is a very popular beverages in sunny and hot destinations, and the rich tones of the tequila pair perfectly with the other fresh ingredients of the mixed drink.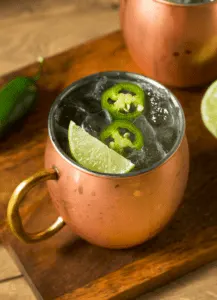 Tequila Mule Ingredients
True for many cocktails, the tequila mule recipe calls for the highest quality of ingredients possible! For a tequila beverage, this is wise advice. The variations in flavour and quality of different tequilas can be very extreme.
Many tequila naysayers change their mind about this liquor after trying higher-quality options. So for this drink, forget the cheap stuff, and treat yourself to the medium to top shelf tequila (we think this is a great cocktail for Casamigos Blanco). The rest of the ingredients are very affordable, and you won't regret your decision to splurge.
The second ingredient and star of the show is the ginger beer. It is carbonated, spiced, and very refreshing. It has a sweet flavour compared to wheat cousins in the beer and ale family. This beer should be chilled when being used for cocktails.
Due to the high level of carbonation in the beer, it is never recommended to use a shaker when preparing this beverage. Stir in a cup until all the ingredients are well combined, and serve immediately.
The final ingredient, but not to be forgotten, is fresh lime juice. Limes and tequila are a pair as united as popcorn and butter: they are simply meant to be together. The acidity of the lime cuts through the bold flavors of the tequila, which could otherwise mask the light ginger beer. Typically the drink will also come garnished with a fresh lime wedge, but you could also increase the wow-appeal by including fresh stalks of cilantro.
Some recipes will call for simple syrup, or even agave, when preparing this drink. If you prefer sweeter cocktails you may consider adding these ingredients. Most people rely on the sweetness of the ginger beer to satisfy that flavour itch. It would be uncommon for a bartender to include additional sweet ingredients without you requesting them.
Helpful Tips for Making the Perfect Tequila Mule
It is not necessarily an ingredient, but all mule cocktails should be served in a copper cup. The copper metal is used because it is a great insulator for the cold beer. We do not want to add more ice than is necessary for this drink, because it will melt and dilute the flavour.
Because the cup is opaque, there is not a lot of room the enhance the appeal of the actual beverage. This means we can try to enhance the ice cubes in attempt to add a pop of color to an otherwise very brown drink.
To lean into the Mexican tone of the drink, consider freezing jalapeño pieces directly into the ice cubes. The bright green of the pepper will enhance the color of the drink and will slowly add heat to the cocktail. This is a courteous gesture for your guests, who may not want to drink something spicy, but still want the thrill of a hot pepper being added to their beverage.
Final Thoughts
To enhance the ginger flavour and increase the spice of the drink, consider adding a couple slices of fresh ginger into your cocktail. This is unconventional, but as people become more health conscious, little healthy additions are becoming more welcomed!
The Tequila Mule is typically served at social gatherings and is considered a light cocktail, depending on how much tequila is added to the drink!
This mixed drink is served before a meal. Any carbonated beverage will make a person feel full, and it is easy to feel over-stuffed if you are eating a full meal with this cocktail. Consider having this beverage with appetizers or with small cocktail snacks.
Looking for mule variations? Check out our Kentucky Mule recipe next!
If you're a fan of the tequila mule and looking for Mexican inspired cocktails, be sure to check out our mezcal margarita recipe next.  Cheers!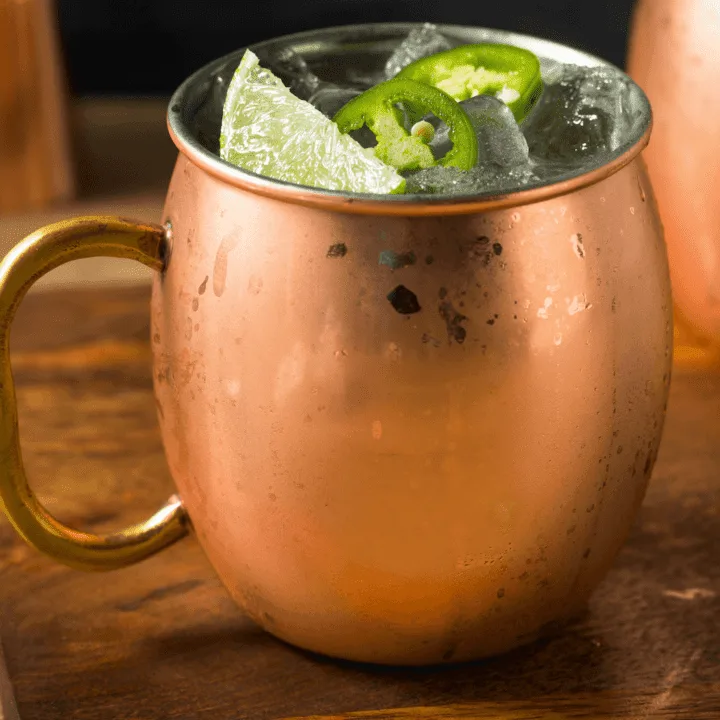 Tequila Mule
A tequila mule is the perfect drink for those who enjoy both tequila and ginger beer. It is a refreshing and flavorful combination that is sure to please. The tequila mule is made with premium tequila, ginger beer, and fresh lime juice. It is perfect for sipping on a hot day or enjoying with friends. The tequila mule is a truly unique drink that will leave you wanting more.
Ingredients
1/2 oz lime juice
lime wedges, to garnish
jalapeno slices, optional, to garnish
jalapeño ice cubes, optional
Instructions
Fill a copper mug with with ice cubes
Pour in tequila, lime juice, and cold ginger beer. Stir for 20 seconds
Add lime wedges and optional jalapeño slices to garnish
Serve and enjoy!
Nutrition Information:
Yield:

1
Serving Size:

1 grams
Amount Per Serving:
Calories:

223
Total Fat:

0g
Saturated Fat:

0g
Trans Fat:

0g
Unsaturated Fat:

0g
Cholesterol:

0mg
Sodium:

13mg
Carbohydrates:

26g
Fiber:

3g
Sugar:

18g
Protein:

1g