A Green Tea shot is a brightly colored and fruity drink that will compliment any summer get-together. Not sure how you feel about alcohol and green tea mixing together? Read on to learn a fun surprise about this drink!
History Of the Green Tea Shot 
The Green Tea Shot is one of the easiest alcoholic shots to make. Seriously. It is a no-fuss recipe that is mellow, fruity, and fun in color. You may be surprised that the secret ingredient of this shot is Jameson Irish Whiskey, not green tea! In fact, there is no green tea at all in this drink. 
The name of the beverage was inspired by the bright yellow-green color of green tea. No actual tea has ever been used in the making of this drink.
So, if you are trying to order a health-conscious alcoholic beverage at the bar and the Green Tea Shot catches your eye, keep moving! This drink is not what you think it is. 
The drink was originally created by Jameson Irish Whiskey. It is unclear when the drink recipe originated, but the Jameson company has always been a prominent figure in producing new cocktail recipes.
Their Irish whiskey is an excellent companion for mixed drinks. It is smooth, blends well, and its product line ranges from more affordable options to top-shelf premium products.
Whiskey and acidic flavors can be a perfect match. Any bright citrus notes bring out completely different elements in the whiskey and will brighten the liquor.
The Green Tea shot contains tangy notes from the sour cocktail mix and lemon-based ingredients. These two components create a light flavour profile, which is rounded out with Peach Schnapps. The result is a bright shooter, that feels like a drop of the summer sun.
Green Tea Shot Ingredients
Jameson Irish Whiskey is the primary liquor used for this shot. The Jameson whiskey company are the creators of this recipe, which is why their product is featured in the recipe.
If you do not like James, you can easily substitute any type of whiskey you prefer. Keep in mind the finished product is meant to be consumed as a shooter, so there is not a lot of opportunities to truly taste the whiskey. Save your top shelf whiskey for a different occasion, because this drink will be going down the hatch fairly quickly. 
You may wonder if you can use an American Whiskey or bourbon instead of Jameson. The answer is yes, but the end product may not taste the same. Irish whiskey is made from barley and wheat. Classic American Bourbon is distilled from corn and is generally sweeter than Irish whiskey. 
Sour mix is a pre-blended cocktail mixture available at most liquor stores and some grocery stores. The core ingredients of a classic sour mix include lemon juice, lime juice, and simple syrup to tone down the acidity. Make sure you shake the bottle well before using this product. 
Schnapps is a spirit distilled from many different grains. As you may have guessed, Peach Schnapps is made with actual peaches in the distilling process. The fruits are mixed with the perfect ratio of grain spirits, spices, and left to ferment in a controlled environment. You can make schnapps out of almost any ingredients, but peach is considered to be one of the most classic fruity variations. 
You can choose to use lemonade or Sprite for this cocktail. Using a lemonade will increase the tartness and potentially increase the sweetness, depending on the brand you use. Opting to chose Sprite instead will significantly increase the sweetness, add a little bit of tang, and will also add carbonation to the shot. You can experiment with these two options and see which one you like the best. 
How To Make the Best Green Tea Shots
You will need to keep ice on hand when making this drink. The actual shot does not contain any ice and should be served "straight up". This means that the components of the cocktail have been shaken inside a cocktail shaker with ice, but the liquid is strained out and the ice is left inside the shaker. 
This technique helps to lower the temperature of the cocktail without the risk of over diluting the drink by leaving melting ice cubes (see also: How To Make Clear Ice Cubes For Cocktails)inside the cocktail. The strained cocktail will be crisp and refreshing, and much easier to drink as a shooter.
The instructions are simple, but make sure you read them. If you choose to use Spite in your cocktail recipe, do not add this liquid to the shaker. It will become a fizzy mess and will spoil the drink.
Final Thoughts
There are no real variations offered for the Green Tea shot aside from exchanging lemonade and Sprite. You may substitute different types of whiskey, but the basic formula for the drink remains constant. 
If you enjoyed the Green Tea shot and want to also learn about similar drinks, you can try making a Kamikaze. This drink is vodka-based and contains trip sec and lime. It is more acidic than a Green Tea shot and contains more alcohol per serving.
If you prefer vodka over whiskey, this alternative may be better suited to your palette. The Green Tea Shot is a classic party item served at outdoor barbecues and summer evening events. It is very easy to drink, and contains little to no harshness, making it a go-to crowd-pleaser.
You can make this shot very quickly and is a great recipe to keep in your cocktail repertoire.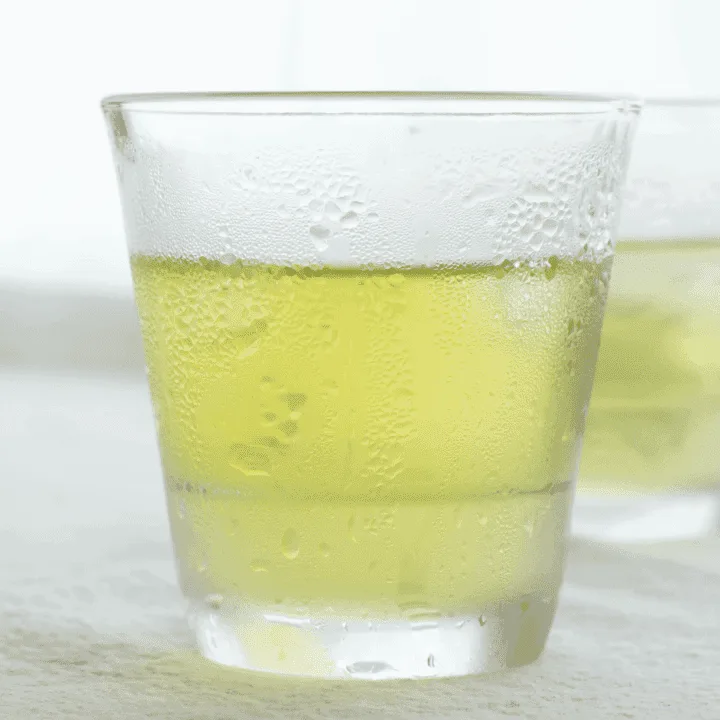 Green Tea Shot Recipe
Looking for a refreshing and unique drink to enjoy? Look no further than the Green Tea Shot! The Green Tea Shot is a complex and flavorful beverage that will tantalize your taste buds. And the best part? It's super easy to make, so what are you waiting for?
Ingredients
0.5 oz sour mix
lemonade or sprite, small splash to top
Instructions
Fill your cocktail shaker with ice. Pour in the peach schnapps, whiskey, and sour mix. Close and shake for 5-10 seconds
Strain the beverage directly into your shot glass. Top with lemonade or Sprite, then serve and enjoy!
Nutrition Information:
Yield:

1
Serving Size:

1 grams
Amount Per Serving:
Calories:

314
Total Fat:

0g
Saturated Fat:

0g
Trans Fat:

0g
Unsaturated Fat:

0g
Cholesterol:

0mg
Sodium:

76mg
Carbohydrates:

72g
Fiber:

0g
Sugar:

70g
Protein:

0g