Beer isn't just for drinking. Okay, truthfully, it is. But, there is so much more to the world of beer than just drinking and drinking. If you enter the realm of beer blogs, then your whole perception of beer will change and you'll find it will educate you.
Therefore, you can enjoy beer even more than now. Yes, it is possible!
If you're like most people, you'll have acquired a taste for beer but not really thought about the skills that go into making your favorite beverages. You simply order it at the bar and let the beer work its magic.
If you delve a little deeper into beer characteristics and start to pay attention to its taste, then you can gradually become a beer expert.
Beer blogs allow readers to accumulate skills around beer. We don't mean how to down a beer quicker than anyone else. Instead, blogs can help you learn about the pros and cons and the intricacies of all types of beer. 
If you want to learn more about beer, you'll need to start reading beer blogs. And, we have found the very best that you should read today.
Below is our selection of the most educational and entertaining beer blogs out there right now. These will teach you all you need to know about brewing beer, various recipes, and the strengths and weaknesses you should look for in beer(see also: A Beginner's Guide On How To Brew Beer). 
Best Beer Blogs
Focus on the Beer is a blog that mainly concentrates on craft beer in the Pikes area of Colorado. But, even if you're not in this region, the Focus on the Beer podcast has some entertaining and fascinating insights into the world of beer. 
The blog is run by Ryan Hannigan, Eric Steen, and Josh Howard, all self-confessed "hop-heads." Together, they discuss news, events, and much more regarding craft beer. Just 5 minutes into the blog and you will see that these guys have a true passion for beer. 
Focus on the Beer is a must for any beer fan or connoisseur. And, you can also find out about other entertaining aspects of the three guy's lives. Check it out and let us know what you think! 
If you're looking for an in-depth, thorough library of homebrewing resources and articles, Good Beer Hunting is a must-read. As the site itself proclaims, "Good Beer Hunting is a critical, creative, and curious voice in the world of beer."
Entertaining and informative, this blog may not post as often as some others on this list, but it has a depth of articles to catch up on. 
Good Beer Hunting writes about different breweries and businesses around the world, especially the USA and Canada. The team also partners with different breweries, whether they be big or small. The goal? To create a brighter future for the craft of beer making. 
Although it is packed with useful information, the blog is fun and showcases many entertaining aspects of beer brewing. 
There are actually two separate teams making up the blog. One is an editorial team, based around the world, and the strategic team, based in Chicago.
The goal of the site, though, remains the same – to provide entertainment and information of the world of beer to drinkers, beer producers, and the chain that connects them.
Hailing from California, The Full Pint covers everything from beer reviews and beer news, to beer events and opinion articles regarding different beers.
This blog is jam-packed with fun posts with conversations between beer experts and beer fans. Its guests often include some of the most important and prominent figures in the beer industry who give insight into the latest news in the beer world.
The Full Pint is a trusted place for those looking to find new information on craft beer and breweries. Its podcasts are always fun and interesting, too! 
The Craft Beer blog features extensive information on all styles of beer. If you want to learn more about different types of beer, what food pairs best with certain beers, and the whole craft industry, then the Craft Beer blog is the place for you. 
This blog offers some of the best beer education going around. Based in the U.S., Craft Beer features important stories centered around independent and small American craft brewers(see also: Brewers Conferences In America You Have To Go To).
It will introduce you to new craft breweries, new styles of beer, and all with an infectious passion.
The main aim of the Craft Beer blog is to communicate their passion, excitement, creativity, and joy for craft beer and its community.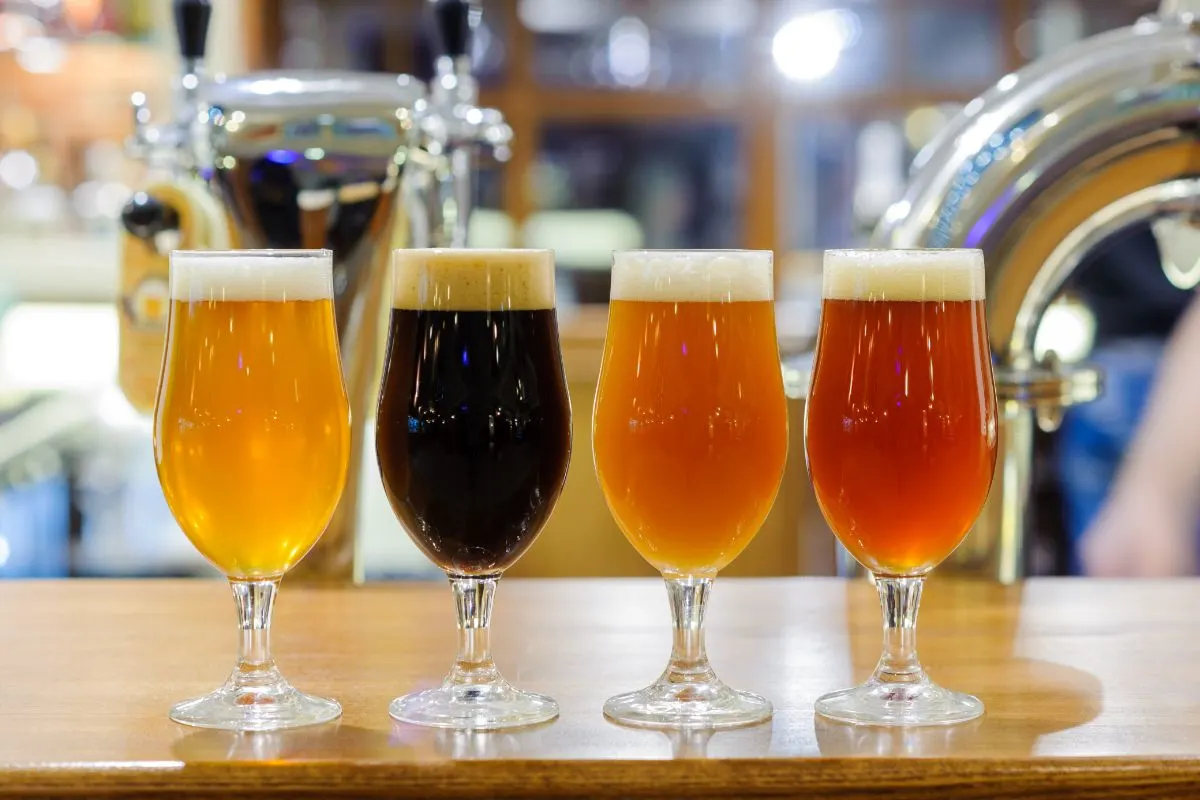 Drinking beer can be a thrilling experience and reading about it can further the thrill!
That is why the aptly named Beer Thrillers is the perfect blog to read to soak in beer and brewery reviews, craft beer industry news, and tips and tricks on home brewing and hop growing. 
This blog has some great information on brewery tours that you can take. And, there is no messing about with The Beer Thrillers, this blog is simply all about beer. It teaches us about brewing, crafting, drinking, and most importantly, how to enjoy beer properly.
Whether you just want to learn more about the beer industry for personal enjoyment or are interested in stepping into the industry yourself, The Beer Thrillers is the perfect blog to get all your information from. 
Want a blog that provides in-depth knowledge on the latest news in beer and how to get started in the beer industry? Well, check out Brewers Association.
This blog is for the brewer, rather than the mere beer drinker. It provides tips to help you improve beer sales and information on exporting beer and the best practices regarding brewing and beer in general. It is a one-stop shop for beer education.
An all round excellent resource for anyone looking to improve their brewer's game or get started in the industry, Brewers Association is a great blog for any brewing enthusiast.
Based across the pond in the UK, Boak & Bailey is a blog that should be read by every beer geek out there. Run by Jessica Boak and Ray Bailey, they have been blogging about beer since 2007, so you can be sure that they know their stuff!
Both Boak and Bailey share their in-depth knowledge on all things beer related and they have become blogging sensations in the world of beer fans.
There is so much information in this blog so you need to get started sooner to absorb as much of it as possible.
There is also a beer infographic on the site that breaks down beer and important historical moments involving the great drink. 
Our final beer blog on the list today is the excellent Beer Street Journal (far more interesting than the Wall Street Journal if you ask us!)
The Beer Street Journal covers everything from beer culture and education to the latest advancements in the craft beer industry. It is a national website that posts daily so you can keep on top of all craft beer news and happenings. 
In Summary
Beer blogs are a great way of building knowledge regarding beer and the beer industry. Whether you just want to learn more about different types of beer or you want to start a business in the industry, beer blogs will help you find lots of important information.
And, they are fun too!