The charm of the Scooby Snack Shot continues to shine through. It consists of a creamy tropical flavoring that can be thickened by and topped with whipped cream. Generally, it is a surprisingly popular party drink that offers a tailor-made alcoholic drink for those who prefer a more sweetened taste.
Its bright-green coloring makes it a great addition to any Halloween party. But, given the tropical roots of this shooter, it remains a great addition to events all year round! Especially as part of a summer menu, when you may crave a sweet treat while lounging poolside.
In our guide, we will provide you with all the information you need to know about the Scooby Snack Shot, from its ingredients to the origin of its name.
Why Is It Called The Scooby Snack Shot?
The initial attraction to this drink may be its name but don't be fooled — this is no mean Mystery Machine related shot. In fact, this shot actually got its name from its founder — Dr. Nishiwaki Scooby — who specialized in holistic medicine. 
Nishiwaki mainly focused on the tremendous health benefits of a concocted mixture featuring pineapple, coconut, melon and aged Japanese goat's milk.
When combined with his secret distilled grain liquor, this mixture provided results for many people, simultaneously helping to boost their immune system and increase feel good properties. Thus, the first version of the Scooby Snack Shot was born!
That being said, the shot as it is currently known is a stunning, vibrant green color. Interestingly enough, the shot achieves its distinctive flavor and color largely from the melon liquor that is added in. It's simply pure coincidence that it resembles the color of Shaggy's usual green shirt!
Now you know more about the Scooby Snack Shot, why not try it out for yourself?
Tips For Making a Scooby Snack Drink
This shot contains very little, but it doesn't half pack a punch! These are the most common ingredients used for the Scooby Snack Shot:
Coconut rum
Banana Liqueur
Melon Liqueur
Pineapple Juice
Whipped Cream
All liquid ingredients should be added in equal measure. The stunning, yet intense tropical flavor of this shot is complimented by the sweetness of its added whipped cream.
As it is a large factor in achieving a flavorful balance between fruity and the sweet, you need to add the whipped cream in with all the other ingredients before you begin to shake the mixture up.
However, the whipped cream may begin to separate after 5-10 minutes, so try to serve as quickly as possible after blending the ingredients together! Or, even simpler, just give your container a shake to re-mix the drink.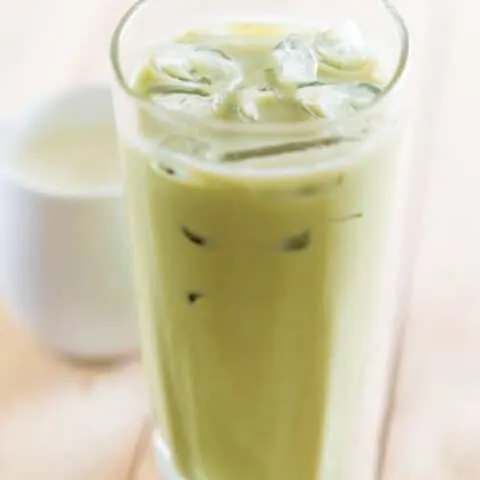 Scooby Snack Shot
Scooby Snacks never tasted so good! The Scooby Snack Shot is the perfect blend of coconut rum, banana liqueur, melon liqueur, and pineapple juice. Served over ice, this delicious shot is sure to be a hit with all your friends.
Ingredients
0.5 oz Crème De Banana (Banana Liqueur)
0.5 oz Melon Liqueur
0.5 oz Pineapple Juice
1.5 oz Whipped Cream
Ice Cubes
Instructions
Put some ice into a stainless steel cocktail shaker. If you do not own a cocktail shaker, you can substitute this for a closed mason jar, or a blender
Then add the coconut rum. Then pour in the crème de banana, melon liqueur and pineapple juice
Add whipped cream and shake, shake, shake until the drink is thoroughly mixed.
Strain into a glass of your choice.
Garnish your drink with whipped cream and a stemmed cherry if you so wish (or any other topping, it is completely optional)
Shoot your shot and enjoy!
Nutrition Information:
Yield:

1
Serving Size:

1 grams
Amount Per Serving:
Calories:

302
Total Fat:

10g
Saturated Fat:

6g
Trans Fat:

0g
Unsaturated Fat:

3g
Cholesterol:

32mg
Sodium:

10mg
Carbohydrates:

31g
Fiber:

0g
Sugar:

26g
Protein:

2g
Is It Possible To Make In Bulk?
If you are hosting a party and want to make this drink in bulk, don't worry! It's 100% achievable. Simply find an empty milk jug and use that as a makeshift cocktail shaker, so it can hold all the liquid you may need.
Then, follow the recipe using the steps and ingredients above — making sure to add them all in equal parts. Proceed to shake the jug up to mix everything together, and then pour into individual shot glasses. Again, feel free to top with more whipped cream if desired!
To maintain freshness, we recommend keeping your drinks in the fridge until you want to taste them. Not only does this keep everything set and intact, but this cooler temperature will help to make for a better drinking experience.
And, most importantly, we know that these shots taste delicious — but please remember to drink responsibly to avoid any potential 'Zoinks' moments!
Final Thoughts
The Scooby Snack Shot is quite a straightforward alcoholic drink to make at home. However, if you are not into sweeter tasting alcoholic beverages, or you simply aren't a fan of fruity flavors such as melon or coconut, then this definitely won't become your drink of choice!
This is because its use of coconut rum and melon liqueur is an important factor in achieving its signature tropical taste, and bioluminescent appearance. Its other ingredients can be relatively customizable, though.
(If you're into coconut rum drinks, check out our Vegas bomb recipe next)
For example, you have the choice to leave the cream out of the mixture in the cocktail shaker and just add it on top instead. This will reduce the creaminess of the drink. 
If you choose to make this drink, your taste buds will definitely thank you for it!