When it comes to blended Scotch whiskeys, Johnnie Walker Black Label is one that comes to mind with most whiskey drinkers. Even single malt connoisseurs will have a hard time putting their noses up at this beverage.
Compared to many other blended Scotch whiskeys on the market, this Black Label is one of the most reliable and solid examples that can be found in just about any bar or store throughout the world. 
It goes without saying but Johnnie Walker is one of the most famous and recognizable labels in the world of whiskey. This is no surprise as the Black Label has roots that date back as far as 1909.
Although this was the year the Black Label name first appeared, earlier examples of the whiskey were already available but known as Extra Special Old Highland Whiskey.
After the Red Label, Johnnie Walker Black Label is the brand's most affordable whiskey worldwide. It is, in fact, around 4 times cheaper than Johnnie Walker's most expensive Scotch whiskey, the Blue Label.  
With a 12-year age statement, the youngest whiskey to be blended for Johnnie Walker Black Label must be at least 12 years old. This length of time allows flavors and aromas to combine sufficiently from all corners of Scotland.
In today's article, we will be reviewing this exceptional blend of Scotch whiskey and find out if it is as good as Johnnie Walker promised. We will be discussing its tasting notes, palate, nose, finish and more so you can decide if Johnnie Walker Black Label is the right whiskey for you to enjoy. 
What Is Johnnie Walker Black Label? 
Johnnie Walker Black Label is a blended Scotch whiskey. This particular whiskey contains 30 to 40 different malts and, although considerably cheaper than the Blue Label, it is more robust and less refined. 
As with the majority of Islay whiskeys, Black Label has a level of smoke and peat that is immediately noticeable. As well as this, wheat and corn also characterize these base grain whiskeys resulting in distinctive flavor profiles. 
Whiskeys must be at least 12 years old to be included in the blends of Johnnie Walker Black Label. Once ready, bottles of this Scotch sell quickly. This is because you are always guaranteed quality in both the taste and aroma of this whiskey. 
If you're in the mood for a whiskey but not sure what to go for, Johnnie Walker Black Label is generally a safe bet. This big-brand whiskey is a reliable choice and can be enjoyed neat, poured over ice, or added to a range of cocktails for that perfect finish. 
Johnnie Walker Black Label – The Bottle
Upon arrival, Johnnie Walker Black Label comes in a typical square-shaped bottle. This bottle is based on the original design by Alexander Walker in 1920. This shape is synonymous with the Johnnie Walker brand and instantly recognizable worldwide.
As well as its famous appearance, the bottle was originally designed to be ergonomic. This meant that more bottles could be packed into a square area with fewer risks of damage and breakages. 
When inspecting the bottle, an important aspect of it is the slanted label. This is tilted at an angle and a little off-center. This is no accident, however. The label was designed to catch the attention of shoppers when the bottle was kept on the store's shelf alongside other whiskey bottles. 
As with every Johnnie Walker Scotch whiskey bottle, the Black Label features the famous Striding Man logo. This was created by cartoonist and artist Tom Browne while he had lunch with the Walker brothers in 1908.
This logo shows a man walking forward and has become a symbol of the pursuit of excellence and forward-thinking nature of the Johnnie Walker brand. 
The Johnnie Walker Black Label bottle design is exactly what you would expect from the brand. It is professional and elegant.
If there was one complaint, we would argue that its metallic screw top could be stronger. It also tends to peel regularly leaving a worn appearance on the top of the bottle. 
But, that's enough about the outside of the bottle. Let's review the most important aspect, the whiskey itself.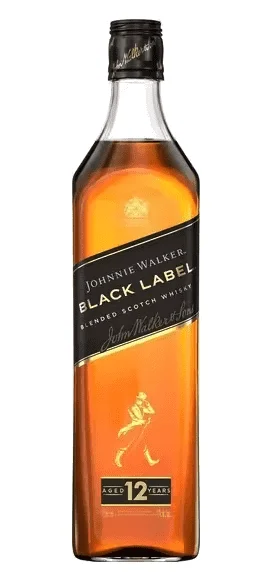 Palate 
The first sips of Johnnie Walker Black Label boast hints of caramel, sweet honey, and vanilla. But, these are quickly met with a dry, gentle smokey layer.
Tart citrus and wood also cut through on the back of the palate with the smoke layer gradually intensifying as it continues down the throat. However, this is not overpowering at any point and remains restrained. 
Nose 
Upon first inspection, Johnnie Walker Black Label sports a light smoke that is instantly recognizable and synonymous with Johnnie Walker Scotch whiskeys. As well as the smokey nose, a malty grain alongside apricots and ripe peaches are also experienced.
Combined with a tinge of dry oak, Black Label has just about everything you want from a Scotch whiskey. 
You can easily smell the grain whiskey with the Black Label. However, this is tempered. There are also hints of grilled onions with leather and orange marmalade. Truly unique.
Color 
Johnnie Walker Black Label has an elegant copper hue. Due to its age, Black Label tends to have a darker orange color but this can be stronger due to caramel coloring sometimes used in the whiskey. The result is a warm and inviting-looking blend of whiskey that is truly welcoming.
Feel 
Although Johnnie Walker Black Label is a fully drinkable and mellow whiskey, it can be a little grainy and gritty. But, the more you drink it, the smoother and more enjoyable it becomes.
Finish 
The finish of Johnnie Walker Black Label is wonderfully appealing. It boasts a mixture of malt, lemons, and oak which is followed by a subtle kick of alcohol when swallowed. Although the whiskey is 40% ABV, this gentle kick certainly feels a lot stronger. 
Review 
In the world of Scotch whiskeys, Johnnie Walker is arguably the best-known brand. On top of this, it is also regarded as one of the most respected producers of Scotch whiskey worldwide. 
Johnnie Walker whiskey was founded in 1819 and over 200 years later, it's known for its famous color-coded label expressions. These range from the inexpensive and fully mixable Red Label to the decadent and most expensive Blue Label. 
Now and again, these expressions change. For instance, 1909 saw the launch of Johnnie Walker Black Label. Containing over 40 malt and grain whiskeys, the Black Label has become a cornerstone of the Johnnie Walker brand. 
Johnnie Walker Black (see also: Johnnie Walker Blue Vs Black)Label is undoubtedly one of the great Scotch whiskeys. Whether you're a novice whiskey drinker or an experienced whiskey 'snob,' then Black Label will rarely disappoint. 
If you wish to learn more about Scotch whiskey and its peated malts, Black Label is gentle enough with a restrained smokiness. Therefore, we regard it as a perfect entry point into the world of whiskey drinking.
Black Label has a sweet malty and smoky flavor profile that is ideal for anyone who wants to experience a little more with whiskey. And, it is wonderfully versatile. You can enjoy Black Label neat or on the rocks.
It is also pretty serviceable when mixed into cocktails such as Rob Roys or Japanese Highballs. 
Did you know that Johnnie Walker Black Label has a sibling drink? Double Black was introduced in 2011 and is another fine example of Scotch whiskey. However, Johnnie Walker Double Black Label amplifies the smokiness of the Scotch and comes with a higher proof.
While Double Black is a quality Scotch whiskey, it lacks the near-perfect balance of the original Black label. 
In Summary 
Johnnie Walker Black Label is considered by many to be a safe choice of Scotch. No, it does not meet the standards or even compares to some of the finest whiskeys on the market but it is always an enjoyable drink whichever way you prepare it.
Whether you're starting the night off or winding down after a hectic day, the intensity of Islay malts such as this is an ideal choice. With a remarkable balance, the blending of the 30 or 40 whiskeys used in Black Label is world-class, and, although not quite the best, it is of good quality. 
For newbie whiskey drinkers, Johnnie Walker (see also: Best Johnnie Walkers)Black Label stands as a superb ambassador when introducing people to the world of peaty and smoky whiskeys. Best of all, the price point of this bottle of whiskey is relatively low so you won't need to break the bank to enjoy it.
Reliable and great value for money, Johnnie Walker Black Label can be enjoyed by all whiskey drinkers from new to experienced. But, if you're looking for the highest quality Scotch whiskeys, you may need to look elsewhere and find deeper pockets.