I hadn't discovered Pisco Portón until recently, but I'm really glad that I did.
Pisco is a type of clear brandy that is distilled from fruit juice and has roots in South America, although it's gained lots of popularity in the United States over the last half decade or so.
What is Pisco Portón and Where Does It Come From?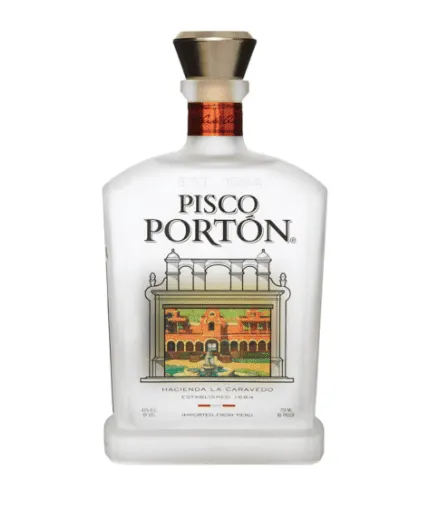 Pisco Portón
Floral, fruity, earthy tones on the nose
Smooth finish & flavor profile make it a great candidate for inclusion in punches and cocktails
Check Price on Drizly
Pisco Portón is a product of Peru and specifically made in Hacienda La Caravedo in Ica, Peru.  The master distiller is Johnny Schuler – who is one of Peru's most highly regarded authorities on Pisco.  As far as Pisco brands go, this one is pretty widely available in the United States.
It's distilled from 3 different grape varietals – Albilla, Quebranta, and Torontel in traditional copper pot stills before bottling.  This spirit is un-aged, but will typically rest about 6 to 8 months before it gets bottled.
Appearance wise, Pisco Portón is very clear – about as clear as spirits come.  It also has a proof of 86, thanks to a distilled to strength process where no water is added to increase production volume.  Needles to say it's a very strong drink when served straight up.
What Does It Smell Like?
Some critics have described the aroma of Pisco Portón to be a little bit to wine – an analysis that I think is hard to disagree with.
On the nose you'll get some floral, fruity, earthy notes that are reminiscent of some common wine aromas you'll come across.
The major difference of course, being an 86 proof spirit and all, is that Pisco will definitely burn your nostrils if you inhale too hard or too close.  If you get a small whiff though, it's a pretty smooth aroma.
What Does Pisco Portón Taste Like?
Pisco Portón isn't necessarily the kind of drink I'd raise my hand to order neat, although it's surprisingly smooth considering how potent it is – and I know some who very much enjoy just sipping it.
Flavor wise, it's not too dissimilar from how it smells.  On the front end you'll get hit with an initial sweetness that turns dry rather quickly.  You'll find earthy and fruity notes – everything from apple, cucumber, banana, to pineapple experiences are possible too.
On the back end and aftertaste the notes move a little more towards a dusted cinnamon and pepper while still retaining some of the pineapple and apple notes from the front end of the palette
Best Drinks for Pisco Portón
This liquor is versatile and makes a great base for lots of different types of drinks, punches, and cocktails.  I see it commonly used to create everything from a tropical punch to a post dinner slow sipping cocktail.  Here is a quick list of ideas for what you can make with Pisco Portón:
Tropical Pisco punch
Pisco sour
El Capitán
Pyramid punch
Eden cocktail
Matcha Pisco cocktail
Chilcano de Pisco
Final Thoughts
Aside from being a tasty, albeit potent drink and a versatile base liquor for various cocktails and drinks, Pisco Portón does has a really nice looking bottle.  It makes for a wonderful presentation and a great option to gift to somebody if you're looking for a mid priced bottle to share with somebody for a celebratory occasion.