Jefferson's Bourbon is sourced and then blended by Jeffersons – a distillery that focuses on innovative ways to mature their bourbons.
Jefferson's Bourbon Company
Jefferson's Bourbon has done things differently to the conventional bourbon market. For one thing, the bourbon is named after a US President, but not one who had anything to do with Kentucky. For another, Jefferson's doesn't distil its own bourbon.
Chet Zoeller and his son Trey first started the Jefferson's Bourbon business in 1997. Chet Zoeller was a bourbon historian. The 8th generation grandmother was, so they say, arrested in 1799 for illegal distilling.
The story goes that the father and son discovered a stock of delicious bourbon and decided to create a brand with it. Not being distillers, they sourced their bourbon from others, blended it, bottled it, branded it with their brand and sold it.
Even now, the bourbon that goes into Jefferson's blend comes from four undisclosed sources. The company innovates and focuses on experimenting with different forms of aging and maturation processes.
In the early 2000's, the company was sold to Castle Brands Inc. Since 2019 it's been owned by Pernod Ricard, and is blended and bottled at Kentucky Artisan Distillery in Louisville.
Jefferson's Bourbons
No products found.
A base of Jefferson's Bourbon blended with three hand selected straight bourbons of varying mash bills and ages gives complex nuances.
Nose
The aroma or smell has classic bourbon notes of caramel or brown sugar, honey, vanilla, and mild spice. As the bourbon opens up in the glass, other notes may be noticed, such as fresh corn, oak, and plum. A hint of citrus. There may also be a slight flowery perfume.
Palate
The flavor, or taste, has hints of light caramel or toffee, spice, and vanilla. Hints of peaches. There is the sense of pastry or cake in the smooth taste and an oak undertone.  
Generally, the higher the proof of a bourbon, the greater the depth of palate. As this bourbon is only 82.3% proof there isn't noticeable depth of palate.
Finish
Everyone looks for a 'Kentucky hug' in the aftereffects of sipping bourbon. This refers to the cozy warmth and comfort that comes as the bourbon works its way into your system. The finish for this bourbon is described as long and 'woody', with hints of shortbread and honey.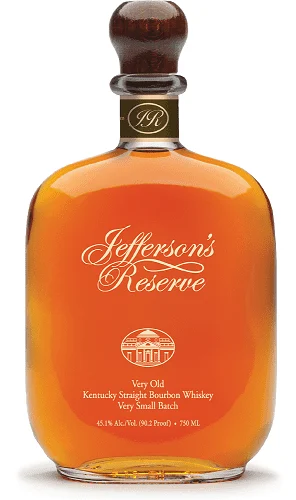 The oldest and most robust of Jefferson's bourbons. Jefferson's Reserve is reportedly a blend of only 8 to 12 barrels per batch from three unique recipes that all use rye as the flavoring grain. Some of the barrels are aged up to 20 years.
Nose
Cinnamon and sawed oak with dry tobacco notes. Not overly spicy. Honey and nutmeg.
Palate
Honeyed and sweet. References to caramel/toffee/brown sugar, cinnamon, savory pastry and stone fruits. Smooth and creamy, with hints of custard. Chewy caramel and vanilla and a hint of barrel char.
Finish
The proverbial 'Kentucky hug' embraces you in a warm afterglow. Hints of leather and tobacco.
No products found.
Jefferson's Ocean: Aged at Sea bourbon first hit the market in 2012, with a unique selling point. This bourbon is aged at sea. Temperature fluctuations, salt water air exposure, and the motion of the ship give a very specific flavor profile to the bourbon.
Each barrel crosses the equator twice, visits over 25 ports and five continents.
Nose
Strong floral notes balanced with salted caramel. Unique mix of soft salt and light smoke with the caramel, and hints of tropical fruit. The smoke and salt notes are more pronounced on opening a fresh bottle. After 15 minutes in a glass those notes diminish.
Palate
Salted caramel and a briny, savory flavor with hints of tropical fruit. Floral notes, citrus notes, and a light black pepper spice. Mid palate, the bourbon sweetens with caramel flavor.
Finish
Warm, viscous, briny with a light dry note of oak combining with the caramel.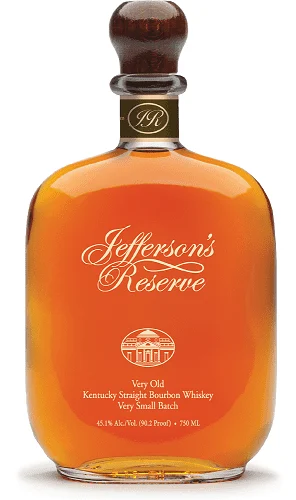 The 'Kentucky Straight Bourbon Whiskey' label means a grain bill of at least 51% corn was fermented and distilled into whiskey, and aged in new charred oak barrels for a period of roughly four years.
Nose
Caramel and vanilla with a touch of cinnamon. Mellow smoothness from barley or wheat content, and some raw oak wood.
Palate
Baking spices, brown sugar and vanilla. Gets richer and deeper with time, adding a bit of black peppery spice. Hints of charred oak, cigar leaf, pepper and toffee.
Finish
Long finish, with good oak integration, a little sweetness and dry spice, warming nuances of paprika.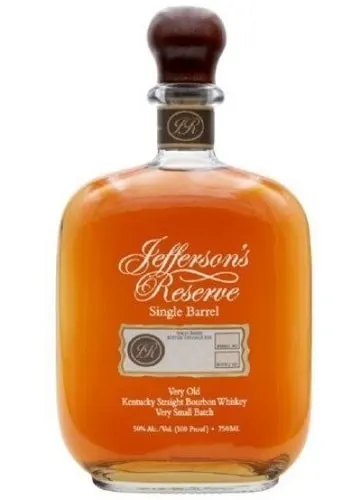 Jefferson's Reserve at a higher proof. At 100 proof the apex of flavors is extracted, without secondary elements being overshadowed.
Nose
Leather, something of the cigar and sorghum or fried apple pie.
Palate
Cinnamon toast, toffee, brown sugar.
Finish
Long with a hint of spice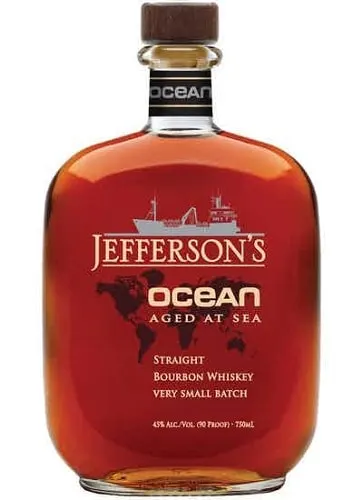 Jefferson's Ocean at 112 proof. Fully matured Kentucky Bourbon aged at sea; crossing the equator 4 times, and visiting 5 continents
Nose
Cinnamon buns, orange zest, burnt sugar and marshmallow.
Palate
Salted caramel, figs and chocolate fudge.
Finish
Accents of sweet mint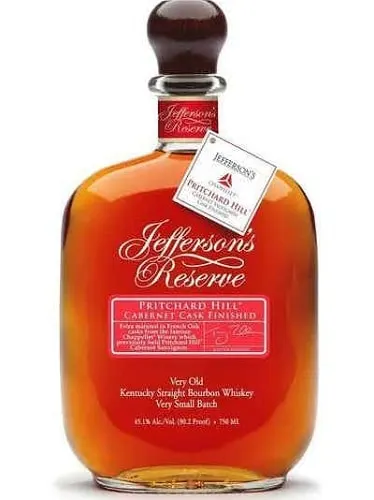 Jefferson's Reserve Kentucky straight bourbon aged for an extra 12 months in French Oak casks that once held Pritchard Hill® Cabernet Sauvignon.
Nose
Blackberry, black cherry, licorice, dark chocolate.
Palate
Fruits, dates, apricots, Cabernet, lemon.
Finish
Long, smoky, oak tannins
Matured in American white oak casks then transferred into specially selected old rum casks that held Goslings Family Reserve and aged an extra 15 months.
Nose
Strong Rum influence with molasses, banana, and crusty sourdough.
Palate
Caramel corn, cinnamon, chocolate ganache, and vanilla.
Finish
Vanilla, soft allspice, toasted marshmallow.
Custom designed wave barrel to finish fully mature, Kentucky Straight Bourbon Whiskey. Flash-charred, toasted grooved-staves increase surface area and contact with the oak.
Nose
Wood and notes of vanilla and butterscotch over cinnamon apple tart.
Palate
Baking spices, roasted almonds, sweet bell pepper, fresh wood, and a hint of apple.
Finish
Medium length with lingering spiciness.
Jefferson's Rye mixed with one of Jefferson's straight bourbons.
Nose
Cherry and oak aromas and a hint of raw Rye spices.
Palate
Fruity, soft and smooth with peaches and buttery oaky notes and a lot of rye.
Finish
Spicy and warm mediate finish with Rye.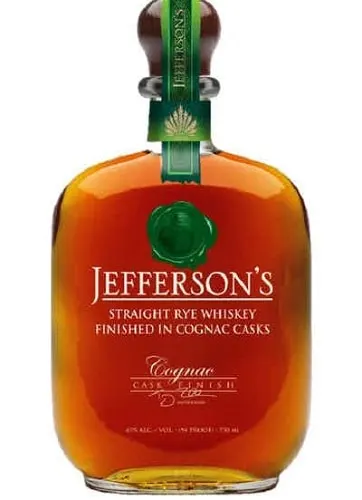 Double barrelled for at least 9 months and up to 19 months.
Nose
Cinnamon and honey.
Palate
Spice, nutmeg and citrus.
Finish
Long with oranges and honey.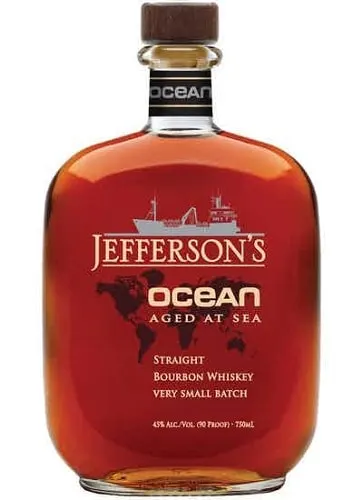 Jefferson's Ocean Aged at Sea is fully matured for at least four years, then placed in rickhouses on ships to travel the globe. As wheat is a softer grain than rye, the ocean flavors are amplified.
Nose
Butterscotch, vanilla, caramel.
Palate
Toasted caramel, spice, white pepper, slight sea salt.
Finish
Long finish, with oak and hints of nutmeg, pecans and sourdough bread
Made with Jefferson's Reserve bourbon, spiced cherry bitters, and sweet and dry vermouth, then barrel finished to perfection – this is a ready to drink Manhattan cocktail.
Nose
Dark cherries, candied Fruit, nutmeg, dried cranberry
Palate
Brown sugar, cherry pie, spice.
Finish
Refined, with hints of spice and sweetness. Subtle undertones of herbs.
What Is Bourbon?
Bourbon is a type of American whiskey, distilled from a mash, made primarily of corn. It's often called 'America's Native Spirit'.
According to the Kentucky Distillers' Association, 95% of the world's bourbon supply comes from Kentucky. Bourbon doesn't have to be produced in Kentucky, but it does have to be produced in America to be described as 'bourbon' (see federal standards) 
Bourbon mash must contain at least 51% corn and be distilled at 160 proof or less. By law, bourbon must be aged in new oak barrels at 125 proof or less. The have to be charred on the inside (usually an 'alligator', or number four, char).
Distillers cannot legally reuse their barrels. There must not be any additives.
There isn't actually a minimum-ageing requirement. Four to seven years is the average. Bourbons that are aged ten years or more will be pricey and are likely to be special releases. Bourbon aged fewer than four years must have an age statement on its label.
To be defined a 'straight bourbon' it must have been aged for a minimum of two.
'Bottled-In-Bond' bourbon means it's the product of one distillery from one distilling season, aged at least four years and minimum of 100 proof (50 percent ABV).
How To Have Your Bourbon
Bourbon can be enjoyed straight, on the rocks or in many classic and modern cocktails.
The ice that's added when bourbon is on the rocks can eradicate the lighter flavors and tone down darker aspects. This is great for poor bourbons but not so good for better bourbons.
The darker the bourbon, or the deeper its palate, the richer the cocktail it contributes to. Light bourbons can work well in fruity cocktails.  
Final Thoughts
An interesting brand with a good range to choose from and some innovative maturing techniques.