To brunch or not to brunch? One thing is certain, no mid-morning breakfast is complete without a special cocktail to make it feel like you are on a vacation.
Depending on the event surrounding the meal, you may have a few beverage options to choose from. If you are at a fancy celebration, you may opt for a crisp and refreshing mimosa.
If you are recovering from the previous night's festivities, or simply keeping it casual, cue the Bloody Caesar. Move over Bloody Mary, the bolder, and spicier tomato based cocktail is here to shine.
History Of the Bloody Caesar
The Bloody Caesar shares two core ingredients with the Bloody Mary: (see also: The Best Bourbon Bloody Mary Recipes)vodka, and tomato based juice. The key difference of the Caesar is the addition of clam juice and herbs to the tomato broth. The result is a savoury, spicy cocktail that has also grown to be recognized for its outrageous garnishes. More on that later.
The Caesar was created in 1969, by Walter Chell in Canada. He was working as a chef in a Calgary based hotel, and wanted to create a signature cocktail that would highlight the grand opening of an Italian restaurant called Marcos.
Chell would hand crush the clams, and add the juice to the tomato broth himself. Nowadays, you can buy pre-made Caesar mis from the Mott's brand, it is called Clamato.
Many of us would assume that clams were the secret ingredient to this cocktail, but Chell actually claims that the addition of dried oregano is what pulled the cocktail together.
The full name of Bloody Caesar was said to have been coined by an Englishman. He was visiting the hotel Chell worked at, and tried the cocktail at the bar. Apparently, upon taking his first few sips, he set the drink down and cried out "That is a BLOODY good Caesar."
What Goes Into a Bloody Caesar?
The primary alcohol typically used for this beverage is vodka – we like to use Tito's but your favorite vodka will certainly do. There are many variations of this cocktail, including a Caesar Margarita which uses tequila instead of vodka.
The star of the show is the Clamato Caesar mix. The original recipe reflects the Chell's creation, but Mott's has expanded their line to include new flavours. They offer Very Spicy Clamato Mix, Pickled Bean Clamato Mixture (my personal favourite), as well as The Works (it has smokey bacon flavour).
The details of this drink will elevate the cocktail. The rim of your glass needs to be dusted with dried Caesar mix. This dried herb blend is also included in the actual beverage itself. Mixed in with a few dashes of Worcester sauce and Tabasco, this drink is nearly complete.
The beloved Caesar garnish! The garnish is half the drink, it is the WOW factor that a patron expects when they order this drink. If you flop on the garnish, the whole experience is tainted. I can not stress enough how important this is.
A classic garnish will include a lime wedge and a stalk of fresh celery to serve as a stir-stick. Bars and restaurants that want to stay competitive in patio season will nearly serve you an entire meal on a stick.
This includes the potential to have a garnish with a slice of pizza, pickles, olives, bacon, and I've even seen a crab leg make its way into garnishes on the East coast.
Helpful Tips For Making a Caesar
This cocktail is best served in a tall, wide glass. There is so much going on, a flute or a short tumbler will not be enough.
If you are using vodka for your Caesar, keep the alcohol in the freezer as this drink is best served cold. Add a generous handful of ice to the glass when making this cocktail: warm alcohol and tomato juice is stomach-churning.
Always shake the bottle of Clamato juice before using. The delicious herbs and spices will fall to the bottom of the drink. If you forget this step, you will miss out on the full flavour of the juice.
Add your rim first! There are a lot of ingredients in this cocktail, so it's easy to understand why this step is forgotten. You can use lime or lemon juice to first coat the inverted glass, and then dust it into dry Caesar mix.
Make your garnishes in advance if you are planning to prepare cocktails for a group of people. This will save you time, and keep things flowing at the party. If you have the space in your kitchen, consider letting everyone make their own garnish. This is a great way for people to customize their drinks and have some fun!
Final Thoughts
In Canada, the Caesar is typically served at brunches or at a light afternoon barbecue. The cocktail is hearty, and pairs best with a lighter meal.
Like most recipes, perfecting this cocktail will take practice. Ultimately, the ratio of the ingredients you prefer will need to be teased out through a couple rounds of trial and error. When you find your perfect combination, write it down! That eureka moment will last you for many summers.
Some bars and restaurants in the USA will serve a Bloody Caesar, especially those in bordering cities to Canada. If the Clamato mix is not available, the default would be a Bloody Mary. In essence they are similar, but as you have learned, the Caesar is on a whole other level. If you ever venture up North, be sure to try this famous cocktail.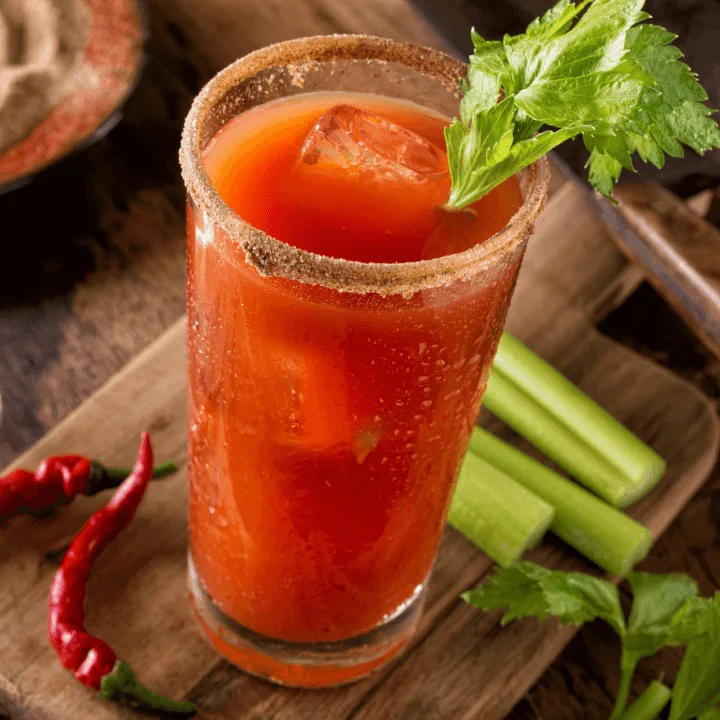 Bloody Caesar Cocktail Recipe
The Bloody Caesar is a delicious and easy to make cocktail that is perfect for any occasion. This refreshing drink is made with vodka, tomato juice, Worcestershire sauce, and hot sauce and is garnished with a celery stalk. The Bloody Caesar is a perfect balance of savory and spicy flavors and is sure to please any crowd. This cocktail recipe is sure to become a favorite. So go ahead and shake things up with a Bloody Caesar!
Ingredients
Bloody Caesar Cocktail
2 dashes Tobasco sauce
4 dashes Worcestershire sauce
1 handful ice cubes
Rim
Garnish
1 skewer stick
1 stalk fresh celery
1 pickle
2 olives
1 quarter of a lime
Instructions
Rim your glass first. Drag the lime over the full rim of your glass. The juice from the fruit will help the rim powder adhere to the glass. Once you are done, invert your glass into a plate of rim powder and twist a few times to ensure it is evenly coated.
Add ice to your glass, and all the cocktail ingredients. Stir until well mixed.
Slide pickles, olives and lime onto your skewer stick. Add the garnish and celery to your cocktail.
Serve cold and enjoy!
Nutrition Information:
Yield:

1
Serving Size:

8 oz
Amount Per Serving:
Calories:

184
Total Fat:

1g
Saturated Fat:

0g
Trans Fat:

0g
Unsaturated Fat:

1g
Cholesterol:

0mg
Sodium:

909mg
Carbohydrates:

30g
Fiber:

5g
Sugar:

8g
Protein:

2g