Every stalwart fan of coffee has their own unique set of preferences when it comes to their favorite beverage.
Whether it's a favorite dark or light roast, a die-hard brand fan of the major companies like Starbucks, or a preferred coffee bean region, coffee lovers are notoriously picky when they've found their niche!
The same can be said for coffee liqueur! With many different flavor profiles and notes to draw upon, coffee liqueur goes in many cocktails and is as varied as coffee itself.
It may seem like a bit of an odd concept if you haven't had the pleasure of enjoying it before, and with such a wide variety to choose from, it's easy to get overwhelmed with the choices available.
Never fear, read on to find out our tried and tested top picks for coffee liqueurs to suit even the most demanding coffee lovers' palette.
What Is Coffee Liqueur?
A coffee liqueur is usually a sweet and bitter spirit to be drunk at the end of a meal or as a digestif. Coffee liqueurs are usually strong and pungent in flavor and the bitter drink usually teams very well with creamy ingredients for cocktails and desserts.
A coffee liqueur is usually made from an extraction of coffee beans from a variety of regions, mixed with any number of strong spirits ranging from tequila, gin, and other grain-based spirits to vodka.
With such a variety of spirits as well as beans to choose from, the flavor profiles of coffee liqueurs can vary massively.
So if you have tried one and not been a huge fan, perhaps there are others in the spectrum you would enjoy more, so it's always worth trying a tipple or two to see what you fancy!
Best Coffee Liqueurs – Our Picks
If you are looking for a rich, well-balanced coffee liqueur with strong alcohol content and a big depth of flavor, this one is our top pick. St. George Nola Coffee Liqueur is based on the company founders' love of New Orleans-style coffee.
New Orleans-style coffee tends to use something called chicory root to add a bitter note to the coffees. it's a flavor profile everyone enjoys and the coffee liqueur is very well regarded.
As a small company microbrewery that uses good quality coffee balanced out with a strong alcohol content to give a massive yet well-balanced coffee kick. St. George Nola coffee liqueur uses Yirgacheffe coffee beans, Madagascan vanilla beans, and French chicory root combined with organic cane sugar and a whole lot of love for the New Orleans Style.
The specially selected coffee beans are roasted on-site to the company's specifications mainly using a dark and medium roast and adding in a lighter roast as well to reduce astringency.
Flavor-wise, Nola coffee liqueur has a very dark espresso-y taste with a faint chicory smokiness mellowed out by a deep flavor of vanilla and hints of dreamy dark chocolate.
This is the perfect liqueur to enjoy by itself as the flavor is complex enough to stand on its own. In terms of mixing, this is a great choice for almost all coffee liqueur-based cocktails and desserts as it's still sweet enough to not be overpowering.
Head distiller Dave Smith and his wife, then girlfriend, fell in love in the back streets of the New Orleans coffee scene.
The distinctive chicory root flavor profile became an intrinsic part of their courting and when they moved over to the Bay area they brought their love of the distinctive coffee scene of New Orleans back with them.
Their passion for New Orleans-style coffee has influenced every part of this coffee liqueur and makes it as unique as the backdrop to their love.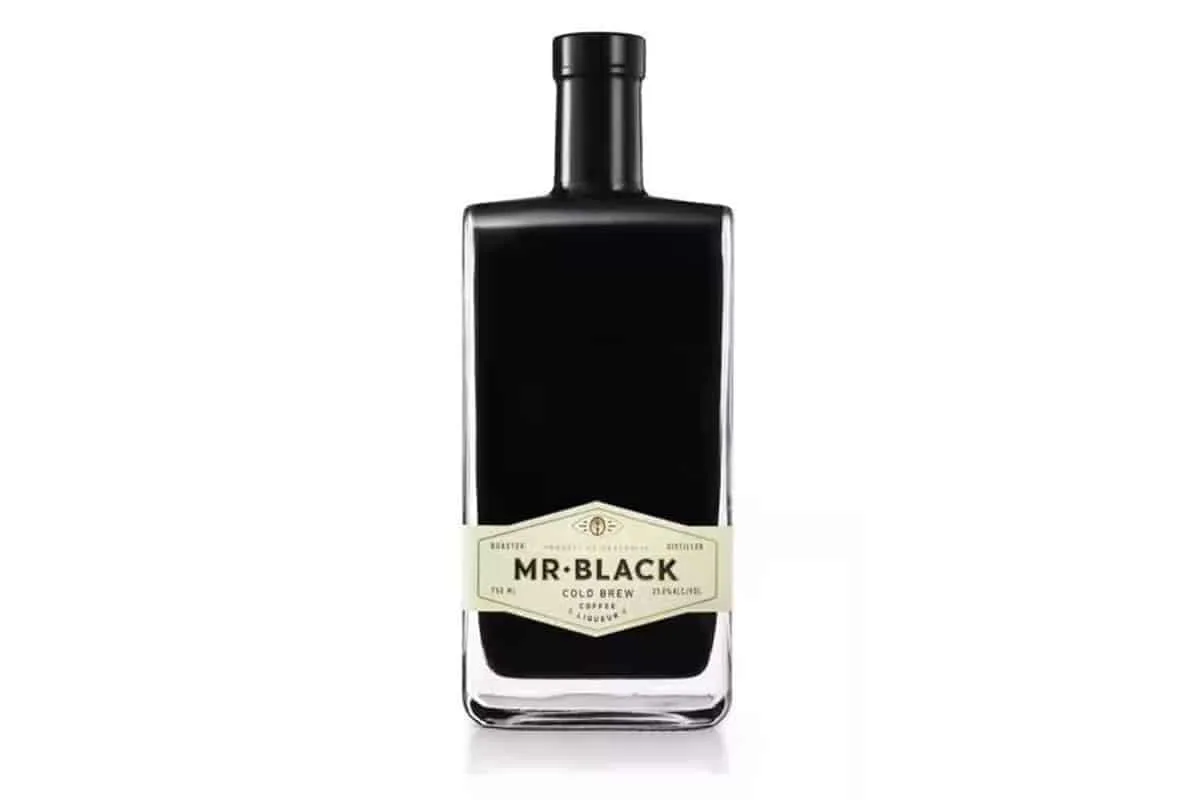 This time from a small local distillery in the Australian suburbs just north of Sydney, Mr. Black is a bittersweet blend of arabica coffee and classic Australian vodka this is made from top-grade beans sourced from specialty arabica coffee growing regions using a low and slow process to create a complex cold brew that's light on sugar and heavy on pure coffee flavor.
If you're not a fan of coffee liqueurs that taste like more sugar than coffee, Mr black is the one for you as this one has no fake artificial flavors and a fresh bold taste to satisfy even the most cultured coffee nerd.
The cold brewing process means that the coffee flavors are far more pronounced than other coffee liqueur brands due to the lengthy brewing process.
Created with obsessive attention to detail to everything from the water composition, brewing temperature, and length of processing, Mr. Black is a unique coffee liqueur with a very strong fresh flavor roasted and distilled to perfection.
Looks-wise, Mr. Black is exactly what you'd expect from the name. Rich and deep in color with a beautiful char and complex dark roast coffee appearance.
There's a reason that Baileys is a winner amongst so many when it comes to classic coffee liqueurs. A rich and decadent drink with an Irish whisky base, Bailey's is the epitome of a classic Irish Cream.
Amazing by itself, it's also a perfect addition to any coffee or a wintery hot chocolate, or for an extra rich affogato, pour over ice cream for the ultimate in dessert indulgence.
This exciting espresso cream blend takes the classic Irish Cream Baileys and mixes it with a taste of freshly ground espresso beans and notes of chocolate for an indulgently creamy finish.
As the name suggests, the cream base is not the same as your classic black coffee liqueur.
If you tried other coffee liqueurs and have found them too tart, or overwhelming in flavor, give Bailey's Espresso Creme a try as it combines the beautiful richness of Irish Cream with a hearty punch without being overwhelming.
In terms of use, it makes a fantastic coffee creamer and also an amazing addition when used in cakes and other baked goodies, adding moistness and coffee flavor without too much zing.
Unlike something like Mr. Black, this drink is very sweet and more like a dessert beverage whilst still being a fantastic mixer for any number of cocktails and desserts.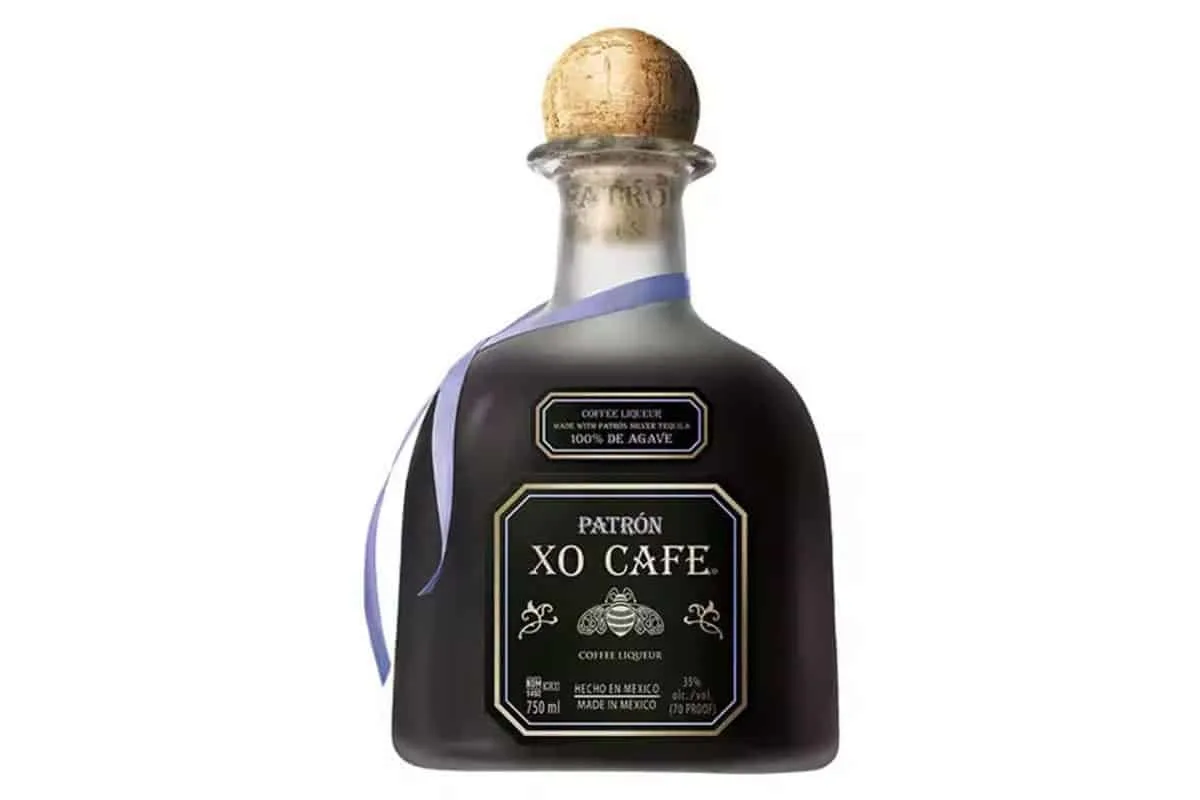 If tequila is your preferred beverage of choice, this may be the coffee liqueur for you. with a 35% ABV, this is definitely on the stronger side of coffee liqueur beverages.
Made in Mexico this Patron XO Cafe is a light and crisp tequila that offers a smooth taste and a dry finish.
Be aware that this is an incredibly popular drink so often sells out, so be sure to double-check your area to see if it's available to you.
Patron is recognized worldwide as one of the most authentic and smooth Mexican tequilas, and this coffee-infused variety continues on that path.
A handy cocktail idea with this rich and dark liqueur is a 'Baby Stout'- looking like a mini Guinness beer, add a generous shot of XO to a small glass before very carefully topping up with Baileys Irish Creme or Baileys Espresso Creme, being sure not to mix them, so you create a gorgeous foamy 'head' replicating that of the famous Irish stout.
This is by far the best non-alcoholic coffee liqueur you'll be able to find.
Priding themselves on recreating the timeless classics we're used to seeing in our liqueur cabinets, Lyres have won hundreds of awards throughout the globe for their astounding non-alcoholic takes on our favorite tipples.
This Coffee liqueur is no different, offering up rich and distinctive coffee notes, with a subtle hint of vanilla and burnt caramel with an undercurrent of fig and blueberry sweetness.
Lyres believe you can still enjoy all the sophistication of your favorite libations without the alcohol, and this coffee liqueur is best served as a fabulous component in any coffee-based cocktail whether it be an Espresso Martini (see also: Espresso Martini)or a Black Russian.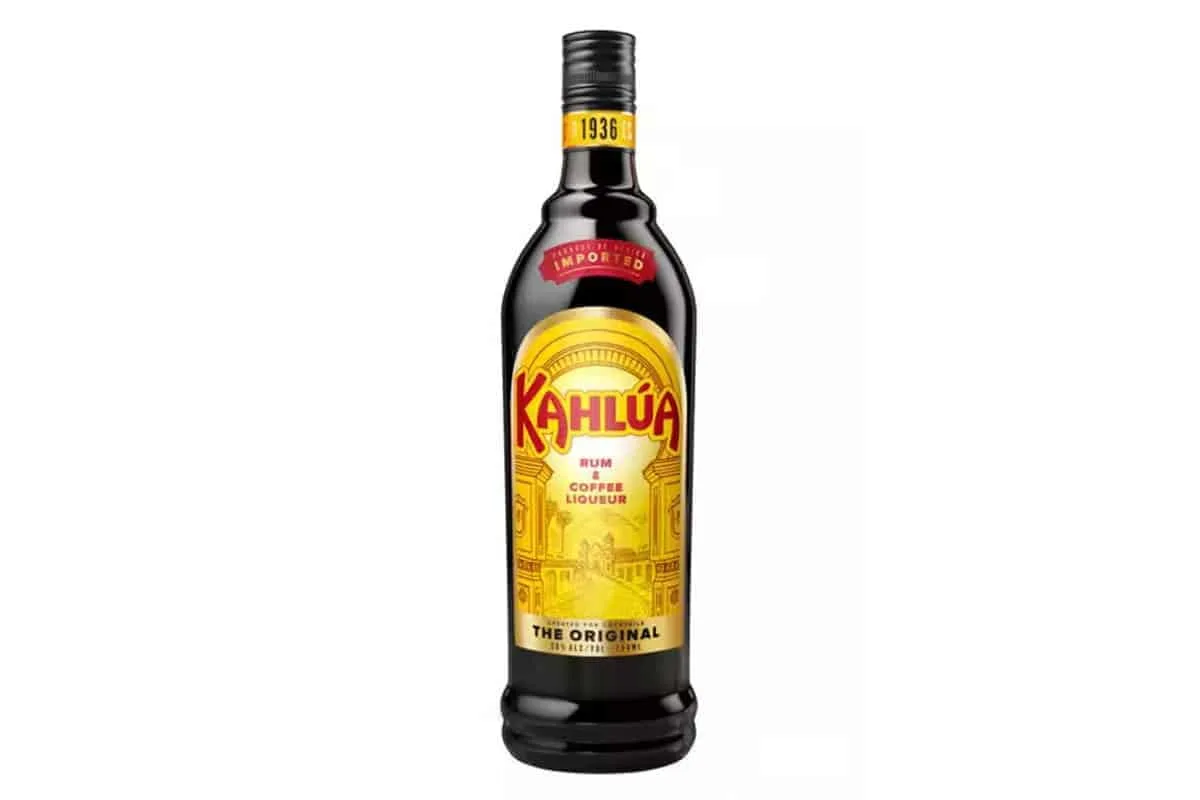 It's a household name for a reason. Kahlua is the perfect addition to any drink with milk or cream thanks to its lightly sweet flavor and the classic coffee kick coming from arabica coffee beans.
Made with only 100% arabica coffee beans harvested in the hot Veracruz climate, Mexican rum base, and the thick and beautiful aftertaste thanks to real sugar cane.
This coffee liqueur is loved by many thanks to its versatility.
It's a pretty light flavor and this classic cream coffee liqueur is amazing just as it is poured over some ice or the perfect addition to any coffee-based cocktail you could imagine.
If you're looking for something easy to drink that will be a staple in your bar cart, Kahlua might just be the one for you.
It doesn't have some of the more complex flavors as some of the other liqueurs on this list, and definitely has as4 haps and slightly more artificial flavor, but it's never the less I like bodied and easy to drink coffee liqueur that has stood the test of time.
Looking for a pure coffee flavor hit free from artificial ingredients with a clear list of everything in it? Hue Hue (pronounced Way Way) delivers just that.
With nothing more than cold brew coffee, a small amount of sugar, and silver rum, they have conjured up the flavor of Caribean beaches and warm roasting coffee.
Hue Hue Coffee Rum is made with fairtrade single-origin beans from Guatemala, lightly roasted and cold-brewed for a delicate barista-quality cup.
This is blended with small-batch silver rum, naturally sweet so does not contain the large amounts of sugar you'd usually find in coffee liqueurs.
This isn't a coffee liqueur but rather a flavored rum, though we think this award-winning cold brew is a beautiful addition to both rum-based cocktails and coffee-based drinks if you're looking for something without sugar syrup.
Best Coffee Liqueur – Buyers Guide
Read on for a handy buyer's guide for coffee liqueurs as well as a great recipe for making your own!
How Is A Coffee Liqueur Made?
Coffee liqueur Is made from the best two drinks- coffee and alcohol.
Whether you're using a commercially mass-produced drink such as Kahlua or something produced by microbreweries and smaller operations, ingredients remain pretty much the same.
Plenty of sugar is usually added to soften the taste of the alcohol and the bitter notes provided from the coffee.
There are plenty of varieties that use cream bases to make more of an Irish Cream-based drink, and a lot of coffee liqueurs are simply made from a distilled sugar syrup flavoured with varying types of coffee and added to any number of spirits.
This could be something with a strong flavor profile such as rum or brandy or some sort of grain-based spirit such as vodka.
There is such a vast variety of combinations with coffee liqueur, if you think you don't enjoy coffee liqueur perhaps you should try a couple of others as depending on the base alcohol and the type of coffee, the flavors differ massively.
A lot of large companies, for example, use instant coffee whereas many smaller microbreweries tend to use high quality single origin coffees which can make a massive difference to the overall flavor profile.
Can You Make Coffee Liqueur At Home?
Absolutely! If you want full creative control over what your drinking, from flavor profile to alcohol content, the most handy way to do this is by trying your hand at making some yourself!
Below is a useful recipe to make a basic coffee liquor that you can change up and personalize as much as you desire!
First, start with a base spirit, here we'll use rum for a sweeter finish but you can use vodka or any other spirit you like! Gather up the following ingredients and you're ready to go.
You'll need
1 bottle of rum
3 cups of sugar
2 cups of water
8-9 tablespoons of a good quality instant coffee
½ a good quality vanilla bean or 1 teaspoon high quality vanilla extract
Instructions
Heat up your sugar, water and vanilla bean in a saucepan to make an easy 'simple syrup' by bringing everything to the boil and stirring until the mixture thickens slightly and all the sugar crystals are completely dissolved.
Reduce your heat to a light simmer and continue to heat your syrup until it has thickened enough to coat the back of a spoon and the amount of liquid has reduced by half. This should take roughly 30 minutes or so.
Add in your good quality instant coffee to your mixture, stirring to dissolve.
Allow your mixture to cool fully.
In a fully sealable jar or glass bottle, combine your bottle of rum with your sugar syrup mixture, close tightly, and shake vigorously.
Store for 10 days, shaking every other day to combine ingredients.
Strain your mixture after the ten days has passed to remove any coffee granules or vanilla bean. Store in a sealed and sanitized bottle.
Remember, the quality of your coffee liqueur will depend on the quality of your ingredients! As lovely as it is to make your own, sometimes it's actually cheaper and better quality to buy a great coffee liqueur with outstanding quality ingredients.
Frequently Asked Questions
What Is The Difference Between Liquor And A Liqueur?
A liquor would be your usually straight spirit such as vodka, gin, rum or tequila. These can range in alcohol content but won't fall less than 35% proof to be considered a liquor.
A liqueur however is usually a spirit that has been flavored or enhanced with something else, whether it be a sugar syrup or any number of other flavoring agents, and will usually be 35% proof alcohol or less.
The main difference between the two apart from alcohol proof is sugar content, and this is of course easy to spot when you take a sip.
Coffee liqueur is a base spirit that usually has the addition of a coffee flavor infused sugar syrup, along with any number of additional ingredients such as cream or other thickeners balancing out the sharp taste of the coffee and alcohol.
How Long Does Coffee Liqueur Last Once Opened?
Unless you are an avid fan of a White Russian, chances are you won't use your coffee liqueur too often and you may be wondering how long it will last you?
If unopened, coffee liqueur will last up the use-by date, usually a pretty long time. Once opened, however, do make sure you store it correctly.
If you have a coffee liqueur with cream in it, make sure to store it with the lid tightly secured. You can then store it in the fridge and it should be fine from 12-18 months.
Just be sure to give it a sniff if it hasn't been correctly stored! You'll be able to tell immediately if something smells 'off', in which case discard.