Even if you've never drunk one before, there's a good chance you've at least heard of a whiskey sour.
It's an iconic cocktail that, thanks to its simplicity, you'll find on the menu of pretty much any bar in the world.
The best thing about it is that you don't have to be a pro bartender to recreate bar-quality whiskey sours in the comfort of your own home.
The key isn't in the technique of putting it together, rather the quality of the ingredients you use.
That's why we're taking a look at the best bourbons you can get online to make your very own whiskey sours at home.
What Is A Whiskey Sour?
Before we look at the best bourbons, let's quickly go over what exactly a whiskey sour is.
The drink has supposedly been around since 1870 and the exact geographical origins are a little unclear but the recipe hasn't changed too much over the years.
The only ingredients you need for a whiskey sour are whiskey (usually bourbon), lemon juice, sugar/syrup, and egg whites. The recipe really is as simple as that!
The purpose of having the egg whites in the drink is to make it foamy and give some texture to the cocktail.
However, egg whites in cocktails aren't always a favorite for some people so this ingredient can often be left out.
Naturally, over the years, people have developed their own twists on the classic recipe and there are now countless spin-off whiskey sours all over the internet so don't be afraid to experiment with different ingredients and flavors at home.
How To Make A Whiskey Sour
The basic recipe for whiskey sours is pretty straightforward and anyone with the right set of ingredients and a simple cocktail shaker can make it with no experience or practice.
Simply add 50ml of your bourbon, 35ml lemon juice, 12.5ml sugar syrup, half an egg white, and some ice to your shaker. Then, shake the whole thing up for at least 30 seconds.
It's important to shale the cocktail for long enough to ensure the egg whites foam up nicely and give a good texture to your drink.
Finally, strain the cocktail into a glass. You can either pour the drink into the glass on its own or over some large ice cubes, the decision is yours.
A whiskey sour is commonly garnished with a lemon slice and maraschino cherry but you can always mix this up to create something unique.
Top 10 Best Bourbons
No products found.
The first bourbon on our list is a cheap and cheerful classic that works perfectly in a whiskey sour.
Having been around since 1783, Evan Williams definitely knows what it means to make good whiskey and this bottle is no exception.
This particular bourbon is aged for 4 years in oak barrels to refine and enhance the flavor. This process gives the whiskey some notes of oak.
The main reason this works so well in a whiskey sour is the sweet, caramel-like notes you'll detect when tasting it.
No products found.
This whiskey is another cocktail maker's favorite as it boasts a great depth of flavor with several different notes to be detected.
The Kentucky-based distillery has won plenty of awards to back up its claims of having some of the best whiskey on the market.
With this bottle, you'll find elements of fruit and vanilla on the palate, gorgeously complementing the sweetness of the other whiskey sour ingredients.
This bourbon works well in pretty much any cocktail, thanks to its bold range of flavors but certainly has the complexity to also be drunk neat if you want.
Angel's Envy is another whiskey that hails from Kentucky and it was founded by the legendary distiller, Lincoln Henderson.
The process of making this bourbon uses expert craftsmanship, with the distillers working on small batches to ensure each barrel is produced with the highest possible quality.
Each of these batches is finished for 6 months in a ruby port wine cask to really enhance the flavor further.
Angel's Envy has notes of vanilla, fruits, and maple syrup, making it the perfect sweet spirit base for your whiskey sour.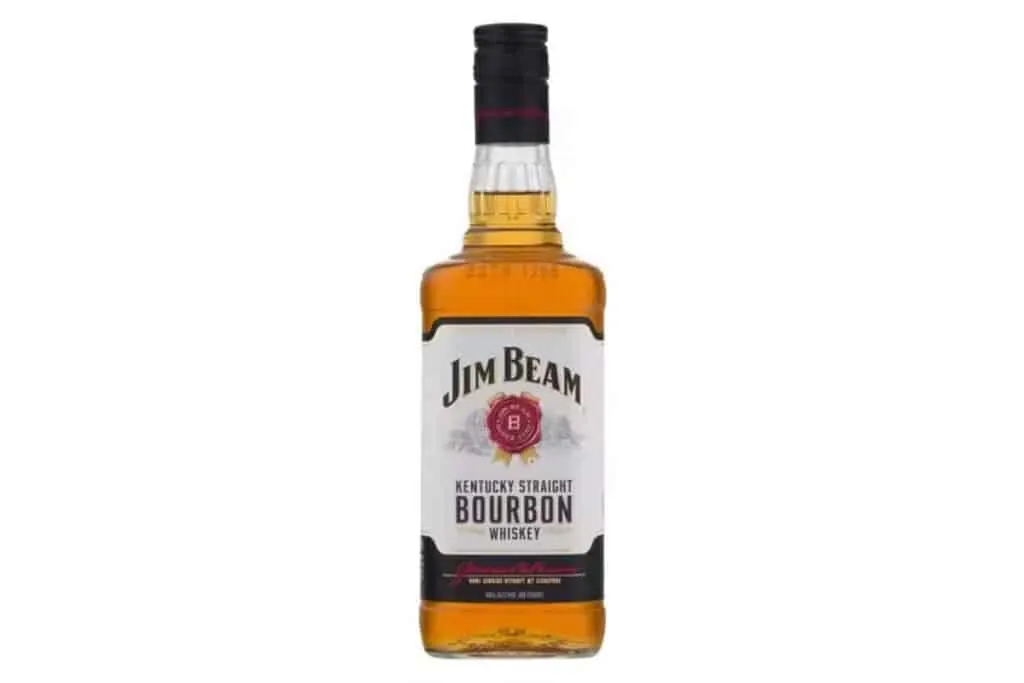 Jim Beam is a very well-known and reputable brand in the whiskey world.
In fact, it's the world's best-selling bourbon, meaning everybody across the globe can vouch for its universally delicious flavors.
That's the best part about using this bourbon for your whiskey sours: the universal flavor. There's nothing too surprising about the flavor of this drink but it definitely exudes quality.
The liquor is aged in oak barrels for 4 years before being bottled which gives the whiskey every chance to enhance its natural flavor.
Not to mention, with an abv of only 40%, this is one of the weaker bourbons on our list.
That might seem like a bad thing to some expert bourbon drinkers but for those trying whiskey sours for the first time, this might make things more palatable.
This whiskey from Elijah Craig has won countless industry awards and is considered one of the best bourbons in the world by many experts.
This bourbon carries a slightly different flavor to the others that we've looked at so far, with more smoky, spiced notes that pair interestingly with lemon and sugar.
A lot of people find that their cocktails are too sweet and attribute this to the extra ingredients they add to them. However, it could be the case that they're using the wrong kind of liquor as a base.
If this sounds like you, Elijah Craig might be the way to go as it's not too sweet and places much more emphasis on flavors of spice.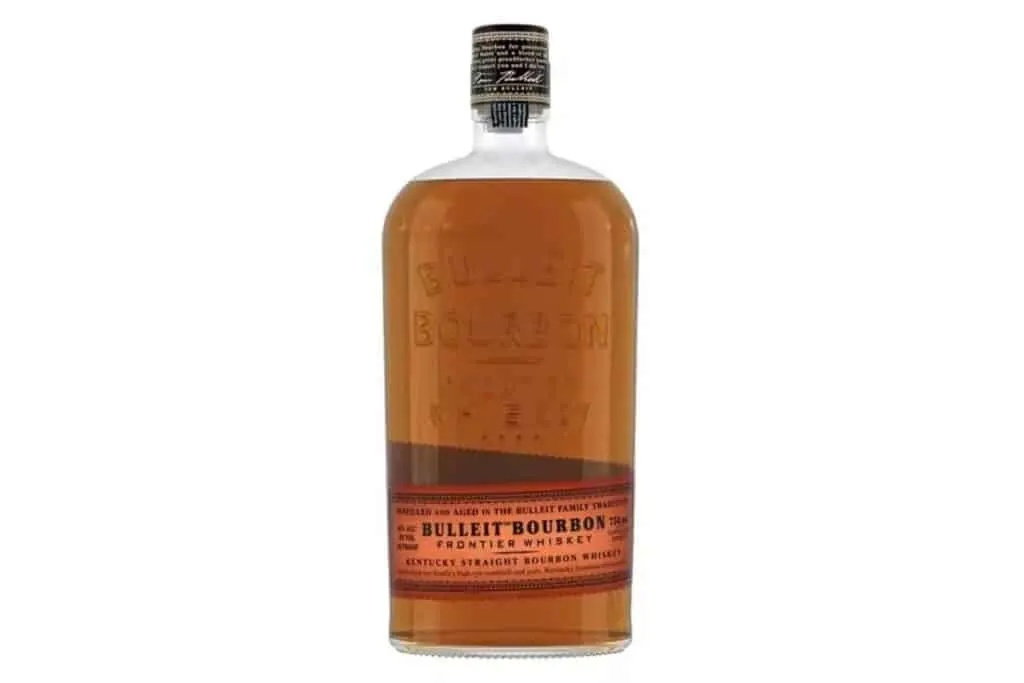 Bulleit is a brand that puts tradition at the forefront of its distilling process. Packaged in an old-fashioned bottle with a simple label, they really let the quality of the drink speak for itself.
It's another that makes good use of rich, spiced flavors instead of something sweet and fruity. This makes Bulleit the perfect choice for the classic whiskey drinker and makes it very good to drink neat.
However, if you're also not a fan of overly sweet cocktails but still want to enjoy a whiskey sour, this is a pretty good way to go about it.
Even aside from cocktails, Bulleit has won plenty of awards, recognizing it as one of the best all-round bourbons on the market today.
No products found.
Heralded by some as 'one of the world's greatest whiskies', Buffalo Trace expertly combines all the different flavors we've seen with other whiskies into one single bottle.
Rather than favoring either a sweet or spiced flavor, Buffalo Trace opts to combine these two ends of the spectrum, leaving the drink with notes of sugar and toffee, as well as spices and dark fruits.
This is certainly a unique whiskey and its flavor stands out from the competition well.
This might make it more of an acquired taste and is probably worth trying at a bar before purchasing a whole bottle for yourself.
However, for the seasoned whiskey drinker, this is a great bottle to try for something interesting and refreshing on the palate.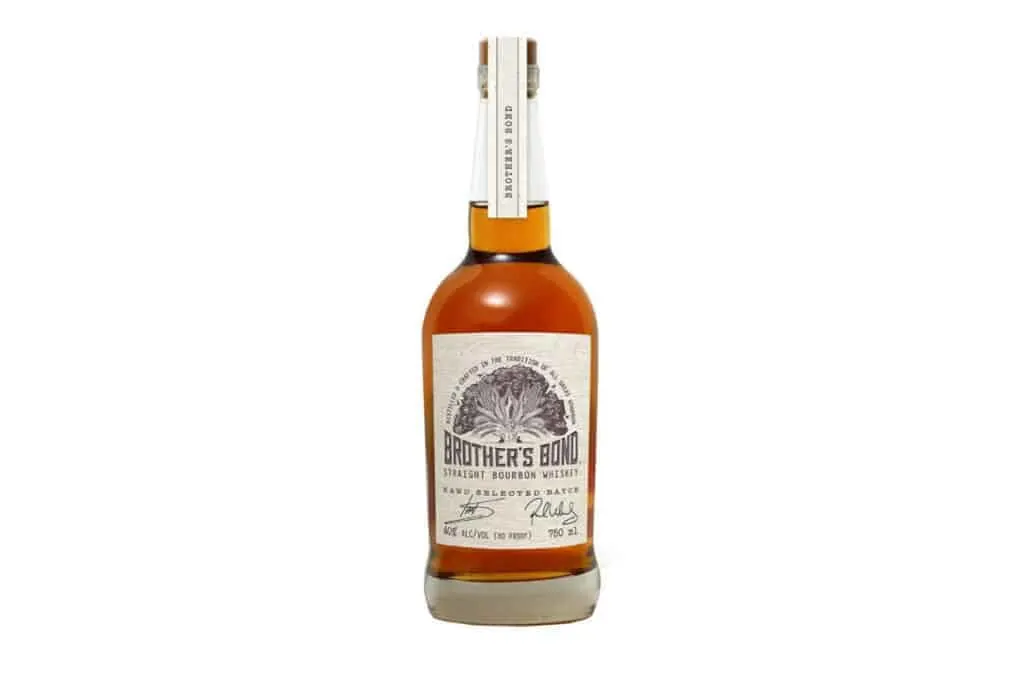 Famously created by Vampire Diaries stars, Ian Somerhalder and Paul Wesley, Brother's Bond isn't just a gimmicky drink with celebrity backing, it's actually pretty good!
The oak barrels that this drink is aged in leaves behind a rich, spiced flavor which provides a good backdrop for each sip.
However, the spotlight is stolen by the fruity notes of orange that are accompanied by honey and nutty notes.
It's a very complex bourbon that has a great depth of flavor. Each sip in your whiskey sour will light up your taste buds and put you through a range of flavors.
This is definitely one to go for if you find yourself getting bored of the same old whiskey flavors and want to try something fresh and exciting.
No products found.
Maker's Mark prides itself on being a great American drink, distilled in the bourbon capital of the world: Kentucky.
It opts for a classically smooth vanilla and caramel blend of flavors which makes it very easy to drink neat and allows it to feature in pretty much any cocktail.
The coolest feature of this bourbon is probably the packaging. Each bottle is hand-dipped in red wax, giving the whole thing an old-fashioned, classical aesthetic.
This gorgeous packaging, combined with the muted, easy-to-drink flavors, makes this a great bourbon to gift to someone who loves their cocktails.
As you might have guessed by the name, Eagle Rare famously ages this bourbon for at least 10 years before bottling, making it one of the most flavorful and rich whiskies on our list.
The flavor combination boasts rich nuttiness, combined with sweet toffee and fruits.
These notes make it the perfect sipping drink and will be fine to drink neat.
However, it will also add some great depth of flavor to your whiskey sours and provide a solid base to experiment with additional ingredients and new flavors.
Buyer's Guide
Best For New Bourbon Drinkers
If you've never tried a whiskey sour before or are simply new to the world of bourbon drinking, you can't go wrong with a bottle of Jim Beam.
There's a reason this bottle sells so well across the globe, it's because of the universally palatable blend of smooth flavors.
Not to mention, this bourbon has one of the lowest alcohol contents on our list, making it likely the most palatable for that reason too.
It still boasts an abv of 40% so don't get any ideas of drinking it like juice but it won't leave tears in your eyes like stronger drinks might.
Best For Experienced Bourbon Drinkers
For those who have tried it all and know what they like, a good bourbon to try might be Brother's Bond.
It's the sort of thing a lot of seasoned pro whiskey drinkers would avoid because of the celebrity gimmick, but this bourbon actually boasts a really complex balance of a variety of flavors.
The makers liken the scent of this drink to baked banana bread, which you definitely won't find with any other bourbon out there!
It might not be to everyone's taste but those who know what they're talking about when it comes to bourbon can easily enjoy this divergence from the typical blend of flavors.
Best For Gifting
If you're looking for a gift for a whiskey enthusiast, there are two great options to consider.
Maker's Mark offers the appeal of having fantastic packaging, with a red wax seal topping every bottle.
This gives the whole gift a more hand-crafted feel and even gives your friends and family the fun of cutting the wax off before cracking the bottle open.
Alternatively, Eagle Rare's 10 Year Bourbon would be a fantastic gift for someone who loves their liquor.
The '10 year aged' boast certainly comes across as impressive and the elegant bottle is something they'll want to keep around even after they've finished drinking it.
What Makes A Bourbon Good For A Whiskey Sour?
As with most cocktails, there isn't really a single 'best' liquor for a whiskey sour, the quality of each bourbon is largely down to personal preference.
The important thing to consider when deciding which bourbon to use is how it blends with the other ingredients in a whiskey sour.
For example, the sugar or syrup that you would add to a whiskey sour is naturally very sweet.
If you're a fan of sweet flavors, you might want to opt for a bourbon that has notes of vanilla and honey to complement this sweetness.
However, if you prefer a less sweet cocktail, the sugar/syrup will provide enough for you and you should instead choose a bourbon with a more rich, spiced flavor.
The lemon juice is what provides the sourness in a whiskey sour and it's an interesting flavor to pair with bourbon. The sourness of the lemon cuts through the mellowness of most bourbons so the two are meant to provide opposing flavors.
For that reason, getting a simple bourbon might be better than going for one with complex, fruity flavors. You generally want something that will provide a calming backdrop for the other ingredients in the drink.
However, as you experiment with different ingredients and try a few different bourbons, you might find one that blends all of the complex flavors in a whiskey sour well.
Once you've found this bourbon, you won't want to stop making whiskey sours with it!
Varieties Of The Whiskey Sour
As we mentioned earlier, there have been plenty of developments and alterations made to the classic whiskey sour recipe.
These variations are often named after the palace they were invented or popularized and these are a few of our favorites:
New York sour – This one is very similar to the classic whiskey sour and is initially made exactly the same way. The only difference is that the New York sour adds a dash of dry red wine just before the drink is served. If the drink is foamy enough and the wine is poured slowly, it will sit at the top of the drink, creating a gorgeous sunset-like aesthetic.
Peach whiskey sour – The process for making this variation is very simple: just add a teaspoon of peach simple syrup to your shaker, with the other ingredients. This adds a fantastic essence of citrus to your drink, complementing the lemon juice excellently.
White whiskey punch – For a more tropical version of the whiskey sour, add equal parts white whiskey and pineapple juice to your mixer, along with sugar/syrup and lime juice. This makes for a lighter, easier-to-drink cocktail that will transport you to a sunny beach with every sip.
Frequently Asked Questions
Can Jack Daniel's Be Used For A Whiskey Sour?
Jack Daniel's does make a good whiskey sour.
It has pretty universally loved flavors and isn't too strong in terms of taste or alcohol content, making it a pretty good base for a cocktail.
However, some have noted that the overall flavor of Jack Daniel's is a little too mellow for a whiskey sour and it doesn't complement the other ingredients as well as the bourbons we've outlined above.
Check out our Jim Beam vs Jack Daniel's comparison to understand more why we think JB is good for a whiskey sour but not Jack.
Do You Need To Use Fresh Lemons For A Whiskey Sour?
If you want to make a proper whiskey sour, you definitely need to use fresh lemons. Bottled lemon juice won't taste nearly as good and is much less versatile.
For example, when you juice a fresh lemon, you can also cut a slice of the peel to add to the cocktail while mixing or even as a garnish.
Final Thoughts
There you have it, those were our picks for the 10 best bourbons for a whiskey sour.
Like we said before, there isn't really a single best bourbon for this cocktail and your decision should always consider your own personal taste.
Whatever you choose from our list, you'll be left with a sweet, zingy cocktail that you'll be making for your friends and family for years to come!