Bourbon is widely recognized as one of the highest quality types of whiskey that can be found in most bars across the country.
There are a lot of reasons why it is a favorite drink by so many, and it has a very rich and deep flavor that has been achieved through many years of careful research and development.
Thanks to the high popularity of the drink, there is a huge selection of gifts to choose from that you can gift to someone who is especially enthusiastic about Bourbon.
These are some of the best gifts that you can give to the Bourbon lover in your life.
We have collated a complete list of the most relevant and useful themed gifts, and discussed how you can use some of the smaller ideas to create your own custom gift bundle.
There are also some larger items that will cost a little more, these can be great stand-alone gifts for a birthday, Christmas, or even celebrating a substantial life change.
Our Best Gifts For Bourbon Lovers Reviews
Great for Cocktail Ice
For the complete bartender experience within the comfort of your own home, you could consider buying someone an ice cube mold.
This can allow them to serve whiskey how it would be in a bar, and allows them the creative freedom to make fun shapes.
For a more authentic experience, some people prefer to use a single large ice cube or even sphere, but there are a lot of different shapes and sizes to choose from nowadays.
These Ice Cube Trays can be a great addition to any gift, and someone who loves Bourbon will definitely appreciate the thought that has gone into this.
Something that is interesting about these trays in particular is the fact that they come in a set, which allows you to experiment and see what shape you prefer to have a drink with.
In addition, there are many shapes and sizes available to choose from.
Some are significantly smaller than others, and this Ice Ball Maker can help create a completely unique experience to any whiskey based drink.
Small balls made of ice can intrigue people and add a different look to any cocktail or drink.
Ice molds can be a great addition to a Bourbon lovers' gift, because it allows them to play around with different shapes and sizes of ice, to see how that affects feedback from people or even their own preferences.
There are a lot of products currently on the market that can make the Bourbon experience more exciting.
Whiskey stone sets are a modern spin to ice cubes, and they are small reusable stones that can be stored in the freezer and added to your drink.
One of the key features of whiskey rocks or stones is that unlike ice, they don't dilute your drink. This means that you can keep your drink cool without compromising the taste of great whiskey.
There are a lot of gift sets featuring whiskey stones available on the market, but this gift set has everything that the Bourbon lover in your life might need.
We found that this product provides a great combination of class and modern innovation to the whiskey experience.
Being able to preserve the flavor of our favorite whiskey and keep it chilled is something that provides a practical element as well as sophistication.
If someone in your life is particularly passionate about whiskey, then this stone gift set has everything they may need.
The stones are available in different materials, and the set itself comes with two glasses that are a perfect addition to any drinks cabinet.
Adding smokey flavor to a cocktail is one of the best ways to mix things up from a classic cocktail. And it just so happens that bourbon is one of the best types of liquor, period, for smoke infusion.
The reason is because the stout flavor profile stands up boldly to smoke flavor – it's not overpowered by the rich and earthy tones of smoke – it's instead complimented and enhanced.
You can infuse cocktails with smoke with a variety of contraptions – a traditional smoke gun and some plastic wrap can do the trick. But if you really want to wow your bourbon loving somebody with aesthetics, we'd opt for a bespoke whiskey smoking kit.
For a deep dive on this gift, check out our list of the best cocktail smokers next!
Whiskey Glasses
Another route you could go down when it comes to gifts for Bourbon lovers is a set of high quality Old Fashioned Glasses.
Adding a touch of class and sophistication will definitely not go unnoticed, because of the unique design that is versatile to other drinks as well as their favorite whiskey.
This is definitely a gift that will keep on giving, because of the crystal pattern and smaller shape than traditional tumblers.
You could gift the Bourbon lover in your life something that will last them a lifetime and that they are bound to use on a regular basis.
Whether they enjoy more traditional glassware or something unique and personal, there are a lot of options for glasses to choose from so that you can find a perfect fit.
Customized glasses are widely available, and you might want to add a personal touch by getting the person's name or initial printed onto the whiskey glass.
These kinds of glasses can be used for other drinks which makes them more versatile and appealing to a wider audience.
Whiskey Decanter
If the Bourbon enthusiast in your life enjoys entertaining and regularly hosts parties or gatherings, then they might appreciate being gifted a glass decanter or ice bucket.
These can be used for other drinks, but the amber color of Bourbon looks particularly intriguing when it has been poured into an intricately made decanter.
This Vista Alegre Cronos Decanter is particularly unique because of the delicate spiral design that allows people to look at it with intrigue and curiosity.
It often gives off the illusion of an old-fashioned potion or magical liquid, which adds to the appeal of drinking from it.
While this decanter in particular has been designed to be used during poker or games' nights, it is universal in how it can be used.
Of course, an ice bucket might not be the most appropriate gift for someone who prefers Bourbon, but it is definitely worth considering whether they would benefit from one and if they are likely to use it when they are hosting.
Try to think about the other drinks that this person has to offer, and if they could make use of a good quality ice bucket to keep some of the more commonly consumed drinks chilled.
An ice bucket can be a great gift for someone who enjoys hosting parties or large gatherings.
Whiskey infused candy has taken the modern world by storm, and there are a lot of great gift options that can add to bigger gifts, or even work as a great stand-alone gift.
You can find some great, high quality Bourbon Chocolate Sets online that can add to someone's Bourbon experience.
They are great for the Bourbon enthusiast, because they add another layer of taste as well as texture to the highly flavorful drink.
Another option for those who might have less of a sweet tooth is Bourbon Infused Cherries.
These would be a great addition to a gift for someone who is especially enthusiastic about Bourbon and cocktail making, because they can add these infused cherries to any drink to add another touch of class and sophistication to the whiskey experience.
Something that would be great for someone who enjoys the unique flavors of Bourbon and that would also help create a unique gift is coffee that has been infused with the aromas of their favorite drink.
Vermont Maple Bourbon Ground Coffee is definitely something that everyone should try at least once, because it combines whiskey and coffee to create a deep, rich flavor that is intense and has subtle aromas.
Not only is this an interesting take on somebody's favorite drink, but it can add another dimension to the cocktail experience, because they will be able to make stronger or more flavorful drinks with ease.
Cocktail maker kits are widely available within the online market and can make for a great gift. We found that this one is a great combination of reasonably priced and high quality.
This Cocktail Set is made from stainless steel and comes with a useful storage container that doubles as a display on any counter or drinks shelf.
It even comes with a series of cards that cover recipes for some of the most popular cocktails as well as how to make them.
Even if someone isn't overly passionate about Bourbon, a cocktail set is a great gift for anyone because it can encourage them to be more creative with their drinks.
A great addition to a cocktail set, or even as a stand along gift could be a Bourbon Cocktail Book.
Similarly to the cocktail cards mentioned in the set above, each recipe provides a brief background into how each drink came into light.
However, this book is unique because it covers cocktails made using Bourbon exclusively.
This means that anyone who enjoys Bourbon can appreciate the added thought that has gone into their gift because of the specific details that you have remembered.
You could consider adding to a person's drinks collection by gifting them a unique flavored whiskey. This can allow them to make unique cocktails and get creative with different combinations.
Fruity infusions can be an interesting addition to any Bourbon lover or cocktail enthusiast. You could also consider adding their favorite mixer to a gift set if you know what they prefer.
Whiskey infusion kits are another great option that can be a unique gift to anyone who enjoys Bourbon or whiskey in general.
There are a lot of kits on the market that allow you to brew your own drinks like beer and even wine, however these often take a great deal of time.
That is why it can be a great compromise to buy someone a kit that allows them to create their own unique flavors by infusing whiskey.
This Infusion Kit is particularly high quality, and it has the addition of wood chips to help create the taste like it has been aged in an oak barrel.
No products found.
Bourbon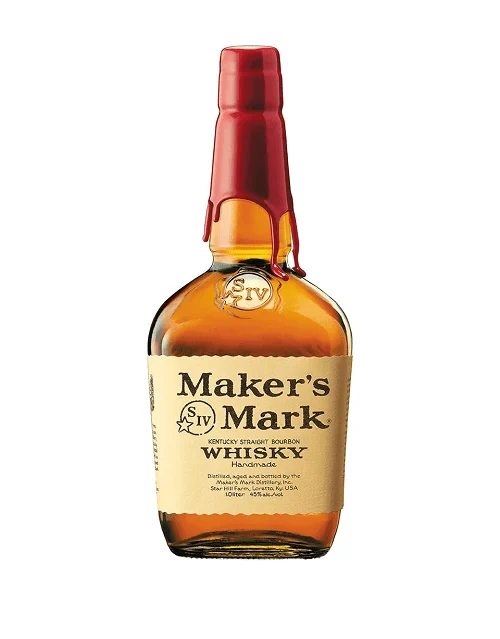 If you know the recipient's favorite type of Bourbon, you could buy them a bottle of their favorite brand. This alone would be a thoughtful gift that they would actually use, but can easily be accompanied by some of the other gift ideas.
There are a lot of different brands on the market that all claim to be the best tasting Bourbon, but it is up to you to decide what kind of flavor they would like if you aren't too sure.
You could even add to their drinks' collection by purchasing them a different brand of Bourbon that they might not have tried.
Maker's 46 is a very highly rated brand that is bound to excite any whiskey drinker.
Stocking up someone's drinks cabinet can be a great standalone gift if you aren't too sure what to get them. This is a great idea if you don't know the person as well, or if you want to get them something a little more unique.
You could buy them a tasting set to encourage them to compare different nodes that each type of Bourbon has.
Smaller versions of similar types of whiskey offer a more affordable range of taste comparisons, and it can be a great way to encourage someone to broaden their horizons when it comes to their favorite drink.
While this gift set only features one type of Bourbon, there are different types of whiskey for them to try, so that they can compare their palate and try something different.
The great thing about gift sets that include smaller samples of a drink is that you don't have to worry if they don't like something because there is much less wasted product than there would be with buying them full sized bottles.
Another way to add a personal touch to a gift is buying them an engraved bottle of their favorite whiskey. This can be something that they keep forever, and makes for a great gift for a loved one, or even someone who is celebrating a major life change.
It will definitely be something that they can use to remember a particular occasion and look back at it fondly.
Another great gift idea that you can use as the foundation for different Bourbon themed gifts or even fill with their favorite candies is a storage box.
There are a lot of different designs available on the market, but some containers have been made particularly for the purpose of storing Bourbon.
They often take on the appearance of a wooden barrel which adds to the rustic appeal that the drink often has associated with it.
This Wooden Crate Box can be a great gift for someone who is less organized and needs to keep track of their whiskey.
This product can be particularly useful because it has a small chalk board label on top, so you can write what is inside at any time.
If you don't want to give someone an empty box, you could purchase their favorite brand of Bourbon to put inside. That way, they can start their drinks collection and stay on track of what they have.
It is a great way to encourage people to be more organized as well as involved. This can be a good gift for someone who has just begun to show an interest in Bourbon who may not have as large of a collection.
Another use of this particular product is to help someone build up their drinks' collection if they live in a smaller home with less storage options. Using a stylish box or crate helps drink storage to look intentional.
Final Thoughts
There are a lot of routes you can take when it comes to giving someone a gift surrounding Bourbon, which is why it can be difficult to know what would best suit them.
If you aren't sure, or don't know the person very well then a great option is themed candy and an affordable smaller bottle of Bourbon.
Of course, it is up to you to decide on a budget, which is why we have provided a complete range of prices within the products above.
To summarize, some of the best and more unique gift ideas for Bourbon lovers include whiskey stone sets, new glassware that can be customized.
Additional options include a bottle of their favorite Bourbon, or a tasting set of smaller bottles to allow them to explore how their palate might vary.
Other ideas can be more personal, including cocktail making kits, books, or engraved bottles that they can keep forever. Try to think carefully about what the Bourbon lover in your life would benefit from, and what they could make good use out of.
Whether they like to make interesting cocktails or drink Bourbon (see also: Best Bourbons For Manhattan Cocktails)straight, there is a huge range of products that can contribute to a great themed gift.
Depending on what kind of person they are and whether they like to entertain guests and make cocktails or not, there are many options to choose from.
This guide has been made for people who are over the legal drinking age and enjoy drinking Bourbon at their own discretion. Always drink responsibly.